Media Browser for Windows 8.1 gets rebranded as Emby with new features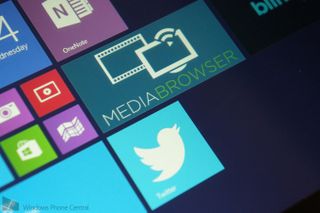 The Media Browser app for Windows 8.1 has received a name change to Emby, along with a software update that adds some new features to the media player. So far, the new Emby name is not showing up on the app itself or on the Windows Store.
The new 3.2 verison of Media Browser-Emby has the following change log:
Download Media Browser-Emby from the Windows Store (opens in new tab) ($4.99 with free trial)
Source: Emby
We need this Windows Phone NOW!! https://windowsphone.uservoice.com/forums/101801-feature-suggestions/sug...

Don't spam articles with that link. It's the second time I see it today.. Post it on the forums if you want to raise awareness.

How does this relate to the article?

While it's not related to the topic, I have to admit that's a gorgeous concept.

Honestly, that looks gorgeous! Only issue is the interactive tiles. What's the point of going into an app when the majority would just use the tile.

Off topic, but the concept is fantastic and would even put Apple to shame. Only thing: it's kinda incompatible with W10's design, which seems to require that nasty start translucent color overlay; so, not gonna happen!

Emby pronounced MB, Media Browser. It's just a spelling of the abbreviation for the old name.

Ah. It makes sense now.. Thanks

Look at these eyebrows ! They're attack eyebrows.

Trying to have a slick name like Plex I bet

So what does this app do exactly?

It allows you to play your media stored on computer across the network at home, or the internet. It will automatically handle changing the format to play on the device you are trying to use so you don't have to worry about what format the media is actually in. It will also get the meta data if it's a movie or tv show. Lots of other useful things. Probably best to checkout the website to get a better idea: http://www.emby.media

Thanks for the good reply. Something like Plex then

Well it can also stream live TV to any device if you have a TV tuner in the Emby server.

This app needs to see locally stored tv shows and movies. We have been dying for a media player that displays the shows and movies and visually pleasing way.

thia is not a local media player, it is a companion for Emby/Media Browser 3 server.

The developer of this app I pretty cool, he works for Xamarin.

Dang, I bought the phone version. Hope the devs straighten this out when they both go universal.

I still like this app for what it does. I had some trouble with it, could not get support and switched to Plex. I sitll keep this one around though..

The app was renamed because the server name is Emby now.
Windows Central Newsletter
Thank you for signing up to Windows Central. You will receive a verification email shortly.
There was a problem. Please refresh the page and try again.