MetroPCS begins selling Lumia 640 for $39 after instant and mail-in rebates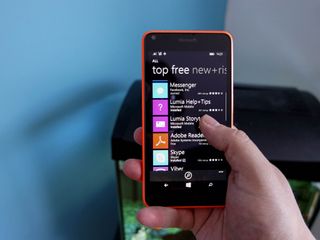 Last week, we reported that the no-contract carrier MetroPCS would begin selling the Lumia 640 on June 22. That day has arrived and, as promised, the Windows Phone device from Microsoft is now available from MetroPCS.
Normally, the price of the smartphone would be $129, but Metro PC has knocked down the price to $69 via an instant rebate. Customers can also sign-up to get an additional $30 back in a mail-in rebate, which effectively cuts the cost of the smartphone down to just $39.
Just a reminder: Here are the main hardware specs for the Lumia 640:
Qualcomm Snapdragon 400, 1.2 GHz quad-core processor
5-inch HD (1280x720) IPS LCD, 294 PPI, Glance screen, Corning Gorilla Glass 3, Sunlight readability enhancements
1GB RAM
8 GB internal mass memory + up to 128 GB Micro SD & 30GB free OneDrive cloud storage
Windows Phone 8.1 Update 2
The Lumia 640 went on sale last week via T-Mobile, but for its full retail price of $129.84 without a contract.
Source: MetroPCS
Windows Central Newsletter
Get the best of Windows Central in in your inbox, every day!
so can i buy the 640 from metro pcs and hook it up on a compatible gsm (international network). meaning if the gsm frequencies are matching... is this phone gsm unlocked?

It is possible for the phone to be locked to networks, so be careful with this. Or may require several months of service to unlock. Time will tell, but feel free to try and let us know :)

The way this phone is being hyped you would think it was an actual flagship device....

But not everyone is into flagships. This phone can meet the needs (and wants) for a phone for a good number of people, so it is fair for it to be hyped up. Flagships probably would be too, when they finally come out.

Agreed, I know 2 530 owners who got them, and a 635 owner wanting to upgrade. Midrange phones, especially at this price are very important to the ecosystem.

It's hard to be "into flagships" as a windows phone user these days.

This a seriously good value mid-range device. A phone doesn't have to be high-end to get focus.

It's camera is better than some flagships(see HTC One).

This phone absolutely deserves the hype. It's all the phone the average person needs at a great price. In style and utility it is the best bang for your buck phone on the market. I just wish it had availability that let more people handle it - the phone can sell itself. I was sold on it (picked up at Walmart this weekend for $99) and couldn't be more satisfied.

Somebody go and buy it, and check if I can just put a T-Mo SIM in there without getting it unlocked.

I second that. Been looking to pick one up for the wife. This is a great price.

T-Mobile devices can be used on MetroPCS without unlocking them first. This does not work the other way around though. MetroPCS devices have to be used for a minimum of 90 days in order to be unlocked. The same goes for AT&T/Cricket devices.

I'd love to post meh as a comment but then again it would be removed......

Are MetroPCS phones comptaible with ATT LTE frequencies?

No, it would have to have the appropriate bands. Hence, the impressiveness of, say, the WIN LTE series.

It depends on the phone and which bands the phone supports. I would really like to know which 640 variant this is (e.g. RM-1073, RM-1075...), but that info is not on MetroPCS's web page for this handset.

Just bought the phone from Metro PCS, it's RM-1073

Looks like taht variant it should work on AT&T and have all the bands for LTE. Am I missing something? Lumia 640 variants include: RM-1072 – Microsoft Lumia 640 LTE RM-1073 - Microsoft Lumia 640 LTE NA (North America) AT&T RM-1074 - RM-1075 - RM-1076 - RM-1077 - Microsoft Lumia 640 LTE Dual SIM

Now if T-Mobile would just match that price... It's like they want me to leave them for their own child company.

Just to let everybody know if you buy it in store it's $39 plus activation/upgrade fee. If you buy it online it's $69 with a $30 mail-in rebate and no activation/uprade fee. It comes out cheaper if you buy it online in the ling run but you have to wait 3-4 month to receive the $30 back.

My girlfriend bought one today and it was just $39. No mail in rebate, just automatically at that price.

So is it confirmed that you can't buy this phone and use it on tmobile immediately :(

Hey guys, I picked up my 640 yesterday at MetroPcs here in white plains NY. Just to let you know, there is no mail in rebate...BUT..there is a $90 instant discount, making the phone $39 :)

Seems it's out of stock online at the moment...
Windows Central Newsletter
Thank you for signing up to Windows Central. You will receive a verification email shortly.
There was a problem. Please refresh the page and try again.