Microsoft adds Insider program support for four new Windows Phones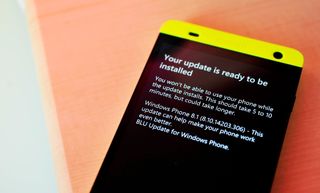 Also, to releasing Windows 10 Mobile build 10586.122 to Insiders on the Slow and Release Rings the company is also expanding devices that can participate in the Insider program.
In a blog post for today's update Microsoft's Gabriel Aul noted the devices that can now jump in on the Release and Slow Rings:
New Insider Phones
MCJ Madosma Q501
BLU Win HD W510U
BLU Win HD LTE X150Q
ALCATEL ONETOUCH Fierce XL
Starting earlier this year, the Fast Ring has been reserved for Lumia devices that have shipped with Windows 10 Mobile including the Lumia 550, Lumia 650, Lumia 950 and Lumia 950 XL. As of now, only those phones can leap into the Redstone (RS1) releases that promise some advanced features, but also more instability. Later, as Redstone matures, Microsoft will open the release to other devices.
Windows 10 Mobile build 10586.122 will likely head to non-Insider phones in the coming weeks.
Are you on any of the phones listed above? Let us know if you'll enrolling in the Insider program.
Source: Microsoft
Daniel Rubino is the Executive Editor of Windows Central, head reviewer, podcast co-host, and analyst. He has been covering Microsoft here since 2007, back when this site was called WMExperts (and later Windows Phone Central). His interests include Windows, Microsoft Surface, laptops, next-gen computing, and arguing with people on the internet.
I have a Microsoft Lumia 950 but staying on Slow Ring because it's my primary device for school and life Posted via Universal Windows App on W10

Might be time for me to buy the Alcatel now

Eh you may want to save your cash. Posted from Windows Central for Windows 10

... Still waiting something for my Ativ SE

Me too, but for my ATIV S i8750. :)

Any Samsung WP8 devices WILL NOT get the upgrade to W10M. Don't even be so hopeful as Samsung themselves have denied the upgrade as well. So it would be better to buy a new device. Posted via Universal Windows App on W10

LMM what are you refering to or taking about?

Hope may die last, but our Ativ S will never die :D

Blu win jr? Posted from Windows Central for Windows 10

Unfortunately that device will not get the upgrade to W10M. Here's why:
> at least 8GB internal storage required
> 1GB RAM or higher
> can have issues with 3G bands because it was designed for budget-friendly market with 2G cell connection
> need screen resolution of 960x540 or higher Posted via Universal Windows App on W10

You need to be well versed about a phone before hand.Blu win hr LTE has all the above features. Posted from Windows Central for Windows 10

What does "yawm" stand for?

Think it is just for hd. Doesn't Jnr only have 4gb storage and 512 ram. I think the minimum for win 10 is 8gb storage, so looks like you may be out of luck for the foreseeable future

No it has 8GB Storage 1GB Ram and update2

BLU Win Jr has 512MB RAM and 4GB storage. check here http://www.gsmarena.com/blu_win_jr-6670.php Posted via Universal Windows App on W10

Why the BLU WIN HD EU version doesnt get any love?

I believe that device is eligible for the upgrade via Windows Insider program Posted via Universal Windows App on W10

Here's hoping the Acer Liquid M330 gets some love next round. Nice little phone, just pretty unresponsive (screen lag)

That hit the market pretty recently (late 2015) so I don't see why not.

We were in the same boat with the Fierce XL. First the Image gets added to the Windows Devices Recovery Tool, and then in a few days we're invited into the Insider Club. For us it took about two weeks. Posted from Windows Central for Windows 10

According to GSMArena and Engadget it should already have W10M.
http://www.gsmarena.com/acer_liquid_m330-7524.php Posted via Universal Windows App on W10

Will it ever going to be released at any 512 MB devices???

Awesome, that also means they should be supported by WDRT now.

They already added the support 2 weeks ago

Oh right, i must have missed that article.

No BLU Win JR LTE (Indian version with 1GB RAM). It's essentially the same as the BLU WIN HD sans the 720p resolution.

is this the update that will fix my Lumia 930? I sure hope so!

Are you talking about HTC One 8S and 8X?
Probably someday, rumor has it that they will be supported by Windows Insider in early June 2016 Posted via Universal Windows App on W10

HTC "8X" ..I was one of the early W10 detectoid affected users but the UI was horribly scaled for my device so I flashed back to 8.1.
Considering my device has the minimum requirements to run W10M I still dont see why they left us out the game.

The wait continues for X150E support

I thought I saw the Nokia Lumia 928 in the list of devices way back in Feb 2015 Posted via Universal Windows App on W10

Stupid Microsoft... Why are they deliberately avoiding Samsung Windows Phones???? My ativ se has more Ram and a faster processor than both Blu's windows phone yet they get bump into the insider program??? Come on Microsoft

Microsoft doesn't control when of if OEMs subscribe to the Windows 10 paradigm. It'd be like asking Google to update a Samsung Galaxy S6. They'd refer you to Samsung as I am

Why you think this is a MS problem and not because Samsung hasn't given MS the images for the WDRT so they could add them?

Ativ got a dual core. Trust me you wudnt want to run 10 on a dual core device until they optimize win10 for dual core. It works great in all 30series lumia and higher but my 625 cant run it properly at all while a 630 can. Both having 512mb ram. Posted from Windows Central for Windows 10

For your info, i have .107 installed on my Ativ SE, and it runs perfectly. The only slight issue is that the brightness changes suddenly when you tap on the screen after it has dimmed.
I would recommend the update to everybody who owns one, once you've used W10 you never feel like using 8.1

i have a 625 with the latest w10m update.and it running fast.

Im on the slow ring using WIN HD LTE. Still no update.

waiting for the Yezz Billy 4.7.

You're going to be waiting for a while...

Yezz Billy phones have 4GB internal storage right? then it will not get the update unless Microsoft plans to allow upgrades if you have a 32GB+ microSD which is highly unlikely Posted via Universal Windows App on W10

https://disqus.com/by/Ui2men/?utm_source=digest&utm_content=comment_auth... https://uploads.disquscdn.com/images/17849a618177e728f4b6f756dfa4c73915e...

keep waiting... Posted via Universal Windows App on W10

I have the BLU Win HD LTE X150Q and it's on the slow insider ring. No update yet. :(

I'm not seeing anything yet either.

Yup even dug out my box x150q :P

I thought i did something wrong... at least i'm not the only one.

Hi, any progress with the update?

The Fierce XL actually joined the party with the last Redstone build. And it's loving it. But it's nice to see the rest of the additions. Posted from Windows Central for Windows 10

Any1 else get an error when you plug the Blu HD lte into the CPU with the recovery software. It just shows as an unsupported qualcom device.

There are instructions in the Blu Win HD LTE forum on how to use WDRT with the phone.

Is update also avialable in Canada? Because I do not have abny.

I'm not too sure what you're referring to as "abny" but the updates come to worldwide (no region restrictions here) Posted via Universal Windows App on W10

Tried all 4 different rings, and no update. =/

Already enrolled with my ALcatel

The Redstone from Fast is working really well on mine. Though I'm considering rolling back to do just .122

Same here! Posted from Windows Central for Windows 10
On the Alcatel OneTouch Fierce XL for Windows 10

Fierce XL here in the fast ring with Redstone build running well! Posted from Windows Central for Windows 10
On the Alcatel OneTouch Fierce XL for Windows 10

I have a Blu Win HD LTE still running Windows phone 8.1. Would like to upgrade to the latest W10 build because it was great on my L1520 but Ill wait to see what others say. Don't want to screw up my only phone.

Did any of BLU WIN HD LTE users recieve WIndows 10 update(WIndows insiders preview)?

No and now that I read the wording differently, I don't know if they really have released it for our Blu devices yet... Soon

Someone did mention that its possible a firmware update may possibly come out today (the March 3 firmware update article), and that could allow the Blu to receive it. Not sure... we shall see =) - I'll keep the thread in the Blu Win HD LTE thread up to date as I receive information/updates (if any).

Yezz Billy 4.7 Windows 10 insider Wait...waittt

Still haven't received any update. BLU WIN HD LTE

I got the recently released Lumia 650 unlocked from Europe and it works flawlessly here in the USA on AT&T GoPhone. I decided since this will be my main phone for now I will stay way from the Fast and even the Slow rings as I value stability and usability over latest and greatest. I'm in no rush to jump into Redstone beta at this point.

Alpha NEON.. Users of this phone should also be inside the insider program

I love to use Windows 10 on Lumia 630. I will stay with it
Windows Central Newsletter
Get the best of Windows Central in in your inbox, every day!
Thank you for signing up to Windows Central. You will receive a verification email shortly.
There was a problem. Please refresh the page and try again.