Microsoft adds social features to Xbox One SmartGlass on Windows Phone and Windows 8.1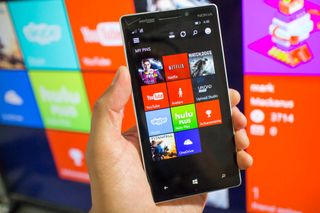 Microsoft has updated Xbox One SmartGlass for Windows Phone and Windows 8.1. Today's update brings features from the beta like threaded messages, status updates more for Xbox One fans on Windows Phone and Windows.
Head into the Windows Phone Store and you'll find Xbox One SmartGlass listed at version 1.0.6.0.
Here are the new features you'll find in both the Windows Phone and Windows version:
Share and post activity feed items
Post status updates to your activity feed
See your activity feed on your profile
Display messages in a new conversations view
Record game clips
In-app display of release and feature notes
Expanding to new markets
TV and OneGuide available in new markets
Bug fixes
Grab the update and let us know what you think!
Thanks for the tips everyone!
Get the Windows Central Newsletter
All the latest news, reviews, and guides for Windows and Xbox diehards.
All I need is an Xbox now.

Got mines last week and glad o didn't get the PS4

I want an Xbox One, but I definitely wouldn't give up my ps4 for it.

I'm not sayin that the PS4 is bad, in fact it's awesome, I just like how everything works together with my Xbox, my phone, tablet & desktop. Everything.

That's exactly why I would want one. I'm still annoyed about how the Xbox smartglass app is on iOS, Android, and Windows Phone, but the PlayStation app is only on Android and iOS. Microsoft always "gives away" its services but we never get anything in return. Oh well, that's just how it always is for us.

Yes, But Sony doesn't own Apple or Android so MS can't really fight back.

Does the PS4 have the same quick start capabilities as XB1. Where you can go home from a game and quickly jump into another. Just curious.

I'm actually not sure. I play games the old fashioned way where I exchange the discs if I want to play another game.

Didn't have the console.:(

The right move! Especially if they want to remain competitive against other phone OS's... which is my wish also.

They should make The Activity feed a social network for gamers and also integrate it with Skype Like a Skype feed. Where all your games videos, pictures and also social updates come together. Do it like the way google plus does it Posted via Windows Phone Central App

Not a bad idea. They definitely need to do something about the games app on Windows Phone though. It's basically useless without gold, and I don't nearly use my Xbox enough to justify gold. They should be doing things to make me feel like I care more about Xbox as a brand, not alienate me further.

i so with u on this! skype should be a social network with the focus on calling and messaging.

When is this coming to India?

When it does, you'll get your updates faster.

They broke the one guide when you look at tv listings and try to see future shows it goes to the last date in the guide.

Hooray!!!
oh wait i dont have an xbox.

You can use the app, only login with your microsoft credentials.

What happen to 360 version? it is working with zero issues...

Seriously, I've been all excited for this Grand Return of the Live Tile for XMusic.... Holding off a refresh of my Start layout for it lol. *glares* This update to SG is neat too, though...!

Totally off-topic, I hate this kind of comments. Do you want a live tile with your artists? then use Mixradio, it has a cool live tile.

Is it an animated tile like on wp7 though?

No animated, but when a song is played, you can see the disc cover and the song information, and is no song is played (pause) it can show a background with several artists. IMO it looks nice.

The need to give xbox 360 some love with this app. I have't got a XB1 becuse most of my friends are on 360, That's where I game. Playing Street Fighter Ultar.

You can use the app, even better, you can use the app for "buying" the free games for gold (when you buy your Xbox One, you will have a lot of free games).

Good idea. I usually log into my account on xbox.com and cue up my 360 or XB1 games. I have a few games in cue waiting for when I get my XB1. I mostly use it to chat with my friends on 360. It's mush faster then the older app for sending messages.

I really think that you and your friends should all just get a Xbox one this holiday season and not look back. Someone has to be first to jump and it may as well be you. I find it ridiculous that kids these days don;t all get the new system when they come out. Thats how it should be done. It happens once every 10 years or so now so its even easier... In my first 10 years of gaming, I think I went NES ('86)>Sega Genesis(1989)>SNES(1990)>N64(1996)>3DO (1996).Thats 5 systems in 10 years. Followed by PS2(2000)>XBOX360 (2008)>Xbox One (2013). The funniest aspect of this is that I think I remember still paying $50 a game in the late 80's (or at least my mom did)... Funny how they have stayed the same price for sooooooo much more development.

They should add social features to XBM. Every time I want to share a playlist to a friend I have to go to Spotify...

Windows Phone needs to be able to turn the Xbox On and function fully as a TV remote.

For those people with the WP8.1 and the One, does Cortana have Smartglass integration?

I wish sharing on WP in general was more robust. It only,allows sharing to facebook and 6tag. Where is everyone else

Do anyone know how to make sure that SG gets the US store instead of whatever store it has now? I have US store on my One, but not in SG with US region and everything on the phone.

Windows keeps getting better and better

We need people hub integration!! And the ability to link contacts to friends and see their activity all in the people hub!!!!!
What do you think guys????

uhm, I can't seem to find it on web search, but can I install Smartglass on a Win 8.1 Notebook PC(a Toshiba Satellite)?

I hadn;t really used Smartglass on my Phone in a while (I use my Surface RT usually, still running strong...) and was pleasantly surprised by all the options the app has gained. The ability to use OneGuide outside of using my tivo guide was a pleasant surprise. It really is getting better and better. Now we just need Cortana on XBox One.

Now if they can add the games you have on the phone to this app(and allow them to only show in the app), we can trash the crappy Xbox hub on Windows Phone 8.1......