Microsoft announces new SDKs for Windows, Android and iOS, teams up with IFTTT and others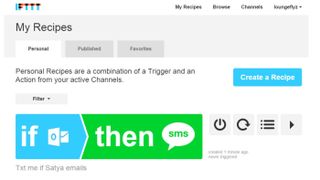 Microsoft today announced a wealth of new functionality for its Office 365 suite that will enable developers to add a number of new features to Android and iOS applications.
The gist is that there are now a number of new APIs for email, files, contacts and calendars, allowing developers to more easily tap those resources in their applications. And to that end, Microsoft also is making available new SDKs so that Android and iOS developers can more easily code-in those new features in their favorite IDE.
Of immediate interest is IFTTT, which will fire up an Office 365 channel in the coming weeks, and Microsoft will have a number of other partners coming on line as well.
Developers can get started with the new APIs at Microsoft's Office Dev Center (opens in new tab).
Source: Microsoft
Windows Central Newsletter
Get the best of Windows Central in your inbox, every day!
Phil is the father of two beautiful girls and is the Dad behind Modern Dad. Before that he spent seven years at the helm of Android Central. Before that he spent a decade in a newsroom of a two-time Pulitzer Prize-finalist newspaper. Before that — well, we don't talk much about those days. Subscribe to the Modern Dad newsletter!
Now if they could add more APIs for windows phone too, we would have better apps with more functionality

Windows phone ahhh.. Whats new ?

Better Microsoft can start a platform for helping android and ios.

Nokia had done a lot to wp than what Microsoft is doing...

Business.
And that's expected :)

Support the top platforms is good business and is expected. Not supporting your own platform is not good business. If you don't want to support your platform, dump it and save money. If you are going to try to grow your platform, you need to give it at least the same support you give teh top platforms and you should always give it something extra so that it stands out and gives users a reason for chosing it. At least release the features at the same time on all platforms.

Cool, new features for rival Mobile OSs while Windows Phone stays in the limbo. Microsoft seems retard some times

Considering that all APIs will be merged in W10, I can say with confidence, that this is coming for Windows powered phones.

That's for sure. I want windows 10 leaks to,come out but it's good that it remains unleaked and comes as a surprise.

Youtube expirience is still pathetic. If i am not wrong new lumia denim has a bug which will never let you wtach youtube live channels or live event despite browser in desktop mode. i made a small video to demo the bug. you can check by googling "Lumia 730 bug".

Wtf! Satya Nadella is interesting in other os more than windows phone

Mobile first, cloud first doesn't mean windows phone only. It means reaching as many people as possible. It's just facts, more people are on the other platforms. Although, I think it would is worthwhile for Microsoft to reach the other platforms, the experience should be superior on Windows phone. Similar to how office is much better on a Windows PC than office on a Mac.

Can anyone tell me why it SEEMS that MS supports their rivals more than their own platform? Am I not seeing the big picture?

For better user interface of pc version of windows they are in need to support android and ios users I think .

And still no version of IFTTT app for Windows Phone.... sad...

Windows means everything including phone. Windows 10

I know that. All I'm saying is that there is no IFTTT app for Windows Phone. Not complex. Windows 10 will be released next year. I'm talking about now.

Can everyone please calm down? The APIs are in the cloud. *Any* OS can make calls to them. The SDKs sound like they will allow devs using development tools for iOS and Android to easily create code to make calls to the APIs. Visual Studio just needs an extension to achieve this: https://visualstudiogallery.msdn.microsoft.com/7e947621-ef93-4de7-93d3-d...


When ios or android these two words appear . Then these all start barking.

This is exactly why I preordered my opo No new flagships in sight for MS, ill go explore the competition and see what's the hope is about. Once MS gets worthy flagship to 920 and step up on better app development ill be back on line. I'm disappointed in myself as much as WP support.

these are the great moves in order for people to use microsoft account and clouds services. then microsoft will become popular as modern computers and more new cloud innovations.

Dear microsft , please google "Lumia 730 bug" a video to show how much microsoft lacking in you tube experience even in brand new series of lumia. you still cant play live events in youtube unless desktop mode is shifted. Unfortunately in lumia 730(with lumia denim) its even worse bug despite having(IE setting desktop view) it redirects to mobile youtube and gives error "Live event play back not supported". Your arrogance is making powerful neat nokia smartphones look dumb and inefficient.

The picture shows the Outlook icon, but the article says Office365. Am I misunderstanding something here or will IFTTT have a channel that works well with Outlook.com as well as Office365?

Now if only they're gonna release IFTTT app for WP

The reason why this came first to IOS & Android is because windows phone lacks certain APIs that developers can use to build for the platform, this is the same reason why WP apps lack features that a present on rival platform apps, what people don't see here is that windows phone is still immature and that's why we see basic apps like file manager arriving late on the platform things that should have appeared first hand, lets just sit and wait to see what windows 10 for ARM is going bring but for windows phone? Am sure there is something Microsoft never told us in the first place and that's why the techgiant once again is going to tear the papers and rebuilt its mobile platform.

Not entirely true. Check manzanotti's comment above. These are cloud based APIs. The Visual Studio documentation for this plugin clearly states that Windows Phone 8.1 is supported.

While eclipse can run on any computer Windows Phone SDK needs 64bit processor with 6gb ram and Microsoft wants more and more dev's. When will they realise all this crap!