Microsoft appoints new Windows Insider Program lead ahead of 'new era' for Windows 10
Amanda Langowski has been named new lead for the Windows Insider Program.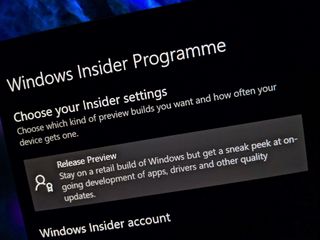 (Image credit: Windows Central)
What you need to know
Microsoft announced Amanda Langowski as the new head of the Windows Insider Program.
Langowski was previously in charge of the flighting system for the Windows Insider Program.
Microsoft's Panos Panay made the announcement earlier today.
The Windows Insider Program has finally found its new leader. Amanda Langowski, previously in charge of the flighting system for the Windows Insider Program, and also coordinated several beta programs for Windows back in the day. Langowski is now in charge of the entire Windows Insider Program, replacing Dona Sarkar who left the role in October 2019.
Microsoft's Chief Product Officer, Panos Panay, made the announcement earlier today, and says that Langowski is the right person for leading the Insider Program into the next era. Panay recently took charge of the Windows client and user experience, which likely means some big changes are in the works for Windows 10.
The Windows Insider Program is going to play a vital role in the development and testing phase for this "new era" of Windows, which may have been teased in a video posted by Panay on Instagram. In the video, a brand new UI design for Windows 10 is showcased, many elements of which are not part of the product today. Windows 10 is in need of a good face lift, and perhaps that's first on Panay's agenda now that the Insider Program has a leader once again.
You can follow Amanda on Twitter here!
Zac Bowden is a Senior Editor at Windows Central. Bringing you exclusive coverage into the world of Windows 10 on PCs, tablets, phones, and more. Also an avid collector of rare Microsoft prototype devices! Keep in touch on Twitter: @zacbowden.
Best of luck to Amanda! I hope we'll see her lead the Insider Program to good places.

Did they pick her because she is the right person for this job or are they just trying to be inclusive, like they did previously with Sarkar? Ever since the departure of Gabe Aul the Insider Program has been a total mess and a disaster.

Did you even read the announcement? Or this post at all? "Amanda Langowski, previously in charge of the flighting system for the Windows Insider Program, and also coordinated several beta programs for Windows back in the day." It's right there. And if you had read the announcement, you'd know that what is referred to as "back in the day" here is, in fact, a 20-year career at Microsoft. Also from the announcement (*emphasis* mine): "Amanda's passion for Windows is evident in her *20-year career* at Microsoft, which began with *coordinating beta programs for Windows*. Since then, she's been an extraordinary and dedicated product maker for the company. In meeting Amanda, one thing that is immediately apparent is her passion for customer feedback and the positive impact it can have on our products. This can be seen in her work *leading the Flighting Platform Team* not only *coordinating the release of each new build* that goes to Insiders, but also in *managing our Insider settings* capabilities, ultimately enabling one of the most powerful streams of customer feedback we have." I'd say those are solid credentials for the job. But sure, let's jump to conclusions first, think second.
Did you really need that spelled out for you? What are you, some immature edgy teenager? Or an idiot who needs to compulsively question a woman getting a new tech job simply because she's a woman? For ****'s sake, really! This crap is exhausting.

They said the same thing about Dona Sarkar. Here is what Gabe Aul said about her when she became the leader for Insider Program: " I have worked with Dona for many years and think she is the perfect person to guide the Windows Insider Program forward. Her technical expertise, passion for customers, and commitment to listening to feedback is unmatched. She has deep roots in Windows, and started her Microsoft career as a software engineer during Windows Vista where she owned several device-heavy features such as AutoPlay, Bluetooth and Blu-ray integration into Windows. During Windows 7 and Windows 8, she owned the search end-to-end experience as well as a handful of other things including File Explorer and Open/Save dialogs. During Windows 8.1, she got to work on "magic" aka the Roaming/Backup/Restore platform for settings and app data. She also did a stint as the product lead for the Windows Driver Signing portal for Windows 10. Most recently, Dona has been working on the HoloLens developer experience, including the documentation, sample code, forums, Holographic Academy and #HoloHacks, the very first community driven holographic hackathon series. Dona is incredibly excited to take on this new role, and even when we first started talking about the possibility she was sharing great ideas and insights on where we can improve on the program going forward. She says that she has been "waiting for this job for 11 years". ... You are in GREAT hands with Dona, and I'm super excited to see how she takes the Windows Insider Program forward to be even more responsive and fun for all of you." https://blogs.windows.com/windowsexperience/2016/06/01/a-change-in-leade... But all that"passion" and "experience" did not save the Insider program from become what it became under her: a disaster.

Can you describe how the insider program became 'a disaster' under Dona??

Did you just assume Amanda's gender?!

Your keyboard is broken, it's putting out gibberish.

Frankly, I'm amazed people still think or speak like this. Without any idea whatsoever who or what she is, or what she has done, probably never met her or knew she existed prior to this article, one insinuates she is 'incompetent' or an 'inclusion' appointment. It's really unbelievable I find it hard to grasp. People talk of enlightenment, logic and rational thinking today, yet the conclusions drawn from a single event are very far from that. On what logic or basis exactly was such a conclusion even remotely arrived at??

It's a shame that some are so stuck in the past that they automatically assume anyone who isn't a white male must be unqualified and only there for diversity. Surprised they get internet in their caves.

Thank goodness for Panay. Having someone who seems to have actual passion in charge should mean good things for the platform as a whole. Best of luck to Amanda in her new role.

Hey guys. I have encountered a big issue. After changing my Uefi system to boot from external device, now my Sony Vaio says operating system not found; and I can't get back to Uefi to change the systems back to original. Any advice ?

Try this: https://superuser.com/questions/1373696/how-to-access-uefi-on-sony-vaio-...

Any change to the Insider program is a welcome. I wish Amanda, Panos and Windows the best.
Windows Central Newsletter
Get the best of Windows Central in in your inbox, every day!
Thank you for signing up to Windows Central. You will receive a verification email shortly.
There was a problem. Please refresh the page and try again.