Microsoft Band officially on sale again in Microsoft Store US retail locations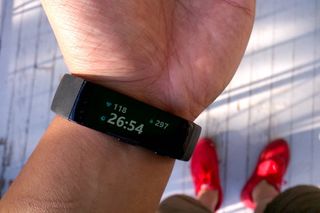 As we previously reported, US Microsoft Store retail locations are now selling a new shipment of Microsoft Band units. There's no word on how many units of the $199.99 wearable device are available for sale in each store location.
It's more than likely that shipments are highly limited. So if you want to get one and you live near a Microsoft Store location, you might want to go today before they are sold out. This restock is just for US retail stores; the Microsoft Store online site still is not selling the Microsoft Band. Hopefully, these supply issues will straighten out soon.
Source: Microsoft Store (Twitter)
Get the Windows Central Newsletter
All the latest news, reviews, and guides for Windows and Xbox diehards.
None available in Bridgewater NJ. I went at 11am today and they had no idea when or if they would get more.

I called both my local stores, both had NO stock on hand, and the lady I talked to at the Park Meadows location in Colorado was wondering why they were suddenly getting calls regarding this, so I told her about the site. She stated "this is sooo not good..." They were not sure when they would get any in.

At least you can call them. The local phone numbers for the Arizona stores transfer directly to the Microsoft Store call center.

Last time I was in I asked for the direct store number instead of the call center they pass you through. Worked like a charm. Just gave a quick call to see if they had any yet, and they had not recieved the shipment yet, but were expecting it sometime this week. They said for me to keep calling in.

Freehold, NJ had them, but only got a few. I just exchanged my large for their last medium. So I know they have at least one large in stick right now.

Sadly, not available in Bellevue either!

Be persistent with Bridgewater's store. I went there for the $30 Xbox Music deal, and my mom decided to join in to do some holiday shopping (one of my brothers wanted a Band as well). After she asked the sales rep for the Band, he had the storeroom guy go check, who said there were none. She kept asking and the sales rep himself went back to check and he came back with four Bands (one for each of my brothers). So they could have them and just not realize it for whatever reason.

None in St. Louis this morning although they might be getting a shipment between 12 and 4 today. They didn't know if the shipment would have any bands though.

None in Dallas at north park mall. Sold the only one they had this morning. Staff seem like idiots thou so you never know

Nice now sell it to everyone else

Not available here in Indonesia.. Heck, even there is no Microsoft store in Indonesia

Yay...oh wait...I live in the UK! Looks like I'll have to wait till 2016's New Years resolution!!! :'(

Better to wait for rev 2...

I'm kinda thinking the limited availability might be a blessing in disguise in that regard. Let the guine- err, early adopters help work out the kinks, and we get a polished product. :D

Remarkably polished for a first release actually... Basically no complaints at all in terms of either functionality styling or ruggedness. Only minor gripe is regarding texts, news headlines, etc... Wish they'd let us read the whole thing on the device itself... I know the screen is tiny but a certain small percentage of users (myself included) wouldn't mind and there is really no reason NOT to just allow people who want it to scroll further and see more if they choose.

IMHO it is usually the third iteration of a product before they really start to nail it - first is rush to win market share, second is paper over the cracks of the unacceptable flaws, third is a redesign based on feedback of what people actually want/need. That was certainly the case for me with the early MP3 players, the iPad, and now it seems the surface pro 3

Just picked mine up in Santa Clara, Ca, after driving 3 hrs, one way.

Happy you got your reward.

Hey John how'd you get that info to display on your band?

That appears to be the run mode.

My wife was fortunate enough to get me one for Christmas. I couldn't be happier. Its an awesome device.

Same here! My wife was sneaky about it too, so it was a wonderful surprise for me on Christmas. We were convinced that I would have to wait for the new year. And yes, it is an awesome device!

Just contacted the MS Store in Natick Ma and they have No Bands in Stock.. I'm wondering if the Boston or the other Mass Store has any in Stock yet... Anyone ? Sorry it took so long to post this message Windows Central is Loaded with Crap adds that we need to wait to load...

Ad block plus my friend....problem solved.

Got one in West Hills Ca. No small sizes, plenty of mediums. They said they were going to get more next week.

I was visiting the MS store in the Pru Boston from Canada on holidays about 1 week before Christmas and there were about 10-20 in stock, but found nothing at Natick and Westchester the day before. Has been working perfectly for wife and I in Toronto!

Hey, but how can you sync it with your WP if the Microsoft Health app is not available in Canada?

Why doesn't Microsoft allow store shipping, just type in your zip and select the nearest store and have them ship it to you?!

that wouldnt make any sense. why would you ship store inventory to oline buyers? all it would do is give store employees more to do, and piss off customers.

No it would not, home depot, Lowe's, sears, jcpenny and a lot of other retail stores do it. That's how retail works!

And Macy's has been doing this forever...great way for inventory control and satisfying customers as well.

It makes some sense, but may not be optimal in this case. Rare items like vinyl records are sold using retail and online. Microsoft band is equally rare in my opinion. Microsoft should be more consumer friendly in this case, the customers looking for a band are the best they have and need to be nurtured.

It is none-sense! They could directly ship it to you...

The tweet from @microsoftstore disapeared regarding it being in store.

This report isn't true for the Chicago area.

Still not in stock this afternoon?

Not this morning anyway...Just tried calling Woodfield, still nothing in stock.

Bummer... I'll give woodfield a call and see if there's been an update.

Apparently Chicago locations did nit get stock.

The associate on the phone said call back on Tuesday, that they MAY get a shipment by then, but I'm not getting my hopes up.

Worldwide, please. I'm a long term loyal customer but this is really testing my patience and my loyalty.

We have a hard time geting ahold of them in the states.... would be the same situation for you as well if they were available.

if they dont have enough for the first country they're shipping to, why add other countries on top of the shortage?

Its just like the surface pro launch, you would have thought they learned something from that fiasco...

Not true for Philadelphia Area. Went to Christiana at 10am, none in stock. Called King of Prussia, PA and Cherry Hill, NJ and same thing.

None at the Scottsdale location.

I was just at the MS Store in Bridgewater NJ...none in stock.... I was all ready to purchase too. At least I got to try on the display units for sizing...

Freehold, NJ got a few in today. I just exchanged the large I got on Christmas for their last medium, so I know they have at least one large in stock.

Drove an hour to get to Bellevue store after getting tweet saying all stores had 'em come and get 'em. No joy. You'd think a premier US tech company would have its logistical act together..and at the store only 5-10 minutes from MS main campus and corporate HQ.

Got mine Friday afternoon in Thousands Oaks, CA :)

US or better yet MS should not rely only on China for production. Make your factory in other countries too like The Philippines, Vietnam, and Indonesia.

No stock at 12 oaks, Michigan. Never got the shipment. Im thinking Monday will be the day!

The little cubicle gets em? Interesting! I assumed I would have to go to the Troy location for this. (notes down fellow Michigander in stalker notebook)

Ha, Troy is definitely bigger than the cubicle ha. But the cubicle has been good to me.

None at Tysons Corner VA.

It seems MS still have a lot to learn from Apple when it comes to retail and global availability.

I called St. Louis that and was told that they had none, and to call back near the end of next week, as they had not heard anything recently.

What's the number for the St. Louis store?

Nice. Just in time for the Holiday Seaso...oh wait.

None at any Houston area stores. This is so crazy.

I'm sick of commenting Canada. :'(

Anyone in the SF Bay Area. The store at Valley Fair in Santa Clara has them in stock! Picked up mine this morning!!

I called the Ross Park Mall kiosk last night and they said they were expecting a shipment yesterday(Friday) but it never showed. Hopefully it comes in Monday.

That's what my local kiosk said too

Kinda off topic. Is there any website a la fitbit.com/dashboard where I can track my daily progress from the band? Or is the phone app the only option to check progress? Thanks =)

So far the only option is the phone app. If I remember correctly, the band can upload to third party apps (myfitnesspal and RunKeeper) and through their websites you will see your Band data integrated with theirs.

Can it really, that makes it real tempting, my peeps are on myfitness pal, gives me more incentive to buy one if I can integrate with third party apps.

From what I can tell, it will upload only the calories you burned during a workout to myfitnesspal. I don't have a RunKeeper account so I can't comment on that.

Just snagged one today in South Portland, Maine. Pretty impressed so far. Coming from a FitBit this is a brand new world. Paired nicely with my HTC one m8 windows. Score!

Wait until you start using it with Cortana!

I call bs. I had a friend check at the largest store on long island and they basically laughed in his face when he asked. Stop reporting on this if it isn't true!!!

You read past the first sentence, right?

This whole band fiasco is making me lose faith in Microsoft. Tempted to switch to Android again so I can grab a pebble for half the price without having to call to see if stores have stock.

do it. ms have lost the plot.

Willowbrook Mall Kiosk got some in and called me. They got in 14 total and they were gone in a couple hours. I got the last Large size one they had and I arrived about an hour after they called me (I was on "the list"). So it's entirely possible this story was written when Bands were in stock, but by the time y'all read the story they were sold out again. Ya gotta be nimble folks!

Question: How do I become a loyal Microsoft consumer when there are no Microsoft stores in my country?!!!!

Got mine today at Fashion Show Mall in Las Vegas. They probably had atleast 15 more on the shelf. So far I really like it.

Wow must have been lucky picked one up in Webster Texas (loads in stock ) just before Christmas, and also tired a different size on at Columbus circle NYC. Must say really liking it so far fits well and works well too by by polar heart rate monitor. Only thing on wish list for v2 would be NFC so far

When are they going to release it the rest of the world especially the in the UK?

Windows Phone Games HACK&CHEAT ( http://m.youtube.com/watch?v=kqWVsuAi5is )....

A terrible launch for Microsoft. This device sounds and according to many launch reviews seems a good device, working on iOS, Android and WP. If available (UK), I would very likely buy one. But the availability issue is may turn a lot of people to the new FitBit devices.

I love this device. The Band truly changed the way I interact with my phone and preform my workouts.

The store nearby me at Roosevelt Field, in LI, NY, always seem to have them in stock when I go to the store.

My friend went yesterday and they didn't have any, otherwise I would have gone out to get one.

Ok. I'm not saying they don't sell out, just the times I've been there just before Xmas, they said they had a few in stock.

Any news on a UK release.

I got to play with one in the Somerset Collection MI Microsoft store... It was so clunky and slow... Felt like a beta device through and through... Sensors are a great idea but the ensemble was just not ready for prime time...

Just went to the Los Angeles store. They have shelves FULL of them, as usual.

Second person I've heard say that the LA stores always have them in stock. It would be nice if they'd ship to other locations. I drove 30 miles to get one after the tweet went out from the Microsoft Store and was told that none were shipped to Arizona. After inquiring on Twitter, they deleted the tweet saying they were "in stock at all US stores" (but not before I did a screenshot).

LOL, Just in time for Christmas. It never ceases to amaze me how MSFT can continue to have fail after marketing fail. I look forward to a Lumia 1020 replacement coming out right after Christmas 2016.

Ya, I was really jonsing for a band to pair w/ my 1020 over the holidays. Being a Canada though it just wasn't happening. Still isn't sadly. I'm hoping by the time my birthday rolls around (May) version 2 will be available - and not just in the U.S. As for the 1020's replacement, I'm crossing my fingers for October when my contract's up.

I called the MS Store number and had them check my local store, and they said none were in stock. They also said that their reporting was about two hours behind, so it's not too accurate. I decided to visit the store anyway, and to my amazement they had PLENTY in stock! I am now the proud owner of a Medium Band! Moral is... If it's not out of the way, take a ride to the store...

NFC - I'd like to be able to use the Band for contactless payments, as these are now ubiquitous in the UK in many shops and on the tube (metro) and bus network and is rapidly replacing cash for small value transactions. This is also gaining traction in the US and will be a huge market within a year (due to Apple Watch). It just needs a tiny NFC chip and a deal with a UK company like Softcard in the US who already work with WP (http://www.windowscentral.com/softcard-brings-nfc-payments-windows-phone). Sure, Gorilla Glass and a thinner body would be great advances on version 1, but NFC will add a whole new dimension to the product and allow the Band to compete directly with Apple Watch which will have contactless payment technology built in at launch. As for waterproofing, that is a very niche requirement and would add bulk, so could perhaps be an advanced version for those that need it, but not on the basic model.