Microsoft expected to receive prestigious Helen Keller award for inclusion efforts
The American Foundation for the Blind (AFB) has recognized Microsoft's efforts to make technology accessible to people of all abilities.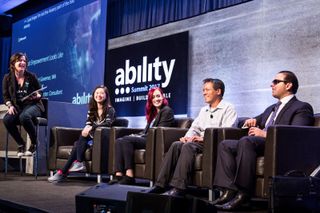 On April 8, 2018, Microsoft along with Facebook and renowned activist Haben Girma will receive AFB's prestigious Helen Keller achievement award.
This award honors the legacy of Helen Keller, an activist, lecturer and author who was also the first person who was deaf and blind to ever earn a bachelor's of arts degree. For over four decades Keller was an AFB ambassador whose work, convictions and achievements inspired millions of people of varying abilities around the world.
The award bearing Keller's name recognizes exceptional individuals and organizations whose work expands the possibilities for people who are blind or visually impaired. This year, Microsoft will join the elite group to receive this honor.
What AFB sees in Microsoft
Microsoft's world impact as a software, devices and services company is profound. It is one of the world's most recognized brands and its products and services from Windows, Office, cloud and more, touch billions of lives. The company's mission is to help every individual and organization to achieve more. Microsoft's CEO Satya Nadella likes to explain the company's role as providing the tools that others use to create technology that helps others do more.
Last year a Microsoft hackathon team did just that. The team was inspired to help former football great Steve Gleason regain mobility after he developed the immobilizing Lou Gehrig's disease. The project culminated in the team modifying Gleason's wheelchair allowing him to navigate independently, and an update to Windows 10 that allows users to control the OS and software with their eyes. This Eye Control update to Windows 10 is one of the things that helped Microsoft earn the honor bestowed upon it by AFB.
The Seeing AI app which "perceives" the world and narrates what it sees from actions, text, facial expressions, people's ages and more to the user, is another. This app was developed by Saquib Shaikh, a Microsoft developer who is also blind. The app uses AI and Microsoft's Cognitive Services to accomplish its possibility expanding feats.
Xbox, Office and AFB
AFB also noticed Microsoft's accessibility enhancements to its popular productivity and entertainment brands Office and Xbox. Office Lens's optical character recognition, which directly inputs content into OneNote, Excel, PowerPoint and Word is just one example of the enhancements to Office. Copilot and the Accessibility API for Xbox One, which made the system more accessible to gamers with disabilities, are other examples that garnered AFB's attention.
Together, Microsoft's efforts exhibit the scope of the company's commitment to accessibility across its brands. And AFB isn't the only organization to recognize Microsoft's efforts.
Marketplace Leadership Award
Last September, at the U.S. Business Leadership Network National Conference, Microsoft was honored with the Marketplace Leadership Award for Product Design. This award recognizes the outstanding commitment and leading disability inclusion practices of organizations and individuals. Chief Accessibility Officer Jenny Lay-Flurrie acknowledged that the award represented contributions from across the company.
Braille Support, updates to Narrator, Accessibility Checker, PowerPoint Translator and more are some of the areas where Microsoft has designed its tools to be accessible to individuals with disabilities. The company's philosophy is to design products from inception forward with all users in mind. In the past, products were designed for individuals without disabilities with modifications being made after the fact.
Microsoft's inclusion efforts still have a ways to go, and the company is pressing forward, but its initiative and leadership in this area have been recognized.
In fact, the Emma Watch which gave Emma Lawton, who is living with Parkinson's Disease, the ability to write her own name again, was the biggest news story for Microsoft UK in 2017. Of all the Microsoft news stories, the fact that one that focuses on enabling others achieved this status is telling of Microsoft's inclusion and accessibility efforts.
When inclusion no longer needs recognition
Though these honors and awards are an encouraging acknowledgment of the effort Microsoft and others have put forth, perhaps one day they won't have a place. If the mutual goals of various organizations are reached, perhaps "inclusion" won't be such a distinct aspect of a company's business model in the future.
Instead, as we will value all people of all abilities from childhood forward, perhaps those values will naturally translate to organizational hiring practices and product design.
If this happens, special attention will no longer need to be brought to acts of empathy in business or in life. We'll all simply be doing unto others as we would have them do unto us. That would be an award unto itself.
Get the Windows Central Newsletter
All the latest news, reviews, and guides for Windows and Xbox diehards.
Jason L Ward is a columnist at Windows Central. He provides unique big picture analysis of the complex world of Microsoft. Jason takes the small clues and gives you an insightful big picture perspective through storytelling that you won't find *anywhere* else. Seriously, this dude thinks outside the box. Follow him on Twitter at @JLTechWord. He's doing the "write" thing!