Microsoft celebrates the one-year anniversary of the Windows Insider Program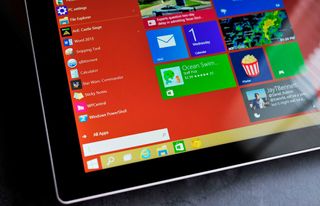 On October 1, 2014, Microsoft released the first Technical Preview build of Windows 10. That launch was also the official start of the Windows Insider Program, where anyone could sign up to download preview builds of Windows 10, and later Windows 10 Mobile, and provide feeback to the Windows teams at Microsoft.
Today is the the one-year anniversary of the Windows Insider Program, which continues with over seven million members signed up to receive preview versions of Windows 10 that will be later be launched to all users of the OS. Windows 10 Mobile is also being tested by those users before its official launch later this year. Gabriel Aul, the head of the Windows Insider program, wrote a note to those members in the Windows 10 Insider Hub:
What do you think about the Windows Insider Program now that it has reached its first birthday? Let us know in the comments!
I can't think of a better way to celebrate than releasing new builds for PC and Mobile. But what do I know. Anyone who is critical of their progress gets lambasted for not knowing software. smh

How dare you criticize Microsoft. You clearly do not know how software developing works!

Yes! New mobile build today!!

Well, you're not out of bounds at least...is anyone mature enough to really understand the difference between being critical and just being abrasive..?

Dude they have a huge announcement on tuesday. You can hold off on your build. The RTM might be coming.

I completely expected the headline to finish with "with a new build"

Lambasted - I had to check online. :)

Maybe next year the same time, they may just about be ready to release W10M RTM.

Cool been a windows and Xbox insider since forever.

Sounds like no more than 2 years tho...lol =p

Xbox has been over a year now near 2 years.

Were you an MSDN subscriber before the whole Windows Insider stuff? I remember those days 8-10 yrs ago where only people who pay will get beta releases. Now it's all free and in a way it's good, and in some ways it's bad

as I sit here staring at my Xbox One that isnt running Windows 10....

How about a new Mobile preview to celebrate with? Haha

Yeah, one that does actually not just say "continuing" or "loading" all the freaking time. Can't even get to my messages without waiting for 15 seconds, after last buid a few weeks back... :(

It would only be right to celebrate with a new build of both pc and mobile...

They should give discounts for new devices to insiders who have provided input/feedback...10% off a Lumia 950? Yes please! Thank you! You're welcome!

I second that, was thinking the same thing

Funny comment, but yeah totally I think Windows Insiders (especially those that have been on it since Jan 2014 should get the discount). Otherwise you run into a problem where the general public will run test builds on their computers in hopes of getting that discount

Really love the insider program. I know particularly the mobile program has been criticized, but for a guy like me in the market for my next phone, knowing what is coming, and how nice Windows 10 mobile actually is, has been really helpful. Also, the privilege of actually playing a part in the process of making the software is really neat. Thanks Microsoft!

Release window 10 mobile upgrade ..Celebration with window 10 mobile upgrade.

It's a great beginning :D! Comparing with other idea-develpment situations, I look forward to see how much the program it self will change over time :) In time, I hope to use more time on finding bugs and testing changes rather than spending time finding the right place for the feedback, as is currently the case.

NEW BUILD! NEW BUILD! NEW BUILD! (mobile obviously)

Men today can't remember their wedding anniversary then how can they remember windows insider anniversary?

They married Microsoft...

Because Mr. Aul has a boss and Mr. Aul do not know whether his boss remembers or not ;-) so he remembered :-P

Can't imagine any better interaction between users and development teams as what is offered by Insider program. Although it would be nice to see some more analysis results reported through the Insider Hub.
If those release begging participants now would be a bit more patient to just follow the Microsoft release schedules, the discussions could easier focus on the essential functionality and improvement topics.

I have a feeling this will change once all versions of the OS are released :)

Gabe Aul gave my tweet a fav! http://1drv.ms/1j34h3M

One more build, one more build, one...

Always a critic...... I'm happy I've been able to shape Windows 10 from day one! It's been awesome! Can't wait to see what happens going into year two!

Wow, didn't realize I have been running Windows 10 for a whole year!

We need another ring for people who actually provide feedback.

They need a slow ring, a fast ring, and a ludacris speed ring. And if/when you opt out of the build, a checkbox with "What's a matter Col. Sanders, chicken?" comes up asking you to confirm.

Yeah, currently the fast ring is more like the slow ring. The slow ring is more like molasses moving uphill in freezing weather ring.

Applause for Microsoft and to every Insiders :]

In celebration of the one-year anniversary, they need to release another Insider build for Windows 10 devices.

Actually, the recent article in WinBeta I think articulates what's going on. I feel some very valid points were made. And it explains why I no longer have any confidence--and very little love left--for Windows, particularly on the phone.

And yet.... http://www.windowscentral.com/microsoft-positioned-beyond-curve-apple-go...

Aul > Sinofsky because of the Insider Program

I wonder how helpful this program has been overall to Microsoft. I'm sure it has got to have been a pain in the @ss at some point with all the whiney users.

I actually didn't know this and yet I still wore my Windows Central Ninja Cat on a T-rex shirt today. Coincidence? XD

I feel my contribution made Windows better than it was. Im sure many does too!!

I think the program is great. I wasn't in the PC program but it looked like a great experience. I think mobile build release is too slow and the information when to expect new builds could be better.

It would be great if they provide us (Insiders) some digital goodies! :)

I'm waiting for Windows 10 Mobile.

The Windows Insider Program is the worst thing for Microsoft marketing. There are no surprises left. There is nothing to announce. There is no fanfare. There is no impulse to buy now. All of the bells and whisles are leaked over a long period of time. There is no clear distinction of what is truely new and what has been around for six months. Apple excels at announcing their products and creating great fanfare and impulse purchases. Good marketing can sell poor products. Bad marketing can't sell good products. Microsoft leaking all of its enhancements to free testers will be the ultimiate demise of the company. Yawn. Hololens! Could have sold hundreds of millions. Yet, when it becomes available to the public in five years, no one will want one any longer. Major fail in marketing. Microsoft is it's own worst enemy. They need a completely new marketing department. 100%. Everyone must go. I have been using Microsoft products for decades. I am a fanboy. But there are so many bells and whistles in their software the nobody but a few of us know about. What was Windows Media Center? It was loaded on a bunch of PC's. Have you ever seen one adversiement on television or in a magazine that makes any attempt to teach people what it is? No. As such, nobody used it. As such Microsoft is dropping it. It's their own fault. Speech recognition? I've been doing that with Windows for years. It's built in. Its free. Anybody know about it? Apple comes out with it and the world goes nuts. Microsoft marketing is a major failure.
Windows Central Newsletter
Thank you for signing up to Windows Central. You will receive a verification email shortly.
There was a problem. Please refresh the page and try again.