Microsoft cuts the price of the Lumia 550 down to $99 through October 9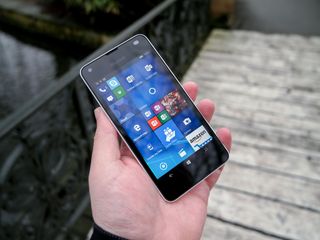 The Microsoft Store has cut the price of the unlocked Lumia 550 smartphone, running Windows 10 Mobile, down to $99 (opens in new tab) until October 9. This is a $40 discount from its normal price of $139.
This limited time discount (via Neowin) comes just a few days after Microsoft rolled out a firmware update for the Lumia 550 that fixed a number of issues with the phone. Launched in late 2015, it has a 4.7-inch display, a quad-core Snapdragon 210 processor, 1GB of RAM and 8GB of internal storage, which is expandable with a microSD card. Its rear camera has 5 megapixels while its front-facing camera is 2MP. It also has a 2100mAh battery.
Check out our Lumia 550 review
See at Microsoft Store (opens in new tab)
Windows Central Newsletter
Get the best of Windows Central in your inbox, every day!
This should be a permanent price drop

Agreed. This is a nice price.

That's asking for a lot for an unlocked phone.

Great phone for the money, especially $99. I would rather have it than my work iPhone 6 S plus.

It even has a headphone jack.

Did they stop the manufacturing? Are they just clearing the shelves at this point?

Also €99 in The Netherlands. 650 is €129.

The L640 was better in some ways and they struggled to clearance that at $30. $99 is just the start of price drops.

How is the performance of this phone? My 920 is finally kicking it, battery lasts a few hours if I even look at the screen - basically at work it has to be permanently connected. Obviouly I was thinking of the 950, but I can't justify the price, it is still too expensive for what you get in the internals. The 650 is in Amazon for like $160 unlocked, which is a great price. but this is almost half the price. this one has 8GB instead of 16GB, same memory. biggest difference is the 210 vs 212 processor. the questions is, how much of a difference is there?

I have many phones but over time my Lumia 950 has become my favorite by a small margin over the Icon. The mozo cases are beautiful, and for protection add TEch21 case.
In short.... Get the 950! $359!

Doesn't Microsoft Have the 950 selling for $299.00 currently? That is a really nice phone\price. It's come a long ways since Thanksgiving day last year.

I wonder if they will do some awesome Black Friday sale for their phones?

I hope so, I just placed an order for the 650 on Amazon at $150, and had to cancel the order 5 minutes later because the 650 only has the 1900 band on 2G. Definitely I'll have to go with the 950, which unlocked is $399 right now, hopefully it'll go down some on Black Friday... I can hold two more months, just have to keep my phone perma-charging at work lol

Go with the 950! I used to use a 920 last year then a 830, but recently replaced the 830 with the 950. Huge improvement over both. Very impressed!

The 950 is a great phone compared to the the 920 and destroys the 920 in every way possible.. well maybe except super sensitive touch :) too expensive for you is fine, but too expensive for what you get? I don't think so.

Which carrier do you use? That would help to narrow down some choices.

not a US carrier, I'm overseas, so anything I look at has to be at full price and unlocked. I think I might still go for the 650, it's only $150 right now. I guess at this point the only thing I'm sort of afraid about is having to cut my chip nano-sized, what if I have to move to a phone with the micro-sim, then I have to do a phone transfer and the whole thing... I guess it's a pain but duable

I recently bought a new 920 for my mom to replace the one she broke. I flashed it and installed w10m anniversary update and it runs like a dream!

Is there an easy walkthrough to get Anniversary on the 920? I was thinking of getting the 650 and flashing the 920 back to wm8.1

Check here http://forum.xda-developers.com/windows-10/windows-10-mobile/installing-...

The Price for the 950 (280€) here is a real bargain. It has more functions than other top Phones.

You can find the 640 XL on Amazon or at AT&T for $99. Or if the XL is too large for your tastes, Amazon has the 640 for $70. Both run Win 10 nicely.

Come on MS drop the Display Dock to $50!

One of the last few Lumias. RIP Posted via the Windows Central App for Android

Hmm maybe I should get one as backup windows device. Posted via the Windows Central App for Android (LG V10 or Nexus 5x)

I'm so getting this for my mother. Where I live, it costs 72€. Also, the 640/XL duo are selling like crazy, because the 640 costs about 95€ and the XL 105€! I guess because this is the last stock of these phones (due to Microsoft stopping their production) they are now cheaper than ever. I wish those were their original prices, they would have sold so much better... (Also, the 650 cost 110€).

I'd take one in a minute if it would work on Verizon.

I'm sure a lot of people would. I know people who have Verizon and would have bought the 950 if it were available but they do not want to switch carriers as Verizon works best for them. Even if the 550 were available, I am sure they would have jumped on it. I am sure if Microsoft wanted to, Verizon would have had them on the shelves. And they wonder why their marketshare was so low.

I will buy the 650 the day it touches 99 dollars ! Till then I m very happy with my Lumia 735 !

730/735 is lot better than 650 since 2 yrs i am using this mobile for gaming, heavy browsing.... still works better. issue is only with OS not with its Lumia. 735 >>>>> 650

I have the Lumia 550. It's 69€ euro's here in Finland (69-79€ from time to time). I can recommend it. Camera is good. Performance is good. Really nice phone. Screen is good too. Battery was only ok but it has gotten better. Size is perfect if you have small hands. It's a Trump hands phone.

8gigs of internal storage. its choked on W10. save your money for bigger internal storage - 650 perhaps?

Soon it will be free with $50 Windows Store gift card, as no one wants to buy into WM.

Check here http://forum.xda-developers.com/windows-10/windows-10-mobile/installing-...

Can someone help me? How do I install Facebook on Lumia 550?