Microsoft just delayed my favorite Windows 11 feature: Android app support
Android app support gave me the dream of a hybrid tablet with the best of Windows and Android, but now I'll have to wait.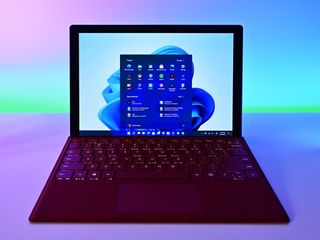 (Image credit: Daniel Rubino / Windows Central)
It was a holiday in the UK yesterday, so my work week started a bit later than usual. Sadly, it began with the news that Microsoft has delayed the launch of Android app support for Windows 11. The feature won't be available at launch, though it will enter preview testing in the coming months. Support for Android apps isn't the only feature that I'm looking forward to in Windows 11, but not having it when Windows 11 launches in October puts a damper on my excitement.
Making an Android tablet I could justify buying
Android tablets are a difficult sell these days. Even incredible hardware like the Samsung Galaxy Tab S7 is difficult to justify as a purchase, at least for my workflow. For around the same money as the best Android tablets, I can grab an iPad if I want a dedicated tablet. If I want a full PC, there are always options running Windows.
When Microsoft announced that Windows 11 would support Android apps, my mind immediately thought about having a Surface device with Android apps. This would get me some of the benefits of an Android tablet without the drawback of lacking full PC functionality.
I understand that when Android support launches, it may not be perfect, but the concept of it excites me. Both Windows and Android tablets have their faults and shortcomings. I hoped that Android app support on a Windows device would bridge some of the notable gaps. Consumer-focused apps would get a boost from Android support, while full productivity apps would still be there through Windows.
At least in my specific workflow, this seemed like the best of both worlds. I could pick up a Surface Pro X this fall and then have media apps from Android (and some through the Microsoft Store) while still having my work apps through Windows.
A sad, but not unexpected, delay
The news that Android apps won't be supported at the launch of Windows 11 isn't horribly shocking. We're at the end of August and Windows Insiders haven't gotten a single build with the feature working. It would have been more surprising to see Microsoft go from Insider testing a feature in September to launching it to the public in October. But just because it's not surprising doesn't mean it's not disappointing.
Some people already think Windows 11 is just a facelift. While I've detailed why I disagree, not having a major feature at launch makes it a tad harder to argue. There are still plenty of features that will ship with Windows 11, but some of them won't matter to certain people. It's easy to tell someone that their favorite app is on Windows 11 now. It's harder to explain the benefits of Dynamic Refresh Rate or Direct Storage.
Windows 11 has a long list of new features, but they're spread across different use cases. Gamers will benefit from some while not caring about others. Students may enjoy the improved Ink Workspace but not care about widgets. By not shipping with support for Android apps, Windows 11 is a less intriguing prospect to some people. That's not a great look for an OS that's already in the headlines for the wrong reasons.
At least it's not canceled, right?
While I'm saddened by the delay of Android app support on Windows 11, at least it's not canceled. Microsoft has a history of tearing our hearts out when it comes to some features (RIP the People Bar). As long as Android app support ships at some point in the near future, I suppose I'll be okay. It's a pretty first-world problem to complain about having to wait a few months to use an app on a secondary device. Until then, there's always BlueStacks.
News Writer and apps editor
Sean Endicott brings nearly a decade of experience covering Microsoft and Windows news to Windows Central. He joined our team in 2017 as an app reviewer and now heads up our day-to-day news coverage. If you have a news tip or an app to review, hit him up at sean.endicott@futurenet.com (opens in new tab).
Was just going to say that. I will now be more surprised if it isn't cancelled than if it is.

**** Android Apps. If Android Apps are that important buy a damn garbage Chrome Book and shut the hell up.

I don't want a Chromebook because it doesn't do all I need it to. But increasingly, neither does Windows. That is because Windows is a pure legacy OS with no new (non-game) software being made available for it. But mobile has lots of new and important software being developed, so Windows + Android apps would help tremendously. Right now, throughout my day I use my PC for some things and my phone for others. It'd be fantastic to never have to touch my phone!

Care to elaborate on what are these new apps being developed for Android that are useful? I've been trying to use my phone's Samsung Dex on a big screen as a travel work setup, but the lack of any real pro-apps on Android has been a major drawback compared to my iPad and Windows PC.

Apps related to smart home: cameras, smart light, air conditioning, robot vacuum, security system; apps related to particular services: Nintendo switch online, some banking / payment app, Uber, some apps related to event / attractions. Before you say you can go to their website blabla, no, many of them doesn't have functional webpage version, just like how it looks like when you say these apps have WP versions but they were not functional at all.
And next are lots of mobile games.
If you think windows is only for pro to use and should not be used for real life and entertainment, Android apps are not necessary for sure. I don't need any of above apps when I'm working.

Those are phone utility apps, not PC productivity apps.

If they cancel it
Iam really gonna cry 😭😭😭😭😭😭😭😭😭😭😭😭😭😭😭😭😭

I like to think that I have no use for this but it's hard to say because I've never truly had access to it. I've tried Bluestacks but is slow with a terrible UI (at least when I used it). And I've tried Your Phone using a Samsung phone but that's still slow and cumbersome. I've never had a nice, integrated solution where all I needed to do was go to the store and download the app. So maybe I would find a use for this if the process didn't suck so bad.

Guess this means my dream of a Windows Phone with Android apps will have to wait too. I'm still holding out hope since 2014. Lumia 925 is still the best phone I have ever owned.

Must not have used very many phones, then. I was a WP user from the beginning to the end, and what I always saw was tons of *potential* but they were always so slow, laggy, and lacking in app support.

You damn sure haven't used many phones then. Broaden your horizons brotha.

Any android phone with the windows phone launcher app 🤔 i know a few that are running their phones this way.

I am with you. I still miss my Lumia 920 and 1520 to this day. I am on Android now and it has the apps but the OS just doesn't do it for me.

I am So disappointed this was the one thing I have been waiting for and now there is nothing not even any secret screen shots, I think it was all a gimmick fake to make us think things were going to change.
this crap happens all the time with windows phone running android apps on the phone and all kids of crap not to happy right now .

Aww so sweet 🥰... You still trust Microsoft.

I don't get the whining. OK, it's delayed, I'd rather have that and give them time to get it right than to have a botched roll-out/release where the same people whining about the delay now would whine that Microsoft never took time to make it right.

Pound for pound my Galaxy S7 LTE complete with S Pen is far cheaper than comparable ipads and I carry this together with my laptop PC and S20 Note Ultra... Problem solved...

After all this time people really haven't answered the questions -
1)What Android app do you really need to run on a desktop pc? 2)What app has made you go "gee this would be handy on a desktop pc" and used with a mouse + keyboard. When people say games, seriously are you going to play mobile games or AAA games for example on a desktop PC? Game streaming also makes the argument moot for low end hardware. PC gaming is synonymous with AAA and indie titles not mobile games. The latter mind you won't be optimised for mouse and keyboard as they are 'mobile apps'. So the question remains - what android app do you seriously need?
Windows Central Newsletter
Thank you for signing up to Windows Central. You will receive a verification email shortly.
There was a problem. Please refresh the page and try again.