Microsoft details ongoing Marketplace errors for some Windows Phone users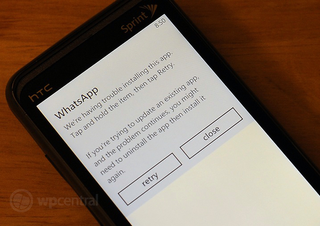 Explained: A familiar error message for some Windows Phone users
Ever since WhatsApp was pulled and then re-released this past weekend, we have had a small deluge in complaints from users that they cannot install the update. Instead, they are greeted with the above error message, resulting in user frustration. What's more, uninstalling the app, resetting the phone and dancing around in a circle did not fix the problem either.
We've been trying to figure out exactly why some users have the problem while others, including ourselves, do not. Just as interestingly, we wanted to know which apps were exhibiting the error.
Microsoft has now detailed the problem on the Windows Phone Blog and there's good news and some bad news. The good news is they acknowledge that there is an issue and they even know what is causing it. As it turns out, there are some problems with certificates for new apps published in the Marketplace within the last week.
Windows Phone apps that were already on the Marketplace are fine, it is only ones that went through after the AppHub to DevCenter change. What's more, it's only a subset of Windows Phone owners—those that have a non-Mango device. In other words, first generation Windows Phones that were later updated to Windows Phone 7.5 Mango are the only ones who cannot get certain apps right now. Those apps are the New York Times, WhatsApp and Translator, to name a few.
This explains why we haven't seen the issue ourselves as we're all running new hardware.
Changes to the new Dev Center have caused a few issues
As we mentioned, Microsoft is aware of the problem and a fix is expected soon. Until then, Windows Phone users who cannot update their apps are encouraged to not uninstall them as this will disable their ability to get that app until this issue is resolved (so keep WhatsApp at the previous version). For everyone else who is not having any problems, there is no need to worry, as you will continue to be oblivious to any of these problems.
There is also an issue here for developers. Those who have recently submitted app updates may have noticed that the process is taking a long time. In short, until this situation is resolved with the bad certificates, Microsoft is holding all app certifications so as to prevent further instances of non-updatable apps for consumers.
To summarize, Microsoft has acknowledged that there is an issue with bad certificates on a small number of apps. What's more, these apps are only having a negative impact on non-Mango phones—that is if your phone shipped with Mango or higher, you're okay. Microsoft is working on a fix and we'll keep you posted on when that goes through. For now, hold onto your apps and developers, standby as Microsoft gets new certificates for your app updates.
Source: Windows Phone Blog (opens in new tab); Windows Phone Developer Blog (opens in new tab)
Update: Microsoft as created an area at Microsoft Answers (opens in new tab) to better address consumer questions on this issue. Additionally, a similar area has been created for developers here at the MSDN forums. (opens in new tab)
Daniel Rubino is the Editor-in-chief of Windows Central, head reviewer, podcast co-host, and analyst. He has been here covering Microsoft since 2007 when this site was called WMExperts (and later Windows Phone Central). His interests include Windows, Microsoft Surface, laptops, next-gen computing, and for some reason, watches. Before all this tech stuff, he worked on a Ph.D. in linguistics and ran the projectors at movie theaters, which has done absolutely nothing for his career.
I have a htc arrive and its not letting me update translator. I did do the force update to 8107 so maybe thats the reason why its messed up? But my phone came mango out the box.

but it's still a first gen device

My Arrive with the official mango update is having the same issue, so don't worry its not your forced update.

Nah my Focus won't update that app either... Thought it was just me. It's been trying for a few days now -_-

In the same boat as a few others here - Have Samsung Omnia 7 with Tango (7.10.8773 NOT forced updated) and whatsApp & Translator have been throwing up those error's.

Thanks for posting this. I was getting frustrated, but now that MS acknowledged the issue and knows how to fix it, im happier

Everything's fine to me, I didn't know there were people without Mango.
Updated WhatsApp, it's working pretty well, but while landscape mode is nice and all I wish every single app which has landscape mode had also the ability to lock it on either mode.

They have Mango its just their phone didn't ship with Mango. It shipped with the WP7 RTM, NoDo or something in between.

Yeah, my HD7 shipped with NoDo and I now have Tango. But I can't install WhatsApp and the Translator app... which is what the article says :P

Oh good call, I forgot its NoDo, not mango it shipped with. The Rhyming is whats confusing me.

I have a HD7 & just installed Whatsapp & updated Translator without issue. Granted I am running a custom ROM Tango.

I also have an hd7 with the translator app installed, and assuming we're referring to the MS translator, I updated it some time last week with no problem. I forced mango when it started rolling out as well.

Translator won't update on my HD7... For me the update came out after WhatsApp

I have a HTC Trophy that has all of these apps on it. It has no custom ROMs and has only been updated when the updates became officially available, so obviously it is not all first generation devices experiencing this problem, ether.

Same for me. I have a first Gen Trophy and the update worked fine.

Same here. Omnia 7 from first release, NoDo and Mango updates was forced with pulling the cord, latest updates are official, no problem updating WhatsApp and other apps.

I am having trouble installing Translator on an HD7s (Tango). I've tried everything except dancing around in a circle, however, I have shaken my fist threateningly at my phone several times in the past two days.

Nokia lumia 800(tango) in Germany and no problems.

I have a first gen HD7 which is now up to date with Mango et al, however I had no probs upgrading WhatsApps & Translator. So its not all first gen devices

Maybe Microsoft can solve this by sending us first gen owners some shiny new Lumia 900s. ;)

I found a problem that the translator app is doing the same thing

Experiencing this issue on my hd7

I KNEW it! In their attempt to thwart pirates WE have to suffer.

DRM is NEVER pro consumer.

Q arreglen esa cochinada ya a ver q hoy me di cuenta q no puedo usar mi coresuite mobile tampoco :(

Awe shucks! Too late for me, I had just uninstalled Translator before reading the article from my HD7. Oh well, I can wait for the fix. Translator worked awesome over in Italy. Second only to Bing maps which saved me from getting lost in Venice!

More bad news for my AT&T Focus. No Tango fix in sight and now this. Oh, well.

Translator updated just fine for me on my TMOUS HD7 w/8107 installed.

Hmm. I was just able to install Microsoft Translator on my Mango HTC Surround (7.10.8107.79) without any issues. I did get the update for Translator app pushed to my L900 a few days ago.
So, it may not be every Gen 1 device. Or maybe not every server. I did perform a hard reset on mt Surround just prior to updating to Mango (the day it became available), making it a clean install. And I did force 8107 on the Surround.Thank AT&T for that.
I can confirm the app update holdup though. Been corresponding with a developer in Italy who submitted updates for his apps last Monday (8/6/12) and still nothing. No rejection or approval.
Maybe this glitch has to do with those security certificates that AT&T still has not pushed out (update after Mango but before 8107). So, if you forced 8107 (which included the previous update) you might be good.
If this compels AT&T to finally release 8107 to all those still suffereing with the dissapearing keyboard, something good may come out of all this.

I have HD7 with Mango now and had no problem installing WhatsApp ...works fast...

P.S. my wife's phone same as mine couldn't get WhatsApp and Translator

Just installed WhatsApp on DVP running Mango. No errors. Fixed already?

interesting to hear that the new york times app could be affected as well. translator hasn't been installing on my htc trophy but the nytimes app did just fine. i don't use whatsapp so i wouldn't be able to confirm that.

Not fixed yet....I just tried to install both again on my wife's with no luck...

I'm glad the issue has been officially addressed. I have an Samsung Omnia 7 and also have the issue for Whatsapp and Translator. Luckily I didn't uninstall any of em. Hope a fix is coming soon tho.

My wife has a first gen HTC Mozart (with all updates performed) and was able to update Whatsapp without any issues.

Thanks for this, I knew there was a chance it had something to do with this as per my comment in the last article. What I do want to know though is if the change over is what's also causing the glitches on achievements obtained on the Windows Phone platform as that hasn't been addressed yet.

I have a DVP and had no problems updating whatsapp or the ms translator. I manually updated it to 8773

I did the update the same day wpcentral released the article without issues, using rev1.3 focus with forced tango update

No issues here with updating. HTC Trophy w/ Tango

Like a numpty I uninstalled Translator from my HTC HD7 a couple of days ago and can't reinstall it. Oh well.

Lg Optimus 7, Singapore. Problem with the whatsapp update.

Be happy u cant update it, i was able to update monday or something one awesome addis that it ignores battery save mode and just keeps pushing also it displays the contact name smaller so not the whole world knows who u are talking to. Next to these Nice additions it sucks because u cant type fast or the app wil crash, also when recieving to much messages and also it has huge problems with scrolling i have to close the app in mid conversation to be finish it and since the update if i pauze my Music i cant resumé because it thinks its a stream and lost the signal very weird but all this happend after the update. Im using an unlocked titan running tango.

Thanks for clarifying this, Daniel

I can't update that blue tomato app

Dell's Venue Pro has no problem. Nice

Lindy Comics won't update either.

Well I hope they find a fix soon. Can't seem to even uninstall. :(

Hello. I'm from Santander, in Spain, and I'vet got a LG Optimus 7 E900, a 1st generation device, updated to Mango, and I could update WhatsApp and Translator to the latest version. I had no problem and no errors, and both apps work fine.

Yeah this is crap I have the LG e900 and its lucky I never deleted what's app. Instead I deleted Bing translate and now I can't install that but at least I have what's app

I'm assuming this is affecting new publishing of apps because my new app has been sitting in the "Processing Certification" stage for 7 days which never happened with the old apphub ... Then yesterday after reading this, I watched my submission go backwards in the process from "Processing Certification" to "In Signing Stage" And now today its back to "Processing Certification". Kinda disappointing but whatcha gonna do. Here's hoping it makes its way to the market soon.

I use a Geram Omnia 7 and I am facing problems with whatsapp, translator and NTV

This is FIXED for me now. Finally updated whatsapp and translator :)

At least we know it is a common problem among 1st generation phones like my trophy.

I haven't got any app updates on my phone since Windows Phone 8 was announced. Weird.
Windows Central Newsletter