Microsoft details what's new in Office 365 to kick off 2014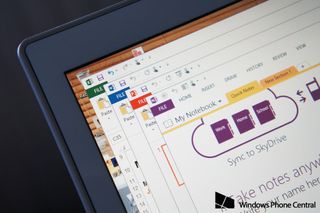 We're moving into the second month of 2014 and Microsoft has published a new entry on the Office 365 blog, detailing improvements implemented last month for a variety of products and features of the online Office suite. Just in case you managed to miss anything in January. Whether you're a Home Premium subscriber or opted for the Office 365 business package, head past the break to see what's new.
Office 365 Home Premium & University
The Office 365 suite has been available for some time now, launching back in 2012. Aggressively priced for home owners, consumers can pick up the full suite of apps for just $9.99 a month (office.microsoft.com (opens in new tab)). This package includes Word, Excel and PowerPoint. It's not a bad deal, especially if you find yourself using any of the applications on a daily basis. Microsoft has made the following alterations:
Share your Office 365 Home Premium – Subscribers can now share their subscription with up to four household members. Each member tied to the account can use any of the available Office installations on their PCs and receive an additional 20GB of SkyDrive storage, not to mention managing their own installations. Previously, it was only the account holder who could actively manage devices associated with the subscription.
Improved Office accessibility – Microsoft has partnered with GW Micro to provide people who are blind or have impaired vision improved access to Microsoft's Office suite. Consumers who have purchased and installed any version of Office 2010 and 2013, both perpetual and subscriptions, are eligible to download a free copy of Windows-Eyes.
Word Web App improvements – It's now possible to create and edit footnotes and endnotes directly in the Word Web App. Consumers can do things with natural language questions and search through Tell Me and Microsoft has redesigned the ribbon to match changes with other Web Apps.
OneNote Web App enhancements – Microsoft launched OneNote.com (www.onenote.com) to help consumers manage their notebooks across all devices. An improved navigation pane makes it possible to more efficiently switch between sections and pages.
Office 365 Business
Business owners haven't been left in the dark. Microsoft added not only the above features to its Office 365 Business package (excluding sharing the subscription), but also some extras:
Outlook Web App People View –​ Microsoft has begun rolling out a new People View in the OWA (Outlook Web App) for business users. It enables you to see the mail from most frequent contacts and automatically refreshes the list based on current conversations.
Lync Mobile for iOS and Windows Phone updated – A recent update to the Lync apps available added the ability to view PowerPoint presentations directly from the smartphone. Windows Phone owners can also make use of voice commands to control the app, making it almost a hands-free experience.
New Partner Admin Centre – Partners now have a centralised location to view all customers, monitor service health, administer services, help manage and resolve support issues, as well as build their business with trial and subscription offers to send to said customer base.
Finally, the team reiterated that InfoPath 2013 and InfoPath Forms Services will be the last versions of InfoPath. That's not bad for the first month of 2014. We're excited to see what the Office team has planned for the entire year.
Source: Office Blog (opens in new tab)
Windows Central Newsletter
Get the best of Windows Central in in your inbox, every day!
Rich Edmonds was formerly a Senior Editor of PC hardware at Windows Central, covering everything related to PC components and NAS. He's been involved in technology for more than a decade and knows a thing or two about the magic inside a PC chassis. You can follow him on Twitter at @RichEdmonds.
I want the full version on my Lumia 1520 please

As Windows Phone and WIndows RT are said to merge, why not? You may get it in the future.

An issue that still exists with OneNote is that you can only print from the Office 365 version...you cannot print from the web app or the Metro app.

You can print from the Metro app (Charm Bar > Devices > Print).
You can also print in the web app (just click print in your browser and it formats it appropriately)

Shame the charmsbar is left a little out. People should understand that it replaces the menu bar(General functionality ) but how should they know when they provide 2 additional menu bars for explicit app based menues

If you follow your list for the metro app for OneNote you get "This app can't print" Also tried to print with CRTL + P in IE11 with the OneNote Web App and it failed, mostly a blank page. What you say may work for Metro apps and other Web Apps but NOT OneNote

"Aggressively priced" at $10 a month subscription for a basic office suite...? That's about as aggressive as a rainbow.

That is pretty nicely priced compared given what you're getting (5 licenses, +100GB SkyDrive, Skype Minutes, etc.).... also they have been updating the apps much more frequently (i've been getting updates like twice a month).

Adobe on the otherhand with CreativeCloud at $50/month.... now that's something to whine about.

Not a great price if you only need two licenses, but it much more reasonable after all users get the extra 20GB.

How do I make it so that my wife gets the extra 20GB SkyDrive storage space? Right now it's only for my account.

" Subscribers can now share their subscription with up to four household members". I do not use Office 365, but I suspect that when you sign in to http://office.microsoft.com/en-us/ you have a settings page where you can share the subscription with your wife's Microsoft account and she will then have the extra 20 GB.

Yeah but CreativeCloud's Render On Cloud thing for 3D renders in Revit is phenomenal.

Can't tell if complaining about the price or not.

Maybe if you are the cheapest, poorest guy on the planet. I have at least 8 devices between my wife and myself. 100 bucks a year is a small price to pay for the full suite on any and all of these devices. I even can share my desktop install with my brother (who lives with us while he is attending college). 100 bucks a year is nothing to anyone who can afford multiple devices.

Personally I have two PC's and bought Office 2007 and 2010 with three lisences, today I would need to pay the same for one licesens that I paid for three of the 2010 version. My biggest problem is that they remove the good old three licenses. Also in many countries the prices are a bit higher than 100 USD, I would have to pay 130 USD per year. But I must say that when the extra 20GB was added to all accounts it made it much better with the value of the subscription.

In my country, the price is cheap indeed. It's $60 a year. The additional user is very sweet for me. As not only me who use the installation, before, they will have access to my SkyDrive, but now, they have their own.

A lot of people can get by with free alternatives, or even webapps. But for someone that does need office, this is a pretty darn good deal compared to buying a copy of office for $100+ that can only go on one computer. That's why im thinking of getting my family to split the cost with me so I can have full office on all my devices.

This deal is not so bad compared the the one license, but the sad part is that they removed the option to only buy three licenses. But when your family can all get 20GB extra storage it should be a better deal.

And here I was wishing they had a 7 licence option in the Home version of 365! :-)

A basic office suite? You smoking it up in Colorado? You get full versions of Word, Excel, PowerPoint, OneNote (that covers the basics, plus...), Access, Publisher, and Outlook.

Keep in mind that this saves you the up-front cost of buying 1-5 versions of Office. And every time a new version of Office comes out you get it at no extra charge, unlike those who pay up-front. And you can use a streamed version of Office when using a temporary computer. And you get the extra SkyDrive space. And, and, and. Best deal going, you ask me. This is not just for Office Online (formerly Office Web Apps), it's for that and up to 5 full retail versions of Office. Much cheaper for me!

As Satya has been announced as CEO and Billgates coming back in action will surely attract more app developers to start designing apps for Windows phone now.

Very interesting! With that SkyDrive/OneDrive enhancement... technically anyone with Home Premium can now register 5 accounts (1 primary + 4 others) and get 20gb x 5 = +100GB! Nice!!!

Technically all SkyDrive accounts have 7GB to start with so five accounts would have a total of 135GB.

OneNote is starting to gain a lot of traction in our enterprise. Very cool app.

Oh, I missed the sharing your subscription thing! That's awesome. I've been wanting to get the family (Windows 7) laptop on Office 2013, but didn't want to relinquish the privacy of my SkyDrive. I'll make a note to get that set up. Awesome. :)

I'm only interested in knowing when the metro version will be available.

This package includes Word, Excel and PowerPoint

And also OneNote, Outlook, Acces, Publisher, and 20GB of SkyDrive space. If that's not a bargain, then what is?

Yeah I'm surprised the article doesn't state that. And it's actually +100GB of OneDrive (if you sign up for 5 accounts and link it to the same subscription) :-)

You did not mention the 60 minutes of Skype calling per month where you can call to phones in 60+ countries.

New Partner Admin Centre

THIS. My organization manages tens of thousands of O365 customers and having a decent Partner Admin Center is critical.

10$ per month? Well, finally nice price

You don't have any information on the University packages. Here's a link to the Canadian deal: $80 flat rate for four years of awesomeness. http://office.microsoft.com/en-ca/university/

University is also only good for 2 devices, for same account. I just walked through this option with a coworker. Great option for one, and only one student or educational institution staff member.

I am a student now in university. Can this software, once bought, still be used even after graduation, until the four years is up?

You get a four-year subscription that starts when you buy the software. That means that you will still be able to use the software after you graduate--assuming that you graduate before the four-year subscription is up.

Thanks. I have rather less than four years remaining, hence my concern over continuing to use the software after graduation. This particular detail wasn't easily visible on the Office website.

Hope they add more features to the WP Office suite and expand on the Office App Store.

I know the ffeature sets are different in the web apps, but I wish I could mash Google Sheets with MS's Excel web app. There's a lot of slow down in the web app in terms of limited functionality. I want the Excel Web app feel, but more of Excels fetures. Not all, obciously, but at least to be on par with Google's Sheets. That and seeing page breaks in the Word Web app when editing.

Massive issue with Office Outlook is that you can't use aliases from your outlook.com/live.com account, but you can only use one.

All of your aliases are grouped into the same Outlook account. Yeah it would be nice if you could separate them out, but they aren't unique email accounts, just aliases of your primary account.

My point is it would be nice to be able to send email from your aliases in Outlook and not just in the web version or windows 8 version.

I want a real new version of Office. Realtime collaboration between Desktop & Web App users

$10 a month is a rip off, i recently had to upgrade from office 2007 to 2010 home student family pack for pc's @ work which was $250 & that did 3 x pc as there's no family pack option with office 2013. So @ $10 a month that s expensive.

How is $100 more expensive then $250 ?

I think he's thinking 3x$10/month.

$250 one off payment for 3 pc is cheaper than $10 a month for single pc ongoing forever. Don't see how anyone could not work that out!

Don't see how that has anything to do with this. First of all the 250 USD for three licenses is no longer available after Office 2010, so if you want it you need to pay for a three year old product. Then there is (as far as I know) no 10 USD per month for a singe PC. If you want a permanent Office (like the old versions) you need to pay 140 USD for Office Home and Student 2013, you can use it as long as you want but only have it installed on one PC at a time. For 100 USD per year you get Office 365 / always up to date versions of Word, Excel, PowerPoint, OneNote, Outlook, Publisher, Access, 20GB of SkyDrive for up to five accounts (worth 50 USD) and 60 minutes of Skype calls per month. This subscription can be used on FIVE PC's/Mac's AND FIVE mobile devices, up to a total of 10 devices. Office 365 Home Premium is a great deal if you can take advatage of all that is included. The only sad part is that it's either very much for 100 USD per year or the basics for one PC for 140 USD.
Windows Central Newsletter
Thank you for signing up to Windows Central. You will receive a verification email shortly.
There was a problem. Please refresh the page and try again.