Microsoft Edge for Windows 10 is headed in the right direction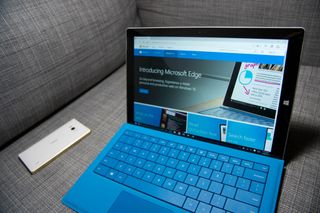 Windows 10 is finally here, and now users will get the chance to try every new feature and enhancement the new operating system has to offer. One of these new features is Microsoft Edge, which is Microsoft's brand new next default web browser.
Microsoft Edge is also the software the company plans to use to replace Internet Explorer on Windows. The browser is not just an upgrade. It's a brand new software built from scratch.
Edge is an opportunity for Microsoft to distance itself from the bad reputation of Internet Explorer. Even though IE still one of the most used web browsers in the world, Microsoft starts fresh with a new product.
Internet Explorer is not completely gone. A version of the browser will remain part of Windows 10 to offer compatibility support for legacy websites. Initially, the Enterprise edition of Windows 10 will continue to ship Internet Explorer 11 as the default web browser, but everyone else will see Edge as the default web experience in the new operating system.
The new software introduces a lot of new features and enhancements over Internet Explorer. It features a brand new rendering engine, called "EdgeHTML," which replaces the previous "Trident" rendering engine. Also, the new browser removes supports for older web technologies including ActiveX, Browser Helper Objects, Document modes, VBScript, DirectX Filters and Transitions, and more.
The browser is also much lighter as the company has removed over 220,000 lines of programming code that was part of Internet Explorer. According to the company, removing legacy support from the new browser helps for better interoperability with other modern browsers, improves performance, security and reliability, and reduces code complexity. The new browser will only support modern websites, but of course when you load a website with old code, you can always choose to view it with Internet Explorer.
Microsoft Edge also introduces a new simple, modern, and minimalistic user interface that focuses on bringing websites forward, while fading out features and navigation elements. It feels very similar to what you see today in Google Chrome and Mozilla Firefox.
Although Microsoft Edge isn't a complete product, it offers a bunch of new features and provides some options that you can easily configure from the Settings menu.
Some of the Edge features are unique and separate the browser from its competition. For example, you'll find that Cortana is built-in with the browser to help you when you need that extra piece of information. There is also a Reading view mode that aims to declutter web pages and focus on the content, and you can even save web pages for later viewing with Reading List.
Perhaps one of the most unique features on Edge is the ability for users to annotate web pages using digital ink and share them using OneDrive for later viewing or with other people. The browser also incorporates two themes: the default "Light" and a new "Dark" theme.
There is also a customizable start page and Dolby Audio for websites coded with HTML5 for premium sound experience. Other features include auto-fill for online forms, password and downloads manager, experimental features (about:flags), a tool import bookmarks from another browser, and more.
Now, let's look at the main new features a little closer:
Cortana
Although Microsoft's digital assistant is already debuting on the desktop, it also comes integrated on the Edge browser. Cortana will only appear on the address bar when it can help you with additional information. For example, you may see Cortana offering you location, hours, reviews, and menu information on a restaurant website.
Typing a query right on the address bar, such as "New York Weather," "Microsoft stock," or "34 + 78" displays instant answers on the address bar without the need of additional search.
If you find a word or a reference you don't know, you can simply right-click the word or phrase to "Ask Cortana" to immediately get an answer.
Reading view
Reading view is a feature that was originally introduced in the modern version of Internet Explorer in Windows 8. It aims to remove the clutter from a web page to get access to the main content quickly without distractions. You'll get a PDF-like view of the article without any special styling or advertisements. You can customize the look in the settings page.
The Reading view (open book button) appears on the right side of the address bar, and it will only light up when the web page has content that can be viewed with the feature. For example, if you're on a restaurant web page, the icon is likely to be grayed out.
Reading list
Don't confuse Reading view with Reading list, which is another feature in the browser. It allows you to save web links with thumbnails that you can save for later viewing.
Reading list is another feature in Microsoft Edge that was originally introduced in Windows 8 as an app, but it has evolved. It is now part of the new web browser. Reading list allows you to collect and save web links very similar to saving bookmarks.
Saving a web page to Reading list is very straightforward. Simply click the Favorites (star) button, click Reading list, and then Add. To view your collection of links, click the Hub button on the right-side of the favorites, then click the Reading list button.
Although, the feature seems like a good idea, Reading list doesn't feel like a finished product. I would like be able to save articles in different categories, and I would like to see a summary description of each article I save.
Inking and sharing
Unlike Firefox and Chrome, Microsoft is all about digital handwriting. In Edge, the company is also bringing digital inking support that allows users with touchscreen PCs and tablets to scribble, highlight, and add notes to any web page. Microsoft calls the feature "Web Notes".
And there are various scenarios when you would use this feature. Web Notes can be really useful when you're working on a project, and you need to mark and save information right away. It's also great when you're collaborating with other people, or when you find anything on the internet worth keeping.
After creating a Web Note, you can save it to OneNote using OneDrive, your favorites, and on Reading list. You can even share socially with other people.
You can also check our previous guide on how to use Web Notes on Microsoft Edge.
A browser built for Bing
While you can change the default search engine to Google or to any other search engine that supports OpenSearch, you will find that Edge is built with Bing in mind.
If you change the default search engine to Google, you'll get search results from Google, but Bing will continue to be part of the experience, as it's the engine that powers Cortana. The digital assistant will always be ready to help you with information pull from Bing.
You can disable Cortana's help on Microsoft Edge by going to the "advanced" settings, but even after you disable Microsoft's assistant, the address bar will still offering suggestions for quick answers for weather, stocks, and more with information from Bing. Now, if you want to lose Bing completely, you will also have to disable Show search suggestions as I type from the "advanced" settings as well.
Microsoft Edge real life performance
Since the software giant announced its new browser, the company has released some updates which brings significant improvements to Edge. The new optimizations also show that the new Windows 10 default browser is even better than Chrome and Safari on their own JavaScript benchmarks.
While we have to consider that the browser still in its early days, in real life, performance is good, but not great. I've been testing Microsoft Edge since the beginning and from my experience, loading web pages and navigating the software when you have open multiple tabs still feel slow.
I have noticed that I can't scroll down a web page until it's completely loaded. At times, the browser becomes non-responsive on websites with a lot of advertisements. In some situations, if you're not using the latest graphic driver, you might also experience crashes or responsiveness issues.
These are still the early days of the web browser, and these are issues that will get fixed on future updates. Microsoft has promised that will be updating Windows 10 and its other products in the regular basis.
What's coming on Microsoft Edge
Although Microsoft is shipping Edge now with Windows 10, by no means this is a final product. More updates and features will be coming soon.
Browser extensions support like you see in Chrome and Firefox is also coming to Microsoft Edge. There is not a specific date when it will be available, but extensions support is likely to arrive before the end of the year.
It's also worth pointing out that Microsoft won't be reinventing the wheel here, as the company previously said that developers will be able to port their existing Chrome extensions into Edge. This means that we could be seeing a lot of popular extensions such as Skype, Reddit, and Pinterest for Edge very quickly.
In addition, preview tabs, which the company showed off in demos, is missing in this release. With preview tabs you can hover over a tab when you have open multiple tabs to see a preview similar to what you see in the taskbar when you hover over an app. This feature is missing, but it's likely that it will arrive in the browser.
Furthermore, the company is also planning to keep improving Cortana by adding more scenarios where it can be helpful to users, and other features include Object RTC and Pointer Lock.
What's missing
While we know that extensions and tab preview will be coming sometime in the future, these are significant features missing in the browser that could really help users to start considering Edge over other browsers. Another important missing feature is the touch-optimized version of the browser, and swipe gestures to move back and forth between web pages.
Conclusion
Microsoft Edge is the new web browser for Windows 10, and it's headed in the right direction. It's a piece of software that will help Microsoft to distance itself from Internet Explorer, and it's a chance to start over with a new product that is built for to support future web technologies.
While the new "e" blue logo remains pretty much unchanged from the Internet Explorer logo, everything else is new. The new user interface delivers on the promise of making the browser about the content users wants to view and not on the software itself. It also has a cleaner user interface than its predecessor, though a few tweaks here and there could also help.
The "EdgeHTML" rendering engine brings the browser to the modern internet. Also, Microsoft Edge is a universal Windows app, which means that the same software works across mobile devices and PCs.
In its current stage, many users may experience different problems such as crashes, slow page loading, and unresponsiveness. However, we have to consider that the browser still in its early days and the shortcoming we're seeing today will eventually get fixed.
The bottom line is that Microsoft Edge is a good browser that it'll only get better with time (and maybe sooner). Once common problems are worked out, and Microsoft releases a version that includes better usability for touch and support for extensions, we're going to see a faster adoption of the browser.
What do you think about Microsoft Edge? What would you change to improve the new browser? Let us know what you think and experience in the comments below.
Get the Windows Central Newsletter
All the latest news, reviews, and guides for Windows and Xbox diehards.
Mauro Huculak is technical writer for WindowsCentral.com. His primary focus is to write comprehensive how-tos to help users get the most out of Windows 10 and its many related technologies. He has an IT background with professional certifications from Microsoft, Cisco, and CompTIA, and he's a recognized member of the Microsoft MVP community.