Microsoft investigating Surface Book 3 'screen blackout' issues
A number of Surface Book 3 users have been reporting random screen blackout issues for months.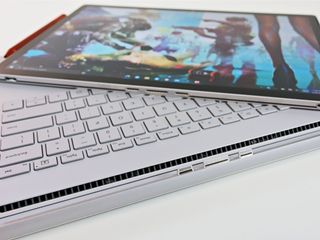 (Image credit: Daniel Rubino / Windows Central)
What you need to know
Surface Book 3 users are reporting random screen blackouts occuring on their device.
Microsoft is aware of the problem and is now investigating the issue.
Customers are advised to contact support if they are hitting this issue.
Since September, many Surface Book 3 users have been complaining about brief yet frequent screen blackouts occurring randomly when using their devices. Microsoft's support forums are full of customers (opens in new tab) reporting the same issue, which involves the display randomly going black while in use for a number of seconds before coming back on.
My own Surface Book 3 has the same issue, and if Microsoft's support forums (opens in new tab) are anything to go by, it's not an isolated bug. The company has issued a statement to Windows Central confirming that it is aware of the problem and is investigating, and that customers who are affected by the issue should contact support.
Microsoft's statement:
It's unclear if the issue is hardware related, as reports of the problem didn't begin appearing until after the September firmware update. We've reached out to Microsoft for further clarification on the issue, and will update this post once we receive a statement.
Customers have experimented with installing different graphics driver versions to varying levels of success, but it appears nothing truly solves the problem just yet. Users have found that either tapping the screen or pressing one of the display brightness buttons on the keyboard will return the screen to normal if a blackout has occured.
Do you have a Surface Book 3 suffering from random screen blackouts? Let us know in the comments.
Windows Central Newsletter
Get the best of Windows Central in in your inbox, every day!
Zac Bowden is a Senior Editor at Windows Central. Bringing you exclusive coverage into the world of Windows on PCs, tablets, phones, and more. Also an avid collector of rare Microsoft prototype devices! Keep in touch on Twitter: @zacbowden.
Surface book3 screen blackout has occured for me . I have traced it to my samsung watch3 on bluetooth.When I leave my office and then walk back in tbe screen flashes off then back on..1 note. This happens on my external monitor with microsoft newest docking station..I havent noticed this when on surfacebook 3 display..

Yeah, I've seen the issue a few times as well. I hope MS comes up with a fix soon.

Yes, I have it to. How will contacting support help? Will they help me, or can I help them?

Good to know that they are listening, but more serious is the "sleep of death" problem with Surface Books 3. I had to return mine and get a replacement unit.
Also, since Windows Update has been pushing firmwares with outdated Intel drivers, installed Intel's own driver update utility.

Finally!
I have the problem multiple times a day

Same issue here on new (January 2021) Surface Laptop 3. Sounds like I need to contact Microsoft Support. I'm not coming up with any close matches searching answers.microsoft.com for surface laptop 3 black screen.

I experienced the same issue and notified MS. I was informed that this was not a know issue to MS and following various troubleshooting attempts, the screen blackout still occurred so MS replaced my Surface Book 3 with a reconditioned one which I was told had been tested and was in perfect working order.
After I received it (and spent 2 days setting up my profile), I used as normal and within a couple of days experienced the screen blacking out again! This happens both when using as standalone or plugged in to monitor. I notified MS again and they again offered to replace the replacement. I was not willing to go through this all over again so asked if I could just return and get a refund but was told No as they were offering me a fix!
So I still have my reconditioned replacement which continues to have screen blackout pretty much on a daily basis!
I look forward to seeing what MS come back with following their investigations...

I've been having the black screen issue for few weeks now but as the Book 3 is new to me I thought it might go away with updates, but so far it's still doing it. It was a bit disturbing at first as the screen goes blank without any warning giving the effect of a flat battery. Pressing a few keys brings it back eventually. Very interested to see the comment from @davebwi as I have a Samsung Gear 3 but I'm not sure whether trusted device is set on my Book 3 but it is on my Phone.

Same issue here on my HP Envy 13 running 20H2 19042.867

I just got my SB3 in January and I have the black screen every now and then. I just tap the screen and it comes back on. I figured it was a firmware issue that would be patched out eventually. It's not something that I'm going to bother and send it in just to get a refurbished one to replace it. It maybe happens once a week. Good to know they're aware and will fix it.

Download the Intel driver from January 2021 directly from Intel. And go to your device manager and fully delete the old messed up Intel driver. Do not delete your nvidia because you need at least one to run your screen. When you uninstall the Intel driver, make sure you select delete driver. Also, make sure you don't run your windows update for that particular old driver again.

This problem is similar to one that is plaguing my Surface Pro 7. I'll be working with either Word or Excel and, without warning, the screen will go dark. CRTL/ALT/DEL will bring the screen back. Onboard diagnostics can't find a problem.
Windows Central Newsletter
Thank you for signing up to Windows Central. You will receive a verification email shortly.
There was a problem. Please refresh the page and try again.