Microsoft isn't trying to be cool, its 'empowerment' strategy is about making others cool
Microsoft, unlike Apple and Google, isn't considered "cool" and trendy by most. And that's okay, it's not trying to be.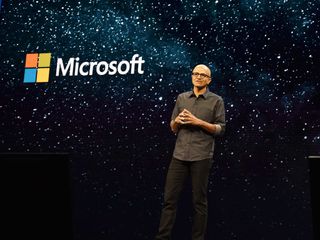 Intrinsic to the nature of the tech industry is a sense of pushing boundaries, introducing new ideas, providing new opportunities and positioning users on the edge of "what is" and "what's next" by equipping us with inspiring tech gadgets. It is the latter, those state of the art tech gadgets companies put in our hands, that gives consumers an exciting view of where we are and where we're going.
This perception is complemented by consumer-focused marketing by companies like Apple, Google, and Samsung and further augmented by the tech media that focuses on the low-hanging "consumer-technology" fruit that excites the masses. The popular tech in our hands is used by companies and the tech media as a springboard to launch enticing narratives about technology's next steps which further captivates an already enthralled audience. This possession of mainstream tech while we hang precipitously on the cusp of "now" as we anticipate the "next" iteration of our beloved devices, as aggressive marketing and tech media narratives reinforce our collective allegiance to brands is the nature of "cool" in the tech industry.
Apple and Google with popular smartphone platforms, emerging smart speakers, recognized digital assistants, and more have this in spades. Microsoft? Not so much.
Apple's former CEO Steve Jobs created a company that is virtually synonymous with cool. And Google's pop culture impact was manifest in the motion picture The Internship where the company's culture, innovation, and youthful nature resonated with the trendy term. Despite rivals' success, Microsoft CEO Satya Nadella isn't chasing an Apple- or Google-esque definition of cool. His mission for Microsoft is to make its brand a pervasive, intricate, and in many regards, a behind the scenes presence that helps make others cool.
Microsoft's empathy-driven empowerment mission
Satya Nadella grew up in Hyderabad, India and is intimately aware of poverty's impact on the lives of people and how it limits accessibility to technology. He is also the father of a son, Zaine, who has severe Cerebral Palsy. It was the impact of raising Zaine that taught Nadella empathy, the ability to see the world, its challenges and the limits many experience through the eyes of others. Nadella said :
This is one of the most enlightening statements regarding Nadella's motivations in making Microsoft a cloud-driven platform company, with a ubiquitous computing goal that embraces interoperability between platforms. Nadella's early experiences in India combined with the empathy he learned raising Zaine has driven him to ensure that Microsoft provides a means to empower everyone, everywhere with the benefits of technology.
Microsoft: We're cool through you
Admittedly, Microsoft has a history with noncommittal attempts in competitive categories like smartphones (Windows Phone) and MP3 players (Zune); and has been successful with Xbox and the Surface family of devices, which includes the consumer-focused Surface Go. Still, Nadella seems cognizant that a focus on being cool by being the company that makes the latest cool tech gadget, though impactful, is limiting in reach.
Conversely, his view is that Microsoft is the company through tools, platforms, software and aspirational devices that empower hundreds of companies and individuals that make "cool" technology, and is virtually limitless in the breadth and depth of its impact.
Nadella inferred that the pervasive nature of technology within our economies and society should ensure that it is equitably distributed to everyone. By making Azure the world's "computer", driving ubiquitous computing, making Microsoft a dev box for developers, pushing cross-platform software, integrating Windows with Android and iOS, leveraging Windows Mixed Reality to power augmented and virtual reality and much more, Nadella is positioning Microsoft as the means by which companies and individuals bring their ideas from conception to fruition and having a world impact. This exemplifies Nadella's statement,
What's cool to you?
When we think of what makes something cool to a user the thought of seamlessly and efficiently getting things done with our tech comes to mind.
Using Word to edit documents on an iPhone or using Android Launcher to navigate an Android phone.
Accessing data across devices that Microsoft's cloud seamlessly syncs across platforms.
Receiving text messages and other smartphone alerts on a Windows 10 PC and continuing PC activity on a phone (and vice versa) through tools like Your Phone, Timeline, and Cortana.
Microsoft's Seeing AI app on iPhone that helps people with blindness navigate the world.
Developers having unorthodox access to now open-sourced Microsoft tools that were once proprietary.
Eye-gaze technology built into Windows so people with immobility can navigate PCs.
An Autism Hiring Program that ensures a valuable base of talent is not missed.
A ubiquitous computing strategy that builds connections rather than walls between platforms.
A family of devices positioned to inspire OEMs to innovate and bring diverse products to market with price ranges that include everyone.
Microsoft's definition of cool isn't being the company whose name is on every product that makes the headlines and excites pop culture. For Microsoft cool is about striving to be that encompassing presence that leaves an enduring footprint on every pathway, of every product, of every company and every individual as it strategically positions its tools and services as an integral part of everything we achieve.
Get the Windows Central Newsletter
All the latest news, reviews, and guides for Windows and Xbox diehards.
Jason L Ward is a columnist at Windows Central. He provides unique big picture analysis of the complex world of Microsoft. Jason takes the small clues and gives you an insightful big picture perspective through storytelling that you won't find *anywhere* else. Seriously, this dude thinks outside the box. Follow him on Twitter at @JLTechWord. He's doing the "write" thing!