Without 'cool factor' Microsoft may never see true consumer success
Microsoft is one of the world's most recognized brands. Sadly that recognition has not translated into widespread consumer success.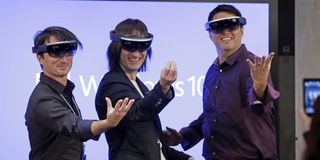 The company is part of the "background" of many of our lives. That's both a blessing and curse. The blessing is Microsoft's products and services help many of us get things done.
The curse is that Microsoft's presence is often like the white noise used to lull people to sleep.
Conversely, Apple and Google are like hit songs that are intentionally turned on, cranked up, and for which the lyrics are memorized and sung in sync with the artist. These companies are synced with consumers in a way Microsoft is not but needs to be. For instance, Microsoft's premiere product, Office, is the industry's status quo for productivity. It's how we get work done. But for many, it's an uninspiring and boring necessity.
Apple's premiere product, the iPhone, and various phones running Google's Android, however, are fun. They make users feel good and are part of their personal expression. Apple and Google have what many call "cool factor." Microsoft? Well, it's getting there.
Microsoft has money to burn, resources galore and is a globally recognized brand. Microsoft also ranked ninth in the 2016 Top 100 Millennial Brands: Moose Tracker Report. This was above number eleven ranked Google but below number one ranked Apple which is also the most valuable company.
So why can't Microsoft seem to emerge from a position of background noise and leap to the forefront of what consumers want?
The personal computing disconnect
Personal computing is Microsoft's forte, and 88.75 percent of homes and businesses that use PCs use Windows PCs. That fact is a legacy of Microsoft's heyday when the company's PC dominance in the enterprise trickled into the consumer space. Smartphones are now the go-to "computer" for many personal computing tasks.
Smartphones function as an access point to a horde of personal information making them the most personal object most of us carry. They're also the portal to the broader ecosystems of the providers of mobile platforms. This portal has helped Apple and Google, the two companies that dominate the mobile space, cement themselves in the collective minds of the masses.
Daily, billions of users interact with Google's and Apple's ecosystems in ways that feel good and personal, not required and functional, which is often Microsoft's plight. Microsoft isn't oblivious to its poor consumer rapport. It's made multiple, but failed, attempts to bring its enterprise success to the consumer space.
Microsoft flops: Kin, Kinect, Windows Phone and Zune
Here are several areas where Microsoft failed in the consumer space.
Microsoft Kin
After two years of development and a strategic acquisition of Danger Incorporated), Microsoft in 2010 launched the social network-focused Kin smartphone.
It was targeted at the trend-setting 18- to 30-year-old demographic. The phone was only on the market for 48 days when it was unceremoniously discontinued. It briefly returned as a cheaper but also unsuccessful feature phone.
In-fighting within Microsoft resulted in the project falling under different leadership, a change in the original vision and a delay to market, and all of that is blamed for Kin's demise.
Microsoft Zune
Launched in 2006 Microsoft's Zune) was the company's answer to Apple's iPod which launched five years earlier.
Apple's significant lead continued with its 2007 launch of iPod Touch two years before the 2009 Zune HD. In addition to consumer mindshare, Apple garnered developer and other support which supplied Apple's ecosystem with millions of apps and accessories that supported the iPod's market position. Unable to compete, the Zune was discontinued in 2011, five years after its launch.
Kinect
Microsoft's Kinect, which used a natural user interface of motion-detecting and voice interaction was introduced in 2010 as part of Xbox 360. In 2011, the Kinect SDK was announced as well as the Kinect for Windows program. There was a lot of anticipation as hundreds of companies around the world had shown interest in building apps for Kinect.
Though the Kinect 2.0 received deeper Universal Windows Platform (UWP) integration and Windows Hello capabilities late last year, the initial fervor for the myriad uses of the technology in various industries has significantly diminished. And the consumer-facing gaming aspects for Kinect have all but fizzled out.
Windows Phone
After an enduring presence in the enterprise-focused smartphone space since the early 2000s, Microsoft finally entered the consumer smartphone market three years after the iPhone and two years after Android in 2010.
Windows Phones' fluid and unique OS never caught on with consumers. Limited marketing and distribution, "breaks" in the platform on its way to OneCore, poor developer support, a lack of inspiring flagships, and the buggy Windows 10 Mobile have been the platform's plight.
A reputation for having no apps, the vocal discontent of disenchanted fans and consistently negative press have poisoned the waters for Windows phones among consumers.
These flops and a history of early innovation with little to no consumer-facing follow through have hampered Microsoft's consumer success. Microsoft could have beat the iPad and Siri to market, for instance, based on early investments in tablets and AI.
It's not all bad
Microsoft introduced Xbox in 2001, and despite competition from Sony's PlayStation, unrelenting investments made it a consumer success. Similarly, unyielding commitment and drive turned the failing Surface into a category-defining (2-in-1 PCs) billion dollar business and one of the industry's most respected brands.
TV marketing ads, network TV product placements (for example, Black-ish) and corporate partnerships such as the contract with the NFL position Surface beside Xbox in the consumer consciousness. Despite NFL commentators' references to Surface as an iPad, Microsoft is gaining "cool points."
The Surface is still in a battle for "prime time," however. ABC News reporters "use" the Surface, kind of. Throughout the news segments, Surfaces remain untouched on the news desk, behind the iPads that the reporters actively use. Hopefully, Microsoft can get ABC to move from displaying Surfaces to using them on national television.
Still, the brand has expanded to include the college student-focused Surface Laptop, and the Apple's creatives-stealing Surface Studio. The former has yet to be tested in the market, and the latter has piqued the interest of its intended target.
Furthermore, Microsoft has added and will be bringing new features to Windows 10 such as Paint 3D, Mixed Reality, system-wide inking and more, which the company hopes will appeal to consumers. Microsoft's Mixed Reality wearable computer, HoloLens, is arguably the coolest product it has created. If it were ready for the consumer market, the company would doubtlessly be considered cool. Alas, the next iteration of HoloLens has been pushed out to 2019.
Part of pop culture
Despite Microsoft's Xbox and Surface success and potential with Mixed Reality, to the average consumer, the company doesn't occupy the same space as Apple or Google. As the leading search engine, "Google" has become a verb in our dialogue when it's time to, well, Google something.
Apple's former CEO Steve Jobs through vision, standards for quality and marketing genius, imbued the company and its products with an intangible value that the media and consumers "feel" to this day. Additionally, movies about this iconic leader are an expression of the influence he and Apple had on the world.
Microsoft needs to do more with its 'do-more' vision
Microsoft doesn't have the pop culture appeal of Google and Apple. As a "do-more" company, it has focused on providing businesses and individuals with the tools to do more.
Its enterprise-focused legacy has taught the company to exist "in the shadows" as the platform or infrastructure that helps others get things done. This mentality and associated marketing methods don't work in the sensory, in-your-face consumer space.
Successful consumer-facing companies aggressively tell consumers why they need a product, how it'll improve their lives, and convince them it solves a problem they didn't know they had. Beyond Xbox and Surface, Microsoft lacks the aggression and stamina its rivals have in this regard.
Microsoft leads in innovation but is slow to turn ideas into products, allowing competitors to beat it to market. The One Microsoft initiative was supposed to enable greater nimbleness by restructuring teams. That hasn't fully materialized.
Microsoft's struggling to reach consumers at a point in history when personal computing has never been more consumer influenced. Will Microsoft have the aggression and stamina to market its student-focused Surface Laptop against the MacBook? What about Surface phone or a consumer-focused HoloLens?
Sadly, until Microsoft is ready to "do more," it may always covet that elusive cool factor.
Get the Windows Central Newsletter
All the latest news, reviews, and guides for Windows and Xbox diehards.
Jason L Ward is a columnist at Windows Central. He provides unique big picture analysis of the complex world of Microsoft. Jason takes the small clues and gives you an insightful big picture perspective through storytelling that you won't find *anywhere* else. Seriously, this dude thinks outside the box. Follow him on Twitter at @JLTechWord. He's doing the "write" thing!