Microsoft kicks off back to school deals on Surface Pro 4, Xbox One, and more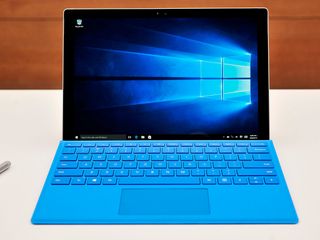 Microsoft has kicked off the back to school season with a set of deals at the Microsoft Store. Running from now through September 17, the sale includes deals on Surface Pro 4, Xbox One S, and more. Aside from straight discounts, Microsoft is also throwing in some extras with certain purchases.
Here's a look at some of the offers available now:
In addition to the outlined deals, Microsoft points out that students, along with education staff, can always take advantage of a 10 percent discount across the Microsoft Store. It's worth noting that, while the sale is set to run through September 17, some deals will end earlier. In particular, Microsoft says, the Surface Book sale ends July 15, while the Xbox One S offer will end on August 30. Meanwhile, the Surface Pro 4 bundle offer will last a little longer, ending on September 19.
See at the Microsoft Store (opens in new tab)
Windows Central Newsletter
Get the best of Windows Central in in your inbox, every day!
Dan Thorp-Lancaster is the former Editor-in-Chief of Windows Central. He began working with Windows Central, Android Central, and iMore as a news writer in 2014 and is obsessed with tech of all sorts. You can follow Dan on Twitter @DthorpL and Instagram @heyitsdtl.
Lol, gonna keep my mouth shut, lol👍 #goodpricesonlyinthe USA👍

A few days ago on this site they talked about how Microsoft may be discounting Windows in India only. There was another article a couple days ago about a deal on Surface available only in the UK. Every year Microsoft runs deals in countries for holidays that are predominantly for those countries - for example, Diwali for India. And when those countries get deals that we in the US do not get, not one person writes here "Gee, Microsoft should make those deals available in other countries around the world, such as the US" nope, not one word. No recognition that people in various countries do get deals specifically to their country that are not available in the US. The only time we hear about it is the entitled whining about how you do not get the deal in your specific country.

When is this deal coming to Canada??? :(

Yeah, but the good prices aren't at Microsoft. The $1,350 Surface Book configuration is currently on Amazon for $1,064.93. The $1,000 Surface Pro 4 offer can be had at $800 on Amazon. As always, Microsoft's "sales" are pretty disappointing and useless. $20 off an XB1S base model? Best Buy has that pricing as well, plus additional discounts like $20 off a second controller and $10 off an XBL subscription.

Any reasonable deals for SP3 trade-ins toward a newer device?

Does MS even know that there are other countries and big markets around the world?

Yes, they do know. Why didn't we get these discounts in the US? https://www.windowscentral.com/india-pushes-windows-10-discounts-followi... https://www.windowscentral.com/microsoft-store-offers-solid-discounts-su...

For once there were some discounts outside the US and you think that's enough to turn the tables? bwahahaha!

A few years ago, after the XB1 was released, there was a company (I want to say Mountain Dew) that was giving away an XB1 to US people only. There was the usual compalints about it being US only, how Microsoft hated other countries, and the usual. Keep in mind, this was about two weeks after the XB1 was released. So I went to the net. I found over 50 seperate contests, multiple of them in the UK, France, Spain, Germany, etc. from big name places - not some random store that was giving away one to the 5th person in line, but giving away 100s of XB1 consoles. And even after listing those contests, people from the countries I listed above demanded to be included in the US contest. Other countries are offered special deals, the two I gave here was just within the past week or two. The difference is that when those deals, giveaways, etc. are offered in other countries, then they are ignored and people complain how unfair it is that Microsoft does not give them the same deal. You get special deals like this all the time, but because you are reading a site catering to and written predominantly US people. You hear about these type of things more when they are for the US. I wish that they would publish more about these deals in other countries so that you could see that Microsoft is not just offering them to US people, so people would shut up and stop whining about being treated unfairly. THe same thing happens with the price of Microsoft and other company products. People from other countries complain because the price, after exchange rates, are more expensive in other countries. But they forget that price includes VAT while in the US sales tax is added on top of the advertised price at the register. Then there are costs of importing, local taxes, local people to employ, etc. There is one guy here who likes to demand that Microsoft sells at a loss so that they have price parity with the US, to make up for other country's laws are.

You are right. But, you know, comments sections on websites are a good place to vent some frustrations. There are of course lots of give aways and discounts all around the world. However, and this is not Microsoft's fault or Windows Central's fault, the prices of technology in a lot of places are a lot higher than in the US due to different import taxes and usually all products come to the US first and later to other countries and usually with less config options. And this is all normal and just the way it is. And, again, you are right in what you say but we non-US people can't help to feel a bit disappointed when products or discounts are US only. It's just the way things work. There's whining about being in a unfortunate position and there's whining about people whining.

How can $150 off a Surface Book even be called a deal at this point? It's back on Skylake and hasn't had a refresh. It's been close to 2 years since launch, and we haven't gotten an improved version or a permanent price cut to match the lesser quality guts you have to accept. As for the SP4 at $1,000? That's not exactly good when Amazon lists it at $670 (meaning $800 with the keyboard in any color you wish).

Does the offer exists in India?
Windows Central Newsletter
Thank you for signing up to Windows Central. You will receive a verification email shortly.
There was a problem. Please refresh the page and try again.