Microsoft launches the Lumia 540 Dual SIM in India for INR 10,199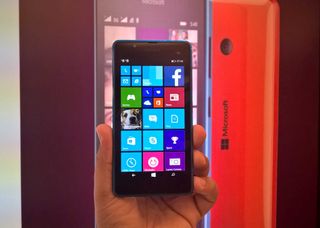 At a press event in New Delhi, Microsoft announced the launch of the Lumia 540 in India. A budget device, the Lumia 540 will be available in the market starting May 18. Starting May 14, consumers can pre-book their Lumia 540 at key retail partners in different cities.
The Lumia 540 features a 5-inch 720p display and is powered by a Snapdragon 200 processor with 1 GB RAM. The decent specifications are rounded off by 8GB internal storage, an 8MP shooter at the back and a 5MP front shooter.
Lumia 540 Dual SIM Specifications
Windows Phone 8.1 with Lumia Denim | Windows 10 ready
5-inch HD (1280 x 720, 16:9), 294 PPI
1.2 GHz quad-core Qualcomm Snapdragon 200 CPU
1GB RAM, 8GB storage, microSD up to 128 GB
8 MP auto focus camera with LED flash
5 MP wide-angle camera at the front
2200 mAh removable battery
Dimensions: 144 x 73.69 x 9.35 mm
Weight: 152g
The Lumia 540 is priced at INR 10,199 ($160) which is a tad more than what I expected the price to be, although it's the best buy price and you'd expect to find a better deal in retail. It's an unremarkable phone, but a decent addition to the budget and mid-range Lumia segment - essentially sitting on the fence between the two bands.
There are some useful offers that make it a better deal though. On every purchase of the Lumia 540, Airtel will offer consumers double the data free for a period of 2 months. Also, Paytm will offer a cashback worth INR 1000 on recharges made via the Paytm app (INR 200 off every month for 5 months) while Ola will offer customers a cashback of INR 800 on Ola money recharges (for INR 200 cashback per recharge for the first four recharges of INR 500 or higher). The Lumia 540 Dual SIM users will also get 2 months free subscription on Gaana.com including unlimited music downloads.
What do you think of the device, and of course its price? Stay tuned for our first impressions of the Lumia 540!
That looks like the MSRP which is always higher then the actual street price.

At least for the first week that will be the price. Even if it comes down to 9.5K why would anyone buy this over Lumia 640 which is available for Rs 9999.

it's has 5mp front camera 640has 1mp ,

Bt 1mp cam has hd resolution so its enough and 640 has gorilla bt 540 hs nt

Yeah. Lets ignore better display, faster processor, better camera, bigger battery and concentrate on front cam.

Snapdragon 200 is a joke on HD display because it doesn't support HD playback and v video recording

Actually SD 200 windows phones DO support 720P HD playback, through 3rd party apps like Moli player and up to 720p streaming in the Mytube youtube client. So it's not natively supporterted granted, but is technically (through apps) possible ;)

In fact, I have a lumia 535 which has SD200 and I can play with no 3rd party support, videos in 720p, before 8.1 update 2 off course, after that update I need moliplayer, but besides... is worth it!!!

But in real manner It cost around 9199 after the paytm offer

And then in the same way, Lumia 640 costs 8999 with the Mobikwik offer and you may also want to subtract 3200 rupees for the Office subscription.. besides 640 has a better processor, better glass protection via GG3, better display, glance, full HD recording and ofcousre Lumia Camera 5

The phone has a better camera – 5 MP front. Did you check?

Yep. They need to discount it heavily for it to gain any traction. Expect prices to drop significantly in the coming months.

Man.!! First off all its a kill for microsoft .! -.- 640 lies almost in same price bracket but has a better processor .! Except a better front cam.! 535 just lost its identity here (dull screen and touch issues ). L730 also lies in this price bracket . Which also has got a effect on its sale oncoming now which is the most better than 6XX and 5XX series so much overlapping .!! Many users dont even know to differentiate here .! :/ its goin just like unlimited samesung galaxies (I.e numerous models ) microsoft should atleast think on it

Samsung released tons of models in same brackets of specs with small differences and with different prices, but they sell, which is the most important in any business. At least people will have options. Its up to the people who will buy to chose which one they will buy. A slight difference in specs, or features is enough for someone to go for a specifc model than the other. Whether it is the front cam, the battery size, the screen resolution, the main camera, the procesor, the display or the price. The slight differences can make the person decide to go for this model over the other, and it is up to them. It's their money anyway.

Yes. I am happy with my Lumia1320 @13,500/-

You should be. The dual core Krait @1.7 should keep you plenty happy.

Never mind, Microsoft is just responding to the "wen in India" comments.

Seems thinner than the rest of these Lumia bricks we've been using. Not to say I dislike my Lumia 820, 635 or 930, but these sumbitches are THICK. Is this actually any thinner or is it all optical illusion?

Have you seen any of the recent lumias? They are thinner. Even the 535 is thinner than this phone.

I actually owned the Lumia 535. Didn't feel remarkably thin.

And again... I could not understand MSFT pricing strategy. My next primary phone is Huawei Honor 6...(I am sad... but can't help it guys)

640 at 10000 and 540 at 10199. What the price?

Exactly..... No one will buy 540..., other than selfie lovers

Exactly. What the frigging pricing is this??

Seriously disappointed with the pricing!! This time they failed :(

Dude, it's just like two hundred more. They start out at that price and then go down. It's MRP not the price which you HAVE TO BUY it for.

Okay I think you are right.

Does not have gorilla glass huh....

Lumia 640 which is has better display, faster processor, better camera, bigger battery is available for Rs 9,999 ($157) but they priced this at Rs 10,999 ($160). Its almost like they dont want 540 to be successful. Microsoft India is worse than Nokia India with their pricing.

Nokia was a shit.. They use to charge more with worst features.. 640 came out with 12k and dropped to 10k.. This one came out at 10k will drop below 10 after some time..

Nokia priced some of the devices well. Ex: Lumia 520, 620, 720 etc... But they were bad with Lumia 800, 710, 820, 630, 530 etc... It does not matter if this device price drops later because Lumia 640 price also drops.

720 priced well? They priced it 15k with just 512mb ram.. Androids were sold at the same price with 1gb, though androids suck.. :P But still specs should be same to have a competition with other phones at same price and MS is doing better than Nokia..

At that time, 720 priced well and it was reasonably successful. The problem those days was WP does not have many apps and features are also lacking.

720 was more than 20k when launched in January 2013. I bought it for 19000 in March of that year. Having said that, hands down 720 has been the best designed phone among all the Lumias till date. Though I have 520 and 735 now too, I still love my Lumia 720 !! I wish Lumia 735/ 830/930 were unibody like the 720 !! That design is iconic ...

I swear atulk! I own a 830, 720, 535, and 730... ((730 belongs to my sis.) I totally agree with you. The design of 720... Damn sexy. Sometimes I feel it looks even better than my super sexy Lumia 830! I have all phones in black. 720 almost rules.
And yes, even when I had got the phone, I had got it for 17.7K.

At that time only the flagship lumias were having 1 GB RAM

CPU is the same. The GPU is better.

CPU is not same. 540 has SD200 while lumia 640 has SD400 processor.

You're confusing CPU with SoC. SD200 = quad core 1.2 GHz CPU AND Adreno 302. SD400 = same quad core 1.2 GHz AND Adreno 305. Anyway, most people just use the term CPU nowadays, so it's ok to be confused.

Thanks for the info. I am aware of the difference between SOC, CPU, GPU and even APU :) Initially when Qualcomm launched the SD200 and SD400 processors CPUs are not same. Looks like later they added more processors under the same SD200 brand.

If I don't remember wrong Lumia 640 is exclusive to flipkart, so it's the device available only online that's the reason for the low cost and 540 is for retail store, Correct me if I am wrong.

Lumia 730 is available at 10,999 on many websites too !!

Damn no no no! What the heck. I took 730 :( this seems to be better than what I got !

No. 730 beats the fuck out of this crap.

True. This Elop I useless really. Stupid pricing strategies and resulting Windows phone into a mess which will create update delays.

You're being sarcastic right?
Like others have said, 730 is far better than this!

Come on. 730 is awesome. Its totally worth it.

Too costly.640 is better than this and it is cheaper.

If the Snapdragon 200 can only do like 840x480 images, what's the point in either cameras' megapixel count?

There's a difference between photo and video. This is just Microsoft being weird anyway. The SD200 CAN shoot 720p. Microsoft just won't allow it.

I used an Android with snap200 can record HD but it was terrible.

720p is possible with an sd200, but only at between 10-15fps and a low bitrate. Videos would actually look worse than those shot at FWVGA, that's why the option to record at that res is disabled.

I think you may be confusing the camera resolution with the screen resolution.

I don't know why.. N what's d strategy of launching a low end devices... Is it that they had already invested in such models n had to lauch any how... N den it will be surprise to see that u need a high end device to use full features of win10

Correct. Indian market is flooding with low end devices. And most of them don't even justify their price tag.

Gotta Wait for two months

Windows 10 ready. What does it mean? Isn't the older phones Windows 10 ready?

Maybe marketing strategy...I think in this way they are making the name "windows 10" more popular and people more curious about it...

It is the 1 gb memory that makes it Windows 10 ready. I thought earlier models had 512 mb memory.

No. Every windows phone with 8.0 or higher can upgrade to Windows 10. It doesn't have anything to ram.

You are partially correct.
Ram does affect. It's true every phone will get windows 10, but phones with 512mb ram will have limited features. :)

Price will drop after a month.
They also know that they've priced it higher than the 640.
Initial price is higher just for revenue.

Exactly! Some losers here don't get it.

Good for India! Market share keeps rising!

Relax its mrp. Soon enough it'll drop to 8K.

True! But people here cry alot. -_-

Surely this phone will now kill L535 once the price starts dropping..

535 already dead because of touch issues

The 535 has no chance with this on the market.

Actually many people would buy 535 bcoz of the presence of gorilla glass 3.

I want L640 single sim LTE -_-*

Bullshit....price must be below 6000....

Yes for this bullshit specs and crap OS price should be below 6000/-

Use this coupon on eBay for 50% discount --> "IAMABEGGAR"

Ok ok don't cry child.....

lumia 730 is available for 12k - who would want to buy this?

If this is a retail focused device, the price allows the retail sales people to discount the price to generate traffic into the store. I think Microsoft sells the phone to the retail outlets at half the list price and the retail outfit can determine the markup, but not above the MRP. In the US there are laws about reducing the price below the MRP. I don't know if the same laws exist in India. But if I am right, then maybe Microsoft is trying to build loyalty amoung retail outfits by giving them a product they can sell at various discounts to improve their sales volume. Of course, the distribution system in India maybe much more fractured versus in America (alot of middle men). In the US, you basically shop at Best Buy, Costco, WalMart and other large national retail distribution companies that have sophisticated inventory management systems that make the US distribution system one of the more efficient systems in the world. Then there is Amazon and other internet based retailers that have even more efficient distribution systems.

Reduce the price to 9000. Microsoft is getting everytime wrong with their pricing strategy that's y ppl are preferring Moto series.

Lol.
There price is perfect. It's the mrp. It will go down.

I don't know why do the erstwhile Nokia or now Microsoft always launches their phones at such high price and reduce their price after 1 or 2 months. Lumia 640 was launched at ₹11,999($188) but has now reduced to ₹9999($157) and it's just a month since launch. Why don't they just launch it with reasonable correct pricing and stop reducing the price so drastically afterwards, as it makes early adopters look foolish and make others to wait till they reduce the price. Anyway with L640 much better in every way except maybe the front facing camera, I don't know why anyone should buy this.

Epic fail.. You can get Lumia 640 for less.

Epic fail. With your comment. This is the Mrp, it will reduce. Understand that.

+830 boooo... Whoever booos MS.

The standards for storage Lumia phones should be 32GB not 8GB. I loss my faith in microSD cards as my Lumia 625 32GB microSD card died and I'm not trusting these little memory chips anymore. I lost tons of photos which I didn't backup in OneDrive. However, my phone now only has about 4GB of usable space after the OS and the apps that you can't uninstall. This is unnaceptable as I can't install games I purchased like Halo Spartan assault since they occupy a lot of GB of storage. My next Lumia phone will be one which comes with at least 32GB, if not I'm not interested anymore.

1. You shouldn't expect to get large internal storage at budget-friendly price.
2. Always allow OneDrive to backup your stuff.
3. It's actually better to keep some important stuff copied to your SD card (and PC) because in case you reset your phone, you don't have to worry about your data.

Recently happened with some people. With SanDisk.

Hilarious pricing. Even for the launch.

640 is cheaper than 540....

It isn't. We never compare the prices that way. Mrps are compared. This has a lower mrp. So, you will get this phone for much lesser price.

No one will buy for this price,price should be 8k,snapdragon 200,worst processor,only ms using this sd200

Motorola is also using it..i meant lenovo..and a lot of other companies..although Samsung isn't using anymore

check the link--> http://en.wikipedia.org/wiki/Qualcomm_Snapdragon#Snapdragon_200
and see the list of devices using SD200.

Lumia 640 much better for the price

Please use ₹ instead of INR.

Nice to see that you've got at least something different to complain about, lol! XD

₹₹₹₹₹₹₹ *Sings* I got the money and hose , Money and hose *Sings* ₹₹₹₹₹₹₹ B-)

That symbol is difficult to find on this American keyboard. I guess that makes me part of the American Empire that is hell bent on dominating the wolrd and making all other countries bow to our authority.

The price of 640 is limited time offer it will get back to 12000 after that

Better buy 640 with gorilla

I think we can't buy Gorilla because of Wildlife Protection Act. :D LOL

Eco friendly phone. 540. No gorillas. :P

People stop complaining!! The price is always high when it first releases, wait 1-2 weeks and it will fall below 9500 im sure.

₹9500 is also too high for this in comparison with L640

Jared... You just said what these people need to understand!!!! Everyone is crying so much!

Was expecting this t0 be in the 7.5 - 9k range, 10k seems t0 be pushing it t00 far.
Wen 440 ?


Price should be around ₹7000 max

Is it me or do all guys feel that is Microsoft or Lumia becoming like Samsung in design model..

I think 640 is better than 540,,,

Boring design, boring specs and the price is very very high. Microsoft! Your Bad days have begun.

No. Mr. Soothsayer. The design is not at all boring. In fact, it is the best design of all the Lumia phones that have been launched recently.

SD200 for HD display..?! Lol..!!! This phone will not make a hit unless it is around 8.5k..!!! C'mon MS., do it..

Seems like a steal for the price except the lack gorilla glass.

Microsoft will regret this ridiculous categorisation and pricing strategy of theirs. It belies even a 5 year old's IQ level, its so bizarre !

Insane pricing?? 640 for 10,000 having more features and 540 more than that ??? Hell

People will buy this phone over 640 because 640 is exclusive to flipkart in India while 540 will be available in retail stores, in the market
Windows Central Newsletter
Get the best of Windows Central in in your inbox, every day!
Thank you for signing up to Windows Central. You will receive a verification email shortly.
There was a problem. Please refresh the page and try again.