Microsoft's new Edge browser must court IT crowd to steal Chrome's crown
Microsoft could very well see success with Edge's switch to the Chromium base, but it'll have to win over IT departments to beat out Chrome.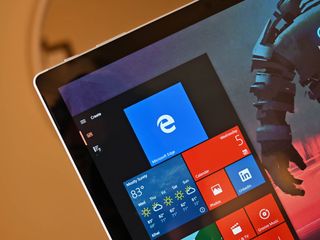 (Image credit: Windows Central)
When Microsoft announced that it was abandoning its own EdgeHTML rendering engine in favor of rebuilding the browser around Chromium, there was a mix of trepidation and hope among Windows users and Edge fans.
On the one hand, the company decided to scrap years of work done on EdgeHTML to start anew, potentially alienating the browser's small but loyal base. On the other hand, the move to Chromium, if done right, gives Microsoft a more mature platform to build on, improving compatibility while bringing over some of the now-old Edge's most-loved features.
In a recent piece by Windows Central Senior Editor Zac Bowden, he argued that Edge built on Chromium "might give Google Chrome a run for its money", and early leaked builds of the browser certainly show promise (see video below). But, in order to truly challenge Chrome's utter dominance of the browser market, it won't be Microsoft fans and consumers that decide Edge's fate. Rather, Microsoft will have to work hard to win over IT departments, according to sources we spoke with for this story.
Related: 6 things we want to see in the new Microsoft Edge
How Chrome captured the crown
Two of the top firms that track browser stats, StatCounter and Net MarketShare, say Chrome currently commands between 66 percent and 71 percent of the desktop browser market, depending on which company's stats you go with. By comparison, Edge currently controls just over four percent of the market, while Firefox comes in at a little under 10 percent. In other words, Chrome absolutely dominates right now.
It wasn't always this way, however. Microsoft's previous flagship browser, Internet Explorer (IE), was the frontrunner for more than a decade leading up to Chrome's launch in 2008. It wasn't universally loved, to be sure, and frequent frustrations with IE were what caused Firefox to gain a healthy following as an alternative before Chrome arrived.
As Chrome gained mindshare, tied the browser to its broader ecosystem, and built out a broad catalogue of extensions, it gradually managed to climb to the current top spot. Microsoft's virtual abandonment of IE (it still lives on, for now, for legacy support) and switch to Edge with Windows 10 accelerated Chrome's rise as the newer browser.
As IE faded into the background, IT departments began looking to Chrome as their browser of choice. Long a bastion for IE, portions of the enterprise sector gradually made the shift to Chrome, based on its maturity as a platform and security. And as web apps have started to become an increasingly important part of the business world, Chrome positioned itself as a fast, secure solution for business needs.
From a recent Google-commissioned report by research group Forrester on the economic impact of deploying Chrome in the enterprise:
In 2017, Google introduced Chrome Enterprise, further pushing the browser's business chops, along with those of its broader Chrome and cloud ecosystems.
Courting the IT crowd
Many consumers rarely take enterprise scenarios into account, preferring instead to focus on things like "browser wars," but the sector is incredibly important to both Microsoft and Google. More importantly, businesses are slow to change. And it's IT groups, not individuals, that will be some of the key decision makers in the new Edge's success, according to Steve Kleynhans, vice president for mobile and endpoint at analyst firm Gartner.
"IT organizations run on inertia," Kleynhans said. "They don't like to change anything from the way that it's working today."
And that is precisely the challenge Microsoft faces with businesses and, subsequently, a large portion of the browser market. "[IT departments] only grudgingly moved off [Internet Explorer] towards Chrome, and it's going to be really hard to push them off of Chrome to something else," Kleynhans said.
Microsoft will have two main routes of courting businesses, according to Kleynhans. Either the company will have to provide something that is so invaluable that they can't ignore it, or make the process of moving over to the new Edge so simple that it can be done almost without realizing it.
Security will be a major piece of the puzzle for Microsoft, Kleynhans said. It won't be a "cool" new feature that garners attention. Rather, the company will have to demonstrate that Edge is more secure in some way.
On the other side of things, making the browser easy to adopt, part of Microsoft's job is already done: it comes with Windows. The reason that didn't work with the old Edge is that the browser just "didn't work very well," Kleynhans says. "If Edge does the basics, if it doesn't break their websites [and] everything keeps working the way they want it to, it becomes easy for them to slide into it."
According to Kleynhans, Microsoft could gain traction over the long-term by focusing on that second track: making the switch as seamless as possible. But if the company is looking to push the new Edge on the business side of things much more quickly, it will have to present a compelling reason for why it is more secure.
Opportunity in change
Microsoft's initial reveal that it was switching Edge to run on Chromium was met with a bit of backlash from Mozilla. The Firefox maker argued that Microsoft was ceding even more control to Google, leaving Chromium and Mozilla's Gecko Quantum engine as the two remaining major players.
"Microsoft is officially giving up on an independent shared platform for the internet," Chris Beard, CEO of Mozilla, wrote at the time. "By adopting Chromium, Microsoft hands over control of even more of online life to Google."
While the engines behind browsers are essentially invisible to users, Beard argued, they hold great sway over what web developers prioritize and what's possible online. "Microsoft's decision gives Google more ability to single-handedly decide what possibilities are available to each one of us," Beard wrote.
But while Mozilla may see Microsoft's shift as giving up ground to Google, Kleynhans posited an opposite view: Edge's move to Chromium could give Microsoft more of a say in how Chromium moves forward.
"Is Microsoft ceding control to Google, or are they trying to wrest control from Google?" Kleynhans said. On the public-facing side of things, Microsoft is trying to make the embedded browser work well enough for everyone to use. "Behind the scenes, this is a little bit of an opportunity for Microsoft to gain a little bit more control of what goes on and have more say."
Gaining an Edge
Edge built on Chromium is certainly an interesting move. The refreshed browser is expected to go into preview for developers in the coming weeks, and early leaked builds have shown a surprising amount of polish.
But, even here, if Microsoft hopes to pull people from Chrome, it'll have to offer something extra. One area of focus could be on keeping Edge svelte and nimble, said Peter Tsai, senior technology analyst at Spiceworks, an enterprise IT marketplace and community. "For example, Edge might gain a larger user base if it can offer faster page-load speeds than Chrome while using fewer system resources than Google's browser — which has a reputation for being a CPU and memory hog."
On the general user side of things, there's a contingent of Edge fans that will be excited by the change, which will result in access to a greater catalogue of extensions and faster performance on sites like YouTube. Equally, there will be those who are dissatisfied with popular features that either aren't migrated to the new Edge or take some time to arrive.
But it's clear that converting IT organizations will be incredibly important to the growth of Edge going forward. Switching to Chromium should be a net benefit for all in terms of compatibility, but it's up to Microsoft to make sure that it can implement and successfully market that edge to not only Windows fans, but IT professionals.
Get the Windows Central Newsletter
All the latest news, reviews, and guides for Windows and Xbox diehards.
Dan Thorp-Lancaster is the former Editor-in-Chief of Windows Central. He began working with Windows Central, Android Central, and iMore as a news writer in 2014 and is obsessed with tech of all sorts. You can follow Dan on Twitter @DthorpL and Instagram @heyitsdtl.