Microsoft Photos app for Windows 10 Mobile gets a minor update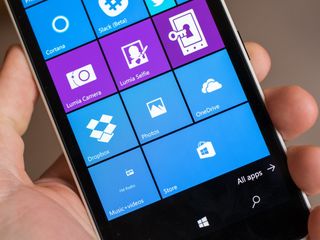 Preview users on Windows 10 Mobile can download a new version of the Microsoft Photos app from the Windows Phone store. Unfortunately, this appears to be a minor release, with no immediately noticeable additions or improvements.
The updated app has the version number of 15.902.19222. If you do notice any new changes or additions in Microsoft Photo, please let us know about them in the comments.
At this time, the desktop version of the app is stalled at 15.827.16340. We'll update the article if that changes or we find anything new.
Thanks to Aakash for the tip!
Download Microsoft Photos for Windows 10 (opens in new tab)
Windows Central Newsletter
Get the best of Windows Central in your inbox, every day!
It is still crap​ compared to the Lumia app they ditched...

It's not too bad. I just hate that if I edit a pic in Lumia Studio, it's not full resolution for some reason. I'm not sure if it's just an issue with WP 10 or has always been like that

Also, people who use Onedrive and have their pictures automatically uploaded, not all photos upload. I think it is mainly the ones that end up getting stored as .nar files on your phone. I dont know if it always worked like this or if its just WP10. But you may end up thinking all your pictures get uploaded when its not the case, so you could lose some if you delete them off of your phone. I just got back from a vacation where I had a good dozen photos that turned out great that I figured out dont get uploaded to OneDrive. If this is how these nar files are intended to work, its a royal screw job. I shouldnt have to copy the .nar files to my pc and then extract them. MS needs to fix this!

I never upload pics to OneDrive as it is not secure.

Since when is it not secure??

I have not noticed that it won't upload all my photos! I however, have an issue where the desktop and phone app are pulling in my album art from the Music folder and video thumbnails from the Video folder on my OneDrive. It has created a huge mess of my photos.

They need to bring all the Limia apps period.

What's broken with it? Last time I tried it I just noticed that the photo are slow to load in full res when you zoom in, is that what you mean?

Try panning in and out. Don't use the plus or the minus buttons.

Where is the plus and minus buttons???

Zooming is also broken for me. Once I touch a photo with two fingers, the app crashes.

I wonder where we will get a new build?

Gabe Aul said they're working hard to get one out this week.

Can we navigate to a folder and open pics yet? MS needs to add that asap.

Completely agree! I have complained and complained to Gabe Aul and Joe Belfiore over and over again about not being able to see my picture folders in the Photos app. What good is a photo app if you can't find your freakin pictures in the folders you put on your phone from your PC? STUPIDEST thing MS has come up with yet. I don't want to search my entire phone (hundreds of pics) to find a picture that I can't remember when it was taken. Arranging pics by date is not a good way to go. This isn't Apple!

More minor updates, where are the big feature rich updates?

Seems a tad less buggy. Refreshes photos faster on my 1520

we need favorites like photos in Wp 8 :'(

we need a whole new photos app, the current one is a viwer, it dowsn't even support editing features which are available on PC How the hell this is universal :|????!!!!!

I know the PC version doesn't even allow you to create Albums or at least sync the ones from OneDrive.com. For a release version of an app, it is extremely upsetting that a simple feature such as Album creation isn't there. Or at least sync our OneDrive.com albums until they figure it out...

Not sure if this is new but clicking on the lower right causes zooming controls to pop up.

I would be so happy if they fixed this to make it fully functional asap. This is one of the most important apps to me.

I got an update for 7-Eleven just now when I did an update check. Not sure if anything is changed. (W10M)

Yup, there's a new version in the store but it hasn't automatically updated and the "view" button hasn't changed to "update" WP8.1

BTW it says there are fixes to rewards to match API changes.

Not only photos app, all of a sudden I got 28 updates on store, are they the pending ones or they really getting new versions !!!

Am I the only one that enjoy's the W10 Photos app over the WP8 one?

Seriously? What is there to enjoy this is about 10 steps backward fro. The Win 8.1 version.

I also prefer the new one. I just wait for better album management.

in what possible way is the new one better?? Can even get favorites to the live tile..

For me it's better. I like the way it integrates with onedrive, the look and the idea of albums. They still have to work on in but as i sayd i already like it.

I pretty much save all my photos to onedrive and the W10 app makes photos from all my devices available on all my devices.

probably yes... the new photos app is horrible compared to the one in Windows Phone 8.1 same with the People app .. the old one was a lot better, also it did not clip contact images in to ugly circles

Get over the contact images. I, and a lot of others, like the circles.

No, I also liked the current version. Wp8.1 version sucks

Waiting for new W10M build!

Maybe the fixed the random problem that some phones open pics only to have the photos shut down a second later?

Jokes aside, it does seem faster on my 735. Took a lot to update photos before, and took a while on zooming, but now the speed is visibly different

I can't download the Lumia Selfie app on my 930 W10 latest build. Could someone help me, please?

There is BeautyLense to replace it.... Selfie and Nokia account app wont update on winows 10

I wish they allow to select the folders on the phone and onedrive to appear on live tile and first screen on the app

OT: Facebook Beta App just got updated!!!

I want bold major update of mobile 10 unlike minor

MS Msgr snags a minor update today also

Did this remove the tile from anyone's start screen?

Just noticed Microsoft Health and One Note updated as well.

In 2015 we're still waiting on Windows Phone 7 features like a dedicated "wallpapers" album for the lockscreen and background pictures on the start screen. Microsoft has a lot of work to do. Posted via the Windows Central App for Android

Is it better than on 8.1 photos app?

The hamburger menu is removed with the recent update