Microsoft said to be working on timeline feature for Windows 10 Photos app
Microsoft appears to be working on a timeline feature that will let users quickly zip through images in the Windows 10 Photos app.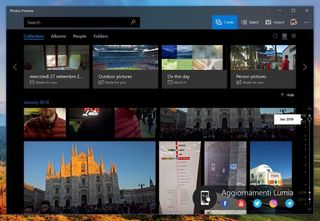 Microsoft's Timeline feature is set to be one of the biggest coming in the Windows 10 Redstone 4 update, but it looks like the Windows 10 Photos app may be getting a timeline of its own – albeit much more limited. Italian blog Aggiornamenti Lumia has gotten an early look at some features it says are headed to the Windows 10 Photos app, and chief among them is a timeline feature that lets you quickly scroll through your photos in chronological order.
Currently, Photos already allows you to navigate your photos in chronological order with batches separated by month. The new "timeline" UI element looks as though it will enhance the experience a bit, allowing you to quickly zip to a specific month or year with a scrollbar. It's a small addition, but it could make zoning in on a specific time period a little simpler.
According to Aggiornamenti Lumia, some smaller features are on their way to the Photos app as well. Microsoft appears to be testing a way to add audio commentary to your own video creations as part of a new "Audio" section. Paint 3D integration is also coming, courtesy of a built-in shortcut to export creation directly to the 3D editing app.
We'll have to wait to hear more from Microsoft, but these features could make their way to Insiders soon.
See at Microsoft Store (opens in new tab)
Dan Thorp-Lancaster is the Editor in Chief for Windows Central. He began working with Windows Central as a news writer in 2014 and is obsessed with tech of all sorts. You can follow Dan on Twitter @DthorpL and Instagram @heyitsdtl. Got a hot tip? Send it to daniel.thorp-lancaster@futurenet.com.
You already can do this. In the Photos app your pictures are grouped by month and year, and they are already sorted latest-to-oldest within that. You can tap on the date of any group and get a jumplist to easily take you to the month/year you want. What else do you need beyond that? Seriously.

What problem do you have with more functionality, and ease of use?..

Redundancy due to feature creep, slowness. UWP apps are already way too slow for no good reason.

Title is misleading, it is basically revamping timeline based feature in photos app.

How is it adding more functionality? My point is that the functionality is ALREADY there. The pictures, by default, are sorted newest to oldest. You can scroll back in time to see earlier pictures. OR you can tap on a date and see the jumplist to speed up moving backward through your timeline. I don't understand what this new feature is adding that we don't already have.

What I read : "Microsoft said to be working on timeline feature for Rodney's Andromeda device's Photos app"

Still no way of permanently hiding the "made for you" section.

MS, please fix the app first. The album section is super buggy - It likes to freeze and crash far too often.

One workaround is to enlarge the box as big as you can.. When it's minimized it will run slow, and select all the wrong images... I agree it's sad this hasn't been fixed yet, but there's a way to make it less frustrating.
...............
Have you submitted feedback?

Just an ugly app with useless features. Can't even set name of people faces but wanna be Google photos. It's been a year it started identifying faces and still shows progress going on. Half the screen wasted for collection and only half of the screen available for scrolling. Who does that? Just annoying to look pictures in half screen. Everything is huge and ugly. Huge search bar, huge buttons, either huge or tiny thumbnails( not even a thumbnails slider). Not to mention the ugly UI and design. I only hope MS prinicpal designer is replaced.

Complaining for the sake of complaining about things that no one else is complaining about.

No one else? Ok just coz no one else is complaining it doesn't mean there is no problem. BTW I already gave upon MS. They are never going to pay attention to details like Google and as apple. Apart from gimmicks Microsoft neither has best designer (design mess) or best engineer (slow buggy apps). I had to use MS just coz of productivity reason. Once Google overtakes them with Chromebooks, that will be the last nail in the MS Consumer business coffin.

Then, WTF are you still here complaining?
.............
You just said that you gave up on MS, which means that you have no use, or interest in thier products. Not only that, you claim that Apple, and Google, are better in every way.... I have little to no interest in iDroid products, and I've never been to one of those sites complaining about their products. That would make me a pathetic troll.
So, what are you, and why are you here?

We know you are ok with mediocrity from Microsoft. Doesn't mean we have to be ok with it. Have you used Google Photos? There is a reason they have something like 600 million users. This "app" (should be cloud based) is garbage in comparison.

I still use photos for basic retrieval and backup to one drive. Google photos still fairly better for features. Need facial recognition ASAP. I know the old Live Gallery had it but not as good as the server side that Google has.

How good is the people tab? Never got a taste of it on mobile

It would be better if they fix the bugs in the app and than add more features in it

I am still waiting for spacial organization of photos like the Lumia Storyteller app had. It was so great to be able to scroll to a city and see all of the pictures taken there.
Windows Central Newsletter
Get the best of Windows Central in in your inbox, every day!
Thank you for signing up to Windows Central. You will receive a verification email shortly.
There was a problem. Please refresh the page and try again.