Microsoft sells 2,000 Surface Pro 3 tablets to Pittsburgh healthcare center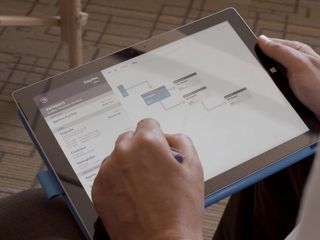 Microsoft has announced that the University of Pittsburgh Medical Center (UPMC) will purchase 2,000 of its Surface Pro 3 tablets to be used by its doctors in combination with its own Convergence application.
Rebecca Kaul, the President of UPMC's Technology Development Center, states that they tried to develop their Convergence app, which offers its doctors access to information about their patients, for the iPad. However, she says that after a year of work, UMPC discovered that it would not work well in their setting, due to the need to interact with its legacy systems.
Kaul said:
Those issues don't turn up when using Windows 8.1 combined with the Surface Pro 3. Kaul stated that they picked Microsoft's product because it had the right size and form factor, and it could also be disinfected, which is certainly a good thing when used in a hospital.
Dr. Rasu Shrestha of UPMC adds:
Microsoft won't officially start shipping the Surface Pro 3 until June 20. However, it has announced that many large companies such as Coca-Cola, Louis Vuitton, and BMW already have plans to deploy the 12-inch tablet.
What do you think about Microsoft being able to convince big businesses and organizations to purchase large shipments of the Surface Pro 3 even before it's officially released?
Source: Microsoft
Windows Central Newsletter
Get the best of Windows Central in your inbox, every day!
This is good news along with the private school in Ohio and the other medical facility that also purchased them.

Great news!
Rule is MS will get it right in the 3 rd attempt. Surface is not an exception. SP3 is device that will do well with right marketing.
However, keyboard MUST be included. They should not charge separately.
Waiting for WP 9. 3rd attempt will nail it.

So sick of people saying this. Why should they just give something away. I can understand making it more affordable or including it with the price, but that has its limitations too since some people might not want the case and would prefer to use it with a usb keyboard or not use a keyboard at all.

It might be different if Microsoft didn't offer Color options for those said keyboards. But as there are color options they have to be a seperate purchase.

Very good news, indeed. But Microsoft really needs to hit healthcare hard if they want to hold off iPad. Where I go for care, you can tell iPad clearly rules for mobile in that health care system/chain/whatever.

I work in healthcare IT. It's true that doctors use iPads quite a bit in hospital settings, but very few iPads are used by staff other than doctors. Doctors make up maybe 2 to 3% of the staff. Nurses and pretty much everyone else use Windows PCs of some kind (on carts, wall mounted, desks, etc.) because those are the people that are doing all the data entry and the software they use is written for Windows. Even the doctors really only use the iPads while they are reading over the patient's chart. The doctors spends most of their time in "viewer" software that agregates data from all the other systems in the hospital. When doctors need to enter orders they go to a PC in most cases. Also, for the most part the iPads are really just being used as dumb terminals to connect to a very expensive VDI infrastructure that hosts remote Windows desktop sessions. Absolutely none of the software in our facility is native to iPads. The Surface Pro (or any other full Windows tablet) is actually much better suited to the healthcare environment. Up to this point, iPads have been tolerated by IT to keep physicians happy, but it takes a ton of money and infrastructure behind the scenes to make those iPads do anything useful. I would guess that each one of those iPads costs a few thousand dollars in additional costs to get it "connected" and a PC is still needed by those users to do the heavy lifting. For physicians, a Surface Pro and a docking station could provide both the desktop and the tablet, offer a seemless experience, and run the client programs natively so that the VDI infrastructure/licensing wouldn't be needed.

Do the doctors really make up only 2-3% of the staff where you work? I find that a shockingly small number.

have you been to a hospital? maybe private clinics have higher ratios but most large non profit hospitals just tons of support staff for the few doctors that make the rounds each day.

Correct. In a hospital, the patients mostly see doctors and their own nurse so I can see how a patient would get the impression that their doctor is running the whole hospital with that iPad. However, there are dozens of nurses for each doctor and there are a lot of other staff that are not seen as much. Pharmacy, Radiology, Lab, Respiratory, Dietary, Physical Therapy, just to name a handful. Those are just some of the departments that focus on patient care. There are plenty of other departments related to business operations such as Medical Records, Quality Assurance, Patient Billing/Insurance, Accounting, HR, IT, etc.

Why I agree that providers make up a small percentage of the total number of people at a hospital it has been my experience that what doctors want, doctors get (within reason). I think MS has an uphill battle with providers but stories like this are a great start! If they can convince providers that they can see more patients in a given time frame (which equals more money) and still maintain the level of survice (which equals less lawsuits) then providers will switch. =)

The doctors absolutely do get what they want (and often well outside of being within reason). The iPads really aren't doing anything that is critical to our workflow though. That is why the hospital hasn't spent the money to deploy them to anyone else. The iPads are mostly just slightly more convinient (due to portability) for the doctors when they are using them to look over patient charts. Like I said before, the company has basically put up with the iPads to make the doctors happy. Almost all of them are personal devices. Our workflow is completely Windows based (on the client end) and works in spite of iPads not because of them. The Surface Pro would be something that the company could invest in and provide to all kinds of other users to allow the actual work to be done. In short, in our hospital, the iPads are personal devices, used only by doctors, for consumption tasks only, it costs thousands of dollars to connect each one of those iPads to our systems, and a desktop PC is still needed by those users for more complex workflows. The Surface Pro could be owned by the hospital, centrally maintained using the same tools we use to manage desktops PCs, used by nearly any staff that needs to move around, for both productivity and consumption workflows, at a fraction of the cost of the current iPad + VDI Remote Windows session + Windows Desktop PC model.

I really hope they are not over selling these and my preorder at BestBuy still comes in day 1. I really don't want a repeat of every Pro launch.

My local healthcare system and I have friends and clients who work for them. Awesome to see they are going to start implementing Surface Pro 3s.

I wonder how many Coke and those other companies purchased. It seems like the SP3 is going to be a huge hit.

That's my question too. During the reveal, I knew that businesses would start adopting this. Makes me want one even more. Even my company is looking at them...we have SP2 sprinkled around here too.

I don't think these companies bought many. In a report I read, it is said some marketing or design staff are using it, which means only a few people.

Maybe now we'll get more medical apps.

Oh yes! This is what we need. And if they use universal apps, windows phone might actually start getting these apps.

Sure it's nit a good news, but it is a GREAT news !!!

What app is that in the picture?

Whatsapp ??? Sorry, I had to.

I understand and forgive you.

Good news, but I really do hope they get the frustrating bug solved where the Surface doesn't wake from sleep and eventually reboots itself. Always happens to me on the Surface Pro 2! Would be very bad publicity if it's still there with all the Pro 3's being sold.

Have they not fixed that? It's the reason I took my Pro 2 back before 30 days had expired. Thought they would have fixed it by now though.

Funny, as my SP1 hasn't experience that issue at all.....you would think it would be the one experiencing bugs.

MM, did you already installed the tuesday updates that actuallyare build to resolve your issues?

Yeah this happens all the time on my SP2 also and it's very frustrating. However, it shouldn't be a problem, the Surface Pro 3 has the required hardware to stay connected while in sleep, so it should wake up faster and hopefully less buggy.

Sell surfaces to all office CEOs, hospitals,management students in universities

Everyone cant afford so there are also target for high sales

I'm waiting for that day when almost every companies use surface on their desk and see no glowing apple logos.

Glowing surface logo with radium in the night

This thing is beast, iPad are like my little pony when compared to Surface Pro 3. Beautiful design, Perfect size, Brilliant Pen & most of all Full Windows 8.1, ability to run pretty much every app on internet? Yes please.
R.I.P iPad :'3

Oh weird... I'm reading about my workplace, on my work computer, on WPCentral. Never would have expected that. I talked with one of the guys setting these up just yesterday.

It's a surreal feeling, isn't it? An oob experience!

And what did he say about it? Gives us all the details about it. :)

The question is, "Does he know how to use it properly so as to train people properly, specifically on setting it to boot straight to desktop if that's what the employee wants. also the differece between pinning to startscreen as opposed to pinning to the taskbar (Believe it or not, there's a lot of people who don't know what the taskbar is). They also need to be shown the shortcuts to logging off, restarting, searching, control panel, etc. If you're going to implement a product, it's good to actually know how to use it yourself.

Shouldn't you be working?

This is great to become Microsoft products become popular specifically windows phone.

Awesome these deals should help them cover their costs and then provide it for me at lower prices. Lol :P

Hopefully this kind of mobile adoption will lead to WP deployments for some of these companies as well; what with the ease of transition.

The universal apps will really help in this regard as almost of the entire code can be shared between windows 8.x and the window phone 8.x.

NICE!! I think SP3 will be a hit.. I like that they moved the Windows button to the side, you can't accidentally click it when using it in landscape.

Sound Natural. Surface much better carried for business uses compared to iPad and android tablet. Not Mention when you hold surface pro or any windows 8 tablet it same as hold notebook but lighter and shound be enogh run all metro and office apps. It would be more effrctive if microsoft keeps selling surface pro to business company. The company who brought it surely get lot advantages rather than using iPad Remember surface pro use windows 8. It should be able to run any deskop program.

I really hope this will help MS to get customers to realize this is the best tablet. Because it's a tablet, not a laptop. Laptops replaced desktops and now tablets (surfaces) are replacing laptops ;)

Give me sp3, docking station and a 27" monitor and surface just replaced a desktop too.

UMPC is a big deal. They're one of the premiere health care providers in the world. Good job MS.

There's a commercial if I ever saw one! Good stuff!

Wonderful :)..... I have to wait for mine until the end of august (i7/256)..... I indeed hope it will not be pushed back later because of high demands!! I hope my pre-order stands :)

I see where the trend is going. Congrats Microsoft and the Surface Team!! I enjoy seeing people with Surface Pro line surrounded me when I'm at a local Starbucks Coffee!

Now fight with AppStore and take over consumer space. Hardware is brilliant, OS fluid and capable of things iOS and Android can only dream of. Just more and more quality games apps in the Store and mass market will catch the spark. Microsoft FTW!

But the question is why? Other than to target low spec'd devices. With the power of full windows, ios and droid combined doesnt have the fraction of share of apps for their systems. I just downloaded, ran, and played, Gorillas Dos game. Try that on a droid without some sort of middleware.

Also with x86 / x64 you have bluestacks, that should give all the droid apps you want... Not that I personally would use bluestacks (have no use for droid apps).

Because they need touch optimized apps.

I don't think that the Surface Pro 3 is going to make much of a dent in the consumer and public school markets, but man oh man have I been hearing about a lot of private schools and businesses putting in orders for surface pro 3. I think they finally have got the mix right on this, and they may finally see a solid success with their 3rd attempt in this space. Only wish that they waited for Broadwell and we could see some fanless surface Pro units... that would really be fantastic.

SP3.5, coming this October. :P

Great news! Hopefully the general public continues to learn what tech enthusiasts already know :)

I think this is great for MS, and a win for patients, with everything becoming more integrated. It can help prevent mistakes, with a doctor having access to your history, on the spot. Now if only this could help UPMC and Highmark get their sh!t together, so I don't lose access to UPMC hospitals next year. My employer picks my plan, not me, so the "Why would you go anywhere else?" ads are complete crap. I'm gonna stop before I go on a world class healthcare rant.

I would like to hear more about this. Will WPCentral do a review at two weeks, two months, 12 months and 36 months assessment to get an overall impression of the hospital experience ant bottlenecks of using a surface in a medical environment?

They need at least 4mil sales per quarter to be considered huge hit. The price is too high and limited markets

I believe 1 million is the best they can hope for at that price. I wonder what the quarterly sales are of the macbook air.

How can UPMC pull the trigger on an order that large without first reading the WPCentral review of the Surface Pro 3? Now that's Risky Business! :P

They only thing that I don't like is the fact that their not able to convince large companies to write apps for the platform. Walmart, Target, Geico, Starbucks and so on. I love windows phone and have no problem using secondary apps but my wife hates it. She feels that the phone should have big companies create apps for windows phone. She has a point. In addition to selling multiple units to large companies, and having Fox Sports along with major TV shows use the Surface Pro as their primary device, they should be working on the apps. It's a show of power and credibility. Apple and Google always brag how many apps that they have. Microsoft needs to get in the game.

I agree 100%. Why are there are no apps for Windows. Last year there were a hundred million billion and now there are none. Where have all the Windows apps gone?

When you have major corporations pre-ordering your hardware, it's a clear sign you've built a quality product. I don't think consumers have anything to worry about when it comes to the Surface Pro 3. The increase in revenue can also be used to further develop other areas where it's needed ie. Windows Phone hardware, it's OS, Xbox and their many other software offerings.

i am happy but not surpirsed that businesses want to use MS products, every comapny has MS being used on their back end, even Apple

This feels like a hit... anyone else feel like it's a hit?

I'm beginning to sense that the SP3 might finally bear out Microsoft's premise in undertaking the Surface "experience": That a "reboot" of a top notch Windows device was needed as OEM's were fixated on a race to the bottom.

Great news, the sp3 is the perfect for all purposes, whether you think its the best it does do everything in one small package, which is cost cutting and productive, that 12 inch screen size is just right for most things

Is it just me, or does it seem as if some of these announcements are proving the iPad hoopla is fading? Or are we just seeing a few business who didn't fully buy into that hype? These are the type of stories that seemed to be associated with the iPad insurgence, but now, it seems that the true barriers in deploying the iPad throughout your business environment are being revealed.

Tell that to AT&T. They use iPads in their stores, but they can only do so much. I had to go there this weekend to deal with an account issue, and they had to do a very inelegant juggle between the iPad and their store computers. Not sure if it's a poorly implemented system on AT&T's part (and given AT&T, that seems very possible), or just a limit of iOS. Maybe a combination of both.

I work in a medical facility and this is awesome news. I was instrumental in getting the original Surface Pro, 2, and now 3 is a no brainer. The IPads that we use in our environment have to many issues and are harder to secure unless you use a third party app ($).

And even then, elementary school kids can still easily restore them and use them for whatever. Like in the L.A. school district. ;D

I don't blame them...I want one too! lol

Hopefully other OEMs are taking notes. I'd like to see some quality offerings with AMD chips in them.

"taking notes". I see what you did there.

Sounds like Microsoft finally has a winner.

Just ordered my Surface Pro 3 at my closest MS Store. It's been guaranteed to be there on Day 1

As I've said all along, iPad isn't a tablet at all. It's a reader. And here that opinion has been justified. A tablet is something you can write on. You can't write on an iPad. Steve Jobs was just plain wrong. He thought the stylus would be a navigation device and as such was worthless. He was right in that opinion. However, he got it totally wrong and missed the idea of the stylus as an input device. This decision shows his folly. It Western countries where Roman characters are used having an onscreen keyboard is an option, albeit quite a dumb one in my opinion. In other languages such as Chinese, Arabic, Thai, Cyrillic, etc, using an onscreen keyboard is a non-starter. Here Microsoft got it right (write?). Apple totally failed at handwriting (Newton) while Microsoft's (Hanwang's) is exceptionally good and getting better. It's time Microsoft stopped dancing to Steve Jobs tune and played to their strengths.

Uh Apple has sold 250 million iPads to date, Jobs was VERY right.

good choice for any job! leave ipad and (silly android tablet) behind and use real productive device!

oooohh... i'm starting to feel it. yeah... oooh! yes yes YES! SP3 domination!!!

Right now this is the best. No competition. You get Tablet + Laptop + Desktop (with dock or USB) + Big Notebook (with excellent pen) + Gaming Console (with Xbox controllers; not on very high setting though) etc. with such gorgeous screen in such a light package.