12 Days of Microsoft Store Deals: Shopping tips and first day experiences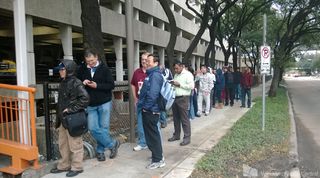 The Microsoft Store's 12 Days of Christmas Deals kicked off yesterday with some serious discounts on the Dell Venue 8 Pro Windows 8 tablet. During Monday's deal, the first 20 people at the Microsoft Store could purchase the Venue 8 Pro for only $99. Everyone after that had the option to buy it for $199 until stock ran out.
We already posted a photograph of one Microsoft Store's Venue Pro line yesterday in our article about the leaked 12 Days of Deals schedule. But it also happens that I was on-hand at the Houston Microsoft Store to check out the promotion. Head past the break to learn just what Houston-area Microsoft fans experienced at the sale, shopping tips for the rest of the 12 Days of Deals, and whether I ended up with a cheap Venue 8 Pro or not!
Finding the Microsoft Store
Before we could line up for tablet deal, we had to first find the Microsoft Store in Houston, TX. Of course I really should have been there by now, but I live about an hour from Houston so it's not the most convenient trip. (The drive actually took 90 minutes due to nasty morning rush hour traffic.)
A little online research told me the Microsoft Store is located inside of the Galleria, Houston's gigantic upscale mall. This interior location threw a wrinkle into the mix: how would we line up outside of the store before the Galleria opened at 10?
Due to scheduling difficulties, traffic, and transit times, my deal hunting partner and I didn't arrive at the Galleria until 7:50am. Once there, we parked underground and rushed inside. The mall ostensibly doesn't open until 10, but the doors were already open.
The Microsoft Store of Houston is located on Level 1 of the Galleria, which (against logic) is actually the second aboveground floor of the building. The ice skating rink sits on the level below. We found the store just past the Westin Oaks and immediately beside Georgio Armani (the store, not the guy).
Line up
Instead of lining up in front of the store, a security guard directed us to a line outside of the building. The store employees and Galleria security had placed the line on the sidewalk in front of the Galleria's Orange Parking Garage. My partner and I were the 19th and 20th people in the line, with about 20 more people queuing behind us.
Our spot would have been excellent if not for the fact that a batch of 20 people had already been allowed to enter the store sometime before 8am. The promotion only allotted 20 Venue 8 Pros at $99, meaning that the doorbuster deal had sold out 2 hours before the Microsoft Store's published hours.
Throughout the morning, we overhead three different store employees claiming that people had been lined up at 3am, 4am, and 5am. It was like the telephone game trying to figure out when the line really started. Whichever the case, all of us bargain hunters would have liked an advance announcement of the official queuing spot and real store hours instead of having to guess at where to go and when the Galleria doors would actually open.
Barely made it
Around 8:30, a store employee appeared to count the line. He informed us that the store only had a limited stock of tablets to offer at the non-doorbuster sale price of $199. I actually ended up being the final person to qualify for the sale, with everyone behind me going home empty-handed. Naturally they expressed disappointment, especially since this sell out occurred 90 minutes before the Microsoft Store's published opening hour.
Once inside the store, we waited in line for another 45 minutes or so as the employees slowly sold people their tablets.
I don't know what it is about the Microsoft Store, but their checkout process (which I first witnessed at the Microsoft WPC Event this summer) is extremely slow and inefficient. Two whole employees stand at a small table with no cash register and manage transactions on modified Windows Phones. They then fetch the customer's receipt from a separate location. Not the best way to get customers in and out of a store.
Still, I enjoyed browsing the displays for Surface tablets and accessories as we aged in the line. And the store made the event more pleasant by offering cookies, coffee, and hot chocolate for early morning visitors. After the line cleared, I finally left full of hot chocolate and with a $199 Venue 8 Pro tablet in hand.
Tips for the 12 Days of Deals
There are still 11 days of deals left in the Microsoft Store promotion (10 if we don't count today). Each day Microsoft will offer one product at a discount in limited quantities. These include some choice devices like the Lumia 1520 and 1020 and even a 1-year Xbox Music Pass (full list here). Only the first 20 people in line will get the doorbuster price, with everyone else getting a more standard sale price until quantities sell out.
To increase your chances of getting the doorbuster price on the 12 Days of Deal items (or even the regular sale price before items run out), we've got a few tips for you.
Know the store's official queuing location. Call or visit the store during normal business hours and find out from an employee.
Plan your parking spot so that you can get from the car to the line quicker. Ask an employee if needed.
If you're hoping for the doorbuster, four hours in advance is probably the minimum time to arrive at the store. Super dedicated shoppers might want to show up six hours early, just to be safe.
Even if you're fine with the regular sale price instead of the doorbuster deal, you'll still need to arrive well in advance. We cut it awfully close being two hours early, so three would be more advisable.
Dress warmly! As experienced Black Friday shoppers already know, you don't want to find yourself lined up in the cold wearing only a t-shirt or a jacket that doesn't keep the chilly air at bay.
Eat breakfast before lining up, and bring something to occupy yourself. You'll be there for a while, so you might as well avoid dying from hunger or boredom.
Bring a partner! The 12 Days of Deal sale items are limited to one per customer. If you hope to snag an extra, you'll need an accomplice. A second person also makes it possible to take restroom breaks without losing your place in line.
Finally, I would advise the Microsoft Store itself to more clearly advertise procedures for special sales like this. If they're going to start selling early, let us know what time so we can plan around that instead of a later hour. And try to have enough product to meet demand at least until the store's normal opening hour. There's no benefit to sending dozens of customers home unhappy.
How about you guys at home? Did any of our readers manage to snag a Venue 8 Pro at doorbuster or sale prices? And knowing the conditions the 12 Days of Deals poses to shoppers, will you be lining up early for any of the remaining deals?
All photos taken with a Nokia Lumia 920
Get the Windows Central Newsletter
All the latest news, reviews, and guides for Windows and Xbox diehards.
Paul Acevedo is the Games Editor at Windows Central. A lifelong gamer, he has written about videogames for over 15 years and reviewed over 350 games for our site. Follow him on Twitter @PaulRAcevedo. Don't hate. Appreciate!
Damn not in India....microsoft that's why i hate you

Ya dude even though India is a major part of wp community :'(

Seriously, how hard is to control a freaking line? This happens a lot of places, where stores just expect this to work out fairly without and thought on the part of the store. My suggestion is that when people show up, have someone take a photo of your picture ID, and give you a number (1 - X). Check the line randomly to make sure everyone is still there. If they aren't, cross off the number. Then, when the store opens, sell the door busters by the numbers. I'm sure there are evey better ideas out there. I know you'll have to pay some a few bucks to sit take ID's all night, but isn't that better than pissed off customers? Just saying...

German Shepards work quite well for line control.

Yeah? Real love for microsoft for seting dogs on its customers

This is a "request" by the NSA. Spying first, guard dogs second. It's all about protecting our freedom from people who hate our freedom...like our government.

yup... my comment was meant as humor btw :D

Well here in the uk, well for me that is, the shipping date for the venue 8 has slipped by 3/4 weeks due to demand. Now expecting it on 16/1/2014, ordered on 6/12/2013. No Santa till jan

dd/mm/yyyy, used by most people in the world

Oh, my bad...f***ing America, I'm used to mm/dd/yyyy

I went to this exact location and went home empty handed because I assumed (since mall walkers and other types are allowed in the mall before shopping hours) that I was the first in line at 7:40. I ate breakfast downstairs, only to see people being let it before opening hours. I asked and found out the line was outside and there were now around 50 people queuing. I left knowing eBay would have the tablets at $199.
This is all from someone who lives in Houston and knows the store and mall well. Kind of an unorganized ordeal if you ask me.

Sorry that happened to you, Neo Nuke! Too bad we didn't get to say hi as well.

Didn't know you were a fellow Texan, Paul. Isn't there a writer from Dallas area on here, too? Nice to see (relatively) local reporting going on.

Hey JD! Cool that you live in Texas too. I'm the only Texan on staff as far as I know. George is from a place with thicker accents: Georgia.

Where exactly do you live Paul? I'm on the North side of Houston. You should organize a WP meetup for Houston and the Microsoft campus on the west side of town should host it. :)

Ah, the northside and the Woodlands are a bit of a drive for me. I'm down in Lake Jackson, a ways south of Houston. A Windows Phone meetup at the Microsoft campus would be awesome. Wish I knew what we'd do there. Give me ideas, guys.

Any other deals that you'll be in Houston for? We Houston peeps should have breakfast in the galleria and run straight to the MS store.

Maybe the Lumia 1520, depending on whether my sister wants to hike up there for one or not. Breakfast prior to the sale would scratch our chances of getting the doorbuster though. After sounds better.

I actually don't know if there is anything interesting there, or if it is just a bunch of boring offices, you can always call them up and find out: Address:
One Briar Lake Plaza
2000 W. Sam Houston Pkwy. S. #350
Houston, TX 77042
Phone: (832) 252-4300

There is nothing at that store except corporate shit. They wouldn't let you in.

Well dang! We could still find a venue if there was actually something worth getting together for and covering on the site, though.

nice story and reporting on it. i'm in houston too. we'll see if anything else comes up. later -1

Does anyone know if you are under contract with with AT&T wil you be allowed to receive the 1020 or 1520 for free or purchase for $99 ?

No. Need to be upgrade eligible

Thanks for the information. A complete waste for me. I guess I won't be late for work. Definitely not giving full price.

Ugh.
Well thanks Paul for the write up. I was hoping for exactly this since I plan to take advantage of the door buster 1520 deal. But I didn't imagine I'd have to get to the store 5am to secure this.

My wife and I got lucky yesterday.
The mall was opened at 7am and we were 6th and 7th in the line.
They started to sell at 8am.....but the best part is that only 16 people showed up giving us the chance to get more.

Yawn. It would be nice if there was enough stock for us who actually want one. Looks like Ebay has a bunch of sealed ones for sale now.

They lose money on these deals, and many people probably don't buy another thing while there, so why should they make it easy? I managed a retail store before and personally hated these holiday doorbusters. Bad for the bottom line, hard on the employees, and not always a boost for business volume.

Aventura mall, one of the most popular malls in Florida....was packed 20 units is nothing.....its a small promotion that cost the store....$4,000.00

The Aventura store was packed? I was thinking about checking it out, but it's only a booth, how do people even queue? :)

I went to the 'Specialty Store' at Town Center in Boca Raton. I arrived at about 8 to find people just milling around the kiosk; no line whatsoever. I was then told that a Microsoft employee had arrived at 7:30 and handed out numbers 1-20 for the $99 deal. I could've stayed for the $199 deal, as there weren't many people there, but not knowing how much stock they had on hand, I didn't waste the time.

I wish I could've gone, but I start work at 7am. :( Almost ordered one at the $199 price, but as much as I'd love to own this tablet, I think $100-$150 is more the sweet spot for me... especially when I should be spending my money on gifts for other people this time of year! lol

I am from India and I have my sister living in Canada. I asked her to get one for me. My brother in law visited the microsoft store in Torronto Eaton centre mall at Lunch time and still managed to get one for $199. Sweeeettt.

Nice write up. I think it isn't fair that people who turn up and stock is sold out don't get a voucher to purchase online at the stated price. Well a personal voucher only they can use, otherwise people would just sell them online. Doesn't sound like they had any other offers instore. You'd think the point once you get these people through the door is to get them to buy other things; accessories or something. Seems like a lost opportunity. Not that any of it matters to me living in the UK where there are no MS stores.

Don't quite agree because the sale does say while supplied last. Contradicted my point, though, is that I got one for $199 in a batch of DVP8s that were delivered at around 1pm to the Austin store. Evaluating it before making a keep/return decision...

Hi Paul: Question I see the 1520 will be on sale on Wed Dec 18th, 2013. Is that for new customers, new lines, upgrades? Are there conditions for the phone discounts. I noticed an asterisk, on the leaked document next to the 1520. I called my local store to see if I would qualify with an additional line or if the deal was just for new customers(often such deals are), I was initially told that they were not allowed to release information about a deal before the day of the deal. I then expressed that I was just trying to plan my day, so that I wouldn't drive to the store only to find I don't qualify. The rep put me on hold again, and after returning told me that they actually didn't have any information on the deals at that time. I'm just wondering if you and/or Windows Phone Central via your resources/contacts may have an answer for my question. Will the deal for the 1520 on 12/18 apply to added lines or just new customers? Thanks

I'm not privy to the store rules, but we can safely assume the free and discounted phones are for new lines and upgrades only.

Drove to Jersey to get the deal but the line was waaaay too long for the deal. Walked in and bought 2 lumia 520s instead for $59. Did some shopping and came back to the store and bought 2 venues for $199. They had a lot of stock. They still had 4 left after my purchase. They sold out as I was walking out!

That's a nice haul! Good thing your store had enough tablets to meet more of the demand than mine did.

The deal is for any line with a 2 year upgrade, excluding NEXT. New lines, added lines, and upgrades qualify.

Thanks for the responses everyone.

For Scottsdale, people started to camp out at 12:30 Sunday night. More arrived very early in the AM. The store usually opens at 10, buy they will open an hour early for these promotions. For fastest access, go to level 2 of the green garage. Good luck.

Yup, got the Venue for 99 bucks, our store ran it perfectly, first 20 got tickets and you had to be physically present and in line at all times (bathroom breaks not counting of course). Fantastic machine, I would say there were close to 80 people or more waiting. Minneapolis Mall of America.

MoA is the closest MS store for me (4 hours away). I was wondering how it would have been if it went. Glad I didn't chance it now! Congrats on snagging one for $99!

Why dont MS do The same deals in other countrys? Only in US?? I live in Brazil and would like to get some deals too!

The store in Vegas bought out an additional stack of 99 dollar Venue 8's after the first 20 was gone. Yep, we got one.

The Jacksonville Store decided to change the rules and would only sell one per household, not per person per the ad. So far the new Jacksonville store is having alot of problems and I have been hearing complaints from people I refer to them about lousy customer service. I did not really see it yesterday as they were helpful (was number 5 in line) for those of us right by the door but did begin selling around 9 am.

How do they know if two people are in the same household? I don't think they can legally ask for IDs or proof of address to a shopper.

I'm always amazed at people's expectations of these things. People in the US think they should just be able to stroll in around opening time and they should hand you a tablet for 1/3 the price. At below cost. These deals are nearly all the same... they have a very limited quantity that is used to get people to show up. Unless you're willing to line up very early you certainly shouldn't expect to get a deal like this. For me, the savings just isn't worth the stress and hassle. And then there are the people outside the US who think this is some kind of insult or unfairness to them that they weren't offered the chance to be one of the 20 to get a deal. Give me a break... these quantities are so limited this shouldn't even be a discussion. It's not like Americans are all scoring amazing pricing on tablets. A few Americans who specnd a lot of effort and stand out in the cold freezing for hours just to get a shot at it save some bucks. But it's a VERY small percentage.

Agreed. Despite being American, I myself have never understood the crazy rush for big sales like these. They're always mad-houses. But to those who know how to do these things and do it well, (I.E: knowing exactly when to show up, where to go, etc.), more power to them. As for me, if I can't score a deal sitting comfortably in my chair on my computer, oh well. Better luck next time. Only time I've ever dragged myself to any sort of launch event was for the Surface Pro 2, because I waited too long and my store was out of preorder slots, and I was concerned that by the time I got home that afternoon, they'd be all out. So I dragged myself to the store @ 12:30am (I didn't want to deal with the fuss of the launch party, I just wanted the device), grabbed it and headed on my merry way. As it turns out, one of the employees from the Panos Panay event a few days prior remembered how I wasn't able to preorder, and actually set aside a few SP2s for me a couple other people.

I was at that exact same store at 915, fully expecting to at least get one at the 199 price. Nope. What a waste of time. I've never seen a door buster where they open EARLY. The real nightmare was apparently online...frozen servers, orders being cancelled mid way...what a mess.

Yup - online was not the way to go. I was told by a rep that the deal would go live at 12am PST. So I stayed up until 3am EST only to find out it wouldn't start until 7am PST. At 5 mins till the server started to crash. By the time I actually got through for a glimpse of the 'add to cart' button at around 7:04 - it was $199. I was able to add it to my cart a couple of times over the next half hour - but never made it to checkout. It was out of stock by about 7:30. Oh well.

Jesus dude, 20 ppl in 4 min is ridiculous, and to be out of stock by half an hour; its amazing people can work so hard, yet be so lazy at the same time.

In STL, when they ran out, they took names and numbers so they could get the $199 price when stock became available, which was same day.

Just got a $99 watch online. Don't see anything about a gift card though

Just verified with online chat it will be shipped 3-7 days after the watch ships

It was a bit of a cluster- at the Indianapolis store. The MS store is inside an upscale mall, with no outside entrance. Gaining entry to the interior of the mall is a challenge. Some stores with exterior entrances (like Starbucks) open early, but the interior of the mall is locked until stores open. Despite that policy, some enterprising customers (myself included) managed to gain access to the inside of the mall through service corridors. I queued outside the entrance to the Microsoft store, and was hopeful of getting the $99 price since only half a dozen of us had actually made it to the store. Unbeknownst to me, a Microsoft Store manager was aware that many customers had arrived early and were unable to get into the building. He set off with 20 tickets for the 20 $99 units, and apparently gave out those 20 tickets to the first 20 customers he found outside the mall at one entrance or another. Basically, Microsoft was making it up as they went along. They had no real plan. Which is precisely what I expect of Microsoft. I enjoy their products, but this is not the sort of thing that they are typically good at. Given the lack of organization, I've decided not to try again for any of the doorbusters. Time is money. I might choose to spend my time if there is a clear process. But there wasn't.

I happily avoided the crowds and purchased mine at the local Costco. $299 for the 64 GB model and it comes with the Dell folio case. Love it so far! Anyone want an IPad mini?

Im with Marty, I went to Costco and got the larger capacity, etc. And yes, they're all over Ebay, which Im sure was the intent of the sale. If these people were so enterprising in their real life, wed be an economic superpower again.

Like the specialty store I went to there is only 36 in stock, and they only told people 20 min before the store opened after they have given number cards to the first 20. The rest of the time, the employees were just standing around and talking to each other, one guy was playing Xbox one. And they didn't give people that bought the tablet $25 app card, which is available to Canada, according to the online Microsoft store' advertising.

I was at the Houston Galleria too. Line started around 5am. We all wrote our names on paper to keep the line peaceful and organized. I think they let us in early for four reasons, one it was pretty cold and damp for Houstonians, two there was a mildly heated argument over who was number 20 cause at one point there were two lists, three the second person in line was pregnant, four the mall didn't want us inside, but microsoft did so I think that was the comprimise. All in all i was very pleased, with the whole operation. If you arrived at 9 or 10 expecting there to not already be 20+ people then you obviously underestimated the demand for the tablet.

Lol, the second person was my wife. But, actually that's not one of the reasons they let us in. For any releases that's dealing with a small quantity, the mall will allow the people guaranteed whatever the item is, to go in early, if the store has employees there. Its not always the case, Foot Locker for one notoriously shows up on time and not a minute earlier. As for the list, that was from the gentleman who was asking me about the procedure. He wanted a list for his own reasons. We signed it, but I warned him that somehow, towards the back of the line that, it would be an argument. Happens everytime. Being in the front I could careless about any happenings in the back. Lol. Also, the mall makes us stand outside for that exact reason. They do not want to be held liable for anything. Injuries, stolen goods or arguments. If you noticed the security guard mentioned this exact thing when people started complaining. They put us outside, so if there are any discrepancies, we have to figure it out. Not them. Keeps it simple. Either way, me and the wife have done it before, people were surprised she was just relaxing, being pregnant and all. They have no idea this is a super woman who still comes with me to Auto Cross events to race my car, skydives, yoga/gymnastics, this bay is gonna pop out doing somersaults. Lol. Standing outside ain't anything for her. It was her suggestion, she said "You know we are gonna be like number 2, 3 in line for this, right?" Lol. Great tablet, I'm enjoying mine right now.

lol Yeah, loving mine too. I was 7th and It Was Worth It!

Check out process at all Microsoft Stores is worse than slow. It is painfully, brain smashing slow. I don't understand why. Its either slow employees who actually don't know much about the products they are selling or its the fact that they usually have one or two registers with only one person trained to use it.

The POS system are modified Lumia 900's. They are UNBELIEVABLY slow at times. Don't automatically assume the people are dumb. Everyone is trained on the POS system. This is how a normal transaction works for us.
Scan Item Wait 15 seconds, system sees it. Repeat for every item. Click check out Wait 15 seconds Swipe card Wait 15 seconds Print/email reciept Wait 10-45 seconds

I don't mind the system, worked in my favor at the XBox One release. Store manager said he would match the $99 price at AT&T for the 1520 and still throw in the case and $50 app card. He sent a kid over and I told him I was using an upgrade from another line and he said I'd have to activate it at my AT&T store. Well when he matched the price, he matched the $549 off contract price. I walked out with an off contract red 1520, flip case, $50 app card from Microsoft and a $20 app card from Nokia for $99. Plus we won another $50 app card in the raffle.

oops wrong place for my post

Got one at the $99 deal from the Danbury, CT store. Got in line at 6am and was #9. Store opened at 9am and check out was done in 5 minutes. There was a line of about 50 people by the time the store opened and even the Mayor of Danbury got in line, though he was #21. LOL. All in all a good experience.

Man, y'all should have called me. Lol. Or other people too. Didn't even know some WPCentral writers were located in Houston. I was able to get the tablets @ $99. Had my wife there (she's pregnant, but a ride or die chick.. Love her!) and her younger brother who said "I was done playing League of Legends for the day." Lol. Anyways, here is a heads up (and I don't even know why I'm telling y'all the official "How to camp out at The Galleria Mall", but you still won't beat me to any deals I want... Lol). First and foremost, it may seem confusing and unorganized to anyone who attempted to go yesterday, but The Galleria mall has been lining people up to camp/stand outside on W. Alabama street for as long as I have waited outside for anything at this mall (moved here 3 years ago). This is exactly how they organize any camping at this mall for anything. If you're waiting to get an autograph from a sports player, wait outside on W. Alabama. Buying some limited sneakers (I'm a huge sneakerhead, so I've done this PLENTY of times)? W. Alabama. Everytime. All the time. Yes, the mall is always open too. Their doors do not close for 24/hrs, ever. Certain outside ones do, but here's a secret, any doors located near the Westin hotel, orange garage, second floor of Macy's are always open (I use to do business with the Westin, trust me on this). You can always get inside the mall. However, you will be kicked out by security at some point. Around 6:30am they'll allow you to do one or two things. Either eat in the food court at the open breakfast spots or walk/jog the mall with the rest of the people who do. Standing in front of the store is a no go. Sitting in the floor inside is a no go. Looking like your waiting inside for a store to open is a no go. Mall security knows about every potential release that'll bring people trying to camp. They haven't changed their ways of organizing lines since I've seen them. We all have heard the complaints, this is how the game is played there. The only time anything changes is for big events that extra security is paid to watch over. Like, the Xbox One launch event or PS4. Those events we were all inside for the entire length. Now as for who showed up first or when people did? I was the first person there. Guaranteed. I popped up around 5am. There was nobody. I stood inside to wait for a security guard to ask him about anyone else around. Went to the bathroom, parked right outside near W. Alabama and chilled in the car watching some movies for about an hour. I drove in from San Antonio (was @ the Kanye West), left around 3am and was at the Starbucks @ 4:45am. Don't ask how I made it back from SA in a little under 2 hours. Lol. Second time accomplishing this feat. Allegedly. Anyways, one other gentleman showed up around 5:30am, he too was confused about what to do and asked why I was just sitting in my car and not inside. I proceeded to drop knowledge. He was skeptical, but I kept assuring him that I had done this enough to be 200% sure. He was doubting it because people assume that if a line somehow starts inside and we are outside, you'll be bumped out of your spot. Never happens and won't. Mall security and the stores in the mall will only honor the line that has formed outside on the the street; W. Alabama. You can be inside for hours, relaxing, when the store opens or before, their employees will walk out to the street to grab people from the line. I saw plenty of people, who were I side around the 7am time looking confused as to how they weren't number 5 or something in the line. Some were angry, but the people who've done this before like myself, had to tell them it has been like this for years. Unfortunately, you're late.

Real dedicated early deal shoppers just wear tight sweats and loose jeans & piss themselves... rookies...

Don't worry about trying to be inside the mall for any of these other deals. Show up at the mall and go straight to the W. Alabama line or make the line there. Eventually, people will show up and start asking about whether this is the line for whatever it is your waiting for. I started the line in the garage, just to stay out of the cold as long as possible. I knew we would be moved to the outside at some point by security because, there are cameras scattered through out the garage. Remember the mall security and the stores will only go outside to this line. You can be inside all you want, but you'll lose out. By the time we all were moved to the outside, around 7am, the line was about 16-17 people deep. Then about 30 mins later everyone started popping up. Usually, the stores and security, if the allotted item isn't too big, will allow the first few people (in this case 20), to go inside, buy their item and leave. I knew this as well and told a few people to just sit still for about 30 more minutes, if they were thinking of going to buy some Starbucks or food around the time. The store employees passed out 20 tickets for the tablet @ $99. They do this for any release like this. The mall security makes them. If you see no tickets for some special price/item, its over. We were lead inside around 8:30am or a little before. Bought the tablets and bounced. By that time the line was much longer and we were already beaded home. As for the checkout process at the Microsoft store? That too has sucked for any major release, since the store opened. Again, its how the game is played or how they operate. I'll probably be at another one of these releases, just yell out my username, most likely I'll be one of the first 5. Lol. Follow, heed my instructions. Get your deal. I scored 3 of those tablets. Have fun!

Don't buy one of the hundreds of sealed tablets that are all over Ebay. Let them eat them.

The Galleria doors in Houston open at 6 am, so the only way people could queue up at the Microsoft store before then is if they know someone who has after hours access.

Read my post. Doors to get in are ALWAYS open. Not ALL of them, but their open. Anyone can get inside the Galleria Mall. Anyone.

I drove up to the Seattle store at 5am and I counted 45 people so I was like darn not in the top 20

I got one in Delaware for $99. The experience was great including the checkout. I'd say my total checkout time was less than 90 seconds from the time I walked into the store. They had the sales reps spreadout throughout the store with the tablets already bagged. He simply ask my name, ask if I wanted any accessories and swiped my card. I didn't request a printed reciept. I don't know if it's possible to be easier or run smoother. The first guy in line arrived around 6:00 the 20th around 8:20, by 8:50 when they opened the store there was around 50 people there.

I guess your store prepared themselves better for the sale. Different management at different locations can really make a difference experience.

"I don't know what it is about the Microsoft Store, but their checkout process (which I first witnessed at the Microsoft WPC Event this summer) is extremely slow and inefficient. Two whole employees stand at a small table with no cash register and manage transactions on modified Windows Phones. They then fetch the customer's receipt from a separate location. Not the best way to get customers in and out of a store." Yeah, something I've noticed also. I've never minded much, I've yet to go for anything particularly special, and you're allowed to walk around the store and browse while the employee does their thing (and at my local store, all the employees are super-friendly, I've actually gotten to know a couple of them). But it's interesting how long the whole process takes... They don't take way too long on their modified Lumia 900s, but then they disappear into the back of the store for a good 5-10 minutes. You'd think they have to navigate a labyrinth with retina scanners, DNA testing and traps around every corner just to go and grab your device. Again, doesn't bother me that much, because I enjoy playing with all the tech toys, and the employees are so nice and more than makes up for it, but it's still really curious as to why it takes them so long just to get you checked out...

I had similar experience at MS Store on day one in Palo Alto, California, Apple's homeground. What I was pissed at the most was, MS seemed to hand out more than 1 Venue Pros to people. The first few people, who walked out of the store after shopping were each carrying at-least 2-4 store bags, meaning 2-4 venue pros.(Though I didn't ask them to verify, but I am sure of my hypothesis) I left the line, once I knew that they were sold out of $99 ones. Didn't want at $199 price.

I was wondering how that turned out. Did the people walking out with multiple bags buy only one at $99, and the ones after that at $199? I arrived at the Palo Alto store early and was literally Number 21 in line. After waiting around for about 15 minutes and recounting to be sure that I was not in the first 20, I left as I only wanted to buy one at the $99 price. Sucks that I JUST missed being Number 20....

Showed up 2 hrs before opening and had to walk away. Over 1 hundred at my location

Nokia 1020 is for upgrade elgible or new contract only. Total BS. Had one in my cart showing up for $0.00. Even if it were $99 it still makes no sense. They were going $50-$75 new last month with contract.

For the Salt Lake City store, I drove through an hour and a half of horrible winter morning traffic just to learn the store had "felt bad" the people there at "3am" and opened at 8am, rather than the posted 10am. I, like others here, felt wronged. I'm happy to play the game, just don't change the rules on me.