12 Days of Microsoft Store Deals: Shopping tips and first day experiences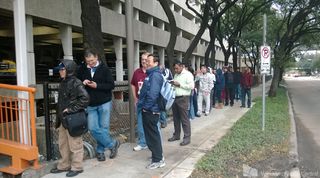 The Microsoft Store's 12 Days of Christmas Deals kicked off yesterday with some serious discounts on the Dell Venue 8 Pro Windows 8 tablet. During Monday's deal, the first 20 people at the Microsoft Store could purchase the Venue 8 Pro for only $99. Everyone after that had the option to buy it for $199 until stock ran out.
We already posted a photograph of one Microsoft Store's Venue Pro line yesterday in our article about the leaked 12 Days of Deals schedule. But it also happens that I was on-hand at the Houston Microsoft Store to check out the promotion. Head past the break to learn just what Houston-area Microsoft fans experienced at the sale, shopping tips for the rest of the 12 Days of Deals, and whether I ended up with a cheap Venue 8 Pro or not!
Finding the Microsoft Store
Before we could line up for tablet deal, we had to first find the Microsoft Store in Houston, TX. Of course I really should have been there by now, but I live about an hour from Houston so it's not the most convenient trip. (The drive actually took 90 minutes due to nasty morning rush hour traffic.)
A little online research told me the Microsoft Store is located inside of the Galleria, Houston's gigantic upscale mall. This interior location threw a wrinkle into the mix: how would we line up outside of the store before the Galleria opened at 10?
Due to scheduling difficulties, traffic, and transit times, my deal hunting partner and I didn't arrive at the Galleria until 7:50am. Once there, we parked underground and rushed inside. The mall ostensibly doesn't open until 10, but the doors were already open.
The Microsoft Store of Houston is located on Level 1 of the Galleria, which (against logic) is actually the second aboveground floor of the building. The ice skating rink sits on the level below. We found the store just past the Westin Oaks and immediately beside Georgio Armani (the store, not the guy).
Line up
Instead of lining up in front of the store, a security guard directed us to a line outside of the building. The store employees and Galleria security had placed the line on the sidewalk in front of the Galleria's Orange Parking Garage. My partner and I were the 19th and 20th people in the line, with about 20 more people queuing behind us.
Our spot would have been excellent if not for the fact that a batch of 20 people had already been allowed to enter the store sometime before 8am. The promotion only allotted 20 Venue 8 Pros at $99, meaning that the doorbuster deal had sold out 2 hours before the Microsoft Store's published hours.
Throughout the morning, we overhead three different store employees claiming that people had been lined up at 3am, 4am, and 5am. It was like the telephone game trying to figure out when the line really started. Whichever the case, all of us bargain hunters would have liked an advance announcement of the official queuing spot and real store hours instead of having to guess at where to go and when the Galleria doors would actually open.
Barely made it
Around 8:30, a store employee appeared to count the line. He informed us that the store only had a limited stock of tablets to offer at the non-doorbuster sale price of $199. I actually ended up being the final person to qualify for the sale, with everyone behind me going home empty-handed. Naturally they expressed disappointment, especially since this sell out occurred 90 minutes before the Microsoft Store's published opening hour.
Once inside the store, we waited in line for another 45 minutes or so as the employees slowly sold people their tablets.
I don't know what it is about the Microsoft Store, but their checkout process (which I first witnessed at the Microsoft WPC Event this summer) is extremely slow and inefficient. Two whole employees stand at a small table with no cash register and manage transactions on modified Windows Phones. They then fetch the customer's receipt from a separate location. Not the best way to get customers in and out of a store.
Still, I enjoyed browsing the displays for Surface tablets and accessories as we aged in the line. And the store made the event more pleasant by offering cookies, coffee, and hot chocolate for early morning visitors. After the line cleared, I finally left full of hot chocolate and with a $199 Venue 8 Pro tablet in hand.
Tips for the 12 Days of Deals
There are still 11 days of deals left in the Microsoft Store promotion (10 if we don't count today). Each day Microsoft will offer one product at a discount in limited quantities. These include some choice devices like the Lumia 1520 and 1020 and even a 1-year Xbox Music Pass (full list here). Only the first 20 people in line will get the doorbuster price, with everyone else getting a more standard sale price until quantities sell out.
To increase your chances of getting the doorbuster price on the 12 Days of Deal items (or even the regular sale price before items run out), we've got a few tips for you.
Know the store's official queuing location. Call or visit the store during normal business hours and find out from an employee.
Plan your parking spot so that you can get from the car to the line quicker. Ask an employee if needed.
If you're hoping for the doorbuster, four hours in advance is probably the minimum time to arrive at the store. Super dedicated shoppers might want to show up six hours early, just to be safe.
Even if you're fine with the regular sale price instead of the doorbuster deal, you'll still need to arrive well in advance. We cut it awfully close being two hours early, so three would be more advisable.
Dress warmly! As experienced Black Friday shoppers already know, you don't want to find yourself lined up in the cold wearing only a t-shirt or a jacket that doesn't keep the chilly air at bay.
Eat breakfast before lining up, and bring something to occupy yourself. You'll be there for a while, so you might as well avoid dying from hunger or boredom.
Bring a partner! The 12 Days of Deal sale items are limited to one per customer. If you hope to snag an extra, you'll need an accomplice. A second person also makes it possible to take restroom breaks without losing your place in line.
Finally, I would advise the Microsoft Store itself to more clearly advertise procedures for special sales like this. If they're going to start selling early, let us know what time so we can plan around that instead of a later hour. And try to have enough product to meet demand at least until the store's normal opening hour. There's no benefit to sending dozens of customers home unhappy.
How about you guys at home? Did any of our readers manage to snag a Venue 8 Pro at doorbuster or sale prices? And knowing the conditions the 12 Days of Deals poses to shoppers, will you be lining up early for any of the remaining deals?
All photos taken with a Nokia Lumia 920
Get the Windows Central Newsletter
All the latest news, reviews, and guides for Windows and Xbox diehards.
Paul Acevedo is the Games Editor at Windows Central. A lifelong gamer, he has written about videogames for over 15 years and reviewed over 350 games for our site. Follow him on Twitter @PaulRAcevedo. Don't hate. Appreciate!