Microsoft Store offering deep discounts on Dell laptops, desktops, and more until March 12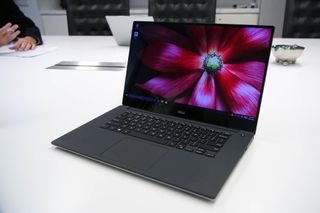 If you have been waiting to get a Dell laptop, desktop, or monitor, you might want to check out the Microsoft Store. They have cut the prices on a large selection of Dell products that will last until Saturday, March 12.
Some of the discounts include $200 off the Dell XPS 13 9350 laptop, with a starting price of $799 (opens in new tab), along with $200 off the Dell XPS 15 9550 that starts at $1,499 (opens in new tab). You can save $500 off the Dell XPS 8900 desktop PC; it's currently priced at $999 (opens in new tab).
There's even a solid price reduction on the tiny Dell Inspiron i3050 micro-desktop; it's been cut by $70.99 this week for a price of $99 (opens in new tab). The Dell 27 Ultra HD 4K Monitor can also be yours for $499 (opens in new tab), a savings of $200.
See at Microsoft Store (opens in new tab)
Dude, I'm gettin' a Dell!

Dude! You're getting a Dell!

I'll never get a Dell again. Have had many of them over the years with little to no issues. However, my latest Dell laptop had a hardware issue and it's taken 2 months to take care of it. Dell customer service is the worst. You never know until you have to use them and when you do, you'll never want to deal with them again. It took an email directly to Michael Dell to get my issue resolved.

Same here on recent purchases. They sold me a $400 tablet without the promised operating system, which took an additional 4 months and lots of bad press to upgrade. Then their update broke the audio on it. It's now stuck where it is and they've clearance it out.

Damn. The micro PC is sold out and they won't price match it at Dell because MS is apparently not on their list.

10% off is a deep discount? I don't think so. Now, I was looking at high end XPS 13 models, but still . . . .

I want a discount on xbox music. does anyone know where I can get xbox music for less than full price? I think I might have to switch to Spotify or Apple Music because my subscription runs out in 1 week unless I can find a good discount for it

Dell Canada now offering Hot Business Deals On Electronics And Accessories Weekly Friday To Thursday. you can check here for more deals couponsflex . com
Windows Central Newsletter
Get the best of Windows Central in in your inbox, every day!
Thank you for signing up to Windows Central. You will receive a verification email shortly.
There was a problem. Please refresh the page and try again.