Deal Alert: Microsoft Store has the BLU Win HD LTE on sale for just $89.99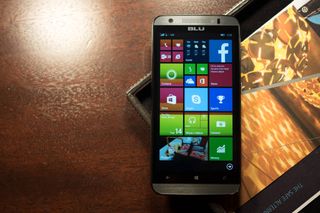 If you're looking for a solid Windows Phone 8.1 device that can be upgraded to Windows 10 Mobile, then you might want to check out the current discount on the BLU Win HD LTE. The Microsoft Store is currently selling the phone for just $89.99. That's a big price cut compared to its normal $149 price.
The BLU Win HD LTE has a 5-inch 720p display, a Snapdragon 410 quad-core 1.2GHz processor, along with 1GB of RAM, 8GB of Internal storage, an 8MP rear camera and a 2MP front-facing camera. It also has dual SIM functionality and a 2500mAh battery. If you really want the BLU Win HD LTE, you might want to act quickly as this special price is expected to expire by the end of the day today.
See at Microsoft Store (opens in new tab)
Windows Central Newsletter
Get the best of Windows Central in your inbox, every day!
I wish they allowed shipping to India.

I wish unicorns were real

Dude, it was selling for INR4999/- couple of months back on Amazon India. Looks like you missed it. BLU Win JR LTE was selling for INR 2999/- at the time.

It's already available in amazon.in at the same price range..

Are these phones likely to get the Win10 mobile update?

Did you read the article?

I read the article. However, there have been conflicting reports about this. Please check online.

Where? From my understanding, BLU stated months ago their phones were going to be upgraded.

I got my Mrs one from Amazon just before Xmas bloody goodits 8.1 update 2 W10 ready I would recommend it to anyone without a doubt

It's the JR that won't get it

The JR IS LTE SD410 8.1 Update2 W10 Ready someone got things mixed up the Blu range has more chance of lasting longer with W10 than the 640 because Blu runs SD410. 640 SD400

Oh I thought the JR LTE version was just as gimped as the JR non LTE one. Dammit the microsoft store guy was saying it wasn't w10 ready when I was looking at it for $69 CAD during the holiday season!

In Windows Phone (and Microsoft's mobile OS dev teams') world, this question is similar to asking If one will get hit by a car, van, suv, or 18-wheeler after being blind-folded while crossing a busy highway on a busy Monday afternoon. The moral of the story is it is a fuzzy logic even to the mobile OS dev team at Microsoft.

If I hadnt bought the Lumia 640 when it was on sale I would be all about this phone! I loved my BLU Win HD when I had it. All it was missing was LTE coverage

The price difference and slower support for non Lumia brands in comparison with the specs didn't seem worth it

According to BLU the Win HD phones will be getting W10 when it launches on phones. But I do love my Lumia 640 so no more BLU for me

How long will 640 with SD400 last on W10,ask yourself why are no W10 phones using the SD400,Why are they virtually giving the 640 away on 8.1 it's atop phone but W10 is a whole new ball game.

They are virtually giving the 640 away because the model was released two weeks short of a full year ago.

Also w10m runs very nicely on a 640

Horrible phone. I bought one as a work phone because it's unlocked and dual sim but it's SLOWER than snot and the call quality is awful.

Some units appear slow because of a touch screen bug related to the screen magnifier. Going into settings and switching off the magnifier in ease of access will improve the touch response of the screen, which makes the interface appear much smoother.

One of the better explanations that I see on this site. Good job

No problems whatsoever with mine. Excellent battery life, v.good call quality and surprisingly good white balance when taking photos (compared to my damaged Lumia 1020). The only issue I have is that the phone won't recharge in temps below 5 celsius (v.annoying, as I've been working outside a lot this winter)

I loved mine to start with, but over time it's got more and more frustrating. Screen responsiveness, battery life, camera, and other issues mean I'm looking to replace with a Lumia as soon as I can find a good deal.

I'd like to pick one up, but I'm going to wait and see if BLU releases a new phone with Continuum. I had the original Win HD which was great, but if I get back into Windows -- and that's a big IF which depends on the app situation -- I want Continuum. Posted via the Windows Central App for Android

My 18 year old son has this phone and he loves it. He replaced his broken 640 with this. Definitely a decent phone.

I have to agree.. My autistic 11 yr old has one, and he hasn't broken it yet! Very robust, and I like the HTC look.

The price on the Canadian Microsoft store website is $199. Down from $219. Even with the current exchange rate the equivalent price should be $123 - $124 Canadian dollars.
The Canadian price works out to be $143 - $144 American dollars.
Wow! Canadians really get shafted in the wireless industry.

This is why we Americans all Blame Canda. Your money keeps messing with ours. We never know how much Monopoly money we will get when we cross the border and if it will be worthless or up to 2/3 of face value 4 days later at the border. :) And, what the hell Canada, stop it with passing your crap weather down to the USA. Go find Al Gore and tell him he is wrong on global warming, just look at your country. heheheh :p

I kinda like this weather trend. It's been a balmy winter up here. And if we're all lucky, Al Gore will freeze to death. Wouldn't that be ironic. ☺

Your bills are physically smaller than ours, and now also multicolored.. If anything, your money is monopoly money.

The one good thing about global warming is I don't have to worry about loosing my phone in a snowdrift

Well @ least gas is coming down in price to bad it will take a while for most companies to recoup costs on this savings

Not a very good phone. Poor voice quality, lots of dropped calls and terrible picture quality.

It is better designed than Nokia 640. But Nokia 640 unlocked is available at 65ish at amazon.com . 640 is still better phone overall, I think. But if someone used both can tell better.

This phone has hardware buttons am I right?

Lol yep. Its a nice thing when devs still dont know how to handle virtual navbar auto hide.

Standard reply: WM is dead, all phones are poor, apps are poop etc.... If people don't have something constructive to say, the droid / crapple forums are for you. The win blu hd lte isn't a bad piece of kit, it's not a 640 for sure, but they are robust, come with a screen protector and a soft gel case. Apart from the lack of Here apps, they are pretty good for the money. Amazon UK was selling at £50 before Xmas. The 640 in the UK is holding it's price for some bizarre reason. My autistic son has, so far, not managed to break it. It's pretty robust. Blu have reportedly stated WIN 10 will be available.

What are you talking about 'A lack of Here apps?'...I have all the Here apps installed and running just fine on my Blu Win HD LTE?

Could be the way store search presents the wrong version/edition of the apps at the top of the search results. I ran into that the other day.

Which good Samaritan can help me to purchase and send to Ireland? Microsoft store is a dead wood. Keep sending me to the European Store where it cannot find the damned phone.

I would you gotta pay me first tho.

I am looking for a new windows phone and am waiting to see if the Alcatel fierce will sell in Canada.
I would buy a 640 xl or blue hd lte for under $100 if I could buy in Canada.

You can get an unlocked 640 on amazon.ca for 129$..same on eBay..i bought 3 for my family..it's an unlocked at&t variant and I use them on wind mobile

Kijiji.ca can be your friend ;-]

Seems legit. But I already have a Lumia 535.

Better phone than the Lumia 650 Posted via the Windows Central App for Android on my Lumia 950 XL

Excellent phone, bought mine the last time Microsoft store had a sale on it for $100. And just picked up another after reading this. The display is great even in sunlight, the loudspeaker sounds great when playing back music. Only have had a few issues with internet explorer getting overwhelmed and closing out. Build quality of the phone is great and the included bumper case is a real plus.