Microsoft Store is discounting Dell products by up to $500 for one day only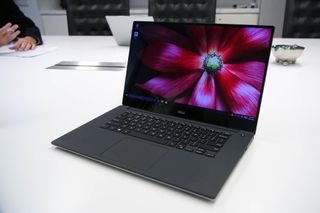 Day 9 of the Microsoft Store annual sales event is here, which includes discounts on a wide variety of Dell products. For one day only, you can save $200 on the Dell XPS 13 and Dell XPS 15, and $500 on a 34-inch curved monitor.
These are some of the deals currently live at the Microsoft Store:
Alongside Dell hardware, ASUS and HP products are also on sale. Be sure to check out all the products on sale from the link below. Who's getting that curved monitor?
Microsoft Store 12 Days of Deals (opens in new tab)
Did not realize computer monitors were so expensive

The good ones are. I have two of the 34", though I also have two lg's and use those for gaming. Great monitors, both, and fantastic for workflow.

That monitor is nice though, they have a dual monitor setup with those at our MS store. Pretty sick

Dual monitor setup with the 34" curve screens? Yea, that's pretty insane.

I know the author loves XPS 13 as he repeated it twice.XD

Hah. That was a flub. Do like the XPS 13 though.

It's $500 overpriced anyway

definitely the best deal was $500 off vaio z canvas. MS 12 days of deals is not what it was a couple years ago though

Yeah computer computer computer Posted via the Windows Central App for Android

I currently have an SP3 and a Lenovo Carbon (the carbon provided by office), however I'm now so much in MSFT camp that I have no desire for anything hardware but microsoft/surface products. My point here is that unless they are giving away these Dells, I have absolutely no interest in them. Prior to the SBook and SP4, I considered the XPS 13/15 to be really cool. A couple months later, I no longer have the slightest interests in them. SBook next or bust!! If a product i own doesn't challenge an Apple product, I'm flat out not interested. Sad but true. These other manufactures need to come correct or go home. I'm living with the 950XL as a place holder for the surface phone.

Aside from possibly looks what about the xps13 and 15 doesn't challenge and better the respective air and retina mbp offerings? Aside from windows 10 obviously. I have the sp4 and book, as well as xps13, 15 (late 2015 so sky lake) and a mid 2015 mbp15, dell venue pro10.8 (7140), as well as the iPad air 2, iPad pro and other odds and ends.
.
For me the ability to swap out pciessds/ssds is a must, so the Dell offerings will always stand above, until they fall into line and make everything hard to get to. I install my own os so no bloat and no chance of the superfish/dell snafu and I tend to go for manufacturer drivers so no issues. The way I do things is expensive but I also have same day service support (as in the technician is coming to my location so I don't have to release or send my hardware anywhere) - it is expensive but I can do that so do. If MSFT offered something similar I'd bite but I live in the UK and were don't even have stores. Nor do Dell bit in situ service negates that issue... Genuinely interested to hear your thoughts. Oh, aside for the wobble the surface book is great (die to the gpu) but I think the pro4 is nearly perfect. A usb c and better battery - and better driver support/evolution and it'll be perfect, for me. And the new type kb: Brilliant. Finally.

Most of us can't afford every device like you. If I had to pick just one, it would be a touch XPS 13 or 15. It's a no-brainer considering all of the bugs with the Surface Book. Maybe a Gen 2 or 3 would sway me. Just my personal opinion at least. I could care less about a detachable screen right now. But everyone needs to choose the best device which fits their own needs.

I'm guessing that we're a couple months from any material software issues still plaguing the SB. No need to wait on a gen 2/3. Just a couple more months :)

@Progeny I'm impressed with the volume of devices you have at your disposal. In the past I would carry just 1 supplied company laptop which was always cutting edge. I've change my employer so I have to live with what is provided which I why I purchased the SP3 for myself. However, I'm just waiting a tad longer to learn that the SB's software bugs have been ironed out before I pull the trigger. Can't wait. To the question at hand, the Dell xps 13/15 do stack up against Apple in the raw performance department. But that's just it, no compromises - I'm interested in performance AND looks as well. Apple doesn't compromise in any department and that appears to be microsoft's new approach as well. That suits me just fine. I'm no longer going to put up with poor design just to get performance. When I saw the XPS online, I was impressed. However when you sit a MacBook Air next to it, it is dramatically clear to me who the winner is before you turn it on.

Fair enough. I bought the devices as I move about a lot and need devices with grunt. Agreed, Apple deliver on looks and performance, though the mbp throttles where the xps15 doesn't - though again it's the fact that I can swap out drives that really does it for me. Either way, I'm glad windows now has a bunch of beautiful devices!

You and others have mentioned the wobble. Is the wobble on the SB really that noticeable? When do you typically notice it and does it hinder productivity?

Am I the only one who thinks Microsoft should put hardware on their windows store store? So when you look for apps their could be a tab for phones laptops and tablets. Posted via the Windows Central App for Android only because the screen on my 1520 broke.

I think that would be a great idea. You should submit it to uservoice, or feedback, or what ever they are using now. I'd vote that up.

Never Posted via the Windows Central App for Android

The offers in Australia are different though. Just had one dell on offer yesterday and ita Xbox consoles today.

Are those monitors touch screens?
Windows Central Newsletter
Thank you for signing up to Windows Central. You will receive a verification email shortly.
There was a problem. Please refresh the page and try again.