Microsoft Surface available for pre-order in 8 countries, shows how the Surface was made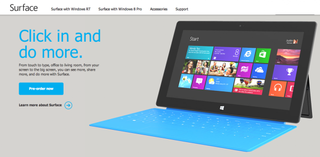 Today has been a rather busy day with the unveiling of the Microsoft Surface RT tablet pricing and availability. Pre-ordering went live earlier in the US, while other markets followed behind. We've been bombarded with international Microsoft Store links from readers who are excited to get their orders in - so who can currently pre-order a Surface RT tablet?
Microsoft announced the Surface family of tablets, which is set to include two versions, earlier this year. Both Windows 8 Pro and Windows RT will be supported. The difference between the two? Windows RT runs on an ARM processor and only sports the Windows RT interface (Metro to Windows Phone veterans), while Windows 8 Pro can be ran on Intel and AMD chipsets.
The latter enables consumers to enter desktop mode and run software that isn't downloaded from the Windows Store. For now, only the RT version is available, with the more advance Surface tablet well on the way and should be available in the near future. Should you find yourself residing in the following countries, you're able to head online right this very minute to the Microsoft Store and turn dreams into reality:
From October 26th the Surface RT will be available online (and in-store where supported) in Australia, Canada, China, France, Germany, Hong Kong, the United Kingdom and the United States. Be sure to also head on over to our poll and join the discussion on pricing of the product. But we're not done there as Microsoft has also released a video detailing how the Surface tablets were formed.
The video runs viewers through the choices made in the construction and design of the product. It's strange to see Microsoft as a brand and company explaining how the teams worked tirelessly for perfection. Taking the full-sized desktop keyboard and creating the Touch and Type Covers, available as optional accessories, is a perfect example.
We're excited, and with Windows 8, Windows Phone 8 and more just around the corner, things can only get better.
Source: Microsoft (opens in new tab), The Verge, YouTube; thanks to everyone who tipped us!
Windows Central Newsletter
Get the best of Windows Central in in your inbox, every day!
Rich Edmonds was formerly a Senior Editor of PC hardware at Windows Central, covering everything related to PC components and NAS. He's been involved in technology for more than a decade and knows a thing or two about the magic inside a PC chassis. You can follow him on Twitter at @RichEdmonds.
What about the rest of us DAMMIT?!

No Spanish speaking countries on that list. I guess Microsoft has given up on us "poor people".

I believe that Microsoft is for the 100%, including the 47% ;)

I hope the pro comes out around Hanukkah time. Good time for a present. :-D

I hope its around christmas since they said it will be releasing after 3 months of RT launch

Which, unfortunatly, means end of January, not xmas...

January 16 is around Christmas! ;)

Please delete this message.

Hi, the prices are jokes. I wanted one under our christmas tree, but 479,- Euros for a little tablet without this keyboard? NO! 299,- would be my limit for this kind of toy!

Well, get your Android troll toy then..
This is not a passive app/music/video player you know.

Hi, I'm a WindowsPhone-Developer and currently writing on two Windows8-Apps. I'm not a troll. It's just too expensive for a device with no marketshare! 300 for the Basic-Version and you can get buyers. The people will prefer a notebook.

There are and will be plenty of other Win 8 RT tablets available, most of which will be cheaper; this isn't the only one.

Currently, the $499 Surface IS the LEAST expensive RT tab available.
We're still waiting on the pricing for the ATIV Tab, but:
The ASUS is pricing at $599, $749 with keyboard dock
The Lenovo Yoga 11 is $799, keyboard integrated
Dell is supposed to be working on the XPS 10 RT, but no pricing, and with the battery packing keyboard dock, I don't imagine it coming in cheaper.
These prices for the RT seem high and I'm afraid even with the Office 2013, I'm not interested at these price points.
I'm afraid the ATIV Tab will be around the same as the surface, especially with the 11.6-inch 500T (Win8 Pro) with 64GB selling for $649.99 ($749.99 with a keyboard).


How do you know how much is costs Microsoft to make those devices? Seriously, this isn't a playbook with no apps, nor is this a crappy Android tablet. What developer whines about 600 bucks? Assuming you also work as a developer for a company, that should be about 3 days pay.

What developer whines? One that wants a huge audience ready and waiting.
These prices are undeniably high for a product most people are, at best, casually intrigued by. There are no lines out the door, no fanboys drooling.
These prices will not convince anyone to buy it over an iPad. Right now nothing will do that. Some of us enjoy Microsoft products and will buy it, sure, but we were going to anyway. It's the casual user that will decide this war.
These prices will not sway many casual users, and that concerns me.

You might not think yourself a troll but that is how it came across. This pricing is expected as this is a premium tablet in this range and it makes no sense to undersell its partners. Other manufacturers will release cheaper models so lets not get carried away with ourselves.

$499 is the cheapest RT tablet available, much less "in that range" whatever that means, so they have undersold their partners. Your argument is moot and his still rings logical and reasonable.

And exactly how much market share did iPad have when it was released? I thought so.

Paulheu, you're wrong. With the exception of office, RT IS a passive app/music/video player, you know...

The keyboard is built in. You mean an external keyboard.

I understand your frustration, and I would like to introduce you to a frankly wonderful device called a Kindle Fire HD. No, sadly it can't do half the things that the Surface does, but what it does it does VERY well, so I can endorse it fully and freely. I think you'll be quite pleased with it.

surface is more of a competitor to an iPad or a flagship 10.1 inch android device not a stripped down 7 inch device. Price wise a 32gb iPad = what 599? While 32gb surface = 499 good deal I'd say

Someone at Cupertino is scratching his head.. First they go from trend setter to follower on phones, now they will also loose that in tablets. iPad has not innovated since model 1 and now, again, they will be behind the rest and playing catchup.

Microsoft is delivering a different an adapting user experience from the same mold to different form factors, interacting wit the user at the level intended for the product while Apple is scaling what they have up or down without changing the experience at all.

Windows (Phone) 8 is going to be HUGE. Much more so than most (of us) realize right now.

Catch up... Microsoft had tablets for years. I've allready owned an hp tm2 and loved it. I'll take this one for a swing.

Well my preorder is placed, shame we have to wait till November 6 for delivery

Where did you see that? Mine says it'll be delivered on the 26th

No they ship the 26th not delivered to your the 26thcalled Microsoft and that was the answer

My confirmation email says "your order will be delivered by 10/26"

I think you're mixing up the date of Halo 4...

No I called to see the last day to order to have it by the 26th and they told me u have until the 26th in which they will then be delivered to shippers(UPS) and it should arrive 2 to 3 days after the 26th I know what they said I asked him several times

you definitely did not get the right information. It says on the page and I got from a rep, that depending on where you live that the surface will ship sooner so that everyone gets the surface on or before the 26th. If assuming you pre ordered it and it says it.

Can't get Canada preorder link to work :(:(:(:(:(

Wait, why is it more expensive in France than in Germany if they use the exact same currency???!?!?

that's probably due to the 0.6% higher VAT in France and other local differences

Microsoft must have lost their marbles with this pricing. I can not even imagine what sort of pricing they are looking for on the pro models

Why? It's cheaper than iPad with same storage, more memory and adds USB. SD storage, proper 16:9 screen and also includes Office.
'Oddly enough wih the touch cover it's the same price as an iPad wit the same storage.

I think MSFT hit it on the head here..

In terms of raw power, screen resolution, number of apps, and hype in general there is no way the surface can compete with the ipad at this pricelevel no matter how good Win8RT turns out to be. Still waiting for the pro, in Sweden that is.

Well you got one thing right... hype. But the rest of your points are just generally nonsense.

For one, the resolution is much better in the ipad. Memory is cheap but resolution is not. I would pay an extra $100 for the ipad resolution.

@goodthings
Nonsense? In what way? Please explain.

I just preordered mine. Kind of impulse buy, but I'm such a Microsoft-head... it was inevitable. Truly cant wait for next friday. That $28 tax was a bitch tho...

Tax, but free shipping, right?

When will it be available in Switzerland? Or do I have to go to Germany for it?

Order it from Germany, knowing Switzerland it's gonna be more expensive there anyways.

Because of different taxes its almost the same in tech products... But it has the wrong power cord and different key layout

I could sell my iPad and get a Surface for less than half price but I would be missing out on too many apps and at the end of the day tablets are a lot about apps.
Maybe in a few months...

Screen sounds shoddy. Would have to see it in person though.

You mean because it's low-res or for some other reason?

The low-res could actually be an advantage, sadly. Windows 8 still has trouble with high density displays, which means a 1920x1080 10.6" display might actually be a problem:
http://techreport.com/review/23631/how-windows-8-scaling-fails-on-high-p...

Maybe they'll get their act together by the time the Pro ships, but I wouldn't count on it.

Another great youtube vid about Microsoft Surface:
http://youtu.be/AcU-xf-skts

hm, strange, try this:
http://www.youtube.com/watch?v=AcU-xf-skts&feature=youtu.be

Has anyone else figured out a way to order the 64GB model with a Touch Cover other than black?

You have to order it separately.

Office still included?
Metro SkyDrive app doesn't snyc, just views. Can't justify a pro just for that. How can i get all my files in line with my desktop?

Yes 2013 demo that will get free update...File Explorer is on there, but I need to know about SkyDrive! I want to buy, but as another poster mentioned, I don't want black so I guess I wait anyway.

Disappointed in the price

Worked in Canada now got 32 blue :)

Where's A-GPS? I'm a bit disappointed that such a small chip is not present. if this gets lost, how was I suppose to locate it? Call the popo? nhmm no..

How do you lose something so large?

Surface Pro prices are gonna hurt :(
But please MS, bring them fast!
I personally think that these WinRT tablets are just a little less useless than an iPad or an Android tablet. Please bring the real deal (Pro) fast, or I'll have to go Samsung because I can't wait until next year.

Microsoft didn't learn much from the GAFF (Gouge All Fracken Foreignners) tax they used to have on Windows Phone apps. Once they took it off foreign sales of apps rose significantly. Now we see the same GAFF tax on the Surfuace. I think I'll just wait until Nokia shows it hand.

I'm not sure where your from, but for Australia im happy with the price. Considering the Aus version is only $100 dearer, and the Australian dollar is stronger than USA. I'm used to products from any company being twice the price over here. For example Xbox games in USA are $55 whereas Aus is $100 rrp.

The Canadian dollar is higher than the US dollar right now and yet they are charging more for it in Canada. In comparison, WP apps are at parity.

Ya, it's BS they charge us more when we're right next door

If he thinks that is bad, the exchange for the Euro and the Pound is usually dollar for dollar for tech products. So, $599 US Dollars usually becomes 599 Pounds. That's $964 USD if you use today's exchange rate.

I've noticed that the Australian version also includes a 2 year warranty compared to the US only having 1 year. With our GST adding 10% tax plus the additional warranty, I don't think the price is too bad. For example, the base US price is $499, just by adding 10% tax to that you are already at $548.90, so with a list price of AUD$559.00 Inc GST you are getting an additional year warranty for $10 (assuming USD-AUD is around parity)

Tempted to wait until I go to the US as at current exchange rates it's £90 less.
Although...
If you preorder through Quidco (UK only?) then you can get 3% cashback...
https://www.quidco.com/user/680160/15752/microsoft-store

I find it absurd they don't offer the 64 GB without the black keyboard cover. I want the cyan blue but why should I have to end up buying two covers?!?

Buy the second cover for your future Surface Pro.

Why not just order the 32GB w/o Touch Cover, purchase the Cyan Touch Cover, and then when your storage needs start to encroach the 32GB, just purchase a SD card or use a USB?

Limit of 1 per customer!! I tried to purchase 2 and got a "sorry" response page. I then chatted with MS online while placing the order and they said "sorry, one per customer".
Really, MS ... REALLY?!?!?!?! You want to put a product out and you put a LIMIT of ONE?!?!
Un-friggin' believable!!

Just place another order?

In for one. 64GB + HDMI adapter.
Like some others said, a bit of an impulse purchase that will get questioned by most in the mainstream. Would have liked to get a Pro out the door, but I'll wait and get a less portable, presumably more powerful device for my workhorse down the line.
I'm justifying this as due diligence on my MSFT, and to a lesser degree NOK, shares. If I feel like it's a flop and the ecosystem won't get traction (highly doubtful) I'll dump my shares and focus elsewhere ;-)

Placed order for 64GB, type keyboard, magnetic power & VGA output. (HDMI cable is out of stock!) Pricing is just right considering exactly what you are getting. The VaporMg casing looks amazing and snap keyboard is revolutionary!!! Shame that you can't change the default colour of keyboard - ie black. Also noticed that no of colours of touch keyboard are less in the UK that in US? Bring on 26 Oct :-)

I see we have some members of the ADG (Apple Disinformation Gang) posting here.
The display is definitely NOT inferior to te iPad. Pixel density is not everything. At the screen size and resolutions MS is using you will not be seeing jagged edges or pixels with the naked eye. Also, all reports on the displays indicate the ClearType HD display on the Surface has superb color integrity (shows colors properly) and its Optical Bonding coupled with IPS means you have a tablet with a display quality like what we are seeing in the HTC One X or the Lumia 920.
The CPU and GPU are also not inferior. The iPad has a stronger GPU than the Surface but driving the overdone "retina" display eats up a lot of that horsepower - I've used one and know that it doesn't really do games or such all that much better than its predecessors. As to CPU the Tegra 3 is stronger (especially in multi-threaded scenarios) than the iPad CPU.
Of course the big difference is in the OS - like it or not iGroupies Windows RT is WAY more capable than iOS. Apps are not as big a deal because Win RT does a lot of things out of the box that iOS needs Apps for In fact, if it wouldn't be undercutting developers I would as MS be advertising that fact. Plus, Win RT comes with full fledged Office (Word, Excel, Powerpoint and OneNote) built in. Not a crippled "phone" version but full featured.

Thank you for breaking it down to the complainers. I probably won't be able to get one unless my husband gifts it to me for our anniversary because it's out of my range but that doesn't mean I'm all of a sudden going to start finding things wrong with it to justify not be able to buy a Surface RT. It's an amazing piece of equipment and the price is not bad considering what it can do.

I think the US pricing is about right but that the UK price is too high. Nothing surprising there. The keyboard accessory seems massively overpriced in all regions.

For europe this is an expensive product, for me (Romania) its extremely expensive. With 700euro i can buy a nice ultrabook and upgrade to win 8.....sad :( i really liked Surface...

Not available in Italy, well I can't afford it anyway. It would be a way too much expensive toy. Will wait for price cut... Or a 50% discount

Sigh, not available in Singapore.

If you can't afford it just put it on the credit card....

This is a slightly off-topic question, but relative to whether or not I'm going to pre-order:
Does anyone know if Win8 RT has the functionality to change the operating language?

I live in Germany, and it makes sense to order it in Germany with the German keyboard, but English is my and my wife's main language and we want to use it in English.

This could potentially be a deal breaker.

Other option would be to order it without a keyboard from the UK, and then just order the German keyboard, but will they work together???
Windows Central Newsletter
Thank you for signing up to Windows Central. You will receive a verification email shortly.
There was a problem. Please refresh the page and try again.