Microsoft Surface tablets shipping in UK, delivered with no prior confirmation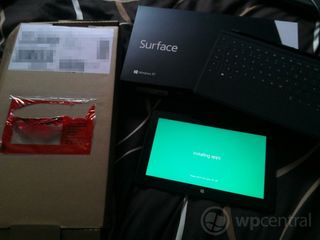 Consumers who placed an order for a Microsoft Surface RT tablet are beginning to receive the product, according to reports coming in from UK-based readers. The Windows RT tablet has been available for order for a while now, but has been hit with system errors that misled consumers in believing their order was delayed.
Microsoft offered a £50 promotional code for those who pre-ordered the Surface as a small apology for the inconvenience caused by the emails that were sent in error, but it's more positive to see deliveries heading out before the month is up. Windows Phone Central reader Shaun noted that he receive no prior delivery confirmation / notification, so proceed onwards with caution when leaving the residence unattended.
Have you received your Surface in the UK? Do let us know in the comments. If you haven't already placed your order, be sure to head on over to the Surface website (opens in new tab) as all three models are back in stock.
Thanks, Shaun, for the heads up and photo!
Windows Central Newsletter
Get the best of Windows Central in in your inbox, every day!
Rich Edmonds was formerly a Senior Editor of PC hardware at Windows Central, covering everything related to PC components and NAS. He's been involved in technology for more than a decade and knows a thing or two about the magic inside a PC chassis. You can follow him on Twitter at @RichEdmonds.
Argh! Release the Surface on Dutchland already!

Grrr. Lucky for those who got theirs. I ordered two on the 17th and got an email today both cancelled for no reason and now have to wait 3 - 10 days for the money to come back and then order again. I am so disappointed. I have never been more disappointed!

Lucky folks! I'm waiting on someone buying my 64GB iPad off me so I can get one of these beauties!!

So I just called Microsoft and received this information: If there was no delay in sending out your tablet on Friday then you won't receive any tracking information by email. But if there was a delay and your surface is still in the warehouse then you will receive a tracking number when it gets shipped. This means Microsoft is not telling anyone anything. If your surface is on the way you won't know it until it arrives. And if not, you won't know until they send it, but they won't tell you when that is, until it's sent. Only Microsoft!

(Reposting in correct thread) Away for a couple of days. Just got a text from home to say UPS have delivered two boxes (Surface + VGA adapter, I assume). Must resist the temptation to drive home too fast tomorrow! No despatch email, order status still says In Process, no charge on my credit card yet.

they are lucky... still nothing in canada ? they send me a tracking number for my HD adapter but the tracking don't givw any information... and still notibg on the surface... I can't wait anymore...

Tried to post this yesterday, so it's 24hrs late... Hi all. I can confirm that a phone call to my house (luckily my sis was a home looking after kids!!!) confirmed that there was a parcel waiting for me. No obvious marking on the outside other than a UPS branding. Got her to open the packing slip and lo and behold it was from Microsoft

Interestingly, I called the support line this morning and they had no information at hand other than they were told most pre-orders had been shipped. Looks like logistical chaos to me as UPS aren't telling MS where the packages are as this one was already delivered and the order status still says "In process".

Anyways, I'm rushing home soon...

Well it's now mid afternoon on October 30th and still no Surface... How many others of you in the UK have one now?

Nope still nothing, spoke to microsoft today and the lady said it should be today and she also said her manager has a meeting with higher people discussing the lack of information that they have been giving us!!!!
I hope it comes today or tomorrow as its becoming a bit of a piss take now

Just called MS Store on the freephone UK number (re-routed to Germany) nice guy but seemed very uneasy and completley unable to give any info. Said the computers at their end had not been updated by the courier (UPS or DHL) and he could not give me a tracking number! Confirmed that my order had been made on 20th and was still showing "in process" - I just cannot beleive the incompetence!
I asked if anyone in the UK had had a delivery today and he said yes but also, alot of people had been calling asking where their delivery was too! If I don't get this by Friday, will have to lug my laptop away on by business trip which will be a pain and I'll cancel the bloody order too!

Hmmm interesting to hear. Somewhat hilariously, I ordered Windows 8 Pro upgrade (boxed version) with the £50 voucher they gave us, on Friday, and for that I got a dispatch email, tracking number, and it was delivered this afternoon. How they can make such a terrible mess of a simple ordering process is a mystery to me. Even if the orders were delayed for some reason, we should at least be able to see that somewhere!

Got my VGA adapter today, pity I don't have a Surface to connect it to. Question to the people who have had their Surface delivered, In the orders section does it still show Pre-Order 02/11/2012? My VGA adapter had Pre-Order 02/11/2012 and that has arrived.

Just to let everyone know that my surface is finally here in my hands :D order date 17/10 and received it 30/10 @7pm..has anyone else received there surface tablet today?

I got home at 8pm today. Found a missed delivery note timed at 7.45pm from DHL. Looks like I'll have to wait some more before I can play with my new toy.

7:45?! I'm getting mine delivered to where I work, and I'm pretty sure there's somebody there 24/7 to sign for things, so maybe it'll be waiting for me in the morning! If only there was a way we could track our orders online and see if if they'd been delivered!

Whoopie!! Just got mine - its a beauty!!

Ordered on the 16th about 5ish, still nothing!

You cannot found it in any retailer,how stupid is that and was told micosoft keep the monopoly for saling it
Windows Central Newsletter
Thank you for signing up to Windows Central. You will receive a verification email shortly.
There was a problem. Please refresh the page and try again.