Microsoft trademarks 'Xbox Series,' fueling Xbox Series S 'Lockhart' speculation
While Xbox Series X remains Microsoft's next-generation star, a recent trademark filing suggests a long-rumored, cheaper alternative could be on the way.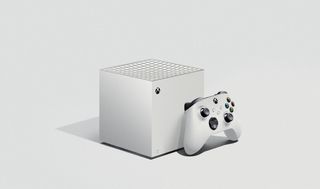 (Image credit: /u/jiveduder on Reddit)
Microsoft continues to establish the foundations for Xbox Series X, the upcoming iteration of its flagship games console. The ambitious next-generation device targets heightened visual fidelity and performance, scheduled to hit store shelves later this year.
While Microsoft's focus currently sits with Xbox Series X, the prospect of an affordable, lower tier continues to circulate. Talk of the device has circulated for years, expected to accommodate the budget-conscious buyer, with some of the advancements provided by its sister console. With the "Series" moniker leaving space for models beyond an X-tier, Microsoft's next-generation positioning supports the theory.
The "Xbox Series S" looks increasingly feasible, with a recent trademark filing suggesting further groundwork to support the console. Microsoft has locked down the "Xbox Series" name as of June 12, as reported by Generacion Xbox, accompanying the existing trademark for Xbox Series X. While the filing doesn't guarantee new products, clearly also tying the existing Series X, it further fuels speculation surrounding the unannounced device.
Internally codenamed Xbox Lockhart, Xbox Series S is expected to target around four teraflops of graphical performance — roughly a third of Xbox Series X. The more affordable offering likely features some of the next-generation features, like AMD's latest generation hardware architectures, and solid-state storage. The status remains unclear, but we know a two-pronged approach remains under consideration.
Microsoft's latest will likely lead the market in terms of graphical prowess, but premium hardware doesn't come cheap. Xbox Series X and PlayStation 5 pricing both remain unknown, as a factor likely to play a crucial role in the appeal of either console. Sony's recent PlayStation 5 unveiling also included a "Digital Edition" that cuts the disc drive, leaving a well-defined space in Microsoft's lineup.
Xbox Series X/S
Main
What is the Xbox Series X release date?
How much does Xbox Series X cost?
Why you can't preorder Xbox Series X yet
Matt Brown is Windows Central's Senior Editor, Xbox & PC, at Future. Following over seven years of professional consumer technology and gaming coverage, he's focused on the world of Microsoft's gaming efforts. You can follow him on Twitter @mattjbrown.
Like I've said before, don't be surprised if MS reveals an all digital Series X. I believe it's always been a part of their strategy. Series X $499
Series X all digital $399-$450
Series S $299

I hope you're right, because I have a nasty feeling that if they don't, they'll have a problem. For me, Series S or Lockhart needs to be substantially cheaper than the discless PS5 and Series X. I really hope Xbox have a discless model of the X, and I also suspect that Lockhart would be discless in any event. If Lockhart is within £100 of PS5 discless, then it isn't gonna be the "smart" choice.

Since we're playing "what if's" What if we have two SKU's. The X and the S, but the X matches the price of the digital PS5 and the S is $100-150 cheaper than the PS5 digital?

I'd be amazed if MS didn't want to do just that. Lockhart is all about being substantially cheaper, that's the USP. It has to come in a fair bit below to make it worth it. The Series X, for me, I'd like to see it at the discless price or below. Thing is, the bill of costs price for that drive is probably £15 - £20. But Sony is likely to shave £50 off the full version just to try and get people to go that route, and also likely try and head MS off a bit in terms of price.

I'd definitely be interested in buying a cheaper S model so that I can invest more on games.. and after a couple of years a second hand x will be a good jump.

Yeah, a Series S or whatever it's called makes more sense for a lot of people. What remains to be seen is the pricing and where it lands between existing consoles. Should be better than a One S, but maybe not better than a One X. What's the teraflop count on the One X? Also down the line they will probably make something related to cloud streaming.

It's actually going to be more powerful than a 1X. It's running on the same chipset as the series X, just with less teraflops. A 4 teraflops RDNA 2.0 chipset is more powerful than the 6 teraflops panther/Polaris chipset in the One X. Plus it has all of the next Gen features, just at a lower resolution of 1080p/60fps

TFLOPS is an absolute measure. It's like saying running 4 km with Nike shoes is actually longer than running 6 km with Adidas.
However, you're right that the Series S will have better graphical fidelity than the One X as it will most probably target 1080p instead of 4K.
So on that sense yeah, 4 TFLOPS for 1080p is better than 6 for 4K.

Um no. Your understanding is way off. RDNA 2 is 50% more efficient than RDNA 1. And RDNA 1 is about 50% efficient than Polaris. 4tflops of RDNA 2 is more powerful than 6tflops of Polaris. You can only compare tflops of the same architecture. Series S is 2 whole generations of architecture better than One X. The Series S is also likely to have the exact same CPU as Series X and will have the exact same SSD set up. Xbox One X will not handle anything the way a 4tflop Series S would. The Series S will run all. XBOX one X games better than the One X. Easily.

Thank you. This has been known since the series X was revealed.

That's good, I'm fine with targeting 1080p.

This is actually a great idea. According to some who frequent this site and many others power isn't everything. Well of that's the case a Series S should fly off the shelves if it's $150 cheaper. And yet still way more powerful than One X. Im predicting Series X $499
Series S $399

100% MS are clearing the shelves of One X machines. They've been on sale recently at £259, which is super great value. I see Lockhart at £259 - £299 ish. Series X at £399 - £450. I don't think they have a discless planned, but who knows. I reckon a Series X discless would have to be around £100 more than a Series S. And a disc version to be £50 more again.

How is it super great value when you have a new console coming out in just 4-5 months and that soon (1-2 years) even MS's first party games won't run on it. Is it really that great value as they upgrade console so fast? Every 3 years they'll release the new most powerful console ever. It'll be difficult for the average consumer to keep up. I doubt that the casual who bought the $500 most powerful console at the start of 2018 thinking that MS wants to end console generation, will be happy to see a new "World most powerful console" announced less than one and half year after the launch of the X. And that MS may not support the X he bought as early as in end of 2021.

I very nearly stuck in a bracketed bit about it possibly not been the wisest choice, wish I had, lol. Value to me is nil, as I'm getting the SX, I'm not looking to buy now. But if I was, and my day one Xbox One is 7yrs old, so could die, then I wouldn't get a 2nd hand device, I'd look at the One X. The One S is only £10 cheaper (or thereabouts) at the minute. So the One X represents better value of all the devices available now. Currently, be pointless for me. But certainly better value than an S. Come November, different story.

The average consumer doesn't have to keep up though. People don't HAVE to buy a console on launch, Hell I never have.

@Sin Ogaris
ok the average consumer doesn't need get the most powerful console all the time.
I think £259 now with 4-5 months before a new version is strange knowing that all the attention is already on the next system. (it's already is).

Yeah, the point I was making was for those that are considering one now, £259 is superb for the One X. For you, and me, the value isn't there as you are considering getting a next gen device. But, compared to the One S, at £249, the One X at £259 is a no brainer.

It will be Series W for Xbox wedge

$599 - Series X / PS5
$499 - PS5 digital edition
$399 - Series S
$299 - Xbox One X

I just can't see a Series S being sold at that price. It's, IMO too high for what is (spec numbers wise) inferior to the One X. Yeah, I know about 4tf beating an old 6tf, but still. Not a chance Lockhart will be at £399, that'd be bonkers.
Windows Central Newsletter
Thank you for signing up to Windows Central. You will receive a verification email shortly.
There was a problem. Please refresh the page and try again.