Microsoft Translator for Windows 10 and Windows 10 Mobile ditches beta tag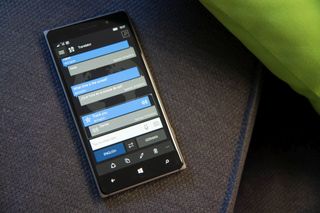 In September, the beta version of Microsoft Translator for both Windows 10 and Windows 10 Mobile went live in the Windows Store. Now Microsoft has removed the "beta" label from the app, indicating that it is officially launched for its Windows 10 platforms.
Aside from some bug fixes and stability improvements, the only main new feature in this 4.0 version of the app is that it now comes with the full universal app features, meaning that Microsoft Translator's UI will work on any screen size on Windows 10 devices. Here's a quick breakdown of its features:
Text translation - Enter text to translate into one of 50 languages and scripts.
Camera translation - Point your camera at signs, menus, newspapers — any printed text in 19 languages and scripts — then tap to see the translation.
Voice translation - Translate by speaking one of 10 languages into your phone.
Offline translation - Download a translation pack so you can translate even when you're offline — handy when you're traveling and you want to avoid expensive data roaming charges.
Text-to-speech - Hear translations from a native speaker.
History, search & favorites - Your translations are saved, so you can search through your history to find them later. Mark translations as favorites to find them even more quickly.
Word of the Day - Learn a new word or phrase everyday by pinning Translator to Start.
Hands-on with Microsoft Translator Beta for Windows 10
Download Microsoft Translator Beta for Windows 10 and Windows 10 Mobile (opens in new tab) (Free)
Windows Central Newsletter
Get the best of Windows Central in your inbox, every day!
Nice, I can't wait to upgrade to W10Mobile and start messing with this. I think the word/phrase of the day will be interesting.

Thanks John, I'll just go to the download link in the WC app... wait, shocking, its not there. Seriously, what's the problem?

Problem is you, you are lazy to go Windows store and download it. How hard is it?

Really? Have you used the store on W10? It's incredibly slow. Also, you never know when things are updated. By that logic, why even read this article or this site, why not just constantly check for updates in the store?
I paid money for this app, and a major reason was for convenience. Download links has been a basic, standard feature of the Windows Central app since it's inception and most authors still include it in their articles, but two in particular rarely do.

The link is there. They're using some kind of "external link protection", so, the link doesn't appears as "Download" anymore. It's inconvenient indeed.

I still don't like it, it is not friendly

Good stuff, get the native apps out of beta quickly :)

Yeah like Cortana on 8.1. Jeez Microsoft. And the snails pace with Skype integration. Its certainly a new Microsoft but sometimes I still wonder.

CORRECTION: The Beta app is still marked as Beta, the main stream app has been updated to include those features.

Actually, they have updated the normal Translator app. That Translator 10 Beta didn't update.

It ditched the beta tag?! :-o
I still experience very upsetting display issues with it where its menu app (i.e., share, copy, modify, delete) doesn't stay at the bottom when used on the desktop. It stays there where the actual translation should appear forcing me to input another one to see the previous one...

One of my favorite Live Tiles: Word of the day. Love it.

#off topic. Is the groove music app still missing the live tile feature???

Groove has live tiles already right?

Groove live tile is working for me on win 10 mobile

nop the live tiles are there :D they tell me the name of the song etc. and now from that it changes to show me the album picture too i like it :D
but not the album picture of songs i downloaded with no album picture ofc duhhh!!

Yay! Now UK lads can speak to almighty Americans...

Elephants have long boots in Boyz n the Bonnet.

That back button in desktop version isn't on title bar. They're disregarding their own app design guidelines. Just like all other MSN apps.

Still waiting for the camera and offline pack features for Japanese. What is taking so long! I mean how hard can it be. At least give me the offline feature!

Did they fix the paste and copy or do you still need to download a separate app for that ?

Within translator you can use copy and paste. That's working great. No need to download separate app.

Micro-who?!
Is that the company that used to develop for Windows, but is now all about iOS and Android?!