Microsoft clarifies how Windows 10 RTM will be offered to Windows Insiders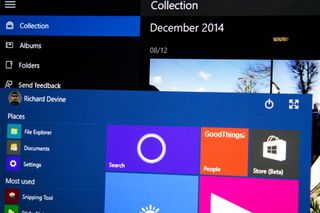 After some confusion caused by an edit to a Microsoft blog post over the weekend, the company has now offered a more detailed explanation on how it will offer the final RTM version of Windows 10 to members of the Windows Insider program.
The first version of the blog, which was posted on Friday, contained a paragraph appeared to offer a way for anyone to get a free copy of Windows 10, even if they didn't have a legal copy of Windows 7 or 8.1 installed on their PC. That part of the blog was edited over the weekend to indicate that Windows Insiders could use a clean ISO build to get Windows 10 if the PC has a linked MSA (Microsoft Account). However, since this requires a genuine version of Windows 7 or 8.1 to be installed, this contradicted Microsoft's original clean ISO plan.
Windows Insider head Gabriel Aul has now posted a lengthy clarification on this matter. In the interest of completeness, we have posted his new addition to the blog post in full:
"Over the weekend we saw a few articles about this post and confusion that it caused. I'm sorry for that and want to take a moment to clear up a few things. This is a very complex topic, since we're managing:"
Multiple versions of Windows
A new approach to how we are building and delivering Windows
And a new preview program that is different than what we've done in the past.
"Let me start by restating very clearly that Windows 10, whether you get it on 7/29 or whether you got it in a preview form through the Windows Insider Program is intended to be installed on Genuine Windows devices."
"Friday's post was intended to clarify how the Windows Insider Program will proceed, and in attempting to do so created some unintended confusion. I sincerely apologize for that and will try to separate them more clearly below in order to provide more clarity."
"The crux of it is this:"
Do you want to continue as a Windows Insider and keep getting preview builds after 7/29?
Or do you want to upgrade your Genuine Windows 7 or Windows 8.1 system that has been getting Windows 10 Insider Preview builds to the 7/29 release and stop being an Insider?
"I want to continue as a Windows Insider!" If you want to continue as a Windows Insider past 7/29 there is nothing you need to do. You're already opted in and receiving builds in the Fast or Slow ring depending upon your selection. This is prerelease software and is activated with a prerelease key. Each individual build will expire after a time, but you'll continue to receive new builds so by the time an older prerelease build expires you'll have received a new one. Since we're continuing the Windows Insider Program you'll be able to continue receiving builds and those builds will continue to be activated under the terms of the Windows Insider Program. We provide ISOs for these builds for recovery from any significant problems, but they are still pre-release software. As part of the program we'll upgrade Insiders to what is for all intents and purposes the same build as what other customers will get on 7/29, but that will be just another build for Insiders, and those who stay in the program will simply get the next build after as well."
"I want to opt out of the Windows Insider Program on 7/29." If you decide to opt-out of the program and upgrade to the 7/29 build you will be subject to exactly the same terms and conditions that govern the offer* that was extended to all Genuine Windows 7 and 8.1 customers. This is not a path to attain a license for Windows XP or Windows Vista systems. If your system upgraded from a Genuine Windows 7 or Windows 8.1 license it will remain activated, but if not, you will be required to roll back to your previous OS version or acquire a new Windows 10 license. If you do not roll back or acquire a new license the build will eventually expire."
"It is our hope that the vast majority of Windows Insiders who have been with us since we announced the program last year will continue forward, and it was in that light that we authored the blog post about upcoming changes to the program. I regret that this caused confusion about who was or was not eligible for the Windows 10 upgrade offer, but hope that this helps to clarify."
Source: Microsoft
Windows Central Newsletter
Get the best of Windows Central in in your inbox, every day!
This is the smart way to do it

Now, that's an explanation. Good to know =)

hmm... one question, though:
Yes, we (those who still want to be Insiders) want to continue, but if we have our MSA activated on several devices, which one is activated? ...or did I miss the point on the article?

The insider preview builds would be active on all devices you have them installed on with your MSA insider account. Basically, you can pretty much use the preview builds for free on your devices. The downside is you will be a constant beta tester which you may or may not like. If you want stable/final builds you need a valid Windows license for either Windows 7, 8.x, or 10.

I'd rather to be a beta testers, as i can test the newest of Win10 release, I don't bother of bugs around there.
So, that's not a problem, right? Thanks for explaining that! :)

All those devices you have have each a genuine Windows license, correct? If so, ALL of them are activated, whether you keep using Preview builds or you decide to remain on the commercial release of W10 (or even roll back to W8). Your Windows 10 activation key is the activation key of your Windows 7 or 8 copies, the ones you got with your computer or bought with the software.

Yes, but the keys need to be upgraded to win10 keys within the year, and it reads that this is done by upgrading the installation to win10 Posted via the Windows Central App for Android

The REAL question is, "Were you running Windows XP/Vista, or some pirated version of Windows 7/8.x on ANY of those devices you speak of?" If your answer is a firm "NO!", then Windows 10 will remain "activated" on all of said devices.

On my PC, it's on genuine Windows 8 key, so it's no.
But on my laptop, it's Win10 clean install.

As far as I understand, the MSA hasn't got anything to do with activated licences in different devices. if you have different devices with the same account, they will only keep synced but, as long as your copies of windows are activated, through the insider program or the genuine windows serial, there's no problem with having your account on several devices.

Based on Gabe's quote: "Let me start by restating very clearly that Windows 10, whether you get it on 7/29 or whether you got it in a preview form through the Windows Insider Program is intended to be installed on Genuine Windows devices." One thing I didn't understand is if a user wants to continue in insider program, does he has to have a genuine Windows too or anyone without genuine Windows can install preview?

Beta versions are free for all, the stable cost money. Posted via the Windows Central App for Android

...and of course, with a cost of bugs lying in Preview builds, so they're not free at all, unless if people want to contribute in Windows development.

The price you pay for not paying.

well, sort of convenience is the price if you prefer to use the Preview builds.

Which could be reduced if you use the slow ring previews.

Nope. Insider will keeping getting new activation keys before their insider windows expire. MOST LIKELY you will get an email from MS about 2 weeks before or so, before your old key expire. If you dont get email, your insider account should have a new activation key.

And will the insider watermark will disappear???

the watermark is still exists, though.

"Let me start by restating very clearly that Windows 10, whether you get it on 7/29 or whether you got it in a preview form through the Windows Insider Program is intended to be installed on Genuine Windows devices." The genuine requirements applies to all people whether runing Insider or RTM.

Exactly what I described in many of my posts in the forum!

So basically, the "zomg free windowz 4 inseiders!" is simply a continuation of the beta, post-RTM. ( : Doesn't affect me as all my machines are running 7 or 8 now, but I'm glad it was finally clarified.

So basically if you have previously installed a Windows 10 Insider build from the ISO (Clean Install), in order to prove that you qualify for a free upgrade, you need to reinstall Windows 7 or 8.1 first, then upgrade to 10. Then once you have activated once on that particular system, you can do clean installs of 10 in the future. At least this is my understanding although it would be nice if there was an easier way such as just entering your Windows 7 or 8.1 product key. Or you can choose to continue pre-release builds for as long as the Insider program continues and no proof of license will be required.

yeah I really hope there is a way for Microsoft to know that we had a genuine Windows installation before we clean installed the Windows 10 builds -___- I had my windows 10 install in another partition but something happened that I had to reset the computer and it cleared my Windows 8.1 partition and when the reset finished all I had left was a clean Windows 10 install. It would suck huge bawls if I had to install 8.1 and then reinstall 10. There is an option in the new Settings>Activation that lets you change your product key, idk if that will be useful for our situation.

I agree, but for that to work, they would probably need to implement the ability to use a Windows 7 or 8.1 key to activate Windows 10 or provide a website that will exchange your Windows 7 or 8.1 key for a Windows 10 one. In my case, I have built and upgraded desktop systems many times and exchanged parts between them. In some cases, I used the former Technet subscription program to test various versions of Windows on my systems and in other cases I had OEM license although those would not typically reactivate if there was a significant hardware change. However, I plan on upgrading most of the components in my main system later this year and I'll just get a new Windows 10 license then (probably retail as those are less restrictive) and be done with it. In the meantime, this system can just continue on the Insider program.

My Windows 8 Pro key worked. I had a retail key on a dead laptop, entered in Windows 10, and was prompted to call Microsoft for activation (I had changed hardware in the old laptop a few times). It activated and upgraded my Windows 10 Home to Pro. Was quite easy and painless.

That is my understanding also, and the case with both PCs I've used to test the OS. Not happy with it, not at all... I'll most likely be less involved in future testing because of that.

I'm pretty sure you DON'T need to roll back first. You don't need to roll back to 7 or 8.1 if you just want to continue with insider builds.
You can clean install insider builds using an Evaluation key with whatever the latest Insider ISO is that's available. Assuming you mean you want to stay as an insider as you mentioned testing/feedback

We're talking about actually claiming the free upgrade (and not continuing the preview on that device, if you continue you don't get an actual license). I think many insiders will want to claim their free upgrade license and then decide whether to stay in the program or not. If you just stay in the preview program for >12 months and then want out, you'll have to pay for a Windows 10 license. Bleh.

Your hardware generated an installation ID. This can be used to cross reference your activation (it's used to generate the activation code). I'm sure this had well been thought of and addressed in singer way that will become more clear closer to release.

I have a question I reserve my place for upgrade to win 10 can I get an ISO rtm file? I don't want to get the preview build how I can get the win10 geniune rtm copy I am on win 7 sp1 although I activated it with a pirate Keygen can some one help me Thankyou

You get win 10 RTM by buying it, since your pirate key will not allow for free upgrade.

EXACTLY, Maaz. This is the situation I am facing. I *had* a legal, licensed Windows 8.1 OS (with authentic Product Key, which I still have) on this laptop, but then I wiped it clean and installed Windows 10 Technical Preview Build 9926 back in September 2014, via ISO on a USB flash drive. I've been an Insider member since then, providing constant feedback. I am now on build 10158, which is excellent. (I've actually been a Microsoft Windows beta tester since August of 1995, with the 490 Build of Windows 95, released in June of that year). All along I was under the impression that all Insider Members would be entitled to the free RTM versions of Windows 10, no matter what, but now that isn't so. Insider Members can get Windows 10 RTM free *only if* they did in-place upgrades from Windows 7 or 8.X, and did *not* do a clean install, like I did. I am outraged and disillusioned with the news that I will have to wipe my system again and have to re-install Windows 7 or 8.X to get Windows 10 RTM free after July 29. I have been providing constant Insider feedback, contributing to technical blogs, and providing tips to users, etc. I do not want to keep getting buggy betas of Windows 10 for the life of my laptop, so I will be opting out of the Insider program. Nor do I want to re-install Windows 7 or 8.X in order to get Windows 10 free (espcially since my laptop does not have a DVD drive). There really needs to be some Microsoft mechanism whereby users can enter their valid, verified Windows 7/8.X Product Keys to activate and validate Windows 10, but sadly this will not be the case, either. At this point, I am looking to other (distasteful) options, one being GNU Linux Mint 17.1

I actually expected it to work this way.

If your system upgraded from a Genuine Windows 7 or Windows 8.1 license it will remain activated, but if not, you will be required to roll back to your previous OS version or acquire a new Windows 10 license.

So basically, If I have a system running a genuine Windows 7 or Windows 8.1 license (possibly reserve a copy via the Get Windows 10 app), upgrade to the Insider Preview, I'll still receive the build on 7/29 and retain the genuine license? That what I make of that statement since there's no point in stating the need to roll back to my previous OS version.

I am dual booting W10 Insider with a genuine Win7 Pro. If I want to continue with the Insider program and upgrade the Win7 partition to the stable non-insider Win10, can I still remain as dual booter?!

What if I want to continue with the Insider builds, but after a year decide to exit the Insider Preview program and install the released version of Windows 10? Will I have to pay for Windows 10 because I didn't upgrade from Windows 8.1 within a year? I want to continue to be an Insider AND take advantage of the free offer to cover my bases.

You gotta take the offer within the 1st year, no compromise on that. You can still install Insider build as secondary OS or on another machine whenever you want.

To clarify this point, if you are installing Windows 10 Preview as a fresh install, then you will not be able to receive the final version if you opt out from the insider program. If you install the preview as an upgrade of existing genuine Windows 7/8.1, then once you opt out and roll back/wait for the current build license to expire, then you will receive the Windows 10 final release upgrade (Only if your current Windows 7/8.1 are genuine). Sounds good?

Yeah, they are forcing all insiders to either; 1. Continue in the preview program "forever" (without receiving the free upgrade license you're stuck). 2. Reinstall Win7 or Win8.1 on july 29 or within a year, then upgrade to Win10 to receive the free license, and finally reinstall Win10 again. That's what we get for testing... Bleh.

You chose to test so that you can get an early look at windows 10. They never promised you would get a free copy of windows if you tested. Any time you enter a beta program, there is always some hassle. You chose to live with that hassle.

Yes, agreed! This is feedback alpha, beta (et cetera) releases. There will come a point where you need to sacrifice convenience in order to get things to work. Actual beta testers who do this for a living presume that reinstalling will be necessary from time to time. If not else, a faulty beta could crash the OS and make it necessary to reinstall things. That's why you make a backup of all your important files and settings. Any person who is opting in only to get free builds and expect to get a perfect, never-glitchy experience is bound to be confused if they haven't yet realised that the Insider Program is not about free downloads of software - it is about being able to improve Windows, make it the most personal and high-quality, best-featured OS so far. "Free" is a side effect of things and a reward, of course, for the the free labour and data mining you provide Microsoft with.

This has nothing to do with insiders getting a free license (they don't) - it's about MS punishing their testers by making it more, and unnecessarily, difficult for them to recieve the free upgrade (that everyone with 7 or 8.1 can get within 12 months). Of course I planned to reinstall Windows 10 once the RTM is available. But I didn't plan to (be forced into) also reinstalling Windows 7 or 8.1 on all my PCs. I've been beta testing MS stuff for almost 20 years so don't try to lecture me.

I feel your pain, Cthugha. My situation is exactly the same as yours.

What happens with the windows 7 family pack serial? It's a package for 3 pc's but I fear this will convert to 1 pc after upgrade.

Family Pack is 1 license that can activate 3 PCs, same will apply on Windows 10 so don't worry.

So I have to reinstall Windows 7 just to get the Windows 10 version I have right now? Why can't I just enter my Windows 7 key into a nice text box it would take them 30 seconds to make, they verify it on their servers and spit out my new key? It's stupid that I have to waste half a day reinstalling and updating a really old Windows 7 install, just to wipe out clean and install the same Windows 10 build I have now. So f-ing backwards I just don't even

That's what you signed up for when you became a tester. You have no one to blame but yourself.

You have to admit... He does have a point. Why not give this option to beta testers? Posted via the Windows Central App for Android

When signing up for Insider Preview it was stated clearly that it should not be installed as your main and only OS. You should have dual booted or installed it on a second PC, then you'd have no issue.

Yeah, it sucks. Shame on you MS.

Windows 10 Preview builds are not designed for this purpose from the beginning, the licensing scheme won't allow it for a simple reason, if you re-enter your Windows 7/8.1 serial, these are meant for their respective OS version, there will be no way to know that, at least with the current licensing scheme.

Just i think since it's another update channel you should get the whole stuff rolled back, i wish they offer me directly the ISO image for burn in a DVD and instead of upgrade from windows 7 do an clean install, of anyway will be needed an clean install because those upgrades would cause many software that simply won't will work unless you get brand new, also what if In the upgrade process something goes wrong and have to wipe out the computer either, Also I'm wondering I'm an non that active insider but used my Microsoft n account for get signed for the chance of get it 10 for free, what would occur, would not be able of use the account in future TP, for windows phone?

Well good job Microsoft. You fucked this one up. Back to piracy for many people. Is it really such a loss of revenue giving it licensed to all the brave insiders? No. But they could have won many hearts.

The simple answer for this is: Windows 10 Preview ISO builds leaked over internet many times, so anyone can download it, install it on top of cracked Windows 7 or Windows 8.1 as a fresh installation, meaning, this is cheating :) So Microsoft had to come out with this model to prevent piracy.

The Insider Program continues beyond retail 10.0.0 version. You can continue using it without a Windows 7 or 8.1 license, as far as I understand things. That said, software/games compatibility might break unexpectedly as a result and then things just constantly change from time to time, depending on if you are in the slow or fast ring, etc. It won't be official and stable updates in the same way regular Windows 10 users will experience. On the other hand, so far the beta they have now is super stable for me, in a virtual machine.

Should change your handle to crisebaby

So, MS is essentially confirmed that Windows is free for Home users. If you are not using genuine Windows 7/8/8.1, you can get genuine win 10. Good compromise between stability and freeness is Slow Ring

No, you cannot if you are not running genuine Windows 7/8.1, instead, you will keep receiving preview builds, not the final release as the insider program will continue.

He just said "Good compromise is the slow ring". So you can run Windows forever for free if you are willing to be in at least the slow ring.

Slow ring does not mean that it will last forever.... it will last few more days than fast ring... after that license will expire .... in order to continue you should install the new build...

And then, that new build will be stable enough, anyway. The final retail version is not out yet and still it runs buttery smooth. So, I expect late post-RTM builds to run really great, too. Of course, they might not, but that is what it means to beta test.

Yes. That's what the OP said. This is how it's going: Original Post:
You can keep using Slow Ring for free and it's generally pretty reliable.
Agreeing Rebuttal:
No you cannot! You wil receive the Slow ring.
Me:
Yes... exactly you can use the slow ring, that's just what he said.
You:
But you will be receiving the Slow Ring!
Right Now:
Yes. For. The. Love. Of. God. That's what the original poster said and everyone keeps trying to contradict-agree with him. Everybody is saying the exact same thing. You can use the Slow Ring forever... and it'll be the preview build and it'll be free... and it might have some bugs... but it'll be free presumably forever.

So what if I remain on the insider preview and say in December 2016 I want to stop. Will I have to buy a license as then the offer period has passed? I think that if I had a genuine license for windows 8 and remain on the program then I can stop receiving builds of windows 10 and stay activated or is this not the case?

Yes, this is the case, as long as you own a valid Windows 7/8.1 license, you are safe to opt out from now on. Regarding the free upgrade offer, not sure till how long it will remain, but don't expect it will die anytime soon as there is no official announcement on the program validity.

It's free for one year, that's very clear. After that you'll need to purchase a license if you want out of the insider program... :-P

One think is not clarified.Will the insiders take windows 10 for free at or they will need to buy windows after the 29/7 od 2016?

It will be free as long as you have a valid Windows 7/8.1 license. If not, you have the option to remain part of the insider program to continue receiving preview builds only but you will never get the official stable release.

After one year it's almost like a ransom virus... "pay if you want out" :-P

So... what was the point of the post last weekend? Isn't this exactly what we were expecting before the announcement? MS needs a communications Tsar. If anyone wants to write a blog post, post on social media, or send an external email, then this person needs to put their stamp of approval on it first. MS is just horrible at communication.

I had Windows 7 before going to Windows 10 Preview, so I should be able to clean install the 7/29 build without having to roll back to 7? I have the license key on my tower in a sticker but no possible way to roll back to 7. Just not happening since I'd have to buy a new copy. Hopefully all ill need to do is punch in my Win7 license key in Windows 10 and it'll work out.

Unfortunately this is not the case, if you installed windows 10 preview fresh from ISO, meaning you wiped your genuine windows 7 completely, you will need to re-install your windows 7 with a valid key to get the final Windows 10 release, but if you have Windows 10 Preview installed side by side with Window 7, then you will be notified of the free upgrade, but only when you are logged in to your Windows 7 portion.

Is there a way to download windows 7 then from Microsoft and apply my license key to it? My desktop did not come with a disc with windows 7 loaded on it.

Use Microsoft Software Recovery site https://www.windowscentral.com/e?link=https2F%2Fclick.linksynergy.co...
Simply enter your key, select the language and be ready to download roughly 3 GB ISO image!! You will need then to burn it in a bootable USB/CD then you are good to go.

I really hope you are wrong man cuz that sucks. Some PCs have the license embedded in hardware so maybe MS can read that and give those who fresh installed windows 10 a genuine final build.

No, you are partially correct .. for the first time... the genuine windos7/8 person has to upgrade his PC to windows 10 via system update/upgrade... then only his windows 7/8 key is mapped to windows 10.. After that in future he can format his pc directly install windows 10 via ISO.

If you upgraded to win10 preview from genuine win7 then you can opt out of preview and keep official version. If you did a clean install then you'll have to reinstall win7.

Ok. What if I update on 7/29, and opt out. Then opt back in to make sure my license is valid?

Preview builds will remain there for testers who would like to test future builds, but to get the final official release on 7/29 you will need to be on a genuine Windows 7/8.1 version.

I have a question I reserve my place for upgrade to win 10 can I get an ISO rtm file? What version is it home or professional I don't want to get the preview build how I can get the win10 geniune rtm copy I am on win 7 sp1 although I activated it with a pirate Keygen can some one help thankyou

That will only work if you upgraded from a genuine win7/8.1 to insider preview. Otherwise you'll have to rollback.

Question, please someone answer if i miss something here:
What if i came from a laptop with "pre-installed" Windows in it?
It just happened that i cannot install ng TP through the normal upgrade process because of the stupid UEFI thingy or whatever it is in the bios. That's why i fresh install TP via ISO and wiping my hard-drive. Can i still get it free if i opted out after 7/29? Will my Windows will remain activated? What if i dont have the original keys since the previous version is pre-installed?
And what if i have the pre-installed OEM keys extracted? Will Windows Activation accept it?
Edited: Will the "Windows Insider blah blah blah" on the lowright screen will disappear even if i continue as insider???"

If you continue as an Insider you will still have the watermark

Each preview build has a built in key that will expire after sometime (when a new build released by 3 months I guess). So if you completely wiped your Windows 7/8.1, you will need to re-install it with a valid key to receive the official release on 7/29, if you don't then you will keep receiving the preview builds only on top of your current Windows 10 preview build in a timely manner depends if you are on a slow or fast ring.

What if you did a clean installation of Windows 10 TP though, not an upgrade?
I had Windows 7 on a Lenovo desktop, but the sticker doesn't have a product key on it
I guess I'll have to keep that system on the insider program

For a machine that came with Windows 7 you'd need the key (or stay on as insider) I believe. With Windows 8.1 (And maybe 8 too) you don't necessarily get a key with devices that have it pre installed. For example as I understand it my Surface Pro 3 has the licence tied to it's hardware somehow, so a key never needs to be manually entered.

Even if it is clean install? Meaning wiping the entire hard drive.. Including the reserved part??? I just dont recall what they called it but i got this error when i tried to install Windows 10 TP...my bios now boots in legacy mode.. Coz whenever i boot in normal mode.. No Hard drive and OS is detected.

Serial keys that are embedded in new computers seem to be embedded in UEFI. If that is the case, you can reformat your drive 1000 times and still be able to authenticate just fine. The legacy BIOS setting might have happened during an early Tech Preview release where an error triggered some error that said, like, maybe: "could not boot UEFI. Will try my best to boot BIOS, just in case this will help the system to boot up normally".

"If you're quoting multiple paragraphs, you don't end each paragraph with a quote. "You continue the next paragraph by opening a quote again, then when you're done quoting, you close the quote." - A Grammar Maoist

We actually do this to make it clearer in our Windows Phone app, which does not have as clear indicators for quotes/inline formatting.

Ahh, Microsoft marketing and P.R. I wonder if anyone with a college degree works in either department, because they seem to be in a perpetual state of disarray. That getting the OS on release day is such a tough thing for them to get across clearly the first (or second) time is beyond disappointing.

But i have extracted the OEM product key before fresh install coz i have the thought something will happen. And here it is. Will it work? I hope so.

Good for you, that was a safe bid :)

Smart way to have a huge amount of beta-testers for free :) "If you want it for free, test it for us" :)

on a machine which was running Windows 7/8.1 previously"

And what about if I did a clean instalation and I dont whant to be a insider anymore? I get it for free too or I need to reinstall 7/8.1?

No, you can only get Windows 10 for free if you upgrade from 7/8 within the first year.

What will happen if they decide to stop the Insider program some time after RTM was released? I guessing they'll ask us to buy a permanent license key.

Microsoft has stated several times that the insider program will continue after RTM...

Yes, they also said it is the last version of Windows, so the Insider Program will likely continue "forever" in order to get newer versions just as good as this RTM version we will "soon" get our hands on.

After the RTM you'll be back to (new) beta versions that'll most likely be less stable, similar to the Xbox preview program. And if you wait too long getting out you'll miss the free upgrade offer.

Sounds good, now here is my question, and I genuinely cannot find an answer to it: My original system was Windows 7 OEM. I upgraded it to Windows 8 Pro(upgrade version), Then Windows 8.1 Pro. Now I'm upgrading to Windows 10 Pro. If I swap the motherboard (in the plans within two months or so) thus invalidating my original Windows 7 OEM license, will my Windows 10 Pro still work or do I have to get a full retail license for it? I suspect it'll still work but I'd rather not gamble.

If you have the original Windows 7 key then yes you can.

HMM I hope Microsoft does not give me any problems getting windows 10 RTM copy because my test computer's main legal OS is Window 10 tech preview. My IBM desktop is tied to a legal copy of Window 8 pro and my laptop has a legal copy of Windows 8.1 Pro. I hope Microsoft updates my test computer that only uses Windows 10 tech preview builds. Microsoft may think I am using more than one computer to test wndows 10 tech preview because my test computer crashes everytime it auto up dates to window 10 tech preview build 10130 and I have to reinstall windws 10 tech preview build 10074 all over again to continue in the program. please microsoft stop issueing Windows 10 tech preview buil 10130 it's bricking computers

You can download 10130 now, as an ISO. That should help you with the error. I know what you mean with the crash. I experienced the same thing on a computer I formatted and installed Windows 10 TP 10074 on. So, yes, I hope you can solve it by installing the new build from scratch, because 10074 is VERY old now and not as high-performing as the newest version. There was not a new ISO available for me when it happened to me, but the specific computer that crashed is going to be reformatted again and have another OS installed, most likely.

That's great! Waiting for 7/29 now! I don't want to receive anymore builds.

So i have to remain an insider forever because I installed the Windows 10 TP on my Mac? Sigh.

Yes, but that should not come as a surprise. I am a Mac user, too, running the Insider builds in Virtualbox 4.3. Works great, except games normally do not run correctly, which is fine since it's free altogether: both the OS and the VM software. I guess you installed it using Boot Camp, maybe?

I don't have to do anything, that means. :D

Pirates will still exist, and it'll further more create problems with the subscription methodology they are trying to bring in. Cause people who have vistas and xp may or may not upgrade as they would find it not viable.

Currently, I use VM to test Windows 10. Would it be possible to upgrade the host OS (Win8.1) to RTM, and keep the VM on the insider preview? I'm pretty sure I can do that, right?

Interesting question. Does Windows Home allow multiple installations (virtual or otherwise)? Various editions of Server have different limits. Multiple active installation issue not-with-standing, it still seems "ok" because your legit licenced OS will be upgraded to RTM, meanwhile they will still offer ISOs for preview testing. Wonder what the official word is...

Yes you can do this. The VM running insider preview will stay on an evaluation key, the host OS will get the free upgrade to RTM

I have a great problem, I have installed windows 10 preview on my desktop PC and I have windows 8.1 on my tab. I installed get windows 10 application on my tab as I dint want to wreck up my tab with preview version of windows 10, I got that icon of windows on system tray, when that news came about preview getting attached to Microsoft account that icon of windows has been disappeared, I have tried all the possible ways to return it but its useless. please someone explain to me what went wrong. application shows its still running in background but not active. please help.

I think many of the people are using fake Activation...
I mean many of them here are ACTIVATED their PC / LAPTOP using M.S TOOL KIT or some other Piracy Media..
What about them will they get WINDOWS 10 Final Build on 29-07-15

Amazing that that was confusing at all. Or that they would do it any other way, for that matter.

But I dint upgrade to windows 10 preview through windows update.. I just clean installed my pc using the iso.. I never updated my pc through windows update...Will I get a genuine version..??

This is a very good explanation. very easy to follow. so really most people (owning tablets and laptops) will be getting windows 10 for free, lets be real, how many people have a laptop or a tablet that does not have a genuine copy. not much i would say. Desktops on the other hand, in my country most of the Desktops come without windows, as very little buy Dell/HP/Lenovo Desktops.

I am using Windows 8.1_RTM studentstudent free version which I get it from MS dreamspark is it upgradable to Windows 10 for free.

I do, too! :-) Yes, I do expect it to work fine. We will both see what happens later, but .. my answer is yes.

I'm having Windows 8.1 Pro VL, can I upgrade to Windows 10?

Hmmm, I think this means that the Insider Preview version will replace the pirated versions... because why would I download Windows from an untrusted source and mess with cracks and loaders if can get it from the Microsoft site for free? Ok, it's not RTM, but the slow ring usually gets a stable build and one upgrade in one or two months is not a big deal.. This will mutiply the number of insiders, which means more feedback, which means better and better software:)

I think thats going to be the case exactly.

Hmm What is a genuine windows device. I built a desktop test computer from scratch. it only runs Windows 10 tech preview builds. I use my legal Microsoft account to load an ISO DVD installation copy of windows tech preview build 10074 on this device which works pretty well on this test computer. I hope Microsoft does not give me a headache by not letting me continue to use Window 10 tech previews including the July 29 RTM build. I donot want to put any Windows 10 tech previews builds on my IBM desktop computer or my Laptop computer which both use legal genuine bought copies os Windows operating systems on them

Your test computer will still receive insider builds. Your IBM and laptop will be upgradable to RTM Windows 10.

I have a question I reserve my place for upgrade to win 10 can I get an ISO rtm file? What version is it home or professional I have installed win 7 ultimate sp1 though I activated it with pirate keygen I don't want to get the preview build how I can get the win10 geniune rtm copy Can someone help Thankyou

so tell me this... 1. I have an old windows xp or vista laptop and installed one of the windows10 isos... so if i stay in the insider's program i can stay with windows10 on that laptop forever? 2. if i opt out of the windows insiders program what happens to that laptop? do i have to reinstall xp? 3. if i dual booted win7 and win10 preview... which do i keep? meaning do i erase the partition with win7 or upgrade from win7 and erase the win10 preview partition?

1. If you installed 10 (Insider programme) anywhere you can keep it forever (provided you stay in the Insider programme) 2. However you come out of the Insider programme you don't have Windows 10 (Insider programme) on your laptop. Its upto you what you do next. Re-install XP, install Linux, re-install windows 10 (re-join the Insider programme), buy Windows10, etc etc 3. dual boot; keep 7 OR win10 preview OR both.

Now, does anyone know if WIndows 10 is going to be KEY based like all version of Windows were in the past ? What I have is one of my WIndows 7 ultimate licences in a VM ready to take the upgrade, when RTM hit, I was going to upgrade it, capture the key, then delete the VM and install on the same desktop as a clean install.

I'm happy to stay on the Insider Program after the release but I really hope that once Windows 10 RTM's, features make it into the slow ring builds once they are truly stable. I've been running Windows 10 since the first preview was available and man it was rough at times. One build wouldn't even let you launch apps using the start menu. Others crashed on my macbook pro due to some kind of a storage driver issue. I currently can't edit the TCP/IP properties on my VPN adapters. As a very, very early adopter, it's all fair game and I can manage my way around using the keyboard & powershell... but I really hope that as a slow ring Insider going forward, I'll at least be testing relatively stable code.

The builds now are very stable especially the 10147 build. This build is as stable as windows 8.1 RTM. Its already time only fast ring is obvious to opt.

Well this is some high level bulls**t from MS. They said dont install the preview on your main pc, ok I said and took out my old aged lappytoppy which i use now and again, downloaded the iso and did a clean install of the preview since updating did not work when i had to put in info credentials to make a profile for login, I never got a dics for windows 7 and although the preview build runs well only a few times had login problems, I will now loose my laptop when windows 10 comes out since I need my genuine windows 7 key. I wonder if MS knew that most of the preview users did clean installs which MS said to do since installing through an update was giving most folks installation issues.

You realize any fault that stems from losing a product key or inability to acquire install media for a previous OS lies entirely with you.
Microsoft in no way forced you to install this, and they shouldn't need to hand hold you through a beta operating system as most people,its assumed, would on go into those testing waters if they have a reasonable amount of computer experience.

I think you misunderstood what he meant. Microsoft said from the beginning that people who installed the insider preview would be able to upgrade to the RTM of Windows 10 when it ships. Now the story is, if you didn't upgrade from Windows 7 or 8 but installed Windows 10 "clean" you will have to rollback first.. In other words, reinstall windows 7 or 8, then upgrade to Windows 10. So it is impossible to ever install Windows 10 directly with a Windows 7 or 8 key for the first year. It's not even entirely clear what happens after the first year. If you upgraded from Windows 8 to Windows 10 and you want to reinstall from scratch, what happens then? Again install Windows 8 and upgrade to Windows 10 (I assume if you did it once, they must have registered this information in their database or will it cease to work?).. If you ask me, it's completely nuts of them to make it so complicated. They got so many feedbacks from people to help make Windows 10 more stable and then they come up with this insane upgrade path which will make people think twice about ever installing a product of theirs in such a way to help them.. The free to upgrade from Windows 7 or 8 to Windows 10 which seemed easy in the beginning now become a nightmare.

What about the previous article here saying that user have the option to stay with builds or not ? I reserved my place appcacrus you said that I can't upgrade because I have a pirated key then why they allow me to reserve my place???

Why was it so complicated to allow those who installed Windows 10 Insider to upgrade to RTM instead of having to reinstall Windows 7 or 8 and upgrade to 10? With a valid Windows 7 or 8, I do not see why this is impossible. Now they have to force some people to rollback and install 7 or 8 and then upgrade to 10!!!!!!

Will Insiders who upgraded from genuine Win8.1 be able to opt out of the program on July 29 without having to reinstall 8.1 first?

If the whole article is valid for windows phone insider program to I mean windows phone 10 will also go the same procedure after 7/29.... Or the release date for windows phone 10..

Microsoft may sell win 10 rtm in flash drive according to what I read in the article here if that's the case then people should buy it for pro its around $199 and home is $119

Sh*t due to the cock up of the 1st Insider build, (blue screen of error, unable to log in, etc) I was forced to hard reset my PC and install the Preview using a USB stick... Now does that mean I still have my license or not? Cause I don't think I can do a roll back. (now the OS only detected In Legacy, in UEFI not detected)

Sh*t due to the cock up of the 1st Insider build, (blue screen of error, unable to log in, etc) I was forced to hard reset my PC and install the Preview using a USB stick... Now does that mean I still have my license or not? Cause I don't think I can do a roll back. (now the OS only detected In Legacy, in UEFI not detected)

I have a question I reserve my place for upgrade to win 10 can I get an ISO rtm file? I have installed win 7 ultimate sp1 on my PC .I activated it with pirate keygen Can I get the win10 geniune rtm copy Can someone help Thankyou
Windows Central Newsletter
Thank you for signing up to Windows Central. You will receive a verification email shortly.
There was a problem. Please refresh the page and try again.