Microsoft clarifies how Windows 10 RTM will be offered to Windows Insiders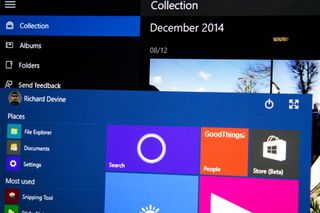 After some confusion caused by an edit to a Microsoft blog post over the weekend, the company has now offered a more detailed explanation on how it will offer the final RTM version of Windows 10 to members of the Windows Insider program.
The first version of the blog, which was posted on Friday, contained a paragraph appeared to offer a way for anyone to get a free copy of Windows 10, even if they didn't have a legal copy of Windows 7 or 8.1 installed on their PC. That part of the blog was edited over the weekend to indicate that Windows Insiders could use a clean ISO build to get Windows 10 if the PC has a linked MSA (Microsoft Account). However, since this requires a genuine version of Windows 7 or 8.1 to be installed, this contradicted Microsoft's original clean ISO plan.
Windows Insider head Gabriel Aul has now posted a lengthy clarification on this matter. In the interest of completeness, we have posted his new addition to the blog post in full:
"Over the weekend we saw a few articles about this post and confusion that it caused. I'm sorry for that and want to take a moment to clear up a few things. This is a very complex topic, since we're managing:"
Multiple versions of Windows
A new approach to how we are building and delivering Windows
And a new preview program that is different than what we've done in the past.
"Let me start by restating very clearly that Windows 10, whether you get it on 7/29 or whether you got it in a preview form through the Windows Insider Program is intended to be installed on Genuine Windows devices."
"Friday's post was intended to clarify how the Windows Insider Program will proceed, and in attempting to do so created some unintended confusion. I sincerely apologize for that and will try to separate them more clearly below in order to provide more clarity."
"The crux of it is this:"
Do you want to continue as a Windows Insider and keep getting preview builds after 7/29?
Or do you want to upgrade your Genuine Windows 7 or Windows 8.1 system that has been getting Windows 10 Insider Preview builds to the 7/29 release and stop being an Insider?
"I want to continue as a Windows Insider!" If you want to continue as a Windows Insider past 7/29 there is nothing you need to do. You're already opted in and receiving builds in the Fast or Slow ring depending upon your selection. This is prerelease software and is activated with a prerelease key. Each individual build will expire after a time, but you'll continue to receive new builds so by the time an older prerelease build expires you'll have received a new one. Since we're continuing the Windows Insider Program you'll be able to continue receiving builds and those builds will continue to be activated under the terms of the Windows Insider Program. We provide ISOs for these builds for recovery from any significant problems, but they are still pre-release software. As part of the program we'll upgrade Insiders to what is for all intents and purposes the same build as what other customers will get on 7/29, but that will be just another build for Insiders, and those who stay in the program will simply get the next build after as well."
"I want to opt out of the Windows Insider Program on 7/29." If you decide to opt-out of the program and upgrade to the 7/29 build you will be subject to exactly the same terms and conditions that govern the offer* that was extended to all Genuine Windows 7 and 8.1 customers. This is not a path to attain a license for Windows XP or Windows Vista systems. If your system upgraded from a Genuine Windows 7 or Windows 8.1 license it will remain activated, but if not, you will be required to roll back to your previous OS version or acquire a new Windows 10 license. If you do not roll back or acquire a new license the build will eventually expire."
"It is our hope that the vast majority of Windows Insiders who have been with us since we announced the program last year will continue forward, and it was in that light that we authored the blog post about upcoming changes to the program. I regret that this caused confusion about who was or was not eligible for the Windows 10 upgrade offer, but hope that this helps to clarify."
Source: Microsoft
Get the Windows Central Newsletter
All the latest news, reviews, and guides for Windows and Xbox diehards.