Microsoft unleashes the cloud with OneDrive for Business upgrades and 1 TB of storage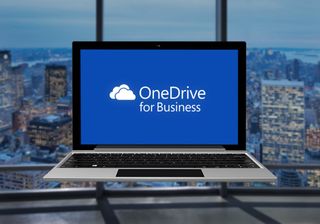 OneDrive is increasingly becoming a centerpiece for Microsoft in 2014. The service is being woven throughout all of Redmond's services, from consumers to enterprise. It's the latter one that we're concerned with today as OneDrive for Business is getting some free new perks for those who use the service.
Announced on the Office Blog (opens in new tab), the 'thinking outside the box' post details three major changes that should make OneDrive for Business even more popular.
OneDrive for Business new features
Increasing OneDrive for Business storage from 25GB to 1TB per user.
All Office 365 ProPlus customers will get 1TB of OneDrive for Business storage per user as part of their Office 365 ProPlus subscription.
We'll help organizations migrate data to OneDrive for Business
Sounds like a bold plan to us. If your company uses OneDrive for Business or you're thinking of switching, you can read more from Microsoft (opens in new tab) about those changes and other features of the service. And don't forget to grab the OneDrive for Business app for Windows 8.1!
Daniel Rubino is the Executive Editor of Windows Central, head reviewer, podcast co-host, and analyst. He has been covering Microsoft here since 2007, back when this site was called WMExperts (and later Windows Phone Central). His interests include Windows, Microsoft Surface, laptops, next-gen computing, and arguing with people on the internet.
"Increasing OneDrive for Business storage from 25GB to 1TB per user" Holly crap, that's an awesome upgrade. 40 times more! :D

Finally!!!
Microsoft back im business. Nadela is not messing around.

Thank you mods for removing that racist user!

So why would I pay $50 a year for 200GB when I can pay $2.50 * 12 = $30 a year for 1TB. What's the catch for this 40x more data than before?

25 to 1000!! That's too much... o.O

That's the beauty of thin storage provisioning :-D

Yup, the people only using a couple GB will still only be using a couple GB. Doesn't matter if they had 50TB available.

Yes for business! Duck you google drive, Try to compete with this! Is the rates comparable to google drive?

i can't stop laughing, Duck you xD

Ahahaha me too.. Duck you!!

Actually its wasn't word flow. I will predict it for me because I use the word a lot.

The word is FRAK! as in FRAK you GOOGLE!

That's an insane amount of storage lol. Will grab alot of attention that's for sure.

Who knows, maybe they'll expand the standard OneDrive storage space soon (and again), or raise the extra for O365 home users. I've got around 400-500GB for free now, but I wouldn't mind.

Cloud-Centric vision becoming true after all.

Microsoft trying to do things in a jiffy. This is great after Nadellas entry as CEO. He's more dynamic than Ballmer

Meanwhile Google still offers more than twice the amount of storage on Google Drive than Microsoft does on OneDrive to normal consumers. If you want people to use OneDrive over Google Drive, you should at least match the offer. Otherwise you'll be left with business consumers only and a couple of die hard WP fans...

Except that the increase you're talking about happened just recently.
A cconsumer isn't about to transfer all their Gigabytes just because Google now offers more; services that are entrenched, continue to be, even if inferior.
You could say it may affect people sswitching from Google to Microsoft, perhaps. -- Even then, Microsoft and Google were nearly on par, with Microsoft exceeding; this move is simply Google reacting to it. It is also very doubtful a company would be on the fence about the amounts of Gigabytes of storage provided when their main concern is training, support and reliability.
Take it easy son.

GoogleDrive is offering 15GB for quite some time. And the general consumer doesn't give a crap about the inner details. Again, it's a matter of simple perception. A consumer sees one offering 7GB free, the other offering 15GB free. The consumer goes for the one that offers him/her more. Microsoft and Google aren't at all on pair. Not only on this, but Microsoft has also yet failed to quickly respond to Google's aggrevisse price drop for storage for those who want to pay to get more. WPCentral did a story on that, search it.

That would be only part of the decision process. Following the above premise, if Microsoft had offered say 3 times more storage than Google and iPhone, all Google/iPhone users would suddenly jump to WP.....yeah!

Except unlike Google/Apple, Microsoft doesn't have a large user base. If Microsoft wishes to attract more people to Windows Phone, they should make sure that no detail goes unnoticed. Be it OS features or Microsoft services offerings.

Ghee man, why don't sie already-figurativeoy Posted via the WPC App for Android!

I agree. They are taking steps in the right direction with OneDrive, 8.1 and I believe they bought a mobile division from....cant remember the name now :D Well, I will be the proud owner of a Nokia Lumia 930 once it is released. Feel the Nokia love ❤

I think Nokia still has a strong brand name behind it and is well known for high quality. It's a shame they're going to abandon the Nokia name after some time.

I think you are right. I have the pleasure of owning the Lumia 920 and due to the lovely design and solid quality will make the Lumia 930 my next phone. I would like to see the design and quality continue. With Nokia and MS now one, lets hope the future devices will be even better.

Unfortunately Microsoft are very well capable of screwing everything when it comes to choosing a name for the new mobiles.

lol, maybe. Perhaps Surface for tablets and Lumia for phones. IDK?

Microsoft has to deal with AT&T's staff first and foremost for scaring people away from Windows Phone, and insisting on people getting an iPhone

You can get up to 15GB free on OneDrive: - 7GB - 3GB enabling photo autoupload - 5GB from referals

Or you could get an extra 100GB free through Bing Rewards.

Bing Rewards are not available worldwide.

Hi, We don't have access to such thing as Bing Rewards. Regards, The rest of the World that isn't the USA.

I got the 10GB. (Actually I got the 30GB but 20GB are from the WP loyalty promotion...which I still had to contact Microsoft about because I never got the email despite using WP since the Nokia L800). As for the 5GB...useless. Everyone I know uses a Hotmail account. So basically everyone already has OneDrive even though the majority doesn't use it.

Or just go back in time and buy a WP 7.0 device and you'll have 25 GB forever (like I do). Plus I have a 3 GB Camera Roll bonus, plus a 20 GB enthusiast bonus (until 28/1). So I have 48 GB until 28/1 but a permanent amount of 28 GB.

That's where the Bing reward system comes in handy. With only slight more than 100 credits, you can redeem 100GB of OneDrive storage for one year. If you are using Bing everyday for your searches, it should take less than 2 weeks to accumulate those points. And then, after it expires the following year, you just redeem another one.
So for me practically, OneDrive gives me 113GB of free storage. Not a bad deal at all, I'd say.

I got free 20 gig when MS transfered hotmail to outlook.

but isn't Google restricted to pictures and selected documents types ?

Ok, I see that I can increase a user to 1 TB but, my total storage available hasn't increased to allow 1TB per user for all my users. I'd have to buy the additional storage which is a nightmare unless you know to ask for SharePoint Storage and not One/Sky Drive storage from your vendor. The other thing I wonder is if they increased the total amount of files and folders from 20 thousand?!?!1? Fix these 2 things and then make it work better when offline (like on a plane) and support symbols! Love it otherwise.

Sooooooo looking forward to switching out of Google Apps for our org into O365 later this year.

Yes. Owning my own business, this will be great!

What happened to the shared ownership folders in standard onedrive that was teased a month back?

FILE FETCH needs to come to windows 8.1 yesterday. Why can I log into Onedrive online anywhere, and fetch files from my windows 7 pc in my office, but not my computer at home running 8.1..............stupid if u ask me

Seriously. One thing we know about Microsoft is that they love, love, love to dump excellent, much-touted features if it requires extra work to fold them into a platform change or "new vision." Microsoft will market the heck of an awesome new feature, get you behind it and loving it, and a year later pull the rug out from under it without an explanation. You can't rely on these things from them. (uh, see Windows Phone 8.1)

Ref: Joeonsunset,
Yes. ZUNE too.

Can anyone tell me if onedrive for business is any faster than onedrive? I find onedrive to be slow. When I try to view my gallery of photos off onedrive using the metro photo app, or grabbing files off explorer in desktop mode, the transfer rates are really slow. Watching a HD video stored on onedrive is a painful exercise. If OneDrive for business is any faster, I would be interested.


Somthing is wrong with your connection, Onedrive is really fast on my Lumia 920 and on my PC with Windows 8.1.

You have some othe rproblems, OneDrive is very fast on my 920 and 1520, work very well with pictures and video, absolutely no problems.

Holy mother of god. Straight to my IT department tomorrow to get them to put me on this.

Unfortunately there are major limitations to OneDrive for Business that the name doesn't give away. It's still based on SharePoint document libraries (totally different than OneDrive consumer.) There is a 20,000 file/folder limit, syncing can be funky/slow, some file are actually *altered* in the sync process, etc etc. Hopefully this will change in the future but...

For small business dealing with sharepoint is a pain in the arse. Do you know if OneDrive for Business offers file versioning for any format, not only Office documents? That's a must for my business.

I don't but I have to say I doubt it.

As much as I like onedrive, as a consumer (I don't really use my corporate account much) I'd like them to match gdrive capacity and pricing and most importantly photos features Until that is achieved, I am not movingly stuff there

What I don't get is why this had to be a desperate app?

I have been posting everywhere to try to find out why I can't get permission to open/edit exchange account files on onedrive on Windows phone. This is a huge problem. I spent 3 hours on the phone to Microsoft already and there answer is that out will be fixed when OneDrive pro comes to windows phone, does anyone else have this problem?

Ooopps going to cloud now, yeeehbaahh, just right time for my ongoing project BYO.

They had to do this, the announcement a few weeks ago from Google to drop the costs on their Google Drive to $10 a month for a TB of space drove Microsoft to come out fighting!

Is it possible to store and playback movies on OneDrive. Last time I tried uploading and playing a small video on SkyDrive it never loaded.

But will it load quickly when I try to play it

Really Microsoft was first to offer 25gb for consumer "SkyDrive" accounts for free. Then they rolled everything back to 7gigs...which at the time was still bigger than most offerings. The good thing is that those who signed up and were using Skydrive got to keep this. They need to reinstate this.

Everyone is chalking this up to nadella. Does anyone know that this wasn't ballmer's plan? It's tough to make strategies like this cone together overnight..

Did you know? You can connect, sync and share almost any local corporate data source like file share, home drive, SQL database, ERP/CRM, Exchange, local SharePoint etc. with Microsoft OneDrive for Business lists and libraries now codeless and bi-directional. That really unlocks the power of the 1TB / User offering! More:
www.layer2solutions.com/en/community/FAQs/cloud-connector/Pages/OneDrive-File-Share-Synchronization.aspx
Windows Central Newsletter
Get the best of Windows Central in in your inbox, every day!
Thank you for signing up to Windows Central. You will receive a verification email shortly.
There was a problem. Please refresh the page and try again.