Microsoft Wallet picks up support from Fifth Third Bank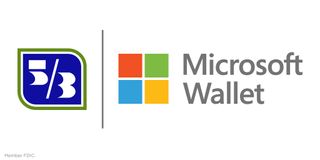 Fifth Third Bank is the latest to now support Microsoft Wallet on Windows 10 Mobile. The bank announced the recent addition on Twitter, stating:
With support for Microsoft Wallet, Fifth Third Bank customers can use their Windows 10 Mobile phone to make payments using their credit or debit cards. The NFC payments are accepted anywhere with a Microsoft Wallet or generic contactless payment logo on display.
The rollout of support for Microsoft Wallet has been somewhat slow, but Fifth Third Bank follows the likes of recent additions like TD Bank in November, along with PNC and US Bank before that. Currently, Microsoft Wallet only supports contactless payments in the U.S., and there's no indication on when that might change.
Thanks, @osurickbee, for the tip!
Download Microsoft Wallet from the Windows Store (opens in new tab)
Dan Thorp-Lancaster is the former Editor-in-Chief of Windows Central. He began working with Windows Central, Android Central, and iMore as a news writer in 2014 and is obsessed with tech of all sorts. You can follow Dan on Twitter @DthorpL and Instagram @heyitsdtl.
Super slow roll out of wallet support

Super slow. I rarely get to use it since it doesn't support American Express. Only get to use it when the merchant doesn't support amex. Glad to see they are still adding banks though. Gives me hope.

I don't get to use it at all with chase which was one of the reasons I got the idol i don't care about nfc on a Windows phone

I'd love to use it but I don't get to use it at all as I don't live in the US, that's why I use Android Pay instead.

I would love to use it as well, but the pace at which MS is rolling out MS Wallet is super slow. Wondering when, if ever, will I ever get to use it here in Singapore?

Probably when pigs fly. Cortana is still not even available in Singapore yet.

Sad but true, maybe in another 10 years time...

I'm in the UK and I just use my contactless bank card. I'd like to see it come to the UK but wouldn't be surprised if I stopped using it after the novelty wore off in favour of the quicker and more reliable physical bank card. When combined with a wearable like Apple Watch on iOS it becomes a lot more convenient IMO

You know it's shocking how people are so careless when using their contactless cards. You can see everything, including the CVC number when people tap in on the DLR or Trainstations.. a few times I pointed that out works fine in a wallet or coat pocket (as long your oyster pay and go card isn't there or have other contact less cards) and well... needless to say they weren't as polite about it in their response lol. Including when purchasing I never take my card out, I just tap my wallet. It would be so much easier to use my phone but alas... no Microsoft Wallet in the UK...

I would be inclined to agree. I use my contactless bank all the time and never give it a thought. Maybe I should care more but I find you whip it out (said the vicar to the blind nun) and boom its paid for if people can read enough information during that time well I am stuffed. I am pretty sure I would use the phone but to be honest the bank card will probably be the go to first option. I have never actually seen anybody pay with a phone for anything in the UK and I suspect thats because the contactless bank cards are so much easier to use and even if the phone might be more secure the perception is the cards safer (certainly its easier no setup for example and does not need a battery and is proven to work).

I use Android Pay all the time in the UK. Works pretty well everywhere. If British banks supported Windowsphone I would use my 950.

@welsbloke.
haha, cheers for the laugh. You should be more careful :). It won't take long for people to memorise your card details especially if you share the same commute to and from work each day. I made it a habit to look at my phone every time I would leave the train station when I see the same people using their card as is to tap in and tap out. When i don't have my wallet, i hold my card in a fist and tap the contactless side. The other fail safe I have is that the card I use always has zero balance unless i'm spending money that day. Once I lost my card at westfield and someone tried to charge a 1,000 top up on some digital calling card website and the bank put it through... LOL! I called on the same day to report it lost at 5 pm, but the system logged it the next day apparently... so if I had my wages going into that account..... Lol... I've seen a few people use phones on buses to tap in as opposed to the oyster card. Personally I find the term "contactless" laughable as it doesn't work 90% of the time if your "contactless" card isn't touching the card reader lol.

Still waiting for Wells Fargo...

Wells Fargo? How many accounts do you have there? I mean how many do you know about? Funny how if you steal $100 you go to jail. A bank steals 5 billion dollars and they pay 1 billion and nobody goes to jail.

Hold on a minute amigo. I understand the bank may have lacked sufficient controls on an ambitious growth plan and even pressured employees to sell, sell, sell. But, to me anyway, setting up fake accounts was done by employees; they knew what they were doing; and chose to do it. And got paid when they did it! But they knew it was wrong. Beyond that, to me, there is little likelihood, that Wells Fargo wants a bunch of empty, dead accounts; not the senior officers, board nor shareholders. So, while it's true Wells Fargo was party to this, employees are culpable too. Integrity counts every day, everyone's, including each individual employee. When they fail that, **** happens. Just saying ...

OK, so lets forgive Wells Fargo for that. Sure..
How about their part in funding the North Dakota Access Pipeline? Reason that away. :)

Forgive? Why aren't they in jail? The stole money from people! Very sad when stealing depends on how you stole it. Stealing is stealing.

Are you suggesting that the funding for the pipeline was somehow illegal?

bebochek: That's because Wells Fargo Bank .... and its counterparts... make up the rules. It's their world.

I would be happy if wells Fargo fixed thier app to work Mobil deposit. I would be ok with them adding that ability to their web page

I use the Wells Fargo app on my Lumia 640 to make deposits all the time. It works fine. There was a problem a few months ago, but that has been strightened out.

Wow just nobody cares if a bank stole money from millions of people as long as it wasn't them. What has the world come to?

The government.... including BOTH sides of the aisle.... are dear friends of the banksters. The banksters control the government and the economy. They make up the rules to suit their interests. Its been like this since the 1900s.

Waaaa, poor Mr. Socialist over here has an axe to grind about WF, go away, this is a tech site.

Tap to pay will have been replaced by the next big thing by the time we get it in the UK

You all want it in the UK, but you dont realize how utterly useless it is here in the USA.
How many banks support it? I think its still fewer than 10. And they're all pretty much ma-n-pa shops except for US Bank, which is the only one I've even heard of on the west coast.

That sucks. We're down to 4 or 5 Windows banking apps in the UK but they are most of the big banks. If those were to support Windows Tap to Pay then it would be a huge step in the UK. BUT many of them still don't even support Android Pay yet and also took ages to get on board with Apple Pay so I wouldn't hold my breath. It's things like this that tell you all you need to know about Microsofts commitment to mobile when they don't push major features that consumers want.

Love it here in Canada....well, apple pay and android pay, have terminals everywhere since we have tap debit and credit. So, automatically we have tap to pay...I use it everywhere.

Do you have androidpay with a us bank because androidpay is still not available in Canada

While merchants are slow to adopt here in the US, they are there. Also, there are large banks that support (see https://www.windowscentral.com/e?link=https2F%2Fclick.linksynergy.co... Love it and use it at almost every regular merchant I visit.

Haven't heard mention in a while... Wallet still broken for insider builds, right?

Only fast, slow ring works

Chase had their logo on the MS Wallet website as coming soon. Ha

According to a reply to my tweet asking them, it is coming later this year.

They were mentioned as having the integration since the beginning of last year. I opened an account with Chase since I was looking for a new institution since I moved. The choice was largely based on the coming support for us. Since then, haven't even touched the account.

That is what it said on Microsoft's page. This tweet came right from Chase.

Yeah, Thats the reason i got a Chase Credit Card back 6 months ago bc it was "coming soon"....still nothing. They are sllllllllloooooooooooowwwwwwwwwwww

Wow it's so surprising a bank lied to you.

Great! Now where is the approval for 640 XL and other compatible devices...

This won't work on a 1520 will it?

Not approved by Mastercard

I really wish they would speed up this rollout because I would love to use it. They support 0 of my cards. That includes one card that is from US Bank (which is on the supported list) but for some reason doesn't allow.

They need to open support for this on more devices. As I understand it, it's only on select Lumias (950, 950XL, 650). My bank supports it but my Elite x3 doesn't.

It's not up to MS, the device has to be on an approved list.

I'm afraid that HP Elite x3 cannot handle HCE. And MasterCard has not approved it even for SWP. I have such an "NFC SIM" in use, and I will try a payment with it anyway. At least I can pay with MobilePay because it uses NFC sharing.

I see many here are ready for a chip to be in planted in you hand and give total control over to the money masters.

Okay... what bank do you use?

The extremely so roll out of this and the slow pace in general of Win10 Mobile is the reason I will be getting the Samsung S8. I love my Windows phone but it is just falling to far behind now. Tap to pay might not seem a big deal. But I never carry cash and here in UK most shops support contactless. I hate carrying my card in my pocket as I have no need to carry a wallet anymore. I use all Microsoft's various services Office, Onedrive, Groove and movies. I have an Surface, Xbox, Desktop and my Lumia 950xl which I do love. I love the look of the OS but missing features are just growing rather than getting smaller. With no word about what the plan is. Just can't keep waiting till the next update anymore. Hopefully I will be back one day.

"Microsoft Phone" If Wells Fargo would support Wallet & Windows Hello for easier logins I'd be very happy.

"Microsoft Phone" If Wells Fargo would support Wallet & Windows Hello for easier logins I'd be very happy. I use the app on my iPhone most of the time just because it's so much easier to sign in.

Just read the reviews of the wallet app in the Windows store. The average score is 2. This is actually a high for this Microsoft first party app. Many reviewers only give it 1 star because it doesn't allow 0! Mostly the wallet is useful for 5 banks in the USA. Everywhere else it is useless. Microsoft announced NFC payments with Windowsphone 8.1 in 2012. After 5 years and one OS upgrade 5 banks in the US offer it. Meanwhile other platforms are global. The wallet app tells you all you need to know about Microsoft's view of Windowsphone.

How do I add my card, I don't see the option

What do you know about global? Here in Moscow we can pay for metro, buses, trains and taxi with our Windows Phones. In many shops it can also be used. We have Yandex wallet.

Yes but can you use Microsoft Wallet in Moscow to do all that?

I don't know I never tried.

My comment was about the Microsoft Wallet app not any other app that might be available in a single country. What do I know about "global"? I know that if an app says "US Only" then it's not global.

There is also PeoPay by Pekao Bank in Poland. It was the first tap to pay application for Windows 10 Mobile, launched even before Microsoft Wallet 2.0.

Still looking for chase support...

This has been out actually for a couple months now. I have been using it on my 950 for a while.

Yes I read Windows on ARM will be out end of this year.
Windows Central Newsletter
Thank you for signing up to Windows Central. You will receive a verification email shortly.
There was a problem. Please refresh the page and try again.