Microsoft reportedly plans to release Windows 10 Mobile ROMs for OnePlus 2, 3 and Xioami Mi 5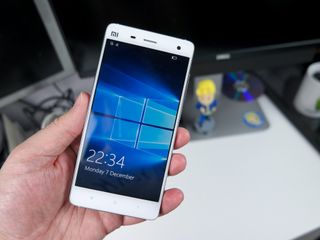 Microsoft is said to be working on Windows 10 Mobile ROMs for a handful of new Android-powered smartphones. It's believed the company will release software for the OnePlus 2, OnePlus 3 and Xiaomi Mi5. With Microsoft releasing a ROM for owners of the Xiaomi Mi4 last year (pictured above), it's certainly possible the company may plan to get Windows on more handsets.
Word came from Weibo where it was confirmed that plans are in place for aforementioned handsets to have a Windows 10 Mobile ROM released. Interestingly, we're still waiting for Microsoft to roll out the public release of Windows 10 Mobile for existing Windows Phones, but moves like this will certainly allow the company to have Windows 10 running on more hardware than what's offered by platform partners.
Rich Edmonds is Senior Editor of PC hardware at Windows Central, covering everything related to PC components and NAS. He's been involved in technology for more than a decade and knows a thing or two about the magic inside a PC chassis. You can follow him over on Twitter at @RichEdmonds.
Great news Posted from Windows Central for Windows 10

My wife has a OnePlus One and doesn't like Windows phone. How terrible would it be if I flashed WP onto her phone?

... what, on accident or something? I mean, if she can figure out how to do this then she can figure out how to go back.

I sense this might be Jeddic being mischievous rather than suggesting his wife might effect this change accidentally...

Was expecting a real w10 device... Not a fuzzy ROM... Posted via the Windows Central App for Android

But, Windows 10 mobile won't be available to be flashed for ONEPLUS ONE

Have your fees ready for a divorce lawyer

You want a Divorce? Cause that's how you get a divorce. :P Jk Dude. Prolly will be pissed at you for a long time doe. Or take it to a service centre and flash it back to android.

why comment this and since when did he (Jeddic) ever say about wanting a divorce or a new wife? Posted via Universal Windows App on Windows 10

It's a joke man chill Posted via the Windows Central App for Android

Nah, that's nog even possible. She has to forever wait to get Android updates.

What is it that she doesn't like about Windows Phones? Posted from Windows Central for Windows 10

I think his wife tried using WP7 and hated it ever since. Push her towards W10M and maybe she'll enjoy it Posted via Universal Windows App on Windows 10

My wife did not like using Windows Phone for the same reason a lot of people don't like it, no apps. She did not like the overall interface as much as I did becasue of the unfamiliarity but the app gap is real and why people turn away from the platform. No matter how much we all love it, to others its just not worth the sacrafice.

We will miss you Jeddic, if you are planning to do this on your wifes phone

R.I.P Jeddic,he'll live forever in our hearts...

funny comments here... Posted via Universal Windows App on Windows 10

We? No, he will not be missed. Comments like these rather pollute this forum. Like we are stupid or something?

Sounds like you are looking for a way out of that marriage. Time for the 4 F's my friend. You just need to complete the last 2.

Lol Jeddic don't do it, if you want to keep the problems at the bay.

Ask a question about something that is not possible? smh

It is time to start packing your staff. Divorce is on its way hahaha!0

That would be a riot do while she's sleeping then when she wakes up she'll go to turn it on and say WTF happened to my Phone. Ya ya I love it. Posted via win 10 App on my Lumia 950 AT&T.

Exactly what I was hoping for.. This made my day ... Once it's official.. Xiaomi Mi5 will be in my hands ..
..
MS should release a version of ROM for Galaxy S6/S7
..
Things are getting interesting in W10M world.. I'm 'Panos' pumped.. ;)

yeah man it is absolutely freaking amazing, the mi5, but there is a problem. Xiaomi started locking down the bootloaders to every xiaomi phone since mi note I guess. You can unlock it only through two ways, either you gotta be a diamond status member in their forum, or apply for an unlocking code, which apparently takes around 3 weeks or more to process your request. If the request is approved, you have to wait for the code to sent to you via SMS, which will then need to be applied to an unlocking tool that pretty much can brick your phone or put it in a bootloop( as far as the reports go from forums).
So flashing custom ROMs is gonna be a lot harder.
They stated security reasons for locking down the bootloaders, while its all well and good, unlike nexus phones too where you can unlock phones without hassle, Xiaomi made it exponentially harder to flash ROMs. So much for a company that claims to be developer friendly.
That is the only black mark on the Mi5 else its golden.

Hmm.. Not gonna comment on that since I don't have any idea about what you said :p..

They're working with MS, it will be an "official" tool so you can flash your phone with no problem. Anyone can do it, even a non-expert user.

Pheww.. Thanks for that information.. :)

It could be you won't be able to go back once you've gone to Windows 10 Mobile. Have to wait and see.

If I had a guess is conditions for export to counties where US has reach

Man, if they released it for the S6 active it would really make my wife happy! It was rather unfortunate that we had to abandon WP on ATT as our stores (at the time) did not stock WP devices and wanted us to pay $100 extra and wait 2-3 weeks for shipping to get an 830.
I would love to get a copy for my Note5... but being a work device they may frown on me doing that.

Wont happen. Its samsung and i am pretty sure some that its impossible by default that samsung and others lock their phones. Because that would be kinda illegal somewhere flashing android phones. Posted from Windows Central for Windows 10

Actually it is not illegal to flash a device with a rom. If its an official rom flash all is good. But if is one of the flash rom you download and root and some hacking it will just void your warrenty with carrier and manufactuerer. Juan Rosado

Well it all depends on if they choose to ship with a new exynos

Does your girlfriend use her Wand? Posted via Universal Windows App on Windows 10

If only LTE would work in Europe on Mi5 right? ..

MS must pursue sammy and LG and orhers to launch W10Mobile phones rather than launching ROMs for their android phones. It's a right approach. MS working with modders like Cyanogenmod seems ok as it targets those are know-how ROM flashers and they can flash modules of MS app apks but not whole ROM. First and foremost is MS must build superior mobile OS that can helps OEMs to standout against iOS and Android. There are couple of approaches here. 1) Build best mobile OS though app gap still exists this will help phones such as hp elite-3 for power users/enterprise users 2) Bring more OEMs to build powerful phones simultaneously with android phones.

They didn't build the best mobile OS though. They basically made Windows Phone 7.9 with this newest version. They should have really gone back to the drawing board. It wasn't the kernel that was the problem. Posted via the Windows Central App for Android

That's awesome news! Posted from Windows Central for Windows 10

??
Posted from Windows Central for Windows 10

?? Posted from Windows Central for Windows 10

?? Posted from Windows Central for Windows 10

??? Posted from Windows Central for Windows 10

??? Posted via the Windows Central App for Android

the mi5 is very interesting with windows 10

Yes, with good drivers would be an amazing phone

When it was released I was hoping that Microsoft was going to release a ROM for it. Instantly more desirable and it already looks like an amazing phone (the ceramic version anyways).

Agreed, if this pans out, I'm definitely going the mi5 route, off contact and smiling all the way.

My cash is ready. Buy one when ROM is out

I am gonna get the Mi5 for sure

Quick question:
Will there be Continuum and hey Cortana?

I would like to know that as well..
But as a side note, considering the price of these devices, even if they dont support continuum I won't mind that ..
..
But considering the spec of these devices , I don't see any reason for them for not supporting Continuum..

Then this would prove to be the black horse... A real game changer, as Mi5 is a dream device

It doesn't have usb type c so probably no continuum...

It could support continuum over wireless only, that would be less than ideal but I'd imagine people who actually use continuum wouldn't mind.

Yeah, even Vaio Biz doesn't have USB Type-C yet it supports Continuum.

Mi5? .. Nope.. Mi 5 comes with USB type C.. And please not that USB-C is not necessary for Continuum since it can work via wirelessly ( even though the experience would be not on par with the wired connection )

Just checked.. Mi5 has type C USB Posted from Windows Central for Windows 10 Mobile

USB C is not needed for continuum to work. It depends on the standard the USB port operates on and other supported protocols like MHL and OTG. One Plus 2 has a USB C port, but supports only USB 2.0 protocol. USB C does provide options for better power management, like simultaneous charging. But if you're using something like a micro USB to HDMI converter, that'll be enough.

If it has a micro USB port then it should have a MHL License I suppose? The requirements for wired continuum is usb c with support for usb 3 or 3.1. If it has only usb 2 then I think it cant work as the continuum thingy needs a lot of data transfer to happen very quickly. But maybe it might work as I'm not pretty sure. On a plus side, if more and more devices are getiing windows 10 and continuum, then there will be cheaper versions of the continuum dock that work better(?) than the official ones from MS. Happy to see this happening. Already have a OP2 and i'm pretty sure Im going to get that Mi5 when it releases in my country.

Yeah mhl would be more cost effective

But Continuum also works over Miracast so could work even without USB C. Posted via the Windows Central App for Android

Theres hey cortana for windows 10 ?? Dafuq ?! When did that happen :o Posted from Windows Central for Windows 10

Since lumia phones updated to denim

He asks because it was broken in many W10M builds..

well as of W10 build 10586.29 it was working fine Posted via Universal Windows App on Windows 10

Give Mi5 ROM with working Continuum and Fingerprint and I'm sold.

Mi5 already supports fingerprint, so ur half sold..

But the ROM should support the fingerprint scanner in Mi 5.. I think that's what he was referring to..

The OS doesnt support fingerprint but it will be till summer..

Yes, but it needs to enabled in W10M Rom.

Surprise if it is not enabled.

Not for now. W10M doesn't have support to fingerprints, yet. But they're already solving this driver problem, maybe will come with Redstone.

@Zapella Tiago Looking at Mi4 ROM development, they took quite long time. I think they will take more time for Mi5 and maybe by that time they will solve the drivers issue.

I thought Fingerprint already supported with Windows Hello, at least technically. HP Elite X3 will also incorporate Fingerprint sensor too, though yeah it won't be available soon that might be because of fingerprint sensor support isn't there maybe.

Yeap, that's why the prototype didn't have one. Posted from Windows Central for Windows 10

When will the production version of x3 be available? I think they said end of summer.. So MS might add support for fingerprint in the OS till then

Not necessarily. The windows hello feature shares the same code in both desktops and smartphones. So only thing they need to do is port some drivers which can be done in a small OTA update. The HP executives said that they were waiting on finalising the drivers needed for the fingerprint sensor and that it will be done soon enough.

Windows Hello on PC does support fingerprints.
I think for the Mi5 ROM development also, main part would be drivers and firmware. So they might do it altogether.

But won't give old phones the windows 10 update until 2017

It will be out at 29 Feb 2016

X30 and X40 series only. X20s will have to wait.

I have Lumia 730. So don't have to wait

Correction: 30 February 2016. Posted from my Lumia 950XL

I laughed and then I cried...

Exactly what I was thinking. This has gone on long enough. Give us the update or fire Nadella....either one will satisfy the **** out of me.

Always loved the one plus phones. Will love them even more now!

Most excellent devices! Designed from new as something to be flashed, and actively encouraged to do so by one plus! Cut my cooking teeth on the 1st gen device!

Ah dang, should have bought a One Plus now! And there was a nice promo on them too. Ahh.

Adding Mi5!! That's a great news.

Great news. Where is W10m for L830?

Actually MS is in need of launching a custom rom not just for particular devices, but for many more android devices..... This way they will be providing a hands on experience of the OS to people who are a bit shy to spend anything on phone's running W10 Posted via the Windows Central App for Android

If you are switched on, you 'could' dual boot some devices.... Sweet... One rom for productivity, and one for apps!

How is Windows Phone more productive than Android? The UI is much less efficient, multitasking is lacking and many apps are missing. It is laughable to say that Windows phone are more productive! Posted via the Windows Central App for Android

Simple. You don't have to wait two seconds before dialer launches and 5-10 seconds after keyboard crash because of low memory.

I'm a windows phone guy but that is absolutely not true for android flagships lol. Low memory just doesn't happen with 2-4 GB of RAM on android, and dialer 99.99% of the time launches insttly on devies such as One Plus, Samsung S6, etc..

It happens easily, store crashing while in background, phone becoming even more unresponsive while "calling back home". After all it's java. I won't even start with malwares and security holes

BS. I've had many "Loading" screens when I've tried Windows Phone 8.1 and Windows 10 Mobile.

If Android was even remotely as bad as you explain, how did it climb to 80%+ market share and continue to sell? You are delusional if you think that is the Android experience. Even $50 Android phones are quite good. Posted via the Windows Central App for Android

Live tiles is less efficient than bunch of icons on the homescreen?

Live tiles are useless. Even if you get lucky and they show you something useful, you cannot access it directly let alone act on it from the tile. They end up being the same as a icon, they just open the app and you hope the info you saw is easy to find. I don't know how many times I saw an article or post on the live tile and then couldn't find it when the app opened. Widgets have all the functionality of Live Tiles and much, much more. Live Tiles was a terrible way to argue Windows phones are more productive. They cannot compare to Widgets. Posted via the Windows Central App for Android

I think yeah they should support more Android phones sych as HTC, Samsung, Lenovo, Nexus, LG, Sony and especially with those devices with unlocked bootloaders. Still it would be better if those major OEM would at least release one W10M flagship and one mid-range/entry-level especially from Samsung (which is also helping flooding the market with entry-level phones).

That is only true for older apps.

Will the manufacturer provide a means to flash back to the original Android rom as well should you want to restore the phone?

It isn't a one way process. If you can flash W10 Mobile, then you can reflash Android

To clarify, I was more interested in knowing if the process to flash back will be integrated into the same tool set used to flash to W10M. Im assuming either Microsoft or the manufacturer will be providing the flashing tool.

It's highly unlikely that they'll provide a flashing tool. You don't really need one to flash anything unto Android.
Even less likely that they'll provide you with the Android ROM to reverse it.
These ROMs aren't for the general consumer. They're for people who know what they're doing. And if you are one of those, you don't need a flashing tool and you know where to get the Android ROM. Posted via the Windows Central App for Android

They did with mi4. They provided both flashing tool and android rom.

Yeah that would make sense. Having a tool which the non-techy person can simply load up and easily switch things over is the only way I see something like this gaining any traction.

Dual boot option on these phones would be handy for many I suspect.

Interesting. But most consumers won't be flashing ROMs. this won't do much for share.

With all the guys on XDA knowing their onions, dual boot could be a fab option. If it could be done, they would find a way! :)

It won't, but at least it gives a slight bump and gives some sort of popularity for those people loves changing stuff on their phones. Its a good niche and helps the platform in general even it's small.

Xioami or xiaomi?! Title Posted from Windows 10 Lumia 640 XL

W10 for productivity, android for apps. Yay :-)

We must first ask them to release for the working lumias out there... Then get the plans to release the ROM's... December 2015 to February 2016...n the release date postpones still goes on...

For oneplus that's great.

Lot plans less satisfaction :3

That's a ******* good news !!!!

MSFT as a service for every hardware

This would beyond awesome! But I have lost hope on the timing. We are still waiting for Windows 10 mobile to be launched so these ROMs will take that much longer to materialise I guess. I am tired of these rumours! Give me some Windows 10 mobile already!!

Oneplus 2 is a great Phone, don't kill him please!

I guess I'll be buying a Mi5 this year.

Guess i wasted my money on a lumia 640. It will never get w10m officially.

I'm sure your Lumia 640 will continue to work after W10M is officially released. So your money is not wasted at all. How much of your money did you spend, and when?

I'm only worried about when they will release w10m officially. That was the only reason i bought the phone.

Well the 640 is still a great phone. Yes waiting for W10 mobile will be awhile. I just put the preview and I'm good. Sucks that I don't have wifi calling yet but otherwise it's solid. Posted via the Windows Central App for Android

Pretty sure it will run windows 10 as my 735 find it on the insider program and the hardware is pretty much the same I think. Posted via the Windows Central App for Android

Relax, it works great on w10m as is on insider.

Tzz... So can anybody explain why I should get a Lumia anymore when the Android support gets better from day to day while the own mobile support is getting worse??? The only two exclusives I see in W10M are 'Windows Hello' and Continuum while I think with W10M on those new devices like the Mi5 and OnePlus3, with the good guys of XDA, ContinuumSupport shouldn't be impossible for too long. So why still getting a Lumia (or maybe a future Surface Phone) when their priorities are on the Androidish side???

You're talking as if MS released this ROMs today. Not the case, this will take at least 6 months, and W10M will be out there before that.

Yeah I know. That's why I added 'future Surface Phone'.
But still, the point is that (most of) those phones are releasing at better price tags. I don't know the actual status of XDA porting the OS to other devices right know. But if they're ready to release nightly builds, people (at least the techies among us) WILL 'start' to ask themselves why they're still holding MS' Legs even if they could go with an (better) Android devices and switching OS' as they wish to. So sooner or (most probably) later the questing will be why going with a Lumia when you could go with an Android phone???

You know what brother... I would have given you a proper reply... But you seems to be foolishly lacking common sense.. So I would rather close my eyes and skip your comment.. :D

Have the same thought. Posted from Windows Central for Windows 10

Blaahh... Childish Reply... I REALLY would have appreciate an intelligent and well-structured answer and a good and hot discussion, but ok... won't be mad at'cha mate... it's all good... ;)

Why would you buy a Windows phone at all? Support from everyone is lacking, not just Microsoft. The UI is inefficient and customization is minimal. There are so many good options for smartphones at all price points, there is no reason to choose a Windows phone at all. You are just guaranteeing a frustrating experience with Microsoft. Posted via the Windows Central App for Android

Nah,... I gotta admit i loved the UI experience of WP 8.1 and am loving it of W10M. But yeah, i'm frustrating that MS is (kind of) leaving it's on OS behind while preparing new (apps) updates for OS' first and now bringing the good (and exclusive) things to them too. I mean, i understand them in doing so, but they should have leave some things exclusive to their own OS rather than bringing the same kind of experience to others while topping things up with updating theirs first and leaving 'us' behind.

@Siang: Isn't this a good thing? Now no one really needs to stick to lumias, which according to everyone lacks competitive hardware especially in the midrange level...Microsoft's idea is to encourage you to try windows on other hardware and rely less on Lumia...
Maybe the next time you consider buying a phone, you wont feel like you're missing out on better hardware....

You are in the minority that loves the UI. The repeated flops of Window's Modern UI shows that people do not enjoy the experience. Between Zune, WP7, WP8, WP10 and Windows 8, the Modern UI has not been successful on any platform. Windows 10 has made it quite minimal and that is working OK so far. They need to dump I completely, especially for mobile. Posted via the Windows Central App for Android

You completly missed the point didn't you? Because for MS it is more about how many devices running w 10 rather than how many lumias are sold. It had been mentioned time and time again that MS does not want to be a big hardware manufacturer and trying to avoid mass production. And how is this have anything to do with android support? This is not a rom that makes your android phone look like an windows mobile. It IS a windows mobile phone. You are basically getting wm users without producing any hardware (which is where MS loses most of it's money on windows phones) AND giving windows fans new devices they can choose. It is more about the latter imo (i.e this program is firstly for wp fans who now has more hardware to choose rather than android users..

The mi5 is a beast this is great news for windows fans .

I don't understand how this helps Microsoft. If a person walks into a store and the same phone at the same price is running Windows Mobile vs Android OS, I know which phone will be collecting dust. Posted from my Lumia 950XL

So you would rather customer's had fewer hardware options? Think of this like pcs. MS does make their own brand, but it sits right next to other brands. Customers get more choice. Here, MS is giving customer more hardware choices to run Windows on a phone. You can argue that a customer will always pick Android over Windows, but I don't believe that is true. Either way, I think it's a net positive.

Well most windows phone fans want specs higher than SD400 or SD212, also most WP userbase is around Budget oriented phones, these phones are amazing at pricing and great way to demonstrate WP without burning much of a hole in MS's pocket. Also people who want to buy a high end phone but have never used WP personally, probably won't be buying a 950/XL. Now anyone who has a OP2 can try out W10mo without worrying as they're not investing a lot in an unknown OS. They can just roll back to Android if they don't like it.

In place of patent deals with all of these Android OEM's to pre-load Microsoft apps, Microsoft should get them to have both Android and Windows 10 Mobile ROM's on the devices out of the factory. Then the user can simply select to either load the Android or W10M ROM when they first boot the device. Once they have made a selection the other non-selected ROM gets permanently deleted so it wouldn't be a dual boot scenario. If they could HTC, Samsung and the other big players to do this to would be a massive gain for Windows Mobile. It would also allow OEMs to offer more choice to consumers without having additional development costs for specific Windows 10 devices. Win for MS, Win for OEMs and a Win for Consumers

Not that I dont agree but I think this is only possible on devices with on screen keys. Capacitive keys will be confusing as hell.

Why would they be confusing?

Google would not certify those phones. Posted via the Windows Central App for Android

Not to mention the waste of time and money for the manufacturer to do this. Microsoft should make a compelling mobile platform, then they will get customers. You do not get anywhere forcing customers into something they don't want. They need to go back to the drawing board for real this time. It isn't the kernel that is the problem. Posted via the Windows Central App for Android

Lol yeah they were getting there but they needed to cut the carrier strings

Dual-boot is not/will not be possible. Correct? If they made it so that we could dual-boot, then I would get a OnePlus for my next phone after my Lumia 950 XL. The "app gap would not be much of a problem anymore. Posted from Windows Central for Windows 10

No one would boot into a different OS to run an app. Not on mobile. People like consistent call history, text history etc. That only comes from running one OS. Not to mention wasted storage and how 2 OS's would 'share' storage for images etc. Never going to happen other than perhaps an out of the box install setup which locks into one OS.

I would if my job depended on it. My job uses an app called ADP for checking in and everything else. When they announced that they were going to move everything over to an app, I was quite worried that my phone would not have it. Luckily, there is an ADP app for Windows. It isn't a very good app, but at least it works. I would rather have the option of dual-booting than not having it.

Hmmm. I dont know yet. If those will be bugfree and at least 5,95" phones i may grab one of those but not before. Posted from Windows Central for Windows 10

Users reportedly plan not to use Windows 10 Mobile ROMs on their OnePlus 2, 3 and Xioami Mi 5.

I would love to try on the Oneplus 2

That's a awesome news, this chinese phones have great specs at cheap price, for the after 950XL i'd always rather go with Microsoft, especially if Surface Phone is true, though this phones could really become a great alternative since the price

First release official update for window's phone 8.1 later u can implement ur stupid ideas

What the hell !!!. Why don't u push the update for the lumia's ??

First release Windows 10 mobile for Lumia handset.

Time to start saving for a Mi5 :)

I have to say, being able to choose a phone on spec and not OEM OS would be amazing...one day....then choose the OS you want.... Posted from Windows Central for Windows 10

Does this completely remove the previous OS and install Windows or just allow a dual boot scenario? Just wondering. Either way think this is a horrible idea. Now there will be even less of a reason for any OEM's to make Windows Mobile hardware.

This is also very true OEM's will ask MS just to release custom ROM

Well the isheep-like whiners got their useless virtual buttons

Just like what MS did with the windows 10 upgrade ( Walk into a store and they upgrade it for you for free or for a cheap cost ) they should make it possible for a person to just walk into a ms store or the OEM's store and flashing windows 10 for free. This would allow newbs who want to try to do so without them pulling out every piece of hair and getting bald and bricking the device. Any thoughts guys?

I don't want to spoil my Android Phone flashing it in a Crapdows Phone, even if I get paid for it.

Why do u even bother to come to this page and Leave a comment. Posted via the Windows Central App for Android

Isn't it obvious that he's an idiot?

I love to see people here, Very nice people.. :-)

Then don't. You need not walk into the store and upgrade your phone with the newest Windows. Have fun with your Android Phone.

Microsoft is doing this as if an Android user desperately wants to use crapdows phone :P LOL.

Says the guy trolling on a windows phone article.

Dude just get off the site. Your very presence disgusts me. I'm cringing right now.

That makes me more to be here! Enjoy!

Here's offering you a popsicle dude.. Feel the chill hehe Posted from Windows Central for Windows 10 On My Lumia Icon

Aw ain't that sweet. You feeling special now? Carry on being ineffectual if that floats your boat.

You're attacking Windows Phone like people using it affects you personally. How pathetic are you?

I can be sure, I'm not more pathetic than you, that I can guarantee you, and yes it does effect me. Any problems? Keep them with yourself:-) Cheers!

No, an Android user desperately wants at least some updates. Maybe, this is their way out, talking about planned obsolescence.

Not a moto or nexus user. Android N is already in development and a new feature is already rumored up. I think C10M and Android N will release together.. Just for the sake of "competition".

Thay have to release a public ROM for all android phones Posted via the Windows Central App for Android

Recently bought oneplus two eagerly waiting for the rom to be released...

Dude.. Please don't spoil your phone, you'll really regret it, your choice by the way.

I'm at home only :P Helgor.

Kamesh why you are spoiling your own time

Because I have a lot of time to spoil :-)

what are you still doing here?

It really would ruin the phone. After an hour of using Android I regretted wasting years of my life with Windows Phone.

I'm regretting for like 3 YEARS. crapdows phone complete crap :-/

And yet what you really should be regretting is your misuse of the English language.

When you people say lagdroid and boreOS.. THEN WHERE THE HELL YOUR ENGLISH EDUCATION GOES?

@WC Please ban this dude. It's pretty obvious by now.

Agreed.... Ban him! I'm wondering how none of the WC writers have noticed him yet

Wow, when you can't answer, ban.. You guys should be in indian politics.

I'm now interested to look at the used oneplus market for some potential windows phone options :) Hopefully good cheap options with different hardware for my less demanding family members.

Please release for one plus one. I'll jump immediately Posted via the Windows Central App for Android

Get it on the Samsung Galaxy S7 and S7 Edge and I'm ready to get one.

If they release win 10 ROM for the old and new android flagship phones then the people who fed up with it .will take a try and stick with it rather than releasing it to mi5

People tried Windows with the 520 and the other cheap Windows phones. They didn't stick with it. Market share actually dropped, showing that people were not happy with the experience. Meanwhile Android sales have skyrocketed. Until Microsoft creates a compelling mobile platform, they will have no success in the market. Posted via the Windows Central App for Android

No oneplus one? Maybe I'll have to upgrade to oneplus 3.

Can you revert back to Android after installing windows 10 mobile Rom?

A brief recap of those phone's specs and current availability would have been nice.

MS, first release Windows 10 for existing devices with 1 GB, 512 MB RAM.

Shhhhh.... Hope Ms releases a rom for a flagship android on Verizon, I'll flash hell out of it to upgrade my icon Hehe Posted from Windows Central for Windows 10 On My Lumia Icon

First roll it out for your own users dude (Microsoft).

I dont think what type of work is doing Microsoft. No windows 10 update for their lumia devices and gives wm 10 to oneplus xiaomi etc. Shame on Microsoft

makes sense to get windows mobile running on every future android phone with a 820 and usb-c that can utilize continuum

How about ROM for BLU product? They're cheap, solid, already partner with MS, available in MS store and looks good. There was a VIVO promo last month for $99, if there is a W10M ROM I jump on asap.

Dont they use a different cpu manufacturer

What a shame.... Im still waiting a fu&$ing rom for my Ativ SE....

Hmm if this happenes i see myself picking OnePlus 2 :P

It would be cool if they will release w10m for other phone as well such as zenfone. (rocking together with my lumia 920)

Aww, no ROM for my OnePlus One? :( Posted via the Windows Central App for Android

So will Xiaomi Mi5 support continuum? Posted from Windows Central for Windows 10

But Mi5 supports 4GB/3GB RAm.

,,One" phones do look nice, too bad they are android and i don't like android. Now thry can be windows, i like windows hence i like ,,one". Good day, good day indeed.

When will we get the Official W10M for our phones though? P.S.: Which build you guys recommend for daily driver? I have a L930 with WP8.1
Actually it has microphone probs on speakers (voicemail, whatsapp recordings, etc etc....you experts might already know this issue)

Hmmm, this is beginning to look more like building a PC and installing whatever OS you want on it. It would be nice to buy any kind of "blank" phone with the exact specs you're looking for and put whatever OS you want.

So it looks like everybody knows what a "ROM" is, but i don't and I would like some precisions please! Does it mean we will be able to buy the listed devices with W10 installed on them, or does it mean existing owners of those devices will be able to install W10 on them? If the latter, how easy would be the process?

Why would anyone who already has a great phone and Android want to flash WM10 to it? Maybe if you could dual-boot but even then what's the point? Everything on WM10 is on Android and more.

So many reasons. No Google and updates just to name one plus one ;)

Wait...not their latest OnePlus X? Too bad, no w10m for me then :/

No X!=3. OnePlus 3 is rumored to release by June.

If they really wanna do this Judi
Just release this to galaxy s, s2, s3 and s4... those are phones that have mass users and don't get updates Posted via the Windows Central App for Android

That's great news!
Man, if they officially released the Mi5 in US and EU (in addition to China and India) they would have EASILY one of the best selling device. You can't go wrong with the specs/materials/price of this device! Also the VP of Xiaomi said on a periscope Q&A that the bootloader is open and you can put stock android if you have the know-how, as well as supporting the majority of LTE/4G bands. I guess it might not come to the US and EU due to patent BS :P Anyways, one of the best (if not the best) device till now

Those who questioned Microsoft's commitment to Windows 10 mobile should read this article twice.

World War 3 is going on up in comment section and you're saying to read this article twice...

Really cool. Pick your device with your favorite OS. Can't get any netter. Posted via Windows Central app for Windows 10

What about Xiaomi MI 4s? Will it be compatible with Xiami MI 4 ROM?

When can we put W10 on a Galaxy phone??

It is not coming out on oneplus one? Posted via the Windows Central App for Android

Great news! If Microsoft doesn't want to make great phone just live that other that made a great phone used a great windows 10 mobile sistem. The same mi wife doesn't like windows phone because en 2012 star with a samsung focus flash and the change for iphon 4s (the diferents was huge) but now?

Best news regarding WXM in a while. I was seriously considering to get the 4-inch iOS device with 64gb since there are no 64gb Windows phones. And I do not wish to pay around $500 to be a MS hardware beta tester. OnePlus 2.... Soon, my friend... Soon. ;-)

Grate news........ I was brought one plus x for this purpose only.i wanted to try flashing with mi4 rom,Bcoz both mi4 and one plus x have same spec and hardware...but my return period was over :D, so i didn't take a chance.just waiting for win10 rom for one plus x.thank you MS

Microsoft reportedly plans to release Windows 10 Mobile ROMs for OnePlus 2, 3 and Xioami Mi 5 While only a start. IMO This is crazy good news.

OnePlus 2, X, One and more is now on sale only on TopAndroidPhoneDeals .com

I mught get OnePlus 3 to play with Androd for a few days then flash it with Windows 10 Mobile ROM. Works for me Posted from Windows Central for Windows 10

this is just MS releasing ROMs to the two companies. Anyone has any clue as to by when can we see these three phones running windows 10 in the market? I would surely want to have the Mi5, with windows 10. That will be perfect specification running the best OS there is at present, at a very reasonable cost.

Why not oneplus one MS Posted via the Windows Central App for Android

Why bother! Android is perfect on the oneplus one. Ni need for another platform OS on this product. Posted via the Windows Central App for Android

Great. The advertisement for Windows 10 mobile will be "Buy an Android to see the best of Windows 10 mobile". Instead of all these stuffs, I wonder why don't they make deals with these OEMs to release phones with Windows 10 mobile? I am talking about the deal they made with Nokia kind of deal.

hey freinds i need your advice here, i was planning to buy xioami mi4 because of win10 rom but now after the mi5 is out, i should i buy mi5 and wait for the win10 rom or just buy mi4 ? P.S. I have to buy new phone this week or i will get to wait till summer

i need your advice freinds i was planning to buy th mi4 because th win10 rom but now after the mi5 is out should i buy it and wait for win10 rom for it ?

Now if theft released it for the HTC One M9 it'd be nice. Still good news tho Posted via the Windows Central App for Symbian

https://www.change.org/p/microsoft-windows-10-mobile-rom-availability-fo... Petition for Windows 10 Mobile ROM for OEM devices
Windows Central Newsletter
Get the best of Windows Central in in your inbox, every day!
Thank you for signing up to Windows Central. You will receive a verification email shortly.
There was a problem. Please refresh the page and try again.