Microsoft's consumer appeal on the rise, YouGov says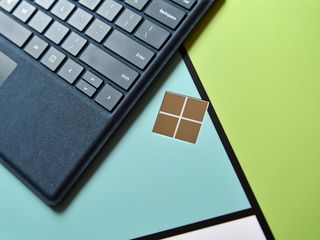 (Image credit: Daniel Rubino / Windows Central)
Much (digital) ink has been spilled in the tech press over the past several years, proclaiming that Microsoft is "cool" again, thanks in large part to the company's work on Surface and Xbox. According to a new report from YouGov, that idea may be sticking with the general public as well.
According to YouGov, Microsoft's impression score, which it says tracks the "overall positive or negative impression of a particular brand" among consumers, has hit its highest point of in the last two years. Among the general public, the score has moved upward from 36 to 40, as measured on a scale ranging from -100 to +100, between March and April. When broken down to specific demographics, Microsoft is most favored among those aged 18-34, with a score of 44. Those older than 35 came in at an overall rating of 39.
According to YouGov's data, the 18-34 group is also more likely to use cloud storage than those over 35. Those with a positive impression of Microsoft are also more likely to believe AI will "help humans in most of their daily tasks" in the future. All of this data is based on YouGov's BrandIndex, through which it says it conducts 2.5 million interviews per year on national and international levels.
Still, it's worth taking this data with the requisite grain of salt. YouGov's exact sample size is unclear, and it doesn't give a rundown in its report. When we asked for its sample size, a YouGov spokesperson responded: "To generate this report, YouGov conducted approximately 75,000 interviews with US consumers aged 18+ between May 2016 and April 2018."
Dan Thorp-Lancaster is the Editor in Chief for Windows Central. He began working with Windows Central as a news writer in 2014 and is obsessed with tech of all sorts. You can follow Dan on Twitter @DthorpL and Instagram @heyitsdtl. Got a hot tip? Send it to daniel.thorp-lancaster@futurenet.com.
Interesting but this does make a lot of sense. OneDrive is well known and I think that the Surface line has helped with making Microsoft "cool".

Well it's good to hear, but this news must have made Ol' Nads spit out his coffee this morning. He must be fuming after all the work he's put in to making Microsoft a customer-free business, then this all happens despite him.

OneNote is probably the most popular modern Microsoft service right now.
........
Surface has major consumer appeal. I work at a major international hub, and I know what devices people are using. Surface products are all over the airport. Microsoft now has Surface Laptop ads/videos running all over the airport; comparing the SL to some type of MacBook. It's that TV commercial with the colorfully dressed girl. Ads like that catch attention.

STFU ahead of time, pathetic looser troll.

Uhmmm, why did you just reply to yourself like that?

I think he's either preemptively responding to a would-be troll who comments after him OR he's trolling himself first before someone else can troll him. lol

He knows his own ulterior motives.

Reminds me of that guy out in the steets in New Orleans having a very animated argument... with himself.

I agree that Surface is a great product, however it's in my opinion that the example of Surface made Oems realize that a small 2 in 1 with Windows Ink brings a new consumer interest to purchase this device that has Mobile capability + Productivity in ways a 15.6 " laptop cannot bring because is to big for a 2 in 1 and a 7" phablet cannot do because it's just a larger phone. Asus made Windows Ink available globally for the masses with devices like the Vivobook Flip 12 and this is thanks to Microsoft Surface

I doubt OneDrive has much mindshare, Xbox is mainstream, Surface has a bit of pull.

Well, us consumers are anxiously awaiting Andromeda so bring it on!

A few of us, but if MS can improve every version of thier Andromeda device consistently, and quickly, they may gain an increased group of users/fans.

Some of that has to do with how unscrupulous google is, some of it has to do with apple's loss of innovation.

Gotta give Microsoft some credit here. It has truly become rather cool.

I mean even if Google weren't unscrupulous and Apple continued their innovation, Microsoft's efforts in the past few years would still make the company cool.

They never called me. Over the hill here. Still using the best OS, with more than a few hiccups along the way, ever. Microsoft has the advantage of messing up in plain sight.

"It's hip to be square" is still associated with BlackBerry and their Passport in my mind.

Is it more Apple hate or Microsoft love?

I think MS is stupid too drops Mobile. It's too fast, because have no alternative right now! Always has to have 3 ~ 5 telefoons running W10M and drop it when have something new coming on the market but not, dropping a Mobile OS-line, without saying it clear, but quietly stops developing. Even after finally coming on the market with the OS W10M on new high-end hardware Lumia950 (XL). It came a year or 1,5~2 later as said in the early days. It's now again with noting on the market in mobile devices and waiting for the new device and OS, Andromeda (OS?) on/with (mobile!) device and nothing now on the market! Only Lumia950 (xl) and 650/550 are only supported on security or bug fixes but not on development! And(!) there is not one new Lumia950 (xl) on the planet anymore too buy! While there are many phones and tablets too sell in stores all over the world with no up to date OS to get. Android and Samsung! BRrrrrr.
At my place they say: never throw away your old shoe's before you have same new.

Dropping those old shoes is paying for the new ones.
......
Shareholders, and MS, aren't gonna approve the funding for a new mobile device/platform while they are hemorrhaging money on the old one.

Agree. They should NOT have thrown the towel in on mobile, Groove, band etc. Crazy stupid. Smacks of wanting quick profit for the sake of long term gain. Windows mobile IS the BEST mobile OS that has been pissed on.

I agree, they should take on the same strategy they took with Bing. For years Bing was ridiculed as inferior . With time they are building up its' image and functionality. They didn't start out thinking Bing has to be first in market or we're pulling it. They gave it years to mature and it's starting to pay off for them. The same path should have been taken with mobile.

The big difference is that Google is global, and Bing is ... just about functional outside of the US.

"According to YouGov's data, the 18-34 group is also more likely to use cloud storage than those over 35" ugh why do ppl my age suck? Lol 😂

People over 35 buy non-Apple products which have SD card slots, maybe?

Have you noticed how many TV series have Surface products now? Scorpion, NCIS: LA, McGyver, Hawaii 5-0, to name a few. It seems the early prime time shows are more likely to have some cool tech person holding a Surface Pro or some woman professional using a Surface Studio than there used to be. About time Microsoft started using sponsorship to its advantage.

Outside of the US, a lot of these are digitally altered, as product placement is highly regulated in some places and outlawed in others. For some of these shows they aren't actually using Surface products at all, they are using unbranded props and the Surface logos are put in digitally.

Well, given the fact most things are isolated to the US it's not surprising. Then you have product placements in tv shows, also US based. However Microsoft do need to widen their horizons a lot more. I get why they heavily US focused (lower over heads/expenses) but it is costing them mindshare globally.

I always felt Microsoft has lacked any ability to succeed in advertising its products. The Surface probably was the first time I saw hope they could sell a product. But then you have a product like Cortana not really world wide and Bing to go with it so Microsoft still sort of maintains a North American appear and some Europe but fails at being fully marketed.

Purely anecdotal but I was pleasantly surprised when a millennial-aged contractor in our office showed up with a Surface Pro as her personal device.

My Interior designer millennium daughter stated out of the blue yesterday that her and a coworker would like a Surface laptop. It put a smile to my face. Didn't even think she knew they existed.

Well if nothing else the increased positives have given Microsoft a bottom line boost in quarterly results. For me the Xbox is no more, moved on to PS/4 have not looked back. Have used Windows for decades and don't plan to change. Even though Win 10 is my least favorite Windows since Vista. The Surface line is not my thing, I want a real solid desktop replacement with lot's of ports. But certainly their design and appeal have advanced PC makers to a more design conscious level.

I was one of the people involved in this survey, and I think that people are reading far too much into the data than perhaps they should. The survey asked some very generic questions about several tech brands, and didn't cover any specific products or services from any of them. Crucially, it didn't distinguish between things like the Surface and the Xbox, or the iPhone and iPad. It just covered the companies and their products as a single named entity. Essentially the survey boiled down to a couple of things, how close you felt to a brand and how relevant you thought it was to you. The questions were very broadly worded. For example, somebody who who played on an Xbox simply because it was what their friends had, somebody who absolutely had to use Excel for something in particular, and somebody who was obsessed with Windows phones because of "reasons" would all be grouped together. With no distinction between them because of how broad the questions were. All this survey really shows us is that People feel that Microsoft still has a strong hold on people (The survey did not distinguish between different types of users). Either that their products are good or that they are too embedded in for people to escape.

I think you missed the point of the survey. It was about the Microsoft brand, not Microsoft products. Therefore any response would be relevant even if you've never used any Microsoft product in your life.

I work on a college campus. I can confirm that I am seeing a ton of students using a Surface Laptop. We even sell the Surface Laptop in our so called "Tech Store."

Thanks. Independent opinions like these are good to gauge actual consumer interest :) To this day I have seen no devices except my own Surface in Denmark. But I know other danes buy them, because Danish reviews of them exists.
Windows Central Newsletter
Get the best of Windows Central in in your inbox, every day!
Thank you for signing up to Windows Central. You will receive a verification email shortly.
There was a problem. Please refresh the page and try again.