Microsoft's free Continuum Display Dock for Lumia 950 XL owners begin shipping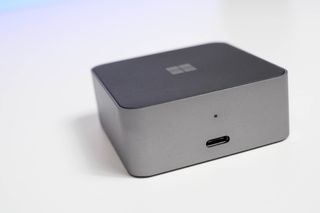 If you picked up a Lumia 950 XL this week and you followed our article about redeeming your free Display Dock for Continuum you may have noticed the 'shipping in 8-10 weeks' part after the redemption. As most savvy shoppers know that wording is just to cover Microsoft for any liability from unforeseen delays. The truth is things are moving much faster.
Many people who redeemed their code for a display dock have already received shipping notifications including ourselves. That puts the actual turnaround in the 3 to 7-day range, which is quite impressive.
The redemption process has the user simply entering a $99 discount code during the checkout process for a Display Dock. Microsoft then ships the order like any other through their online store making it much more palatable than your typical rebate.
The $99 Display Dock lets users connect their Lumia 950 XL up to a larger display along with peripherals like a mouse, keyboard and external hard drive.
Head into our forums where others are discussing the Display Dock and rebate process. There were some early concerns from users as the offer looked to be 'sold out' but after a few reattempts later on most users are redeeming the coupon with no issue.
Who else is excited about using their new Display Dock?
Windows Central Newsletter
Get the best of Windows Central in in your inbox, every day!
Daniel Rubino is the Editor-in-chief of Windows Central, head reviewer, podcast co-host, and analyst. He has been covering Microsoft since 2007 when this site was called WMExperts (and later Windows Phone Central). His interests include Windows, laptops, next-gen computing, and for some reason, watches. Before all this tech stuff, he worked on a Ph.D. in linguistics, watched people sleep (for medical purposes!), and ran the projectors at movie theaters because it was fun.
I purchased my 950xl at the the MSFT Store and they told me that the offer was for online purchases only. I didn't listen to them and tried it anyway. My order processed and should be receiving it soon.

Great for you buddy. I am (im)patiently waiting for my phone (XL) and dock as well. Preordered from a site beginning of November. Just bought me a Xbox one yesterday and would like to test it out with my soon to be received phone.

Yeah it's sad how little the store knew about the phones. The store near me only had phones to fill the preorders, and then tried to sell me the dock when I bought mine. I had to school them about the deal online. And then they didn't have any bundles with complete and screen protectors like they did with previous phones, and only one crappy case. Though I blame the typically absent marketing team at MS for the lack of fanfare, not the store employees.

I was just at the store and the sales rep told me that you will get a code inside for the dock, I pick the 950 xl up for my wife.

UPS dropped it off yesterday.

I continue to enjoy the guidance and info I get on this site. I had no intention on picking up the 950Xl but after reading a couple pieces by Ward and Rubino, I was sold. I picked it up on Wednesday and the salesman was positive that the free doc was available online only. He then said he'd give me 10% off the doc. I convinced myself that I wasn't going to use the doc and left with just my 950xl slightly disappointed. Then I read your article that I can get a free doc. I'm now elated with my 950xl. Btw, windows hello is way cool!!

I went to the store and the man said I have to prorder the 950xl to buy it at all! Like I couldn't even get the phone! MSFT WHY WON'T YOU TAKE MY MONEY???

I just tweeted you guys about this just before the article posted, lol

On that note, I'm very excited to try out the Display Dock. I agree that it has a niche appeal to it currently, but i think in the near future, after more apps become universal that the niche-ness will subside, and it can grow as a very useful feature for any platform. Corporations could incorporate it in to their productivity, where the necessity of a company issued phone can also be used as a company issued computer...albeit the company doesn't require their employee to use a feature-rich pc experience, and with Office already being on board in the continuum experience, i can picture that becoming a very real possibility, in my opinion.

I have to agree. This is far from a killer feature at this point. But when the time comes (soon) that a phone can truly replace the computer for many people, ms will be way ahead of the curve with all the infrastructure in place. A rare position for them.

Hopefully this dock is compatible with whatever the future holds for phones. Especially if they go with support for full win32 programs as they alluded to during Connect.

I feel they may be shooting for that feature/compatibly with the release of "Surface Phone". It's going to have an intel processor in it, so I can picture Windows running full programs on it at some point...or, at least that's what I'm hoping for, lol.

@Poddie. Well, MS had been ahead in certain regards such as xp based tablets, the spot smartwatch etc.

I can already see Continuum in action with just the Microsoft Wireless Display adapter. Control like a mouse with touchscreen. Pretty cool. It gives you option to switch between Continuum or mirror your phone's display.

Glad to see some people are getting their 950xl on schedule. I pre-ordered mine for ship by Nov 25 and it still has not shipped to me in Canada.

Yeah I preordered a 950xl in my local store back in October. I kept bugging them about an availability date and even as recent as yesterday they still couldn't tell me. Hopefully they don't run out of the free display docks before I get the phone

I've been checking the site daily, multiple times per day, since the 950XL went live on http://MicrosoftStore.com. The Add to cart button is always replaced by Email me when available. Not sure what to make of it: Very popular or very limited supply. Either way, this may push me to a 640XL instead, and see what Microsoft releases next.

any news for Deutschland store? Display Dock is there but i dont see option for code (later in checkout)... http://www.microsoftstore.com/store/msde/de_DE/pdp/Microsoft-Display-Doc...

Registered and got the email last night, ordered dock this morning.
It didn't discount just from the link in the email, I entered the code before checkout and it went to free.

i know... tried but dont see any place to enter code in checkout (deutschland store)... here is screenshot from checkout

https://imgur.com/bFvmesU​ - click check out (einkaufswagen), then you will arrive at that page, if you click the line i highlighted in the picture then you can enter the rebate code

Hum rahe na rahe ,Lumia rahe salamat arz kiya hai

Took about 8 hrs for the code, waiting for shipping notification since placing order. Played with continuum using ms wireless display adapter, no w10m app available for the adapter.... Everything worked pretty good. When you first get connected, it plays this welcome to continuum video. Nice touch.

Same wait for the code here, also you have to have a sim in the phone for the lumia offers app to work, will give you an error if in wifi w/ no sim

Yeah that was an interesting discovery, I'm guessing they key to the geography of the sim? I wasn't paying attention, Is this a US only offer? It would have been fantastic if it was redeemable in store at purchase.

I wish my 950xl would not say "back ordered" forever. It should have shipped by now.

Couldn't succeed at the free-dock purchasing process until after succeeding at an actual outright purchase of one. Alas, I have 2 docks coming. Not unhappy about that! :)

Similar situation here in Finland, In stock for purchase but unable to redeem. They should really stop advertising the promotion IMO

My order status say "Back Ordered" :/

Ditto.. Microsoft really needs to get on the online order, pickup in store train. They're such an amazing software company, but they do retail like it's 1985. The stores have phones for preorders only, considering the dock is free for each phone, how many docks do you think each store needs? They won't actually sell any of the on hand inventory unless folks that bought 950's at ATT decide they want one. So then they're out of stock to fulfill online, but sitting on a pile in the stores.

I joyfully recieved my 950XL yesterday morning, went to ATT for a new nano SIM, the pleasant rep used an my new IMEI so now I am only 4G (wll fix thanks to Daniel's other article), can't get Cortana to lik to my Office365 account (still wokring on), and then pointlessly bounced MS phone support for an hour trying to figure out the Display Dock Offer (I didn't realize it was preinstalled and keep looking for it in the Store). They kept having me close, reopen and restart phone without luck. Finally, on my own I thought lets see if it needs an update. Bang! Done! Now the dock is on back order for me. At least it hopefully wont't be 8 to 12 weeks. :)

Can you please link the article? I replaced my sim and only getting 4G. I thought it was normal.

It was within the past day or two. You could have them register that sim to your old phone

http://www.windowscentral.com/why-no-lte-att-lumia-950-xl

Me too. Ordered phone and dock online, USA.

My dock will be here monday. Pretty fast shipping for what said it could take 10 - 12 weeks!

Mine is scheduled to arrive on Monday. It's kind of crazy that I will have my new 950XL and the free display dock before most people even have the phone. This has been a strange product rollout.

I was gonna go out and buy another USB-C cable for my 950XL, but I'm glad the Display Dock comes with one (:

You get a charger (cable attached) and a type-c cable with the phone.

hey rubino leave this dock thingy.. give us a nice , fluffy review of 950 xl .. been waiting for it.

My shipping label printed yesterday. Still hasn't said it's moved though.

Mine will arrive on Dec 1. Very pleased to see it ship so quickly.

Mine shipped yesterday in canada

Do they have these in-store yet? I think I am going with the 950 on AT&T Next (if I upgrade after a year, it's only $360), so I'd get a Display Dock separately. However, online orders are saying they don't ship until mid-December. My dad might be making a trip to St. Louis, and if he does, I'd want to try to get him to stop by the Galleria (where the MS Store is, right by his destination), if they have the Dock in-store to buy.

They have them in the Canadian stores now even though the website says otherwise. Maybe try? :)

Oh, I will if I can. However, I'm not going to just up and do 3 hours of driving for a "maybe."

At&t has the dock for sale its 119.99

950xl arrived Wednesday, dock will be here Monday. Sweet!

Lucky ppl. I still can't get the offer from the app, even though it's been updated. Still saying "Stay tuned. Look out for upcoming offers".

Just to be sure you have a 950XL and not a 950 right? (And are in the US.)

For some reason, the promo code and web link go to a website in France for order processing. I tried to us on the US website, but I get an invalid code message. I tried MS support, but so far they are not helpful. They indicate the promo is for the US. I told them I am in the US. Crazy!

The dock is a cool thing, but you can get the same experience other ways. Continuum works over Miracast, and both the MS store and BestBuy have the MS Display Adapter on sale. You can use any BT keyboard and mouse. It really is cool to use. The benefits of the dock are a reduction in 2.4GHz interference possibilities, and it charges the phone while this is going on. Nothing stops you from just charging the phone, wired or wireless, though. A great bundle to put together for travel would be the Display adapter, the folding BT keyboard, and the new designer mouse. The mouse is decently priced and fairly small. You might want to include a USB extension cord, as a hotel TV may not always have a powered USB socket close enough to the HDMI port to power the adapter.

My question before picking it up is whether or not you can stream Xbox one gameplay through the Xbox beta app.... I would love to use my phone to stream to other screens in the house. if anyone tries, please let me know.

Currently there is no stream option in the app on continuum.

I received my phone Wednesday evening, but my 640 didn't have the Nano SIM required by the 950xl. Lumia offers wouldn't allow me to redeem since the phone wasn't active with a SIM. I got my SIM at the AT&T store yesterday, and ordered my dock by midday. My status for my continuum dock now shows backordered. Blah!

Next time, cut the sim card yourself.

Nano SIMs were advertised as standard gear or you can cut yours with just sharp scissors and not wasted the drive.

Still hope at&t will one day soon carry the 950xl.

I hope that something better than the 950xl comes out next year.

I was playing with Continuum last night. No display dock, I had it running over the Wireless Display App on my Xbox One. I had some music playing and then checked out some Youtube, everything ran quite well

I can't get a dang phone... Sold out in stores near me :(

Mine says Back-Ordered... I'm guessing I'll be waiting for another while. Loving my 950XL, and hoping it will shipping soon because I definitely want to try continuum.

I'd love to see what's inside one of these things

Received my 950XL on friday in the Netherlands, entered my code on saturday and today received the shipping info!

Mine says "Out of Stock" when I click the link in my inbox :( No way to order.

I am having the same issue when trying to order the dock. It keeps saying out of stock, however, if you go straight to the site it allows you to purchase it. I tried purchasing it and redeeming the code but it doesnt go to $0, i ended up ordering it thinking it would take but had to call microsoft to cancel. Does anyone know how to get around this? This has been so frustrating, if we are the hardcore microsoft fans and have been loyal, why are they treating us like this.

I got my Lumia today and the offer is still there, but now it says "Sorry, this offer is no longer available". No information on where to call or anything.

Can't get dock the last few days it says its sold out and Microsoft has been telling me that it's over they sold it

I received my 950XL Monday (delivered at work after the holiday). I immediatley configured the phone and went to Lumia offers. I went through the process but after entering my info, it told me that the offer was discontinued. Doesn't make sense since the app says the offer is active. in fact if you go to the online store, the offer is still there too. I called the MS store to find out what was going on. they said it was sold out. I asked how many did they have available if it is sold out on day 1? besides I said that the offer is still valid on their web site. Knowingly advertising that when they know they will not honor it is fraud. A manager told me that MS will honor the offer, but it may take time. so check periodically

Had the same problem. Kept checking. Today I was shocked to see it go through. You should try again as soon as possible.

I purchased my Lumia 950 XL at the new MS mega Store in New York City on 11/07/2015 and processed the request for my free-of-charge Display Dock order after my return to Germany! Today I received the dock already and I am extremely pleased with the phone and with the absolutely no hassle process of geting the dock! Great job Microsoft!


I just got the dock today. I thought I would get it long after christmas as the estimated delivery was in TREE MONTHS :p Denmark. Ordered under a week ago.

Ordered mine one mounth ago. Still not receive it!:(. I don't know what's wrong...

GUYS THERE COULD BE A PROBLEM WITH THIS.. I picked up two phones, registered one for the free dock ok.. Then other I did a factory reset on as it could not see a 920 backup, got the backup did then update etc and the Lumia Offers app is gone..so cant register for a free dock for that one.. SO make sure you register before any factory resets.. Anyone have a MS contact number ?

Try the Microsoft Store: 1-877-696-7786

OK if you so remove it get it back at : http://lumia.ms/1m9RWMs .

I just got my Lumia 950 XL - probably one of the first in the UK to get one in my hands. Went through the second time I tried.


Have the phone since 5 weeks, and this thing ordered since 20Jan. No information yet. still says Back Ordered
Windows Central Newsletter
Thank you for signing up to Windows Central. You will receive a verification email shortly.
There was a problem. Please refresh the page and try again.