Microsoft's latest device lineup truly (and finally) rivals Apple's
Microsoft now has a lineup of devices that directly rivals Apple's offerings. So what's next for Surface and Xbox One?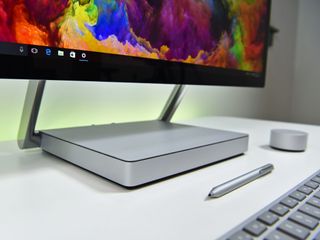 Over the last few weeks, Microsoft held several hardware events, unveiling new devices for consumers, professionals and "creators." Back in 2012, Surface was just an experiment, an idea that encouraged third-party OEMs to build great hardware. In 2017, things are very different. Surface is a brand that people want, it's a brand that people love, and it's a brand that can directly compete with Apple's Mac and iPad.
It's a Windows user's dream come true.
For the longest time, Windows hardware was absolute rubbish. Laptops were clunky, they were slow, and they were gross. Just seven years ago, Windows had a reputation of being the OS you used for getting work done. It wasn't what the "cool kids" used. For that, you had to get a Mac or an iPad. In 2010, the MacBook Air and iPad launched to great interest. iPad and the MacBook Air left Windows devices in the dust when it came to premium, well-built hardware.
Even today, the MacBook Air is considered by many to be one of the best laptops of all time. Sure, it's no longer up to snuff spec-wise, but its design is still one that rivals new Windows 10 laptops. You can say what you want about Apple, but the company got it right with the MacBook Air. Much like the iPhone redesigned the smartphone, the MacBook Air singlehandedly created a new class of laptop, which we now commonly refer to as "Ultrabooks."
Over the last few years, however, things have changed. The launch of the Microsoft Surface in 2012 changed the Windows devices market. It put Windows hardware on a pedestal, and it said, "OK, hardware makers, this is what can be done. Do better." The Windows market is now full of premium, high-end Ultrabooks, but nothing beats Microsoft's current lineup of Surface devices in 2017. The new Surface family of devices is one that directly competes with both the iPad and Mac, a position Microsoft hasn't been in for a long time.
The new Microsoft Surface family
The Surface Laptop is a direct competitor to the MacBook Air. Not in terms of specs, but in terms of design and consumer appeal. It's the new "cool kids" device that everyone wants. It's incredibly thin, outrageously sexy and a pleasure to use. The Surface Laptop exists purely to cater directly to the same market that would buy a MacBook Air, mostly students and young adults, or people who don't need to do any demanding work on their laptops. If you use your laptop to browse the web, watch content, listen to music and edit documents, you would get a MacBook Air or a Surface Laptop.
Surface Laptop review: Microsoft's best Surface ever — but you pay a premium for it
The Surface Pro is Microsoft's answer to the iPad Pro. Or should I say the iPad Pro is Apple's answer to the Surface Pro. Microsoft defined the 2-in-1 category with the Surface, and Apple responded by making an iPad that can also be used as a laptop. We all know that the Surface Pro is the better choice out of the two, based on usability alone. The iPad Pro, running iOS, is still very limited in what it can do. It still doesn't have mouse support, and using it with the keyboard isn't very "lapable." Microsoft solved the lapability issue with the Surface Pro and Type Cover.
Next, you have the Surface Studio, which you could argue competes with the iMac. The Surface Studio is more for a niche market, however. It's less for the regular consumer and more for the avid creator who will take advantage of that beautiful 28onch PixelSense screen. Still, much like the iMac, the Surface Studio is a great all-in-one for video editing, photoshop, and casual use for things like email, music and more. It's a productivity machine, with the added benefit of being able to lay it down and work with a pen.
Finally, there is the Surface Book. I'd say this one competes directly with the MacBook Pro. Maybe not the high-end MacBook Pro, but definitely with the 13-inch MacBook Pro. Surface Book is a beautiful laptop that also turns into a tablet, although if you were to buy the Surface Book and use it primarily as a laptop, no one would blame you. The Surface Book is Microsoft's "ultimate laptop" and is a gorgeous piece of hardware.
Microsoft's Xbox One family
Alongside the Surface family of devices, Microsoft now has an Xbox One family of devices. Apple doesn't make a rival console, but the new Xbox is still noteworthy.
The One S and One X are part of the same story, and that's an important fact that needs to be pointed out. They're two versions that are part of the same ecosystem, meaning they work with all the same games and accessories. The One S is the entry-level Xbox One, allowing gamers, and even non-gamers, into the Xbox ecosystem for a lower price.
Xbox One S is a fantastic entertainment console. It's not just a gaming console. It can be used for Netflix, YouTube, BBC iPlayer, Amazon Video, and a wide variety of Windows 10 apps. You could say the Xbox One S is a rival to the Apple TV, with the Xbox One S being far more powerful and with far more features, such as being able to play the latest generation of console games. It's an awesome box for the price you pay and reaches out to all kinds of markets.
Xbox One X FAQ: Price, release date, preorders, specs, games and more
The Xbox One X is for the more hardcore gamer/AV enthusiast. If you want 4K everything, you want the Xbox One X. The Xbox One X does everything the Xbox One S does, but in a slightly smaller package, and with some added horsepower that enables true 4K gaming. The Xbox One X is a console in its own league and is a first for a gaming market that's used to new consoles every 10 years or so. Xbox One X breaks that boundary of generation consoles, by adding a more powerful console to the current generation instead.
What's next?
Microsoft now directly competes with Apple in several markets. It has a foot in the laptop, desktop and tablet market, as well as the gaming market with the Xbox One S. So, what's next for Microsoft? The obvious answer is to enter (or re-enter?) the phone market. But that's something Microsoft has done before, and it didn't exactly end well in the past.
Phones are the only market in which Microsoft has repeatedly failed to gain traction. Every attempt it's made has ended in disaster. Admittedly, Microsoft hasn't made a "Surface phone" yet, but the precedent of failure is still there. The fact of the matter is, however, the future of computing is mobile, and Microsoft needs to be there if it wants Windows to succeed.
Will a "Surface phone" rival the iPhone? We don't know. We don't even know if the Surface phone will even be a traditional phone. Whatever it does end up being, however, it needs to do well and gain traction, otherwise, what's the point?
Get the Windows Central Newsletter
All the latest news, reviews, and guides for Windows and Xbox diehards.