Minecraft Dungeons 'Creeping Winter' DLC: Everything you need to know
Making a great game even better, with new areas, enemies, and loot.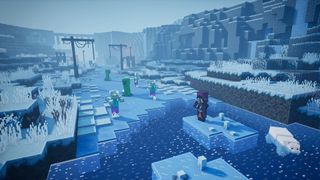 (Image credit: /u/zozozrobv2 on Reddit)
Minecraft Dungeons has been making waves with its addictive gameplay and surprisingly deep content, and it looks set to get even better. The Hero Edition of Minecraft Dungeons is going to feature at least two DLC packs to be released in the future, and the second will be Creeping Winter, following the Jungle Awakens DLC. A new frozen area, unique mob variants, and an injection of new gear and artifacts are all expected.
Here's everything we know so far about the Creeping Winter DLC.
Related: How to create a farm for infinite XP and emeralds in Minecraft Dungeons, even while AFK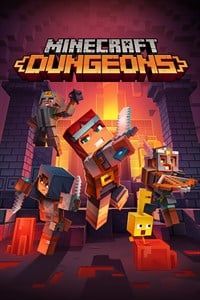 Not your average Minecraft
Minecraft explores the dungeons.

Minecraft Dungeons is the next saga in Minecraft's story, and Mojang Studios have knocked another one out of the park. Awesome co-op combat paired with powerful loot, all at a crazy affordable price? There's not much more you could ask for in an epic dungeon crawling ARPG.
What is the Creeping Winter DLC for Minecraft Dungeons?
The Creeping Winter DLC looks to be one of the two expansion packs included with the Hero Edition, along with the Jungle Awakens DLC and will add a whole slew of new content for players to get their hands on. The injection of content should be relatively hefty, with new areas, mobs, and gear. Most of what we have is leaks so far, so take everything here with a grain of salt. We'll update this post whenever we learn more.
Related: We interviewed a Minecraft Dungeons lead about the future of the game and its expansions
Free update
Now that the release date for Creeping Winter has been confirmed for September 8, 2020, we also now know that there will be a free update included, just like with Jungle Awakens. This update will roll out to everyone, even those who have not purchased the Hero Edition or DLC, so all Minecraft Dungeons players will benefit from its changes. We don't know for sure what the free update will include, but we expect a host of balancing changes, bug fixes, and new vendors for the camp.
The free update will roll out at the exact same time as Creeping Winter, so all players will benefit from the gameplay changes and base upgrades in the DLC, even if they don't get the additional levels, mobs, or gear to play with.
New levels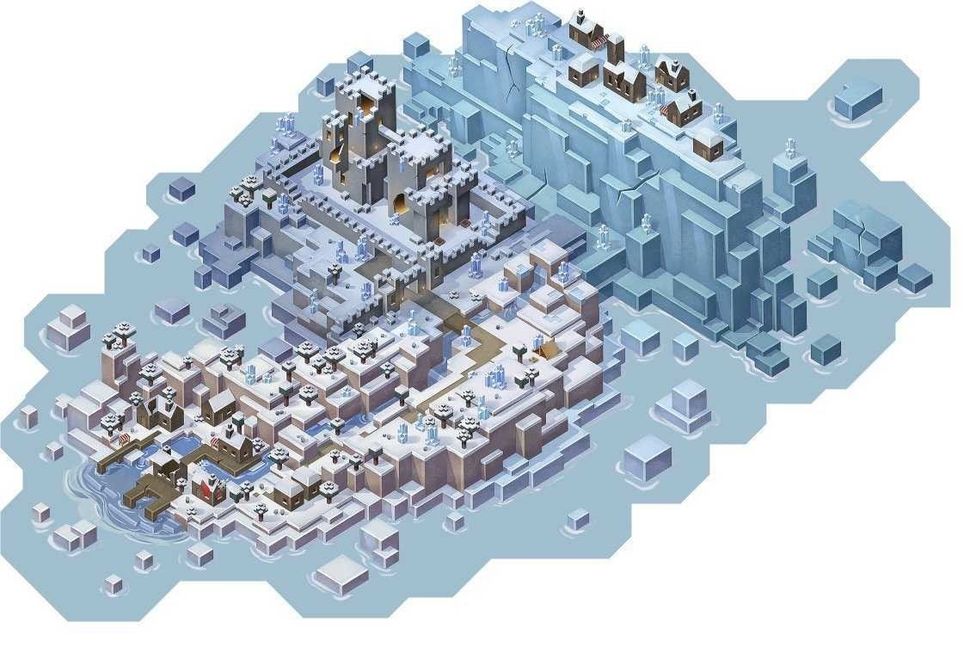 We know that Jungle Awakens will have at least three levels, but at this time we can only confirm two for Creeping Winter. Using loading screen information hidden in the game files, we can surmise the names of the levels, and from there can make some educated guesses. It also helps that we have some images.
Frozen Fjord. Putting aside the strangeness that is the word "fjord," this level seems like it might be more open and expansive, with wide frozen areas filled with some very cold mobs and some rather chill polar bears.
Lone Fortress. This screams boss fight to me. We know that there's likely a boss mob known as "the False King" present in Creeping Winter, and this seems as likely a place as any for it to appear. Enchanter statues and a desolate walkway lead to the gaping entrance to...what, exactly?
New mobs
Just like with Jungle Awakens, there's no telling just how many new mobs we can expect here, but we've counted quite a few so far. There seems to be some similarities to Jungle Awakens, with at least two existing mobs getting new variants, an additional pet and companion, and a few completely new hostile mobs all being added to the game. In any case, here's what we know of so far.
Frozen zombie.
Icy creeper.
Wicked wraith.
A new illager?
Polar bear.
Arctic fox.
Frozen zombies and icy creepers are pretty self-explanatory, although we're all excited here to see what an icy creeper does when it explodes. Judging from the quality of animations so far in Minecraft Dungeons, it should be pretty awesome. We also have heard of something called a wicked wraith, which sounds like it could be suped up variant of the regular wraith.
In the image for the Frozen Fjord level, we can also see an illager that doesn't look quite familiar. Possibly a new addition for the Creeping Winter DLC? Besides that, we also have the polar bear, which could be a new companion like the iron golem, and the cutest thing on the face of the earth, the arctic fox. I want it. Now.
New gear
Source: Windows Central
It's inconcievable to think Mojang Studios isn't going to pump both of their DLC packs with a mountain of loot to discover and use, so of course we found evidence of this in the game files. We found at least one new weapon, called the Ice Wand, and one new set of armor, called Snow Armor. Both of these seem like perfect fits for the Creeping Winter DLC, so here they are.
I'm personally curious as to what the Ice Wand could be. Will it be a pseudo-ranged melee weapon that casts ice shards? An area-of-effect weapon? How will it work? Hopefully it won't be too terribly long before we can see for ourselvse. As far as the Snow Armor is concerned, it looks like a lighter melee-focused armor that might add some kind of frozen ability or protection against cold.
We saw quite a few artifacts, but we're not able to reliably separate them into which DLC they could be included in every time. One that had an image is the Totem of Soul Protection, which could be a defensive artifact that costs souls, making it perfect for players that live and breathe it. The other one has no image, and only a name: Caller's Bane. Yeah, we have no idea either. We'll have to wait a bit on this one.
There are undoubtedly other artifacts on top of this one, including (hopefully) some that continue the icy trend the rest of Creeping Winter is following. I'd love to be able to explode in a enormous plume of ice and rock.
New mechanics / consumables
Source: Windows Central
The game files include mentions of additional potions like the Oakwood Brew and Sweet Brew, as well as accompanying inventory icons for existing consumables, which possibly eludes to a new system for consumables, like being able to swap out potions or having multiple insant-use consumables that you can stash up. Who knows, we might even be able to see a brewing system put into place. We don't know if this would be added in Jungle Awakens or Creeping Winter, or even quite what it is at this point, but the possibilities are exciting.
There's also a new food item: cooked salmon. Another random drop from animals that don't make sense, or an actual use for the fishing rod?
Then there's diamond dust. This was supposed to be a way of upgrading equipment you already own, instead of having to replace it the moment you got something higher level. You were supposedly able to buy diamond dust with emeralds from the mason, another vendor in camp. This never manifested in the game, unfortunately, but it can still happen in the DLC. If this happens, they need to include it in Jungle Awakens, because the game needs this as soon as possible.
New challenges
Minecraft Dungeons is a ton of fun, especially with friends, but it leaves a little to be desired when it comes to variety of gameplay, and the endgame loop that is normally the strongpoint for ARPG's like Diablo. While we've long speculated something similar to Diablo's Rifts, but with the Nether Portal you can find in camp, we also need motivation to continue playing the game long after we've seen all the levels.
We're not sure what it'll look like or if it's going to happen, but Mojang Studios could be planning a daily and weekly challenge system, possibly accompanying seasonal events, to encourage players to accomplish specific tasks in exchange for rewards. This could be very interesting, depending on how its done, but we don't know what the challenges could be, or how players would be rewarded for completing them.
What will the pricing be for the Creeping Winter DLC?
Pricing information hasn't been confirmed for Creeping Winter, but we can infer a lot simply from how Jungle Awakens was set up, and from what Mojang Studios has told us. We do know that Creeping Winter will be included at no additional cost with the Hero Edition of Minecraft Dungeons, so if you bought that edition, or the Hero Pass Upgrade ($10 at Microsoft), you're all set! If you haven't, and don't want to buy the full Hero Pass Upgrade, you should be able to buy Creeping Winter by itself for $6, but that pricing hasn't been confirmed yet.
Finally, for those who are interested, Minecraft Dungeons is getting a physical release on disc for Xbox, PS4, and Switch! The physical release will happen right alongside Creeping Winter, and it'll be for the Hero Edition, so anyone who buys a copy of Minecraft Dungeons on disc will immediately get both Jungle Awakens and Creeping Winter, as well as the included cosmetic items. Pretty sweet, if you ask me. If you're wanting to secure a copy of Minecraft Dungeons for yourself, you can already pre-order the game from Best Buy below.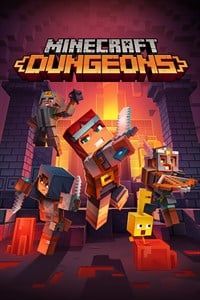 Now in physical
Minecraft Dungeons: Hero Edition
Dive into the dungeons on disc.

Minecraft Dungeons is already an epic co-op ARPG adventure on your favorite digital platform, but it has yet to be seen in the real world. Now that's about to change, with Minecraft Dungeons coming to discs for the first time with a physical release. Even better, the physical release is the Hero Edition, so it includes everything you need right out of the box.
When is the Creeping Winter DLC for Minecraft Dungeons release date?
Update, August 14, 2020: The release date for Creeping Winter has been officially revealed, and it's coming on September 8, 2020 alongside another free update and a physical release on discs.
Update, May 29, 2020: Microsoft has officially confirmed the existence of at least one of the two DLC packs we've been reporting on, and revealed the release date for that DLC. Jungle Awakens will be the first major update for Minecraft Dungeons, and will be included in the Hero Edition come July 2020. Based off this, we can speculate that Creeping Winter is coming in Septembr, 2020. Read more here.
Update, May 28, 2020: Due to a Nintendo eShop page, we may now know when the Creeping Winter and Jungle Awakens DLC packs are planned to release. We don't know which order they'll come in, but the planned release dates might be July or September, 2020. Find out more here.
We have a very solid idea of when we can expect Creeping Winter in our homes, based off what we know about Jungle Awakens. To be clear, while Jungle Awakens is one of the two DLC's expected with the Hero Edition, and is planned for a July 2020 release, we don't have official information regarding Creeping Winter.
That being said, the chances that this is the second DLC planned for Minecraft Dungeons are very high, and it's probable that the release is planned for September, 2020. Mojang Studios gave us official confirmation that Jungle Awakens is coming, and Creeping Winter leaks have always come hand-in-hand with Jungle Awakens leaks, including being very present in the game files. We won't say 100% yet, but you don't need much salt for this one.
Image 1 of 2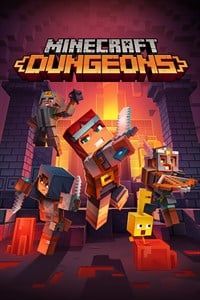 Not your average Minecraft
Minecraft explores the dungeons.

Minecraft Dungeons is the next saga in Minecraft's story, and Mojang Studios have knocked another one out of the park. Awesome co-op combat paired with powerful loot, all at a crazy affordable price? There's not much more you could ask for in an epic dungeon crawling ARPG.
Main
Get the Windows Central Newsletter
All the latest news, reviews, and guides for Windows and Xbox diehards.
Zachary Boddy (They / Them) is a Staff Writer for Windows Central, primarily focused on covering the latest news in tech and gaming, the best Xbox and PC games, and the most interesting Windows and Xbox hardware. They have been gaming and writing for most of their life starting with the original Xbox, and started out as a freelancer for Windows Central and its sister sites in 2019. Now a full-fledged Staff Writer, Zachary has expanded from only writing about all things Minecraft to covering practically everything on which Windows Central is an expert, especially when it comes to Microsoft. You can find Zachary on Twitter @BoddyZachary.