Deal: Score 10GB of data with unlimited text and calling from $27 per month
Looking for a killer deal on a new cell phone plan for yourself? Don't miss this awesome offer from Mint Mobile!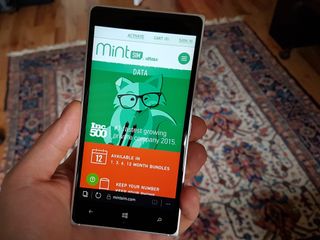 In the recent years, we've seen a whole lot happen to cell phone plans. First unlimited data, then price hikes, then tiered data, cheaper plans, the return of unlimited data and so much more. Competition continues to grow in this field, and Mint Mobile is getting in on the action with some extremely aggressive pricing for its plans. Mint Mobile is an alternative carrier that offers you an extremely affordable way to have the data you need on your phone, and right now you can save an additional 20% off any 6 or 12-month plan using the coupon WCMINTSIM20 (opens in new tab).
Mint Mobile utilizes T-Mobile's growing 4G LTE network to ensure you have great coverage and fast speeds across most of the United States. The way it works is Mint Mobile buys access to networks and packages and then is able to resell them to its customers for better rates than the major carriers are charging.
Save 20% with coupon WCMINTSIM20
With Mint Mobile you can port your existing number over, or start service with a new one if you wish. You can pay monthly, or buy in 3, 6, or 12-month bundles, which help you save even more.
The additional 20% off comes when you buy either 6 or 12-months (opens in new tab), but the savings is pretty big. The Big Four carriers charge upwards of $90 a month to gain access to a reasonable amount of data, meaning you are paying nearly $1,100 a year for service. With Mint Mobile you can get 10GB of data per month with unlimited talk and text for just $323 for the year.
You can't afford to miss out on this deal
There are a ton of deals out there, but none of them are quite this good. You can use the unlocked phone of your choice with any of these plans, so pick one you like, order a new SIM card (opens in new tab) and give it a shot today!
10GB per month at $27 based on one year plan using coupon code. Does not include regulatory fees of $4.
Jared started off writing about mobile phones back when BlackBerry ruled the market, and Windows Mobile was kinda cool. Now, with a family, mortgage and other responsibilities he has no choice but to look for the best deals, and he's here to share them with you.
This is not even a good price.. I give like 18$ for 25gb data and 15 hours talk time free sms and mms.

Come to Canada or to Great Britain.

I live right by Canada... maybe I should see what kind of deal I can get

I'm just kidding. This company is not available in Canada at all. This useless company is US only just like Microsoft is with their new products.

also in Italy there are very cheap plans, now I pay 10€ for unlimited call and 8gb/month, but I would take a new promotion for 10€ with 30gb and unlimited call...obviously yom must use Italian(and European) mobile networks, so international comparing isn't possible...

This company not available in Canada so not going to take this offer!

Not available on Mars either. Come on now WC, why post such wonderful deals if not available for every. single. region??? /s

To WC team: I think you should prefix articles with a hint about location. At least we would know what country gets what, even if it seems obvious for some...

I switched my family over to MintSim from AT&T and so far I'm very happy. I get faster speeds ~20mbps (probably due to less congestion on T-Mobile's network) and I'm saving $550 per person each year. There are a few simple tweaks in setup you have to do to get MMS working on Windows Phones, but I found the proper settings on Reddit and it works perfectly now. The one and only drawback to MintSim is that they don't support Visual Voicemail for phone messages yet. I love their web interface/animations too; it's very easy to check how much data you've used.

I'm considering switching to Mint from Straighttalk, how easy was it to find the correct MMS settings?

It's not super easy, but they are out there. I had to help MinSim support figure out the settings. One trick is that you have to turn on MMS in the Messager app settings.

in Indonesia with Rp 125,000 or around 9.4$, I got 45 GB/month
Windows Central Newsletter
Thank you for signing up to Windows Central. You will receive a verification email shortly.
There was a problem. Please refresh the page and try again.