Mint, MyFitnessPal, Today's Word and more are your app highlights for the week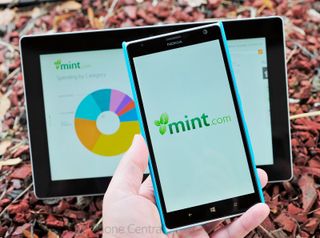 Another week has gone by, which means it's the perfect time to sit back and go over the big app news for the week. That's right, it's your favorite little column where we look at the big new apps that hit the Windows Phone Store. We'll also look at any apps that received substantial updates, cool new betas, and a few games. Let's jump in.
New
Mint – It took long enough, but it's finally here. Mint.com has released official apps for both Windows Phone 8 and Windows 8. It's been a roller coaster of a ride with Mint and Windows Phone. Earlier this year they said they had no plans for the platform. They then quickly announced a beta, had a few participate and released killer apps to the Store. Mint is one of the most popular finance aggregators out there. It helps you set budgets and keep your finances in check. It's only available for customers in the United States and Canada, so keep that in mind before downloading. Get it for Windows Phone 8 in the Windows Phone Store and grab it for Windows 8 from the Windows Store (opens in new tab). (Free)
Dragons Adventure Companion – Have kids and a Nokia Lumia 2520? Then you'll want the Dragons Adventure app for the Lumia 2520 and the new companion app for Windows Phone. The kids play the game on the tablet while you use the phone to set quests and interact with them. The app/game is free, but you're going to definitely want the Lumia 2520 and Dragons Adventure to make it worth your download. Get it in the Windows Phone Store. (Free)
Track Runner – We've got a handful of activity trackers on Windows Phone, but Track Runner is one aimed directly at runners. It is featured packed with options and tricks that should make this an app to consider if you're into running. For example, Track Runner has the option to automatically mark off laps while you're running. Get it in the Windows Phone Store today. (Trial/$1.99)
Paper Snow – It's nearly Christmas and a new app for Windows Phone lets you recreate one of our favorite holiday traditions- paper snowflakes. Paper Snow is an app that gives you the ability to create virtual snowflakes on Windows Phone. After making one, you can share it to various social networks like Facebook, Twitter, and Instagram. You can also save it locally to your device! It's a fun free app that you should check out. Get it in the Windows Phone Store. (Free)
Today's Word – We're always trying to better ourselves. Today's Word is a free app for Windows Phone that will better your vocabulary one day at a time. You'll see the word of the day on the Live tile with its definition or you can hop directly into the app to see what's your word of the day. You can share your word of the day with your various social networks and hopefully improve their knowledge. Grab it in the Windows Phone Store today. (Free)
Updated
MyFitnessPal – If you're into tracking your daily fitness activity and food intake you're probably already using MyFitnessPal. The recent update for Windows Phone brings new features like voice commands, push notifications, type-ahead searching, more languages, and complete support for different units of measurements. This is already one of our favorite apps and the latest update makes it even better. Get it in the Windows Phone Store today. (Free)
Sozoom – You need this app for you Nokia Lumia 1520 and 1020. It's a fun little app that will help you show off the power of your PureView camera. Sozoom takes your high-resolution photos and allows you to show how much zoom you have at your disposal. The new update brings HD output for photos and more. Get it in the Windows Phone Store. (Trial/$0.99)
MoliPlayer Pro – The latest update to MoliPlayer Pro makes it even more of a must-have app for your Windows Phone device. Update the app and you'll get new features like dual-audio MKV playback, WiFi transfer to a folder on an SD card, and much more. MoliPlayer Pro is the most advanced and feature packed video player for Windows Phone, so you should go download it from the Windows Phone Store now. (Trial/$2.99)
6snap – Rudy Huyn's Snapchat client keeps getting better and better. The latest update to 6snap brings filters, the ability to blur photos, fast-app resume, and so much more. You need to update it (or download it) right now from the Windows Phone Store. (Free/$1.29 to remove ads)
Games
Angry Gran Run – Better late than never. Angry Gran Run is a popular games on other mobile platforms that is finally now available for Windows Phone users. It's an endless runner game that is tons of fun and helps put you in the holiday spirit with its Christmas theme. Get it in the Windows Phone Store. (Free/In-app purchases)
Rail Rush (Christmas update) – Rail Rush came to Windows Phone in late October. Its latest update puts a Christmas spin on the popular game and gives it new legs. Get in the Windows Phone Store. (Free/In-app purchases)
And that's it for this week. Have any favorite apps? List them below!
Windows Central Newsletter
Get the best of Windows Central in your inbox, every day!
Does anyone know of they let you input your PG&E, at&t, and other company account to manage your bills? Checkinc aka pageonce does but their app sucks donkey b@!!$

No it is a financial management app only. (Banks and other financial institutions like retirement funds, etc.)

This Suck. I seriously thought Mint was a complete replacement for Pageonce. If Pageonce ever decides to update their app, I might switch back to them. I won't hold my breathe though.

blackhawk, get mobiligy, i just got the app, i can input my bank account and my info for pgne, and atnt and all it shows me when the bill is due and for how much. click on it whenever you want and it pays it using your accounts. it's the best finance app for paying bills on the market imho. cheers.

Mobiligy? Nothing shows up in the store. You sure that's the name??

sorry its with two Ls : mobilligy

Pageonce said they weren't developing anymore for wp8 a few months back so this app is as good as it's going to get. On other platforms it's not even called pageonce anymore its called Check. Too bad because I liked it and the IOS version has some great features.

When Angry Gram Run was released to the others platform? Just curiosity.

I still cant download Mint. Maybe because the service is not available in my country, which is bullshit imo.

I can download it but can't login. Been waiting for this app. Hopefully they update it soon to fix this issue.

As the article says US and Canada only..

Myfitnesspal is still as buggy as ever :( Someone really needs to help them out. 6 months on a release cycle and old bugs still aren't fixed.

I have been using Myfitnesspal for a long time and have no issues. What kind of problems are you having?

The scanner will lock up my 1520 and 920 phones. There are reports it's limited to the higher end Nokia phones. Also, the app gets into a state where it can no longer search. The only fix is to uninstall and reinstall. The scanner lockup has been there for 6 months and two software releases. These issues are well detailed in the app reviews.

I'm running it on my Lumia 521, and it's mostly problem free except the occasional scanner freeze. It happens maybe 1 out of every 4 scans, and while not THAT much of an issue, it's annoying. Wish they could fix it. Other than that, I don't think I've seen any bugs in it. Hope this new version doesn't mess anything up!

Been using Mint since it came out for Windows Phone, and it works like a charm.