Mobile Nations Weekly: iPad Pro on the scene
Really big news this week: the iPad Pro is here and, well, it's really big.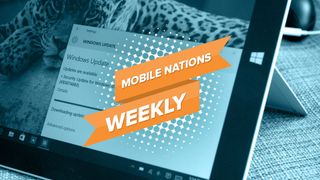 We're hitting that point in the year where we're running up against the holidays, which means manufacturers are running out of time to get their latest wares out. So we're looking at the last launches of the season: the Apple iPad Pro this week and the Microsoft Lumia 950 next week. Oh, and TAG Heuer launched a new Android Wear smartwatch — and it's not cheap.
The Mac App Store ran into some issues, Windows 10 got a bunch of small but useful updates, and Microsoft's plans to get Android apps onto Windows Mobile aren't going as planned
All of this and more, this week on Mobile Nations.
Windows Central — Rise of the November Update
This week saw a lot of changes going on at Microsoft. Windows Central reported that Microsoft's attempt to let developer port Android apps to Windows 10 Mobile is being put on hold indefinitely. Unlike Project Islandwood for iOS, Project Astoria was closer to an emulator like system. Microsoft's three other software 'bridges' for web apps, Win32 apps and iPhone games continue.
Turning to more positive news and the Xbox One saw releases of Rise of the Tomb Raider and Fallout 4, both of which are receiving high praise.
The first major update to Windows 10 is now out. The so-called November Update brings a bevy of small, but useful changes throughout the OS, adding more polish, optimizations and UI tweaks.
Finally, we reported that Friday, November 20 is the release day for the AT&T Lumia 950. The phone will be available for $549 off-contract although on-contract pricing is not yet announced. The phone will also be sold unlocked through the Microsoft Store. The Lumia 950 XL is expected to be released shortly after and now includes the free Display Dock for Continuum.
Android Central — Big announcements, new top devices
Everyone at Android Central is recovering from a BlackBerry Priv hangover, but there was plenty that happened this week to get us all back in the swing of things. TAG Heuer launched the most expensive Android Wear watch to date to kick off the week, then T-Mobile followed it up with some big plan changes on the carrier front. Google finally updated Maps with offline navigation, and LG released the first Android Wear watch with LTE connectivity.
For our part we released the latest in our Android History series — this time breaking down 2011's progressions — and compared the new Nexus 6P and Nexus 5X to their predecessors. We also have a new leading device in our Best Phones list, and a new top Chromebook to consider if you're looking to buy now.
Read the latest entry in our epic 8-part Android History series
CrackBerry — Getting to grips with the Priv
With the BlackBerry Priv review out of the way, we've now moved into helping folks get the most out of their device with plenty of help and how to articles to get you started with Android, whether it be the basics or more advanced options. Aside from that, we also posted up the first look at what will likely BlackBerry's second Android smartphone to hit the market, known as 'Vienna'.
iMore — iPad Pro is here!
Weird week—The iPad Pro went up for order on Wednesday… and promptly showed up in stores the same day! There were precious few Apple Pencils or Smart Keyboards to be found, which means frustrating multi-week delays for most everyone who wants them. We're still finishing Apple TV coverage but we'll be ramping up iPad Pro all this week as well. Keep it locked on iMore!
Kicked — The smartest water bottle
This week on Kicked Weekly we feature the best prank greeting card, the world's smartest water bottle and even a moustache protector! And we talk about the video of the lady who ordered furniture from eBay but instead received bags of live fish. (A common mixup to be sure!) Plus, Dan's sweater needs to be seen to be believed.
For the coolest crowd funding projects you need to know about (along with a few weekly antics) be sure to subscribe to the Kicked TV YouTube Channel and follow us on social media. We're active on Twitter, Facebook and of course Instagram.
Connectedly — Cameras, TV, and desks that move
This week on Connectedly we took a look at the world's first consumer 3D VR camera and a sleek standing desk in the TableAir. We checked out the Pulse camera and professional-quality time-lapse photography. Finally, you can now be social with your friends and watch TV using the Cast.
Get the Windows Central Newsletter
All the latest news, reviews, and guides for Windows and Xbox diehards.
Derek Kessler is Special Projects Manager for Mobile Nations. He's been writing about tech since 2009, has far more phones than is considered humane, still carries a torch for Palm, and got a Tesla because it was the biggest gadget he could find. You can follow him on Twitter at @derekakessler.
Can't wait to see the SP4 tear the iPad Pro apart :)

According to the verge the iPad pro is cutting edge. Never before has there been a tablet that can replace your laptop.;-)

The Verge gave a higher rating to the iPad Pro than the SP4. Also, every problem that was noted in their review "from a designer's perspective" could have been fixed if she'd just gotten a Surface.

I like to call the iPad Pro "the tablet that can replace your other, smaller tablet. Also you'll still need a laptop or desktop somewhere for the real work."

Or a surface pro 4/3 or surface book.

They need to quit smoking the iPot.

I noticed a bit of a bias.

Nah, that's just keys in his pocket

I stopped reading many blogs because of Fanboyism when they promise to be impartial. Ironically, my partner works in a PR firm and told me that these "#1 products" are often bought for 10s of thousands of dollars to maintain their "awesomeness" with the crew. Not to mention complementary devices for employees or for giveaways. They make me sick! I have used an iPad, and it's great for certain things, but I've never seen an iPad as a substitute for a desktop PC! Shame on them for saying that it is. It's so limited!

Let's see the sales of iPad Pro, hope that's not gonna be like apple watch. Why didn't they name it iWatch by the way?

iWatch...Fail, iPad Pro will be a Fail and Apple is going do start its march to being Sony.

In the first three months after its release Apple sold more Apple Watches than all-time sales of all other smartwatches combined. Hardly a failure.

really? I have seen many smart watches in the wild; but I haven't seen a single damn iwatch! I had to go to an apple store to actually touch one! haha.

I also have never seen an Apple watch on someones arm but I've seen many Android watches. Most people who buy the Apple watch do it for show. The same with all things Apple.

It's different with iPhone as people buy the iPhone because it just works and is the best phone for most people. Posted via the Windows Central App for Android

mind pointing us to where Apple announced their sales figures so we can compare them with sales figures of other wearables? Even if they did outsell others, doesn't mean much since it is a very low volume product outselling another very low volume product.

Apparently, there was some company that already had rights to the name. Not sure if the info is confirmed but I've read it many times in the past

And Apple TV should be iTV.

They can't do that. ITV is a UK television network.

There's nothing Pro about the iPad Pro.

2" is the defining line between non-pro and pro... Didn't you get the Apple memo? Lol.

Issue in windows 10 is lack off "metro apps". Issue on Apple pro is multitasking and office use. Try editing exel or word on ipad its horrible and slow...also if you need to fast open browser or pdf.....

Android development is still second class compared to iOS, so since Islandwood is still going well, Astoria's pause should not be a problem.

Gotta love Tim Cook's quote on the SP4 how it does too many things and doesn't know what it wants to be. So his answer is the iPad Pro? It want's to be something that it's not! I feel they're just beta testing it to users and hoping it'll take off for something in the future.

I think his comment was on Surface Book

The iPad Pro should be an enormous failure. Sadly, it won't be because of the cult following that Apple has. I won't be surprised if it sells more than all of the Surface Pros put together. Apple can release anything and have large sales because too many people just want to be part of the crowd. The pathetic part is that they somehow think that it makes them cool (as if an electronic device makes anyone cool).

Just the other day I went to a coffee shop with a few friends and we sat down. At the top floor there were 2 grungy hipster looking fellas had their imacs or macbooks or whatever their laptops are called open, ignoring each other and just browsing the web... I was there for well over an hour, and all they did was facebook. I think that if people just want to facebook or browse the web, any damn tablet that's decent enough will do a great job, but hey... Let them spend their cash on Apple. I really think Apple is here to stay for a while, but they have been, in my opinion, spiraling away from their origin and will probably begin to lose market little by little (think Nokia in the smartphone age). But you're right, there are so many blind followers that they will pay THOUSANDS upon THOUSANDS for a device ... just to read Facebook...

I have said this millions of times. The only thing most apple users do is sit in starbucks, and "write the next screenplay for movies" or be a social media douche. I was in a coffee shop in montreal one morning, and there was a person editing one selfie of themselves for like 20 min. I was waiting for an order, and it was busy. I could not help but watch them. It was the funniest thing ever. Apple's logo should be...."apple. Be a total douche in public".

This made my day. Thanks! lol

Apple succeeds because of marketing, but also because whatever they do, they usually do really well. iPad Pro isn't desktop replacement, that's just silly, but it is, afaik, a great tablet and a great sketchbook. Surface Pros on the other hand excel at versatility, but aren't really a great tablet or desktop experience (smallish screen with high res display).

I beg to differ, my surface is an awesome tablet. switch to tablet mode and it works great, switch back to laptop mode and with the keyboard its awesome that way. Plug in a monitor, keyboard and mouse and bam, I am using a desktop. You don't even need a dock to do this, but the dock makes it seamless and tidy. The ipad Can't do any of that. Just be......an ipad. static apps, and nothing more. The pencil is a lame attempt at copying the surface pen, the attachable keyboard is a lame attempt at copying the surface's slick keybaord, and the operating system (ios), is fisher price worthy of its simplicity and lack of the ability to do anything other than run medial apps. So, I think apple failed miserably at their attempt to go against the surface. The best part is when they realized that the ipad pro was no match for the surface line, and they cannot use touch in OSX, because "no one ever uses touch", they get tim douche to come out and try to slam and discredit how awesome the surface line is. Apples offerings now, are lame and failures for new features. They are getting by on the lemmings who wait in line for weeks outside the store like some kind of twats. Poor apple. The camp grounds may be going empty soon enough as I see more and more lemmings are resisting to jump over the cliff. They are starting to buy real technolgy and not buy another product that they just bought 6 months ago.