Monster Buster: World Invasion Review, battle monsters that are hiding in your neighborhood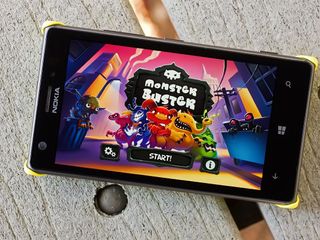 Monster Buster: World Invasion is a Windows Phone game where you wage one on one battles with fantasy monsters. The game calls on you to search your neighborhood using your Windows Phone location services for a wide variety of monsters, battle them and once defeated they become available for your personal collection of monsters. In many respects Monster Buster: World Invasion reminds me of the Pokémon, just without the Pokeballs.
While there should be monsters to battle in your neighborhood that are within arms reach, you may find yourself hopping in the car or walking a few blocks to find rare monsters to battle. The pace of the game is on the casual side but not without challenge. Graphics aren't too shabby and each monster has a small collection of attacks to use that calls for a little strategy during combat.
Available for low-memory devices, Monster Buster: World Invasion does have a bit of an addictive appeal to it and is a fun time waster of a Windows Phone game.
Monster Buster: World Invasion (lets just go with Monster Buster from here on) has a simple main menu with options to access the game's settings, start game play and view the About screen. Settings cover sound and music levels as well as the ability to turn on/off your Windows Phone location services.
When you first launch into game play, you will need to choose a monster to start your collection. You have an Elefuntik, a Slender and a Boo (kinda looks like Stitch from Lilo and Stitch) to choose from. Each monster has a collection of three attacks such as the Face Slap, Wily Pluck and Ultimate Fart. Once you've started your collection a Manage option will appear to let you choose which monster you want to send into combat or unlock new monsters for your collection.
Once you have chosen your first monster, Monster Buster has two fight options - Seek and Defeat and Quick Fight. Quick Fight lets you fight other player's monsters for rewards and is an easy way to build up your gaming cash. Your opponent in the Quick Fight will be of similar strength
Seek and Defeat is where your location services comes into play and has a little more detail than the Quick Fight. When you jump into Seek and Defeat, the game will launch your location services and a map of your location will be displayed. You have to use some of your coins (earned in combat) to scan for any monsters in your area.
Monsters will be highlighted on the map with icons and within two radiuses. The first radius is an area you can seek out monsters to battle without traveling. The second radius may require you to hit the road to come within range of your monster opponent. Just tap on an icon to see what type of monster is present and if you want to fight that particular monster, tap the seek button.
The seek button will pull up your Windows Phone camera to give you an Augmented Reality scanner. You have to spin around to line up the monster and if within range to battle, just tap the scanner read out.
Game Play
Combat is turn based between you and your opponent. The battle screen will have the monster's health meter running across the top along with the health point stats. In the bottom right corner you will find three icons representing your monster's attacks.
When it is your turn to attack, just tap the icon and a power meter will appear in the right corner. You will need to tap the icon a second time to set the attack power, then sit back, and watch the show.
Win or lose, your monster will gain experience that will eventually move them up in levels. This will increase their health points, attack strength and defensive abilities. If your monster wins, they will also get a small reward of coins that can be used to unlock additional monsters to use and scan for additional monsters to battle.
Should you defeat a monster that you haven't seen yet, they will become available to unlock (with the coins you earn) and can be added to your personal monster collection. The game has more than thirty monsters and new monsters can only become unlocked in the Seek and Defeat mode.
Overall Impression
Monster Buster is a fun game to play and having to move around your community to find new and rare monsters to battle adds a bit of appeal to the game. The graphics and animations with Monster Buster is spot on and the attack styles are as unique as they are effective.
Monster Buster makes for a solid Windows Phone game for the times you just have a few minutes to pass or for when you want to sit down and tackle a longer gaming session with. While an appealing game, I wasn't a fan of requiring coins to scan for monsters to battle or maybe the amount of coins required. In concept, requiring coins to scan for a monster is no different than requiring an energy unit to play a game of Spiderman Unlimited. But 40 coins is a little on the steep side when you are only earning 35 or so coins when you win a battle.
Stability wise I did run into a few crashes when the camera launched. This compounded the issue around the cost to scan for monsters because you basically lose those 40 coins when the game crashes at that stage of the game. Luckily, the instability didn't happen with regularity but still, enough to become a little frustrating.
It is our understanding that an update is in the works for Monster Buster: World Invasion that will add new monsters, new backgrounds and new visual effects to the mix.. The update will also include the customary minor tweaks and fixes to improve gaming performance, which hopefully will help with the game's stability. If all goes well the update should hit Store shelves sometime next week.
While the update will help add to Monster Buster's appeal, as is the game is a fun title to have in your Windows Phone gaming library. Monster Buster: World Invasion is currently rated at 5 Stars in the Windows Phone Store, which isn't too much of a stretch. If you give Monster Buster a try, let us know in the comments what you think of the game and don't forget to rate the game in the Windows Phone Store.
Get the Windows Central Newsletter
All the latest news, reviews, and guides for Windows and Xbox diehards.
George is the Reviews Editor at Windows Central, concentrating on Windows 10 PC and Mobile apps. He's been a supporter of the platform since the days of Windows CE and uses his current Windows 10 Mobile phone daily to keep up with life and enjoy a game during down time.