More than 1 million bits of feedback have been submitted by Windows Insiders
Microsoft launched the Windows Insider program back in September of 2014 and as of today they've logged their one millionth piece of feedback from testers.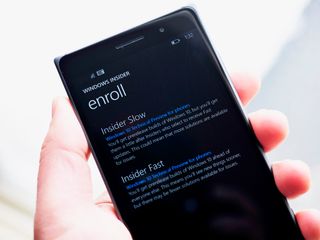 The news comes from Gabriel Aul, an engineering manager at Microsoft responsible for the Windows Insider program:
Wow! We just received our one millionth piece of feedback from the Feedback app! Woohoo! #WindowsInsiders
Windows Insider first launched for testing of Windows 10, followed by a release in January 2015 of the Windows Insider app for Windows Phone. While Microsoft hasn't yet released a full Windows Insider preview of Windows 10 for all Windows phones, the technical preview has been released for several devices so far, and offers a "slow" or "fast" track that allows users to manage how quickly they get releases (and how many bugs they're likely to encounter in the process).
Source: Gabriel Aul
Windows Central Newsletter
Get the best of Windows Central in in your inbox, every day!
Derek Kessler is Special Projects Manager for Mobile Nations. He's been writing about tech since 2009, has far more phones than is considered humane, still carries a torch for Palm, and got a Tesla because it was the biggest gadget he could find. You can follow him on Twitter at @derekakessler.
Me too....has anyone been able to transfer pictures from Windowsphone to Win 10 TP PC? Not working for me.

And back WP10 also not working

Yes I have that problem with a Lumia 1020. Also to copy pictures from a EOS Camera

It works but is way slower than doing the same in 7

I feel so proud!! Go us!!

Was about to comment same lol.

So what are the bugs in windows 10 so far..

Mainly random stuff, like instability but nothing that hasn't stopped me from using it as a main os since it came out. My latest blender release doesnt launch but no big, oh and my videos though flash are green.

Yeah its good even as your main OS. Few crashes in file explorer I'd you open certain files, nothing major to hold you back.

I noticed a bug on my surface pro 3 where the touch screen gets kind of jittery sometimes when you use one finger and scroll really fast, or even just try to select something. It'll think you're using two fingers and try to zoom in and scroll at the same time and its all jittery and takes a couple seconds for it to go away. It gets kind of annoying sometimes

Way to go Microsoft !.... I am proud to be a part of it ! I don't know why people still whine !

Why do people whine? Because they've logged information. The question is, what have they done with it? They promise to listen, that doesn't mean to say they would follow through. If that were the case we would have some version of Zune back even if under a different name.

And auto backup off whole phone when connected to Zune :)

This OS is truly democratic, cause it is for the people, by the people, to the people. :D

Shaping the OS by giving feedback.

No it's not...coz still many lumia devices don't have access to WIN 10 TP.

So if it's 1 million bits of feedback, does that mean it's 125 thousand bytes?... Anyone?... Okay....

Every 8 bits makes a byte, technically. So, 1 million bits = 125,000 bytes ...

I was thinking something similar too lol. I think only the real nerdy people will get it.

Well 125 kB is 128,000 bytes. At least with the more common interpretation.

I used to have a modem that 256kb

I still have one around:))

Waiting for W10 TP update 2... With Some of the major bugs fixed on my Lumia 730 :)

And also the start screen background one.. And Some Laggy Animations.. :(

And Gabe Aul was noticeably excited. :D

Go to hell Microsoft because you are fraud and liar

And you are a melancholy fool.

Omg. Just leave if you're this sad.

Out of Windows Central TROLL. Because there is no better name for a sad excuse of a human being like you.

Well what r u then ? An alien ? Maderchod ...be proud that u are an Indian
I love windows and have been a proud fan since 2009 !

Hahahaha loved your dialogue...! Got me laughing my ass off...! ;D

I sent feedback this morning!

Gabe aul shut this nonsense up, u fools at msft have pissed us off enough by deciding to give cortana to ios and android, a bunch of nincompoops sitting at MS.

Girl don't go away mad. Girl just go away.

Dire straits?! Seriously? I wish these kinda users just went Android.

Chill dude.. I don't see anything wrong with Cortana on other platforms. Makes Cortana better instead. More data to collect.

Ya similar to Bing on SIRI how much better its going to make it , remember BBM that's what they said too lol

You do have a point. There is nothing left in a windows phone for a layman to care about. Why should he? Better office experience on android, better Skype on android, onedrive integration, all the apps. Now Cortana. All of this coupled with the features of android and google. Like the new messages hub in android, which ms lost in 8.1.

Layman never care about office. For a layman, there is skype present is all. Won't think it is better in this OS and not good at this OS and all. One thing I noticed within my circle of friends is that the ones they just think that Windows Phone camera is good, battery lasts longer than Android and Windows Phone is lot more smoother than Android. I could have convinced a few to get into Windows Phone if we had "Hay Day" app(it is not a joke. I am serious!!!) However, I do convinced some into WP with my Age of Empires though ;-) Hoping that it will stay MS exclusive until we get Hay Day for WP so that I could make others join WP.

Microsoft is doing things old google way first its gonna get people use it's services on other then when they are addicted it will give it exclusive features on wp

That's exactly what I think. They may possibly remove them all after learning that people were addicted to their services.

Wow...... That's a lot of anger!

And I really don't get it. Does it devaluate your phone or something? Microsoft wants its services to be used with more than only the small wp user base.

Wish I could have contributed... Now for the infamous question - when for other phones ??

Yeah. Waiting for your answer to be answered by Gabe. Just got my spare 535. Can't wait to test it! :D

English, do you speak it?

We want to know, that's our right.

Join Kejriwal! I'm sure he will help you know what u want to know

It would've been more if more devices were supported but still nice #.

Can someone plz tell me size of Lumia denim update for my Lumia 720 ?

if u r on develpoer preview and updated... then there wont be any download... it just same

I'm also curious on this. I read yesterday someone's comment & he said Lumia Cyan-> Lumia Denim is 3 gigs but for those w/ already, it is less than 1GB

3 gigs! Even iOS 8 isn't this much..

It should be around 250 to 300 MB on dev, preview. Whoever is saying it there wont be any download get your facts straight.

Should be around 400mb I guess. Got this update for my wife's 625 the day before

I hope those feedback are more likely 80% ideas+improvement , 20% bugs. :)

How often is W10 for phone getting new builds? I hear so much about 10 on pc /laptop getting weekly builds but little about builds for the phone

999,999 are due to them screwing up one drive

Plz tell size of denim update???

Is L625 being supported in the coming preview build scheduled for march?
Or should i use hacks and install w10 anyway?

Yes he already is and suffering just needs to get admitted ;) just kidding :D

It is a *preview*. Why would anyone like to run a prerelease software on a primary device?

Desperation, brother.
I'm bored with the same UI.

Wow...Kinda worried when you said that.

Me 2.,for various reasons XD.

Windows 10 would be the best. adoption will be definitely more than windows 8.1. Microsoft jsut has to convince google app users to use their services. once androids dominance goes less no one will invest in android and pay royalties to Microsoft. they would definitely comd back investing with the new Microsoft. as everyone hated ballmer.

but Microsoft will montize with fremium things.

Could be a lot more if other handsets had it, like the 1520, 930 etc...

Yeah, would've been millions if they would e actually included the real windows phone users....

if they try to filter that huge number, they might end up none. Lumia 920

Who cares with Windows 10 when even Denim and Cortana wont come? Lumia 920

Well MS have to do something for 520,720,620, and other 512 ram devices soon as well.. And every OS has its specialties and awesome look.. I came from android to Windows just because windows phone have something... I hope they do something for 512 ram coz there are still lots of users with 512 ram don't forget them MS :)

Something to get sad,angry, and violent. wont include happy, coz MOST of users are not. Lumia 920

Even if they add/tweak these said "million" feautures, people would still whine :O

So with this occasion , just release the 2nd preview with almost all devices support :D

100k are probably from me asking them to restore the f'n split on-screen keyboard to how it was in Win8.1.

I bet you none of the feedback was from 1520 users....SMH

I am a 1520 user and gave feedback. Use your head to think instead of just shaking it.

Would love to give my feedback from my HTC M8.

What difference does it make? They won't change the UI back to Metro. They will still keep the stupid hamburgers.

I want for Windows Phone 10 the flashlight embedded into,the system I don't want to open an app to use the flashlight or use the flash.

I wonder how many of those feedback comments are duplicates....like "the icons look crap".

That number would have been triple x 2 if all insiders and all phones were connected to wp10. That s just 1% of the feed back required to make wp10 even better.
Take w10, they r far ahead coz everyone with a comp who signs up can install and give feedback. So they should the same with phones and open it up. One is free to

Roll back if they don't need it. MS we still waiting. +1520

How do you send feedback from the phone?

Through windows feedback app in app list..

There would be alot more if they would release insider for more phones.

Funny because yesterday I just decided to fire away.

I would've sent some feedback if Lumia 735 was included as well, it's almost the same phone as 730

When the next update is coming?

me too. I wonder how many of those bits are doubles or me toos.

Hopefully we can shape it to become something special

Waiting for One M8 to get this shit. Coz this build I have sucks ass.

Waiting the TP for my Lumia 625 and 720

Waiting for the next update with less wrinkles!

Egarly wating for the next preview build :)

I just received an email form Microsoft

Still cant signed in to insider. Please help. I have Lumia 925. Is that because my device not supported yet?

I own Lumia 525 u guys are hilarious

999,999 of which are complaints about the hideous icons coming in the next release.

Microsoft please release next build of windows 10 for phone seriously eagerly waiting

Ms is bad in terms of updation services

This is still my last Windows phone :/ No more Nokia and many stores here in Sweden doesn't sell Windows Phones anymore:/

And it's seems like Cortana is coming to Android before Windows Phone here in Sweden!

Commenting at your own post makes me thinks you deserve to be an android user.

Could it be because I wanted to add some info?

There's an option to edit comments.

How long u will keep us waiting for the preview, anyone knows when the next update will be out ? Will it includes more models ??? 820 *weeps*

my lumia 520...becomes lag after i updated my phone using insider.....hang up,messages crashes.apps crashes.takes time to power on and off...photos crashes..fast battery draining......many bugs.....showed i update to buid 10080>? pls help me.....i love windows
Windows Central Newsletter
Thank you for signing up to Windows Central. You will receive a verification email shortly.
There was a problem. Please refresh the page and try again.