How to move the caret stick to the right in Windows 10 Mobile keyboard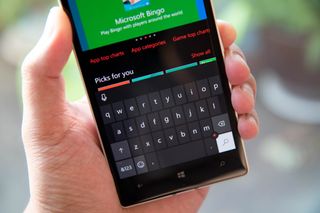 The keyboard on Windows 10 Mobile features a caret stick that lets you move the cursor as you hold the nub and then drag it towards up, down, left, or right. You'll mostly need it to replace letters in the middle of some words when writing a note or email. It's located on the left side of the keyboard by default. We'll show you how to switch it to right, or even turn it off.
Go to Settings > Time & language > Keyboard
Tap More keyboard settings
Under Cursor controller, change it to Left handed usage if you want the caret stick to the right. You can also select Off if you don't need to use it.
That's it! I'm right-handed, but I personally like the caret stick to the right. Maybe it's because I'm used to having the arrow keys to right when I'm using my laptop. Do you use the caret stick on Windows 10 Mobile? Sound off in the comments!
Windows Central Newsletter
Get the best of Windows Central in in your inbox, every day!
I found this in 10149 but I thought all of you figured it out already lol

Has it been improved in the newest version? It seemed so awkward to use that I mostly forgot it was there. Using the old way of placement seems to work better, and that isn't nearly as good as the implementation in 8.0. That was the best implementation of any OS ever.

Agreed. 8.0 had a lot of Great features

No option for ambidextrous

I honestly think that ambidextrous people should not really mind about this kind of thing

They could have a center option. It's not like they can't give users more options.

Thats really nice. Was this on previous builds becuz I heard that the windows 10 was feature locked.

It's been there for awhile...

Shouldn't it be to the right by default❔❔❔
....
I guess on my 1520 (the greatest WP device for the foreseeable future;-))) it's easier to use on the right, right handed, because of the added space on the keyboard.... IDK.. I'll try it out for awhile.

It's easier when it's located in the left side for right hand users by default. I use my phone one handedly. And I agree. 1520 still the best. I've seen 950 and it didn't excite me as much when 1520 was revealed. Still waiting for that 1020 upgrade.

No 1520 replacement, no 41≥mp cameras, no choice of colors(so far).... Seems like MS did actually in fact do exactly what all those Nokia fanbois said for months they would do... Ruin the essence.... Boy, were us MS fans naive, and boy did we have blind faith that MS would follow in Nokias footsteps as far as design goes... They better redeem themselves with a world renowned hyper exotic Surface phablet..

Love my 1520. Mine is yellow and I believe Microsoft will not release any yellow beast so its going to be hard to give up this phone.

No colors, then no baby 1520 (AKA 950XL) for me... Just not enough reason to get one... I don't know... In the past at least we could look forward to new software, but my 1520 is already running W10.. The reality is that I'd be getting a new device, loosing screen realestate, and practically having an identical OS experience that I am having righ Gawd damn now... SMDH..
.....
950/950XL= perfect for someone who doesn't have a current high end device.....
.....
But, I bet you,,,, mark my word,,, if the enterprise devices that MS is allegedly making are of the Surface flavor then you can count on at least a 6" screen for one, and hopefully a real reason to upgrade from a 930/Icon/1520... I sit, and wait somewhat patiently.

It seems backwards the right-handed = left and left-handed = right. I agree that if you are using the cursor on the right when right-handed.

Yeah, my thumb is closer..... Guess that's why they made it optional.

Thanks. I'll move it to the right on mine.

The cursor control of Windows Phone 8.0 was the best!

Yes! And 8.1 ruined it. :(

Definitely better than the 8.1

I miss it so much. It was wasy to use. your finger was never in the way. It was precise. It was reliable to enter into. ugh I miss it so much. ;(

Lol. I'm left handed but I want my stick in the left

No.. Those don't count... You're thinking too hard, partna.

Uh huh. That's what she said last night.

Ya want some lotion to go with that?

Didn't really like it, wished for better control simply by pressing around where you want and have like a zoom pop up of your finger area. point, re-position finger, move cursor just seems a bit more cumbersome than it should.

Please no, I don't like it on my iphone

Why isn't wordflow and other keyboard improvements not available in Windows 10 for PCs and tablet? I see no reason why.

I liek carrot sticks with onion dip.

they look evil, I am afraid of them. I am afraid it's the way Microsoft is spying me while I sleep. I am glad they can be turned off without a hack.

I hope you're not serious. You need to get some help if you really believe "they" are spying on you.

Is there an option to totally hide it from the keyboard?

You didn't read the article, did you

You should just post a blank article.. No picture, no title, no content.. Nothing but the time...

But then it doesn't seem faster.

Oops. That's what happens when you skim through an article.

Why do people say skim?????

Cause that's what some people including me were told to say. In my school, for example, a teacher would say don't skim through your history book instead read it thoroughly. Lol. I guess look through also works, and so does breeze, and skip while we're at it.

Lol... I know "why" people say things.. Lol. Like why? Like learned behavior?.. Lol.

A little off topic but...The notification center should rotate as the phone rotate. Do you know what I mean? Like if the phone is rotated on landscape, the action center should be brought down from the top not pulled in sideways from the side.

There was a big discussion about this a few days ago, and Gabe asked fans to vote for more landscape support... Particularly on the start screen itself.. So, if the SS had full landscape mode then that would solve your AC problem, now wouldn't it❔❔❔

God, Where is the 3rd party keyboards I want cat gifs and other sh/t on my keyboards

This is MS you're talking about here... Wait till Redstone.. Redstone is our only hope for some fun stuff..
.......
That's what WP has always been short on.. The cool stuff. The fun stuff. Customization, pizzazz. They started with 8.1, background images on the start screen, and dynamic lock screens, but that's where it ended........
.......
REDSTONE!

There better be some amazing goodies in Redstone. I hope we quickly start getting Redstone builds after W10M is officially launched.

That's not going to be soon.. Probably next summer.. This is a huge update to W10... Well, that's my guess.. Hopefully spring....
......
Still won't have USBOTG, though.. Lol!

Even though I still haven't gotten used to it for fine cursor control, it has potential. For example, I still don't understand why can't it be used for text selection or highlight like we do on keyboards of Windows by pressing .
Also, I would love to see the keyboard shortcuts come to virtual keyboard particularly and for starting a new para in sites like facebook and twitter.
Finally, will we ever be able to drag-adjust the height and width of keyboard like we can do in LG G4? Also, wish Microsoft would make the touch area around keys more squarish or rather give users an option for it. Option for circular and other shapes for key could also give a funky customization options for hip users. Also, I would love an option for white theme of keyboard in addition to existing dark.

You can reposition the keyboard on phones larger than 5". Hold down the space bar to undock it and move it to one side.

I find that thing just as frustrating as trying to position the cursor with my finger. I could have just blanket delted everything and retyped by the time it cooperates. Either method always wants to move 1 position too far. It worked much better in 8.0

Dear guys shall I update this release on my L1520, is this ok, plz help

It was best on Windows phone 8.

I adjust it to right every time and make the keyboard small

Moved it to the right on mine and I like it a lot better! Typing and flow are noticeably better on the new build :)

i think this feature is one of the top features that was ever implemented in phone. i use it a lot.

Can anyone confirm there're more keyboards available but English US? Serbian (Latin)?

It works so bad, slow and it has an annoying delay. They better make ut more responsive or I'll never use it.

I get the feeling if apple made that it would somehow work much smoother.

I am using the caret stick sometimes however, I hate it when you tap to bring the cursor to the end of the sentence to continue typing, the cursor will go back to the last position when you were moving it with caret stick. So your typing will be messed up. You have to use the caret stick to put cursor at the end of the sentence.

Did Microsoft get this one reversed? I'm left handed and definitely prefer it on the left!

The WP 8.0 way was perfect. Prefer this a lot above the new caret stick. Would be great if this feature returned as an option. I think the problem with WP8.0 caret movement was that most people did not know how to do it. So why not have two possible ways to do it, both the caret stick and the long-press wp 8.0 way?

Ok, but I think it is better to have 2 cursor keys (left, right) on touch keyboard
Windows Central Newsletter
Thank you for signing up to Windows Central. You will receive a verification email shortly.
There was a problem. Please refresh the page and try again.