A look at the best streaming media boxes, accessories, and software
By Richard Devine last updated
Get your best binge face on for this year's National Streaming Day!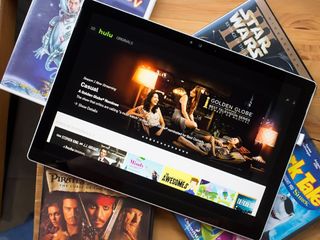 Every single day, more and more people are turning to online methods of getting their entertainment fix. Whether it's music, TV or movies, today's landscape is a far cry from a decade ago.
And as it's National Streaming Day, what better time than to celebrate the new way.
Treat yourself to some new hardware
With Windows 10 in your arsenal, you have a pretty powerful friend when it comes to streaming. Whether it's to directly deliver you your content or to act as a secondary device, there's not a great deal you can't access.
One of the more popular streaming boxes is Roku, and it's pretty darn friendly to Windows, as well as just being an all around excellent streaming system. And this streaming day you could save a few bucks and get yourself a new one.
Our buddies at Thrifter have surfaced some great deals on Roku hardware to coincide with National Streaming Day. The entry price is just $40 for a Roku Streaming Stick, which is hard to pass up.
One of our favorites is the Xbox One S (opens in new tab). Not only is it a most excellent games console, but it's about the best streaming box you can get. There's almost nothing it can't do: Hulu, Netflix, Amazon Prime and more besides.
The Xbox One S is the closest you can get right now to a solitary solution to fit all needs thanks to its support for online services, live TV, and 4K UHD Blu-Ray movies.
See at Amazon (opens in new tab)
Free yourself from cable
"Cord cutting," that is, releasing yourself from the shackles of cable TV, is becoming more and more popular. There are more ways than ever to get TV content in front of your eyeballs without having to send massive piles of cash to the cable providers every year.
You can split it down further into a few different categories. There are internet based services, home media center software, and hardware that can help you get over the air (OTA) TV into your new streaming-based life.
The internet
The obvious ones are Hulu, Netflix and Amazon Prime. The latter you get included with a Prime subscription which is useful for way more than just watching your favorite movies and TV shows. Prime is a ridiculously good value product with a 30-day free trial. It's a great addition to your Xbox One streaming collection.
Get a 30-day trial to Amazon Prime (opens in new tab)
Netflix is about the best-known service in this space, and nowadays, it can deliver 4K content as well. You'll need the right subscription (opens in new tab) and hardware, but you can also use Microsoft Edge on Windows 10. Not many browsers can claim that!
Hulu just got a whole lot more interesting, thanks to its new live TV beta service. Its core service is very Netflix-esque, offering on-demand content at a reasonable monthly cost. And thanks to this amazing deal you can snag yourself a 45-day free trial. Can't say fairer than that!
Home media servers
There are a number of ways you can set up your own home media server with Windows 10, and two of the easiest, and best, are Plex and Emby.
Both allow you to organize your own library of music, video and photo content, as well as integrate some live TV features like a DVR. To get the most from both there is a small outlay, but it's worth every penny in both cases.
Then there's Kodi. If ever there was a piece of software to do it all, Kodi would be it. It integrates with so many other services including Plex, Emby, live TV, and a seemingly endless number of add-ons. It's free, it's open-source, and it's incredibly customizable. Go crazy and make it your own!
What is Kodi and how do you use it on Windows 10
OTA TV
If you can get good OTA TV service where you are, you should definitely look at investing in something like a HDHomeRun (opens in new tab) or a Tablo (opens in new tab). Both are great to use on Windows 10 and a whole bunch of other devices, don't cost a lot and make your TV experience a lot better.
They act as go-between devices between your antenna and your local network allowing you to rebroadcast those channels throughout your home to anything you have connected.
Mix in a little Kodi, Plex or Emby, and you've got a killer home TV system.
How to setup and use the HDHomeRun tuner
And if you have an Xbox One, you can either get one of the two mentioned above or just snag the OTA tuner and have your OneGuide full of delicious TV goodness!
Don't forget the music
The hype is around cutting out cable TV, but don't forget the tunes! Music streaming is well established now, and everyone wants a piece of it. The good news is that it doesn't matter what device you choose to use, some form of music service will be on it.
When it comes to Windows, naturally, Groove is our go-to. But it's not alone, and with the likes of Spotify and iTunes with Apple Music coming into the Windows Store soon, it's going to get crowded in here.
Just choose one that suits you, put on some headphones and turn it up to 11 this National Streaming Day.
Get a 30-day trial to Groove Music (opens in new tab)
Your turn
We're a community around here, and there's no doubts tons of useful information, tips, and tricks out there. If you've got your own ideas to share for National Streaming Day, jump into the comments below!
Richard Devine is an Editor at Windows Central. A former Project Manager and long-term tech addict, he joined Mobile Nations in 2011 and has been found on Android Central and iMore as well as Windows Central. Currently you'll find him covering all manner of PC hardware and gaming, and you can follow him on Twitter and Instagram.
Who deemed today National Streaming Day??

Probably Netflix or hulu or something ;)

Wow you've been living in Canada / UK all this time and didn't know it was a thing? WOW!!!!!!!!!! That's too bad for you :)

Lol well since I live in Canada, and National Streaming Day would be an American holiday, it wouldn't apply to the nation of Canada. If it were International Streaming Day, that'd be a different story lol

It's a bunch of rubbish, really.

Agreed. The telecoms should at least compensate you for one days worth of your internet plan on said day

Corporate overlords. Just another piece of garbage linked to a day of the year.

Hey everyone! Can you guys help support the Windows Community on Spotify by upvoting here? Thanks! https://community.spotify.com/t5/Live-Ideas/Windows-Phone-Add-support-fo...

Spotify released a new app for Android and Apple. Go there if you want more updates otherwise be happy with what you've got

Life is such in WP boi. Don't expect any app to be updated. It's been this way for 2 years.

Seriously, I find the entire "cutting the cord" thing just silly. The stats indicate the roughly 50% have cable TV subscriptions and 33% have satellite (we are in that category). What I would be curious to know is, among these so-called "cord-cutters" or "cord-nevers", how exactly are they getting their broadband. If they are streaming, then they certainly would need to have some sort of broadband service. Everyone I know has cable internet. So, I find it hilarious some of them call themselves cord-cutters. They've cut nothing. They just aren't paying for channels the old way. They ARE, in most cases, STILL subscribing---they're just doing it via services like Netflix, Hulu, whatever. The only ones who have at least some legit reason to call themselves cord-cutters are those who rely completely OTA.

Cord cutting isn't about getting rid of all wires. It's about freeing yourself from paying an exuberant subscription for a "service" that doesn't allow you to watch content when it best suits you. Yes we still need an internet provider, but now at least, we get what we pay for.

When I priced just Internet thru Verizon, it cost twice as much to get just internet. If I purchased the same speed internet w/ cable tv service, it was half the price...

To some extent, OTA requires internal or external wiring too and technically, a pure cord-cutter would be 100% off-the-grid. I believe cord-cutting is about the direction of reducing unnecessary services & fees. For paid services, we had cable television, land lines, mobile phones, internet, Netflix, and the obvious, hydro. Cancelling cable TV and the land lines saved us $60/mo. The other services are essential or give us the greatest flexibility.

"Cord-cutting" means getting rid of cable or satellite TV service, along with their crazy high bills. We "cut the cord" a few years ago and never looked back. Now I watch TV with an antenna and have internet for Netflix and WWE Network. I also use many free services like Crackle and Pluto TV on my Roku. Saves me hundreds of dollars a year.

Hi. Yep. I'm a cord cutter. Your right I get broadband through Virgin Media. However I cancelled their TV a year ago. And their Phone line. Why? Because I can get MORE content including Live cable Sports all legally through the Xbox One S cheaper. And substantially higher quality resolution and HDR in alot of other options. Getting rid of sattelite and cable is an absolute no brainer in the UK for any Xbox One S owner. And when you ring the company to cancel and they tell you its bot possible, it's total BS.

Cord cutting is more to do with television services, like ridding one's self from paying $30 a month in sport and entertainment channel surcharges.

As usual, the concept of "cord cutters" is more an idea that in practice doesn't work that well. It's just a slogan. You're always depending on a "cord", it's just different ways to access your content. And the whole idea that not having "linear tv" is revolutionary sounds a bit condescending, really. It's not like it's a radical, brave, or new idea, at all. Edit: Oh, ok, it's about people saving some bucks. Optimizing your budget shouldn't be revolutionary either, it's common sense. Linear TV is also good for some scenarios.

That's the beauty of Xbox One though. You can get live TV straight down the Xbox. Virgin and Sky both charge for the 100 odd channels you get free through the Xbox.

"cord cutting" is a term that specifically came from cutting the cable cord... Not actually cutting the cord but the cable services. I cut the cord long before "cutting the cord" was even a thing at a time where no one in their right mind would do it. Back then the cable prices in Canada was high, you couldn't get HD unless you had digital, you couldn't get digital unless you paid for basic cable. My cable bill plus internet averaged $280 a month. One day I had enough, I cancelled my cable services, paid for a proxy services, subscribed to Netflix and Hulu plus whatever else I could find through my Boxee Box. My monthly entertainment bill dropped to $70 a month. With the $210 a month savings I bought a new car.

Oh, and living on the border as we do, there's no such thing as OTA TV.

The top picture shows the Roku app, but since the CU, the roku app no longer finds my Roku box on my network.

National Streaming Day? Can we stop having an Everything-Day? So many things that are irrelevant in the big picture being treated as if it is that important.

Tomorrow is stop everything day.

They should all be changed to National NOGAF Day, or National Bought Buy Lobbiest Day.

This. It's because millennials are perpetually bored, even with everything they have at their easy reach. So to make their lives special they make up these Special Days. Poor kids.

Yep..poor poor kids...make 'em get off their ipads and go outside and play baseball or ride a bike.....national streaming day....another excuse to sit on your a$$....LMAO

Does "National Streaming Day" sound like a bad idea to anyone else? I mean, explicitly promoting a simultaneous high usage of bandwidth sounds like trouble unless you're in a country that has an unlimited bandwidth...To me it sounds more like "national server congestion day" or "national Why is internet working so awfully Day".
People and their ideas.

ughh, what another nonsense day....lol
Windows Central Newsletter
Get the best of Windows Central in in your inbox, every day!
Thank you for signing up to Windows Central. You will receive a verification email shortly.
There was a problem. Please refresh the page and try again.