NBA 2K15 gets a price cut today only for Xbox One and Xbox 360 owners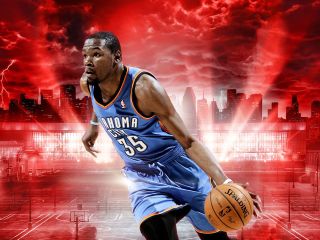 Microsoft continues to offer daily digital game deals for Xbox One and Xbox 360 owners. For Christmas Day, they can download NBA 2K15, the latest pro basketball game from 2K Sports, at reduced prices.
The Xbox One version of NBA 2K15 that's on sale is actually the Promo Bundle version, which normally costs $64.99 and comes with an extra 15,000 VC, the game's currency. Today, the price of the game has been cut to $48.74. The Xbox 360 version of NBA 2K15 is available for $40.19, rather than $59.99, but does not come with any extra in-game currency.
While you are enjoying the holiday today, make sure you check out the full list of Xbox One games that are on sale from now until December 31 as part of the Countdown to 2015 sales event.
Update If you live in the UK, you can get Sleeping Dogs: The Definitive Edition, as the daily deal for just £20 on the Xbox One.
Source: Major Nelson
Making you work on Christmas John? That ain't right.

Not really a question? ... Sorry, that was snarky... I was hoping for a bit more of a deal as well, but it isn't bad for what is a quite good bball game.

In Brazil, the price is unbelievable R$15,00, or just $5,00 (Five dollars)! I don't know if someone typed it wrong on Xbox System, but I just bought the game with this amazing price. This is a really great deal!

Yeah! In Brazil is Just $5 (FIVE DOLLARS)!!!!!! I think its a bug on the system, but I bought for just $5!

/\ true story. Just bought

Best buy gamers club unlocked is just 30 dollars for two years which gives you 20 percent off. That's the real deal. It's better to have the disc anyways. As to the game itself I didn't really like it. Prior bball games were more fun imo. Already traded it in for something else.

Agreed, 20% off new games for 2 years. I got it for $60 in May, and have probably saved over $125 since then.

LOL, Best Buy had it for $30 during Black Friday. Another prime example of how Microsoft is horrible at digital pricing, which is why I buy physical games.

I heard this game is a steaming pile. Is that true?

Is 18 quid on steam until Jan 2nd.
Windows Central Newsletter
Thank you for signing up to Windows Central. You will receive a verification email shortly.
There was a problem. Please refresh the page and try again.