Xbox One's Countdown to 2015 deals heat up with Dragon Age: Inqusition and other blockbusters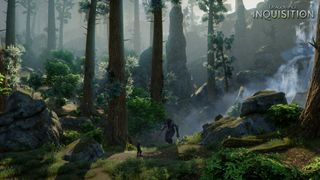 It's Tuesday, Xbox fans and you guys know what that means! We have a new batch of games on sale for the Deals of the Week. And if you haven't got yourself a holiday gift yet Microsoft made sure this batch was extra special. We've got new deals for everyone, deals for Xbox Live Gold subscribers and a new addition to the daily countdown to 2015 sale. Read on to see what special deals you can nab for your Xbox One right now.
First let's start with the daily deal for the Countdown to 2015. Today, you can get the Xbox One version of Dragon Age: Inquisition, which is arguably the best title to come out this year, for a reduced price. The game was launched on November 18 of this year and for today you can grab it for a whopping 35% off! That brings the standard edition down to $38.99 or you could grab the deluxe edition for $45.49.
Dragon Age: Inquisition - $35.99 – Xbox Store

(opens in new tab)

Dragon Age: Inquisition Deluxe Edition - $45.49 – Xbox Store

(opens in new tab)
Now let's us look at the other amazing digital game deals for the Xbox One that will last from now until December 31. Microsoft looks to have made every big title that has come out since October a part of this list with the exception of Far Cry 4, Grand Theft Auto V, and Sunset Overdrive. The discounts range from 25% off Destiny and Call of Duty: Advanced Warfare to 50% off of Alien: Isolation. And if you're a fan of Telltale's titles there are some great discounts for you here as well. Many of these deals are just for folks who have paid Xbox Live Gold subscriptions, but we've highlighted which those are in the full list below.
Whew. Glad that's over! Sound off in the comments below and let us know if you plan on taking advantage of any of these deals. I myself will be grabbing Dragon Age and The Wolf Among Us!
Source: Xbox.com (opens in new tab)
I might wait for Inquisition to be in the Vault. I can wait a year and I believe EA Access wouldn't have much sense if I just bought it even without the 10% discount.

Still too expensive compared to steam. Sleeping dogs on steam was like 4.99

Good luck getting those games on your Xbox One then ;-)

Just love Telltale games.....bought all.

For $55 that's a steal. Downloading them now.

Looks good I got so many games. Its not in my budget to buy more or play more. Limited time.. Maybe borderlands because I got a few of the others

They ain't all available in the UK

The gold deals are at least.

What you didn't state is regular dragon age is only that price if you have e.a.'s subscription service.

Completely forgot I had EA access. Sorry about that :/ ... That's why I write the disclaimer at the bottom just in case

Gta with a little discount... To be honest, the others games have a great discounts, but... If you stop and think, they still a little expensive for most players. I think that the regular price for all digital games should be the price they are offering now with discount. For example: Titanfall Delux at black Friday was with a really great deal. So why others titles can't give similar deals, if they are all digital?

Just bought GoT yesterday! #Rats

I love telltale, so maybe wolf among us, but I really don't know.

This Dragon Age deal is ridiculous. I bought the disc from Amazon a few weeks back when it was $45 thinking that would be the best deal going considering it's AAA blockbuster that just came out a month ago. Oh well, still worth it

great deals.. especially the telltale games collection.. sweet

Not a good deal on Forza Horizon 2--it was just $35 at Amazon and Best Buy. Digital prices are an absolute joke on Xbox One except for the occassional rare deal.

Is there a way to go back in time to get that $35 deal? :) I kid, I kid.

Agreed. Even for xbox 360, it is too high. I simply dont understand why are digital versions more expensive than hardware copies? Where is that xtra cost goin...

Good stuff. Of course, every time I buy another game, I play it for a little while and then go right back to Forza.

Gah, finally broke down and bought the Destiny Digital Guardian Edition about a week ago, I knew I should have waited. Oh well, the Steam sale and Humble Bundle is taking up all my game fund this holiday

Might pick up Diablo, and WD Seasons 1 and 2, already played them, but the price is very attractive.

The trick isn't only buying the game on sale, but buying the credit on sale too! Just last week I bought $80 of credit for $51. http://slickdeals.net/f/7517428-80-xbox-live-gift-card-for-51-at-microsoft-store So I could effecttively get dragon age for ~$23 :)

Alien Isolation is temping but I don't know if my heart can handle it. I thought Dead Rising 3 was scary lol

and i am going out today to buy a hard drive for use with my xbox... going to be an expensive day...

Is the digital pro edition that worth it? I wanted to get COD:AW for that price last week without anything but I'm reading and confused whether I should :/ anyone can help? I have Titanfall and love it to pieces but I know that game isn't future proof nor will it be a house party game :/

I bought the first Killer Instinct Bundle. Was hoping to get the second one for 20 bucks as well. But not here. Guess, I gotta wait.
Windows Central Newsletter
Thank you for signing up to Windows Central. You will receive a verification email shortly.
There was a problem. Please refresh the page and try again.