Never miss an NFL game with the official NFL Game Pass for Windows Phone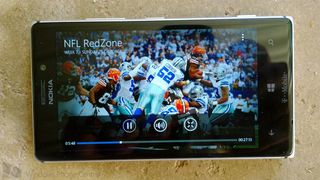 I can hear all you reading the title shouting "YES!" at the top of your lungs. At least you would be doing that if you're diehard NFL fan, never want to miss a game, and happen to live outside the United States and Mexico. NFL Game Pass is now available for Windows Phone.
Before we go any further and look at the app, you need to understand NFL Game Pass. It's a service that is so awesome for football fans that I wish it was available to users in the United States and Mexico. NFL Game Pass allows you to watch live and on-demand football games. It's now on Windows Phone 8 (can't find it on Windows 8 yet, if you do let us know) and was previously only for Android or iOS devices. Unfortunately for sports fans in the United States, the NFL and DirecTV signed a deal that won't let such a service exists within our borders. Outside the US? Read on to see what you'll be getting.
Live and On-demand Football Games – Stream 2013 NFL games live or on demand on your Windows 8 device.
NFL RedZone – See every touchdown from every game live on Sundays, or browse the RedZone archives.
NFL Network Live Stream – Watch NFL Network programming live 24/7.
Condensed Football Games – Watch entire NFL games from snap to whistle in approximately 30 minutes.
Scores – View scores from around the league. (*Includes the option to turn off scores).
Stats – Full box score of stats for live and archived games.
Right now, I am so jealous of every single one of you who will get to take advantage of that. DirecTV and Windows Phone don't exactly have a promising relationship, so I don't suspect we'll be seeing their Sunday Ticket anytime soon.
To take advantage of NFL Game Pass you'll need to have a paid subscription to the service and be outside the United States. Learn more over at NFL.com/Gamepass (opens in new tab)
It's nice to see the partnership between Microsoft and the NFL paying off. In the U.S. and still want some NFL action on your Windows Phone? Be sure to check out the NFL Mobile app for Windows Phone.
Now I'm curious, are there any fans of the NFL outside the United States? Sound off below.
Want to download NFL Game Pass to your device? You'll need to on Windows Phone 8 to take advantage. Grab it in the Windows Phone Store, use the QR code below, or swipe to the right in our app.
Via: Windows Phone Central Forums
Thanks for the tip Parktreeone!
Windows Central Newsletter
Get the best of Windows Central in your inbox, every day!
Well I can't get it on my Nokia Lumia 920

Since the time I loved the chimes, My ears glued only to your voice. Since the time I held you, I have never even thought twice. Since the time I saw the world through your eyes, I trusted you more than my brain. Since the time I got your vibes, I never felt the same again. For last 10 years or so, You never let me alone. You were there when I lost my way, To Drive me through, to let me have my say. You may have been adopted, But you will always be my game. You may have left us orphan, But you will never have the blame! You may have your own reasons, But the loyal never cease the action. You may have decided to stop running, But the journeys matter not the destination. And the journey has been the most beautiful, The journey of Connecting People!! Maybe, we have lost the Brand. But, Nokia!! You will never lose this Fan! End of an Era!!
Saw this shit and was cool lol

its horrible "poem" (if we can call it like that) and you spam it in a reply to something that has nothing to do with it? wow... at least spam with good things...

No it isn't. There's the "Ode to Steven Elop" There was young lad from Espoo Who turned a great company to doo So now it's a basket He's thoroughly trashed it And now he'll screw Microsoft too.

Nerds suck at poetry, confirmed.

Im in us. No luck here. T-Mobile

Sam, any word on the ability to proxy around this? So we can use it inside the US? Ethical? Probably not... Necessary? Absolutely!

Same here and I'm in the U.S.

Then I suggest reading the article :)

Okay. Not for US or Mexico... Gotcha!
I was at work reading between customers...

Check out "FlashVideo" for Windows Phone http://www.windowsphone.com/s?appid=ff811366-4d1b-42be-9254-d9f6f3dd3e8e This app is paid for a couple bucks (has free trial), but it allows streaming of all kinds of "LIVE" sports through the First Row page. I've used this more than a few times to watch the Broncos. At work, in the bathroom (didn't want to miss a play), etc. And I live in Colorado. Worth the $4 bucks!!! 8)

Flashvideo is almost perfect. Too bad it can't get some official support.

1. Join --> MansCaveFootball . com 2. on any device 3. No install, watch directly online 4. Great free Replays section 5. Highlights 6. Team stream

I hate DirectTV. I would buy a subscription so fast.

Me freaking too. This would be such a great app for when you're not home and want to watch some football. I can't wait for the deal between DirecTV and the NFL to expire. Sigh.

This is the last year! Finally!

Let's hope so. A few years ago the contract was up, and DirecTV paid out the nose for it. With Microsoft getting NFL broadcast of some sort when the Xbox One ships, I hope so. This is THE only reason why I still have DirecTV myself. If all games were avilable to watch in the US via a service from the NFL, I'd subscribe there instead of NFL Sunday Ticket on DirecTV.

Also, I had just posted a thread over on the DirecTV forums, and emailed them yesterday for the 3rd year in a row asking where these apps are. It's horrible that I'm a paying consumer of their service, and they would keep me out in the dark from watching content on the devices I CHOOSE, not what they say I can use.

I hope it's the last year, but i fear direct to pay up again.
Without the NFL package direct tv will lose a good chunk of subscribers.
I wonder how the money would compare from the direct tv exclusivity deal, to nfl just making a deal with every network, just like the redzone did.

Isn't it DirectTV, not DirecTV?

Nope, its directv.com & look at the logo...DirecTV (1 'T').

Don't be so hasty. I hear Google is set to bid on it and put it on YouTube. You know what that means for us WP owners. Hopefully Microsoft will also bid.

That's definitely the news. I prefer DirecTV to have it than Google, that's for sure. I say that even though I'm a Dish customer.

To all sports fans: I know this doesn't help on your phone, but if you're on a PC just stream any feed you want through wiziwig.tv. Not the best quality, and you have to fiddle with pop-up windows a bit, but its free. You're welcome. :)

Why would NFL do that to fans? Which is why I can't stand the NFL.

Well they are a business and exclusivity contacts are worth al little extra :-) so yeah.. screw the fans
On a related note I should see if I can get my Slingbox to work with my 1020 - . I think football is about thet only thing that will convince me to I spend the $15 on the app.




They have millions, the greed in this country is out of control. I don't even care for football because they are insanely over paid just to entertain. Someone told me once, "it's cause they can get very hurt." My response was, "can they die? Cause that's what our soldiers risk who fight for our country so that we can have football and freedom."

I'm honestly surprised the media hasnt figured out a way to televise wars and conflicts and charge for it, but that is a topic for another day.

Yes they can die and some have.

It is not greedy to run a business ethically and responsibly, which includes providing good returns over the long-term to shareholders. If a business doesn't do that, it will cease to exist, hurting everyone, including customers/fans.

But this isn't even about that -- it's about the team owners who also need some people to buy tickets and see it at the stadium and local TV stations who have also paid market-set prices for the right to broadcast the majority of the games so they can in turn sell advertising, so the people who do want to sit at home can watch it for free (paid by advertisers). I'm not sure how the NFL's deal with DirecTV works, but in general, it's the local teams and TV stations who demand certain forms of exclusivity in their local markets from the NFL.

If you watch it on the Internet, you are not watching on your local station. That means your money is going to the Internet provider selling ads instead of to a local business. If anything, that would be unethical. (Admittedly, this is not 100% fair, because some local stations are owned by the parent network, but that's relatively rare.)

There is nothing unethical about any of these practices. It would only become unethical, if someone was lying or defrauding their business partners in closing the deals or lying to consumers about how they can access the games. Otherwise, it's just people coming to terms that are best for their businesses and their customers. I suppose you could also say it's unethical to rip off the team, local TV station, and NFL by watching pirated games, but even I'm not going to weep for the NFL or its players over the handful of people who do that. :-)

It is not unethical for the NFL to have contracts to televise games on Satellite or even to charge money for the NFL season pass but it is unethical to have it with only one satellite company and "Force" people to purchase Direct TV. Why not offer the NFL Sunday Ticket on Dish Network for example? I subscribe to Dish Network and would love nothing more than to pay the NFL for the season pass but forcing me to subscribe to Direct TV is bullshit and unethical. This is why Congress was looking into anti trust laws violations by the NFL which was spear headed by former Senator Arlen Specter but the entire thing went away quietly when he lost his seat in Congress. Someone else compared this to the exclusive deal with the Lumia 920 and AT&T but that would be comparing apples and oranges. A better analogy would be an exclusive deal between Windows Phone and AT&T which would "Force" one to subscribe to AT&T to be able to get Windows Phone which would be highly unethical and I'm sure would violate US anti trust laws.

I'm on Dish too, so I feel your pain. There is admittedly a gray area here between just striking those deals that are good for your company (legal, regardless of effect on customers, as long as the activity itself isn't illegal - like murder or dumping toxic waste) and using a monopoly to exert undue influence over the market (illegal as an anti-trust violation). Personally, I would say that it's not anti-trust and that it's legal. The counter argument would be that because the NFL is unique, it has a monopoly or effective monopoly position with respect to football games, which can't be compared with other sports, and therefore the NFL should not use its influence to force exorbitant pay on an exclusive deal. If so, the plaintiff would be Dish (as blocked out of the deal) or DirecTV (as the payee being overcharged), not you or me.

However, this only applies to games outside of your home area (you can always watch your home team play on your local channel) and until the advent of the Internet and Satellite TV, you could never watch anything but your home team, plus the extra Sunday network game(s), Monday Night Football, etc. The NFL would argue that it can't be an anti-trust violation for something that has only been recently enabled by technology advances. The fact that DirecTV was willing to pay more for NFL than Dish is a credit to the value, but the fact that not all customers who could suddenly dumped Dish for DirecTV (you and I included) is proof that any harm to consumers is minimal.

This is the market working as it should: DirecTV paid big bucks for the service in the hope it would help them win customers from Dish.

For your analogy, that was the exact situation for quite some time when only AT&T had the iPhone. That was also legal. Ultimately, Apple (not the government) concluded it was in their financial interest to sell through more carriers than it was to stick with only AT&T with its added payments for exclusivity. And that's less clear to me than the NFL issue, because you could truly live (as I do) in an area w/o any AT&T coverage so there was no way to use the iPhone, whereas I don't think anyone lives in a place where they can get Dish but couldn't switch to DirecTV if they really wanted the NFL access -- basically if you can see the sky to the south, you can use either (if there are users who can get one and not the other, it's a tiny, tiny number).

Just like AT&T with the L920 & L1020. Just sayin

Sling works perfectly on my 920 so it should work just as well on your 1020. Happy slinging!

They probably make more money keeping it exclusive... or so they think. Here's hoping for Sunday Ticket on the One next year.

How is the DirecTV partnership going to work with Xbox One? Sucks the app isn't for the US and Mexico

This Sucks...... I want this app oh so bad. I'm gonna change my region and see if I can get it.

But then you're still going to need to a Game Pass subscription lol

Changing from US to United Kingdom allowed me to download app. When I opened app it was able to tell I was in the US. It still let me buy audio for all games for $39.99 for the whole season. Looks like I'll be listening to all the Broncos games. I subscribed.

Don't hate the player, hate the game does not apply to tbonenga. Did you get the option to also get video or just audio? Awesome.

No live games. They do offer game rewind. All Sunday games can be watched after the conclusion of Sunday's night game. Monday and Thursday games are available 24 hours. $69.99 or 4 payments of $17.99

Check out "FlashVideo" for Windows Phone http://www.windowsphone.com/s?appid=ff811366-4d1b-42be-9254-d9f6f3dd3e8e This app is paid for a couple bucks (has free trial), but it allows streaming of all kinds of "LIVE" sports through the First Row page. I've used this more than a few times to watch the Broncos. At work, in the bathroom (didn't want to miss a play), etc. And I live in Colorado. Worth the $4 bucks!!! 8)

I know the Comments Section is to respond to the article, but care to open a thread on the WPCentral forums on how you were able to use FlashVideo to watch games? I'm a fellow Broncos fan in SoCal, and would love to watch them from my DirecTV NFL Sunday Ticket subscription.

He's not watching Direct TV. With that app he mentioned you can watch just about anything free. All pay per views (Boxing, WWE etc) Most all sporting events. I think you can even watch movies that are at the theater now. It's definitely not legal but it works GREAT .... Don't ask me how I know.

Funny how an NFL app isn't available in the United States.....its not Futbol.......

You can thank DirectTV for that.

This makes no sense at all...

I may move outside the US just to use this app....

This is the freaking dumbest thing I ever heard. We can't get NFL football on our phones in the US? Really! Where else is the NFL played?

Vikings vs Steelers in London on September 29th.

Those games in London always get the worst teams

I love DirecTV but their windows phone app is asstastic

it makes sense for the mainly the soldiers, students and other citizens abroad and also the foreigners that love football...

Oh.......then it makes sense?

Good god. I read this article and became the angry black man! I blame the "Man" for this! We need to fight the "Man"! Black Panther! No, "TechPanther" who's with me!?!? Ohh and GO FALCONS! RISE UP!

I downloaded the NFL one and can't use it because it requires linking my Verizon account via a txt however I keep getting errors when trying to link it even though I am a Verizon customer.

Who watches American football outside of u.s.?

I would imagine alot of folks

Not really... if you go to the UK, Australia, or New Zealand it's either Football/Soccer or Rugby. Australia has AFL too (Aussie rules football). Most of Europe would be Football/Soccer mad. I do know a couple of people that watch gridiron/NFL, so it's not completely unknown, but most people prefer rugby over NFL because it's a faster game, and wearing body-armour is seen as sissy :P

I do! I am German and there is a nice community over here. NFL game pass is great, but also really, really expensive (200€ for 1 season including playoffs) which is alot of money for an 18yo :)

Interesting. I never would have thought about the NFL having much following outside the US. If you don't mind me asking what seems to the the favorite team over there?

As a business, I can understand DirectTV. But as a WP user, they can go and bone themselves.

GUYS! There is one that works in the US. It's called NFL mobile. Sure it isn't as good, but it's all we have.
Anyways, this is getting annoying. First dominos (now available for US, but wasn't at first) Starbucks, now this for non US? Don't they know that more people in the US enjoy these stuff?

I'm outside the US (Canada) and subscribe to RedZone. Can't download this app on my Rogers 920. Suspect it's a carrier issue. On the weekend NFL Mobile updated and now I can't see any video content because I'm not on Bell. I thought the CRTC was putting an end to this practice...

Even if you do have Bell, their $5 mobile TV add-on only covers 10 hours a month - that's not even two Sundays of RedZone. And being on WiFi still counts toward that limit unfortunately.

Any luck in Canada? Pretty sure I read on the GamePass site that mobile access wasn't included here, for which I blame Bell. So I'd be surprised if it showed. :-( If so, good score for WP.

Sort of a side question-is it possible to get the Verizon access on the NFL app if I have AT&T? I'd be willing to pay but don't know how to even get to a login screen. Thanks!

Lmao, its not available in the US. Really?! Seriously?! Someone pls tell me who else watches football, I dare ya! This is by far the most ridiculous stunt I have seen on WP.

Dang, my Eagles are doing so well! The skins D is dead tired already. Btw, nice article :-)

This just made me cry! I want it!

We were so close to *sings* Football on your phone.... I kinda wanna cry hopefully a redzone app is coming cause that's separate from Sunday ticket

Maaaaan don't tease is like that!

Look the NFL needs to open this up to all carrier's, they would make a killing...

Side note: Every 5 minutes they'd show the Verizon NFL moblie app commercial yesterday and how its available on the Apple App Store & Google Play, but never mentioned WP. Frustrating! MSFT needs to start an initiative where they make sure that adds have Windows Phone mentioned alongside iOS and android. Win the mindshare game! Everytime I see App store logos for "the other guys" and no Windows logo (when I know good and well they have a WP app) I just want to scream. Aaaaahhhhh!

Definitely agree with this.

I've been looking for that too but it never comes up. :(

Check out "FlashVideo" for Windows Phone http://www.windowsphone.com/s?appid=ff811366-4d1b-42be-9254-d9f6f3dd3e8e This app is paid for a couple bucks (has free trial), but it allows streaming of all kinds of "LIVE" sports through the First Row page. I've used this more than a few times to watch the Broncos. At work, in the bathroom (didn't want to miss a play), etc. And I live in Colorado. Worth the $4 bucks!!! 8)

I know I've posted this more than a few times, I just want to make sure everyone sees it... Mile High Country Baby!!!!!!!!!!

Stop posting it. Once is enough.

Sam. No worries, I'm done.. Just wanted to make sure folks saw. I'm super happy with it. $4 vs over $40.. Yeah..

Over 40$? That is audio-only. Full season (including playoffs) is ~200€

Yes I have this app as well great.. Wad able to watch a few games college and NFL last week!!

Can we get the Watch ESPN APP AS well...

Is there an NFL app to just hear gameday audio??.......in the US.....


You can try the ESPN Radio app.

Finally! As Game Pass subscriber I am incredibly happy about this app. I immediately downloaded it and am already watching PHI@WAS. Game Pass is really good and now even better with WP support. :-)

So should I take from the image that my Browns won't get to the Red Zone again until 25 October? Sounds about right.

"Mobilityyyy" Eat your heart out Cox cable.

If I change my location, do you think it will become available?

Download yes but dunno about subscription service

My eagles doin work right now

Pats fan here, love football. Thursday night for the kickoff I did a couple of beer can chickens to celebrate. I'm in panama and I can watch most of the games on cable, I have NFL network and red zone, but the game pass is a nice thing to have the only caveat is the ridiculous high price, for all games we are talking about 250$

This is GREAT! FABULOUS! FANTASTIC! I don't live in the USA or Mexico. I live in China. But what's the NFL? And why would anyone who doesn't live in the USA or Mexico want to pay money to watch it?

Loving it! This was the only app I was really missing. So pretty damn happy right now. Now all I need is for RG3 to allow Morris some more runs and I'll win this weeks fantasy. Also, go Niners!

I'm in the U.S. Hypothetically, could I access this if I use a VPN with a foreign IP address?

Just change your country region in settings to the UK then restart your phone go back to the source link and download it, it's that easy

What's with the DirecTV hate? Unless I missed something, the NFL Mobile app allows Verizon customers live games and RedZone access if they want. Seems like you may want to be mad at AT&T and T-Mobile for not getting a license of some sort similar to Verizon.

WTH, I have to get that BANDIT IN MY HANDS

Have Sunday Ticket from the Amazon Madden deal. Would really like an app to watch it on my phone.

Ah shucks, can't the Mexicans just turn the amps way up, the way they do with tajano radio? Then we all can watch it.

How are you going to watch it through the radio/amps?? You make no sense with your quasi racist remark.. 8/

You don't have to have a DirecTV satellite service to get NFL Sunday Ticket. When DirecTV renewed their exclusive contract the NFL threw in the stipulation that if people couldn't subscribe to DirecTV (for reasons such as line of site, apartment complex restrictions, etc.) then DirecTV had to give these people a way to subscribe. If you meet one of those criteria (or are willing to say you do when you sign up) you can sign up to stream Sunday Ticket through the internet, or via an app on select devices (iOS and Android, of course. No Windows Phone). For the first year or two this option was provided through the PS3, but now it is computer/apps. Cost is $300.
I've had this for the last two years. The streaming was really jerky this last weekend. Not sure if it was something with my computer settings (firewalls, etc.), or something on DirecTV's end. Based on about a year's worth of experience with this service I can say that I find it to be not as smooth as getting it through the satellite dish.
I'm pretty sure that DirecTV's exclusive contract is in it's final year. I know an analysis from a few years ago basically showed that DirecTV was only breaking even. (Basically, they agreed to pay the NFL $X millions per year, and then have to hope they can make that up via their customers). My sister works for DirecTV, and recently told me the scuttlebutt in the company is that they are not going to renew the exclusive contract because it has turned out to be too expensive. But I have no idea if someone else will pick up the exclusive contract, or if the NFL will try allowing multiple companies to carry it.
I would imagine that the Verizon NFL exclusive is a similar situation where they agree to pay the NFL for the exclusive contract, and hope to make it back from subscribers.
The nice thing (from the NFL's point of view) is that by having the exclusive long term contracts it makes it easier to determine what the salary cap is going to be for several years down the road. Having that go up and then down can really throw a wrench in future planning. Also, having companies bidding against each other might drive up the total revenue for the NFL.

I am out side out the US and still can't download it. Im using a Lumia 920..

Hell yea! Totally love this. Or I WOULD if I wasn't stuck on 7.8 until the end of October. Regardless, it's really nice to hear that there is something like this.

Who told you this was racist, dumb ass piss drinkers!!!

Boy does that T-Mobile logo look ugly down there!!!!

L920 in finland. Works. Finally it's available.

I'm a Brazilian NFL fan, but this app is not available for my Nokia 620. Now I definitely will have to get a new windowsphone.

Guys I just installed it and live in san Diego! All you have to do is change your country region to the UK reset your phone and back to the link and install it, easy as pie!

I literally shouted "Yes!!" when I read the title! Works on my Lumia 920 in Germany. This was actually the last App I needed on Android. Unrelated, Go Packers!

A us sport app that doesn't work in the us. Odd

Sigh. What pisses me off the most is that the NFL charges you to listen to free over the air broadcasts if you live outside the range. What a huge scam. Preventing radio stations from streaming the radio broadcast is bs. Its one thing to be greedy, but this is greed times a million.

Gamepass is present in the Windows 8 store. If you are accessing it from the US store, you wont be able to find it because its meant for users outside the US. Try changing your region in the control panel and you will be able to find gamepass in the store. Cheers.