New cumulative updates land for Windows 10 April 2018 Update and more
By Dan Thorp-Lancaster published
The April 2018 Update, Fall Creators Update, Creators Update, and Anniversary Update are all on deck.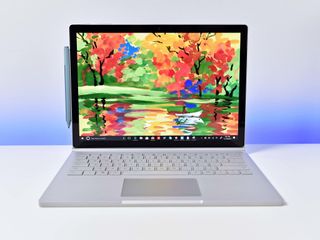 (Image credit: Windows Central)
Microsoft today has begun pushing out another round of cumulative updates for Windows 10. While the latest version, the October 2018 Update, isn't included in this batch, fixes are rolling out across several releases ranging from the April 2018 Update back to the Anniversary Update.
Here's a look at all of what's new.
Addresses an issue that prevents the deletion of word spellings from the Microsoft Office dictionary using settings.
Addresses an issue that causes the GetCalendarInfo function to return an incorrect era name on the first day of the Japanese era.
Addresses time zone changes for Russian daylight standard time.
Addresses time zone changes for Moroccan daylight standard time.
Addresses an issue to allow the use of the previous barrel button and drag functionality and ensure that shim choices have priority over the registry.
Addresses an issue that causes the precision touchpad or keyboard to stop responding because of some combination of docking and undocking or shutdown or restart operations.
Addresses an issue that may sometimes cause the system to stop responding after turning on, which prevents logon.
Addresses an issue that causes Microsoft Word Immersive Reader to skip the first part of a selected word when using Microsoft Word Online in Microsoft Edge.
Addresses an issue with missing URL shortcuts from the Start menu.
Addresses an issue that allows users to uninstall apps from the Start menu when the "Prevent users from uninstalling applications from Start menu" policy is set.
Addresses an issue that causes File Explorer to stop working when you click the Turn on button for the Timeline feature. This issue occurs when the "Allow upload of user activities" group policy is disabled.
Addresses an issue that prevents users from accessing the Ease of Access Cursor & pointer size page in the Settings app with the URI "ms-settings:easeofaccess-cursorandpointersize".
Addresses an issue that causes the audio service to stop working or become unresponsive while using call control, controlling volume, and streaming music to Bluetooth audio devices. Error messages that appear include:

Exception error 0x8000000e in btagservice.dll.
Exception error 0xc0000005 or 0xc0000409 in bthavctpsvc.dll.
Stop 0xD1 BSOD error in btha2dp.sys.

Addresses an issue in which a third-party antivirus software may receive an "ERROR_NO_SYSTEM_RESOURCES" error.
Addresses an issue that may cause excessive memory usage when using smart cards.
Addresses an issue that causes the system to stop working with the error code, "0x120_fvevol!FveEowFinalSweepConvertSpecialRangesChunk".
Addresses an issue that prevents Application Guard from browsing the internet if the proxy auto-config (PAC) file on a device uses IP literals to specify a web proxy.
Addresses an issue that prevents a Wi-Fi client from connecting to Miracast® devices when the allowed service set identifier (SSID) is specified in Wireless Network Policies.
Addresses an issue that causes Event Tracing for Windows (ETW) profiling to fail when using custom profiling frequencies.
Addresses a power state transition issue that causes the system to become unresponsive when connecting to eXtensible Host Controller Interface (xHCI) devices.
Addresses an issue that may lead to a blue screen on the system when running disk benchmark software.
Addresses an issue that causes the RemoteApp window to always be active and in the foreground after closing a window.
Allows a Bluetooth® Low Energy (LE) random address to rotate periodically even when Bluetooth LE passive scan is enabled.
Addresses an issue that causes the installation and client activation of Windows Server 2019 and 1809 LTSC Key Management Service (KMS) host keys (CSVLK) to not work as expected. For more information about the original feature, see KB4347075.
Addresses an issue that prevents some users from setting Win32 program defaults for certain app and file type combinations using the Open with… command or Settings > Apps > Default apps.
Addresses an issue that prevents users from opening presentation (.pptx) files exported from a Google presentation.
Addresses an issue that prevents some users from connecting to some older devices, such as printers, over Wi-Fi because of the introduction of multicast DNS (mDNS). If you did not experience device connectivity issues and prefer the new mDNS functionality, you can enable mDNS by creating the following registry key: "HKEY_LOCAL_MACHINE\SOFTWARE\Policies\Microsoft\Windows NT\DNSClient\ mDNSEnabled (DWORD) = 1".
Ensures that certain windowed ActiveX controls scroll along with other page content in Internet Explorer 11 during a user-triggered scroll operation.
Addresses an issue that causes navigation across eras to stop working in the Japanese Calendar view.
Addresses an issue related to the date format for the Japanese era calendar.
Addresses an issue that causes the GetCalendarInfo function to return an incorrect era name on the first day of the Japanese era.
Addresses an issue that prevents the deletion of word spellings from the Microsoft Office dictionary using settings.
Addresses time zone changes for Russian daylight standard time.
Addresses time zone changes for Moroccan daylight standard time.
Addresses an issue that sometimes causes the software keyboard to disappear when joining a Wi-Fi network while using a Universal Windows Platform (UWP) application. This issue affects devices that have installed the Windows 10 Creators Update and have no physical keyboard.
Addresses an issue to allow the use of the previous barrel button and drag functionality and ensure that shim choices have priority over the registry.
Addresses an issue that causes Microsoft Word Immersive Reader to skip the first part of a selected word when using Microsoft Word Online in Microsoft Edge.
Addresses an issue in the Universal CRT that sometimes causes the AMD64-specific implementation of FMOD to return an incorrect result when given very large inputs. FMOD is frequently used to implement the modulo operator in JavaScript and Python implementations that use the Universal C Runtime.
Addresses an issue in which event log entries for the CredSSP security update that fixes CVE-2018-0886 are not logged correctly.
Addresses an issue that may cause excessive memory usage when using smart cards.
Addresses an issue that causes the system to stop working with the error code, "0x120_fvevol!FveEowFinalSweepConvertSpecialRangesChunk".
Addresses an issue that blocks ActiveX controls in Internet Explorer on 64-bit systems. This occurs when using Windows Defender Application Control and creating a policy that allows all ActiveX controls to run in Internet Explorer.
Addresses an issue that prevents Application Guard from browsing the internet if the proxy auto-config (PAC) file on a device uses IP literals to specify a web proxy.
Addresses an issue that prevents a Wi-Fi client from connecting to Miracast® devices when the allowed service set identifier (SSID) is specified in Wireless Network Policies.
Addresses an issue with the Group Policy Object (GPO) "Prohibit connection to non-domain networks when connected to domain authenticated network". In this scenario, this GPO disconnects the Wi-Fi interface over which a VPN client connection is established.
Addresses a power state transition issue that causes the system to become unresponsive when connecting to eXtensible Host Controller Interface (xHCI) devices.
Addresses an issue that causes the RemoteApp window to always be active and in the foreground after closing a window.
Addresses an issue that causes the installation and client activation of Windows Server 2019 and 1809 LTSC Key Management Service (KMS) host keys (CSVLK) to not work as expected. For more information about the original feature, see KB4347075.
Addresses an issue that causes navigation across eras to stop working in the Japanese Calendar view.
Addresses an issue related to the date format for the Japanese era calendar.
Addresses an issue that causes the GetCalendarInfo function to return an incorrect era name on the first day of the Japanese era.
Addresses an issue that prevents the deletion of word spellings from the Microsoft Office dictionary using settings.
Addresses time zone changes for Russian daylight standard time.
Addresses an issue in the Universal CRT that sometimes causes the AMD64-specific implementation of FMOD to return an incorrect result when given very large inputs. FMOD is frequently used to implement the modulo operator in JavaScript and Python implementations that use the Universal C Runtime.
Addresses an issue that may cause excessive memory usage when using smart cards.
Addresses an issue that causes the system to stop working with the error code, "0x120_fvevol!FveEowFinalSweepConvertSpecialRangesChunk".
Addresses an issue that blocks ActiveX controls in Internet Explorer on 64-bit systems. This occurs when using Windows Defender Application Control and creating a policy that allows all ActiveX controls to run in Internet Explorer.
Addresses an issue that causes the GetCalendarInfo function to return an incorrect era name on the first day of the Japanese era.
Addresses time zone changes for Russian daylight standard time.
Addresses an issue that allows mouse movements promoted by touch to bypass low-level mouse hooks designed to block mouse input. As a result, unexpected WM_MOUSEMOVE messages appear.
Addresses an issue that may automatically display the software keyboard when you tap on the non-editable area of a Universal Windows Platform (UWP) application. This issue affects devices that have installed the Windows 10 Anniversary Update and have no physical keyboard.
Addresses an issue in File Explorer that sometimes deletes the permissions of a shared parent folder when you delete the shared child folder.
Addresses an issue that causes File Explorer to stop working during logoff.
Addresses an issue in the Universal CRT that sometimes causes the AMD64-specific implementation of FMOD to return an incorrect result when given very large inputs. FMOD is frequently used to implement the modulo operator in JavaScript and Python implementations that use the Universal C Runtime.
Addresses an issue that blocks ActiveX controls in Internet Explorer on 64-bit systems. This occurs when using Windows Defender Application Control and creating a policy that allows all ActiveX controls to run in Internet Explorer.
Addresses an issue that prevents some applications from running when Windows Defender Application Control (Device Guard) is in audit mode.
Addresses an issue that slows server performance or causes the server to stop responding because of numerous Windows firewall rules. To enable the changes, add a new registry key "DeleteUserAppContainersOnLogoff" (DWORD) on "HKEY_LOCAL_MACHINE\SYSTEM\CurrentControlSet\Services\SharedAccess\Parameters\FirewallPolicy" using Regedit, and set it to 1.
Addresses an issue that causes network connectivity to fail when 802.1x authentication fails.
Addresses an issue with Network Connection Status Indicator (NCSI) gateway MAC address resolution timing, which causes Internet connectivity to fail.
Addresses an issue that fails to clean up some Windows Management Instrumentation (WMI) class registrations correctly when using Hyper-V cmdlets that have root\interop class dependencies. This issue may cause Virtual Machine management tasks (using PowerShell or the UI) to fail. Additionally, Virtual Machines may not be created or modified. For example, running Set-VMFirmware to modify the boot order may fail with the error, "ObjectNotFound."
Addresses an issue that prevents domain controllers from applying the Group Policy password policy when the minimum password length is configured to be greater than 14 characters.
Addresses an issue with Just Enough Administration (JEA). A temporary account with the security identifier (SID) authority of "S-1-5-94-xxx" remains in the server security policy under the Log on as a service user right. As a result, the Local Security Authority (LSA) database grows larger, which may affect the performance of domain controllers.
Addresses an issue that writes to a memory call stack with the Stop code "0xA" in Storage Replica environments.
Addresses an issue that causes the installation and client activation of Windows Server 2019 and 1809 LTSC Key Management Service (KMS) host keys (CSVLK) to not work as expected. For more information about the original feature, see KB4347075.
Addresses an issue that causes promotions of non-root domains to fail with the error, "The replication operation encountered a database error." The issue occurs in Active Directory forests that have optional features like Active Directory recycle enabled.
Addresses an issue that may cause Hyper-V servers to stop working with the error, "0x7F (UNEXPECTED_KERNEL_MODE_TRAP)".
Each of these updates should be available now via Windows Update. Keep in mind that the Anniversary Update and Creators Update are no longer supported for consumers, but today's updates are available for Windows 10 Education and Enterprise customers.
Dan Thorp-Lancaster is the Editor in Chief for Windows Central. He began working with Windows Central as a news writer in 2014 and is obsessed with tech of all sorts. You can follow Dan on Twitter @DthorpL and Instagram @heyitsdtl. Got a hot tip? Send it to daniel.thorp-lancaster@futurenet.com.
Insider release preview on version 1809 did get an update today too, to 17763.167

Technically it started roll out last night.😉
This is for production users.

I saw that was available and jumped back in with my SP6. Windows Hello didn't work (couldn't find a compatible device). That was all I needed to see; I reverted back to 1803.

I had the same issue with my SP5. I reapplied the latest firmware, rebooted, and it came back.

That's a good find. You have more patience than I do. :)

Tried again with my 6, but no dice on Windows Hello. I ran the latest driver install but it didn't help.

1809 update resolved my Windows Hello plus power on issues on my SP4
Windows Central Newsletter
Get the best of Windows Central in in your inbox, every day!
Thank you for signing up to Windows Central. You will receive a verification email shortly.
There was a problem. Please refresh the page and try again.